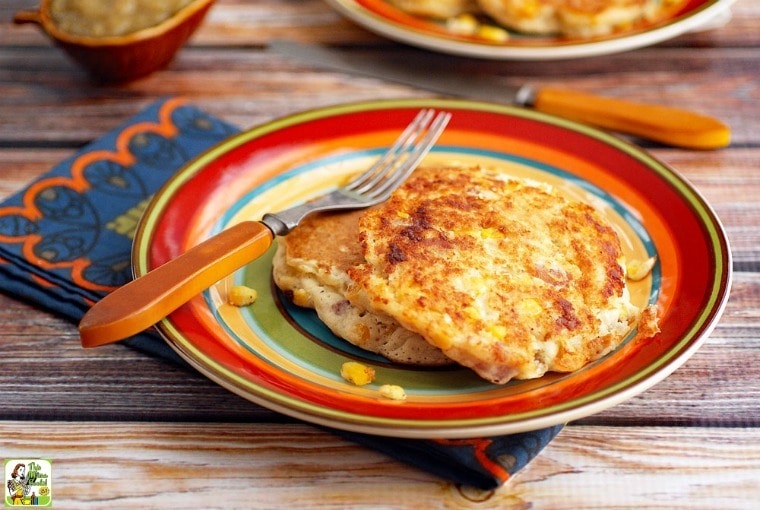 If you're looking for a different sort of pancake for Shrove (Pancake) Tuesday, why not make this easy recipe for corn fritters with ham? Yes, this gluten free corn fritters recipe is a pancake recipe. Don't let the name fool you!
This easy corn fritter recipe is perfect for Pancake Day. And since it's savory and not sweet, it makes a terrific brinner (breakfast for dinner) dish any time of year.
So what's the difference between simple corn fritters with ham and a pancake made with the same ingredients? According to The Old Foodie: "Not much really." Some corn fritter recipes are thick and pancake like, while others look like deep fried blobs of dough.
My gluten free corn fritters recipe is more pancake like – and fairly wholesome since it's not deep fried.
The origin of my easy recipe for corn fritters with ham
This homemade corn fritters recipe is actually my husband's recipe for what he calls "corn pancakes." It's been a Christmas morning staple at our home for years. Paul came up with his easy corn fritters recipe when he was living in Berlin and only had some frozen corn, eggs, flour, milk and some ketchup to make breakfast with at a friend's home.
When he came home, he made them for me. I loved them so much that I always request them for special occasions like birthdays and holiday brunches.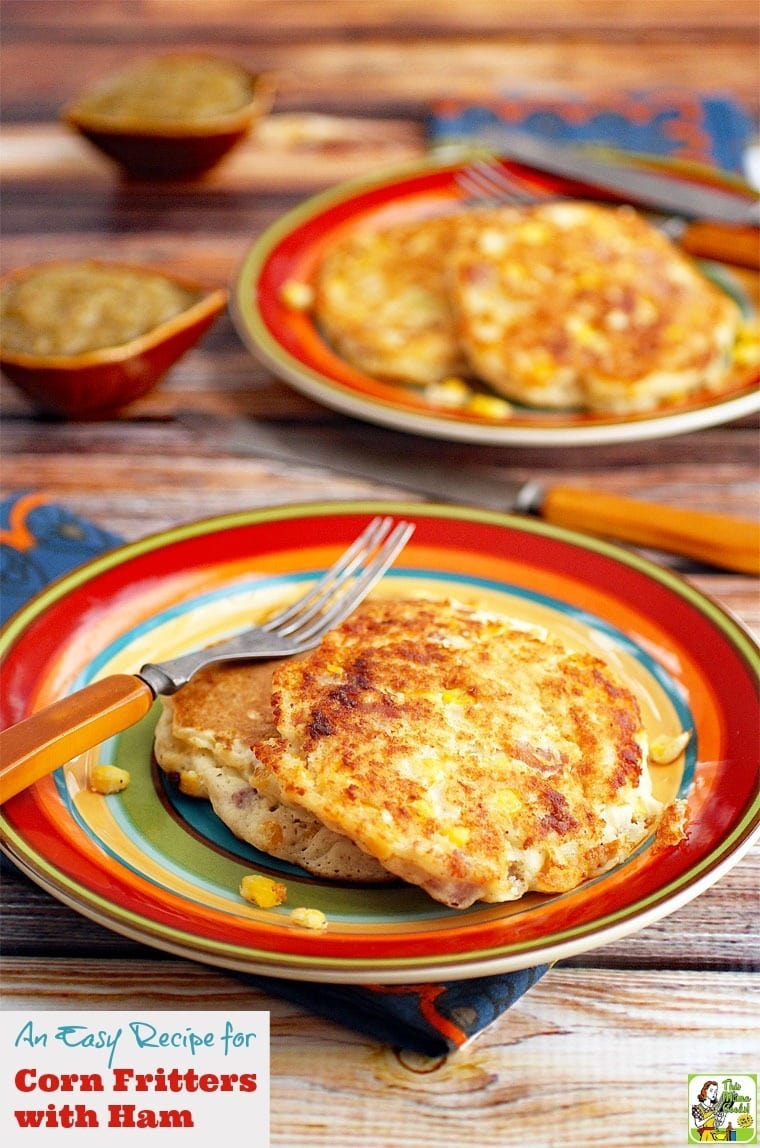 Making this easy recipe for corn fritters gluten and dairy free
I've taken Paul's easy recipe corn fritters and made it gluten free by using an all purpose gluten free flour like Bob's Red Mill Gluten-Free 1-to-1 Baking Flour.
Then I made it dairy free by using plain rice milk. You can also use unsweetened coconut milk or unsweetened soy milk.
Bob's Red Mill Gluten Free 1-to-1 Baking Flour, 5 Pound
Pacific Natural Foods Rice Non-Dairy Beverage, Plain, 32-Ounce Containers (Pack of 12)
So Delicious Dairy Free - Organic Coconut Milk Beverage Organic Unsweetened, 1 Quart (Pack of 6)
Silk Unsweetened Organic Soymilk, 32-Ounce Aseptic Cartons (Pack of 6)
I used whole eggs in my easy corn fritter recipe, but you can health it up even further by using the equivalent of two eggs worth of eggs whites.
These days I use country ham, which is the Southern version of prosciutto, but much thicker and fattier. Instead, you can use thickly cut ham deli slices, meaty bacon, pancetta, sausage, or even spicy chorizo!
Or forgo the meat altogether in this gluten free corn fritters recipe and add some sautéed diced peppers instead. That way you now have a vegetarian corn fritters recipe!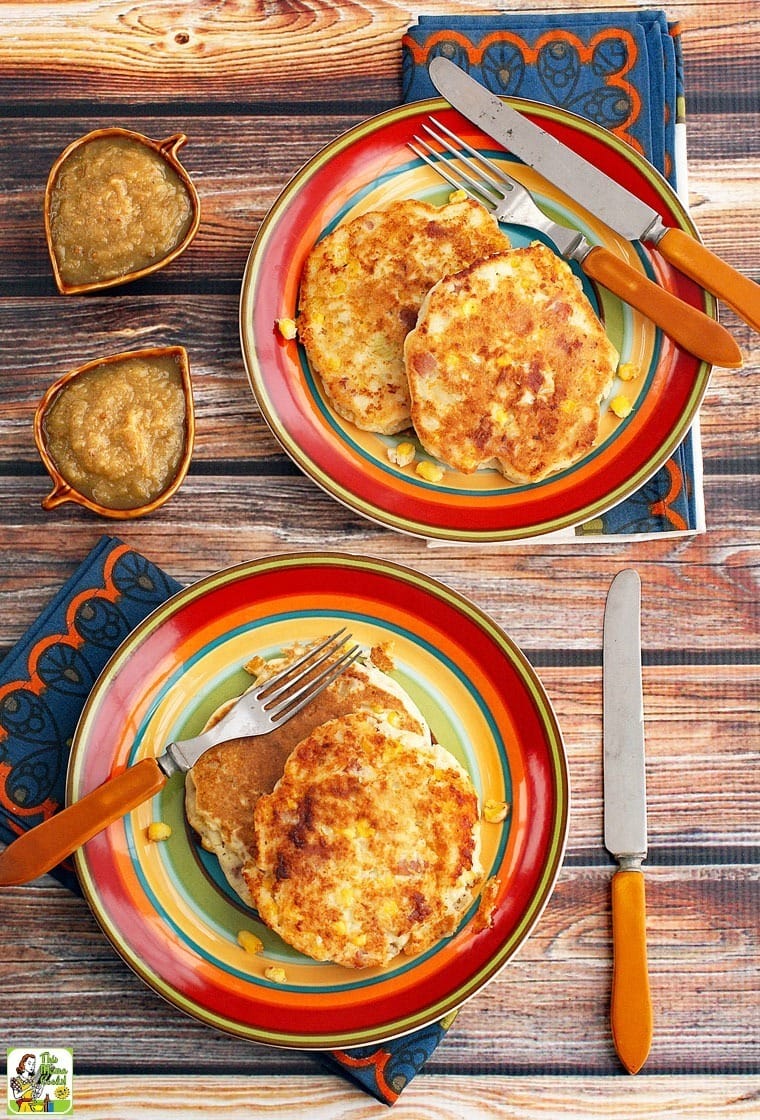 Serving ideas for this easy recipe for corn fritters with ham
Just because these simple corn fritters are savory, it doesn't mean you can put your favorite sweet syrup on them. Some ideas because pancake syrup are real maple syrup, agave nectar, honey, or sorghum syrup.
My family likes our easy corn fritters with ketchup, including my homemade Green Tomato Ketchup as shown in the picture above. Try it, you just might like it!
Coombs Family Farms Maple Syrup, Organic, Grade A, Dark Color, Robust Taste, 32 Ounce Jug
Madhava Naturally Sweet Organic Blue Agave Low-Glycemic Sweetener, Fair Trade Raw, 46 Ounce (Pack of 2)
Nature Nate's 100% Pure, Raw and Unfiltered Honey, 32 Ounce
Golden Barrrel Sorghum Syrup Wide Mouth Jar, 16 oz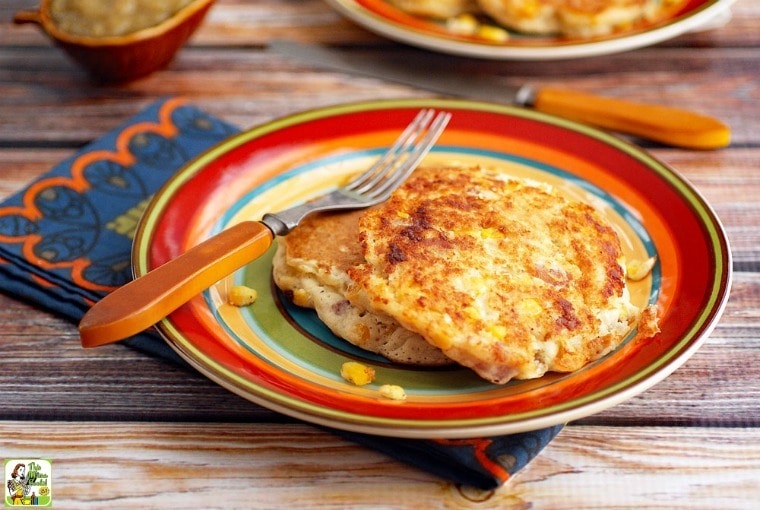 Ingredients
2 teaspoons

baking powder

1/2 teaspoon

salt

1/8 teaspoon

ground black pepper

1 tablespoon

sugar or sugar substitute like powdered stevia or monk fruit

1 1/2 to 1 3/4 cups

plain rice milk

2

large eggs

1 (12 ounce) bag or 2 1/2 cups

frozen golden sweet corn, defrosted

1 cup

frozen chopped onions, defrosted

1 cup

cooked and diced country ham, deli ham, meaty bacon, pancetta, or sausage (optional)

Cooking spray

Ketchup, pancake syrup or other sweet syrup for serving
Directions
Heat pancake griddle, skillet or frying pan.
Combine all purpose gluten free flour, baking powder, salt, pepper, and sugar in a large bowl.
In a small bowl, add eggs to rice milk and beat until combined.
Pour milk and eggs into flour mixture and stir until combined. Add corn, onions and meat if using. If batter seems thick, add more rice milk.
Grease pancake griddle with cooking spray. (You can also use oil, butter, buttery spread, or even grease left over from cooking up the ham or bacon.)
Using a 1/4 cup measure, spoon out batter on to hot griddle. Cook pancake until each side is golden brown. Keep corn fritters warm in oven until served.
Servings
:
Makes approximately 15 pancakes
Serving size:

1 pancake (1/4 cup batter)
Originally posted on December 12, 2013. Updated with new pictures and information.