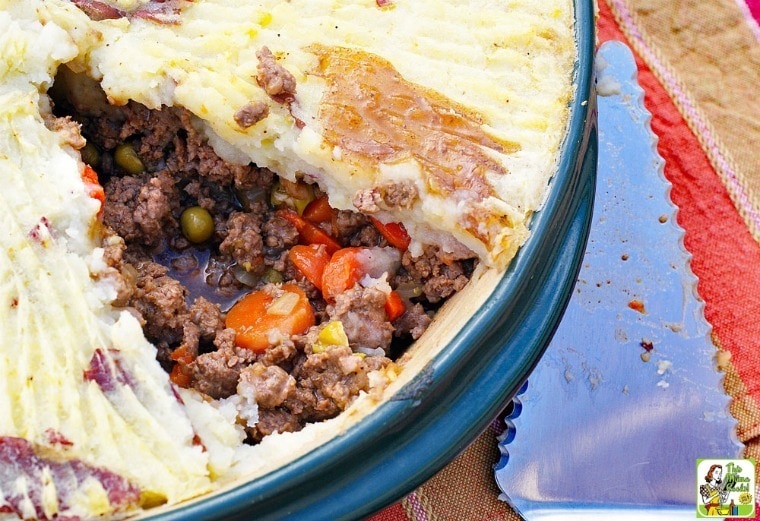 Basic shepherd's pie is classic British pub food that's usually made with ground lamb. However, you can make it with other ground meats like venison, beef, or even turkey.
However, if you're gluten free, you have to avoid most classic shepherd pie recipes. That's because it's filled with gravy, which we all know is probably thickened with flour.
Instead, as part of a recipe challenge, I took Shelby at The Life & Loves of Grumpy's Honeybunch original shepherd's pie recipe and created a new gluten free shepherd pie recipe.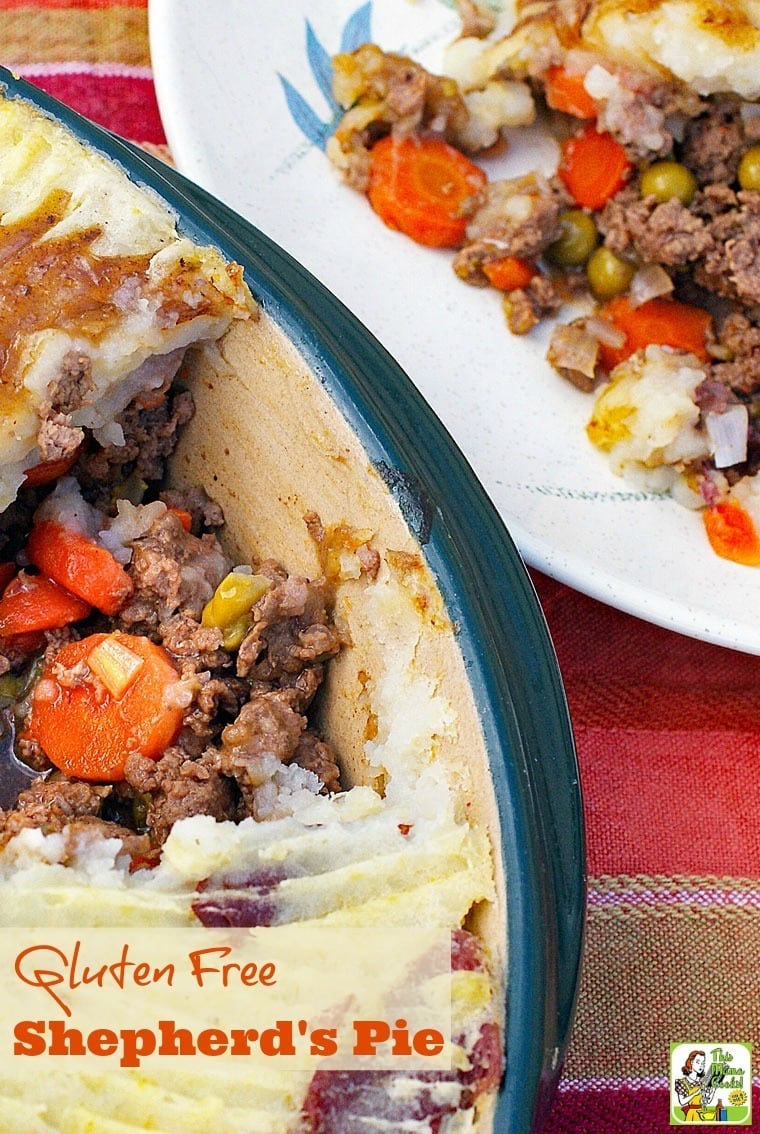 Making classic shepherd's pie into a gluten free shepherd's pie recipe
Shelby's easy shepherd pie recipe uses instant gravy mix. Nothing could be easier if you can find a gluten free gravy mix like Orrington Farms Brown Gravy Mix or McCormick Gluten-Free Brown Gravy Mix.
I especially love Orrington Farms Brown Gravy Mix. Not only because it's so delicious that you can't believe it's gluten free.
But because you can make up a small or big batch of gluten free gravy with this mix depending on what you're making for dinner that night – turkey, mashed potatoes, or just a bit like for this easy shepherd pie recipe!
If you can't find a gluten free gravy mix, you can use the gluten free gravy recipe I've used below based the one from The Joy of Cooking. However, instead of flour, you can use either corn starch or rice starch to thicken the gravy.
Rice starch is a terrific soup or gravy thickener for cooks who have to avoid corn products. I prefer it to corn starch as I feel it makes a silkier gravy.
Also, I used canned vegetables in this Gluten Free Shepherd's Pie recipe since that's what I had on hand. You can use frozen vegetables, too. Both will save you time.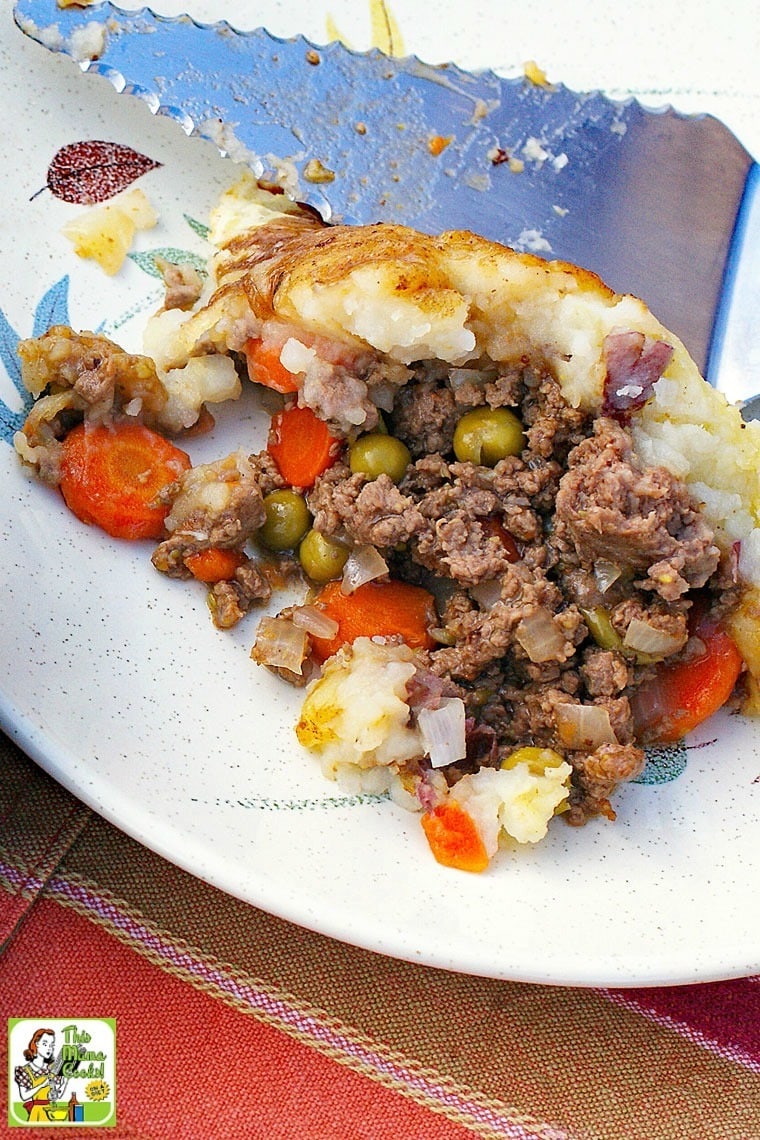 I also eliminated any added salt in this easy shepherds pie recipe as there was plenty of sodium in the gluten free beef broth and the steak and Worcestershire sauces.
Check to make sure all the sauces and the beef broth you use in this shepherd's pie recipe are gluten free. Lea & Perrins The Original Worcestershire Sauce is certified by the company to be gluten free.
I serve my Gluten Free Shepherd's Pie in a 9 1/2-inch deep dish ceramic pie pan. I use my ceramic pie pan for all sorts of one pot dishes, cobbler, and deep dish dessert pies.
Love this gluten free shepherd's pie recipe? Check out my recipe for Easy Shepherd's Pie with Ground Turkey and Portobello Mushrooms.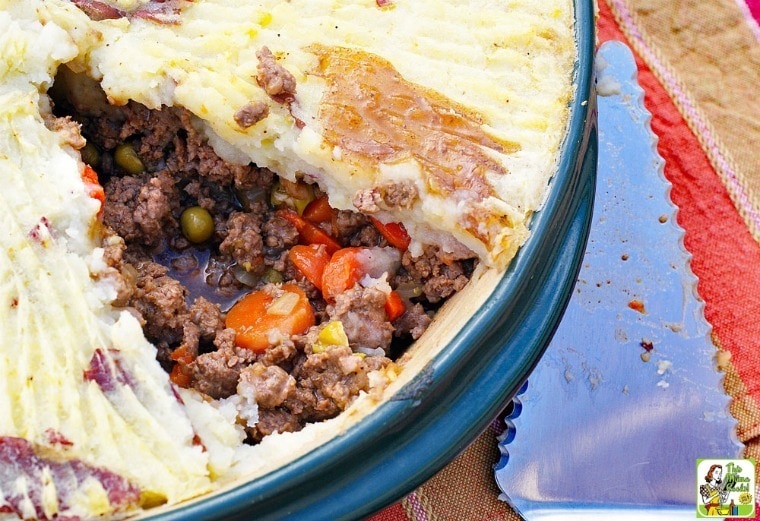 Gluten Free Shepherd's Pie
Ingredients
2 pounds

red potatoes

3 tablespoons

dairy free buttery spread

1 1/2 pounds

ground meat (lamb, venison, turkey or beef)

1/2 cup

onions

3 tablespoons

rice or corn starch

1 (14.5 ounce) can

beef stock, divided

2 tablespoons

Worcestershire sauce

1 1/2 tablespoons

steak sauce

1 (14.5 ounce) can

sliced carrots

1 (15 ounce) can

peas

2 cloves

garlic, minced
Directions
Wash potatoes and cut into large chunks. (If you're not using red potatoes, you'll need to peel them, too.) Place in a pot of water, bring to a boil and cook until tender.
Drain potatoes reserving 1/2 cup of cooking liquid. Mash potatoes with liquid and butter until fluffy. Set aside.
Preheat oven to 350 degrees F.
Brown ground meat with onions. Set aside.
In a small bowl, mix 3 tablespoons rice starch with 3 tablespoons of beef broth until thoroughly mixed.
In a skillet on medium high heat add garlic, beef stock, Worcestershire sauce, steak sauce, vegetables, and garlic. Bring to a simmer. Then add the rice starch and broth mixture. Stir until the broth thickens.
Add the browned ground meat and onion mixture to the pan. Mix and keep at a simmer. Add any beef broth you have leftover and cook until thickened. Remove from heat.
Pour vegetable and meat mixture into a baking dish. Carefully spoon mashed potato over mixture. Using the tines of a fork, score the mashed potatoes, if you like.
Place small chunks of the buttery spread on the mashed potatoes. Then place baking dish on a cookie sheet as the gravy may bubble over.
Bake 20 to 25 minutes at 350 degrees until mashed potatoes are golden.
Remove shepherd's pie from oven and let sit for 5 to 10 minutes before slicing and serving.
Total Time:
1 Hour 30 Minutes
Originally posted October 10, 2011. Updated with new pictures and information.