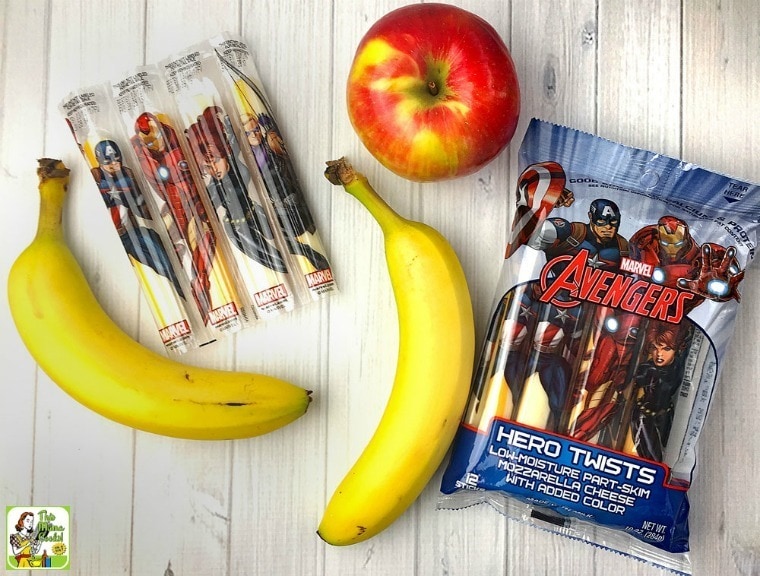 Are you headed for a long road trip with the kids this holiday season? Before you head on your way to grandma's house or that family vacation spot, here are some stress free tips on how to travel by car with kids.
Make sure your car is in tiptop shape
Who wants to be stranded on the road with a carful of little ones? Before leaving, take your car in for a "trip check" to make sure all the fluids are topped off, breaks and windshield wipers are in good condition, and tires are in good shape.
If don't already have it, sign up for a roadside assistance plan with your auto insurance company. If you're going from your warm area to a cold one, don't forget to pack a windshield ice and snow scraper, too.
Assemble an on-the-road first-aid kit
Pack it with adhesive bandages, antiseptic ointment, and any medications and vitamins you and your kids may need. You should bring child and adult versions of fever reducer and anti-histamine, too. Don't forget the bug spray and sunscreen if you're traveling to warmer climates.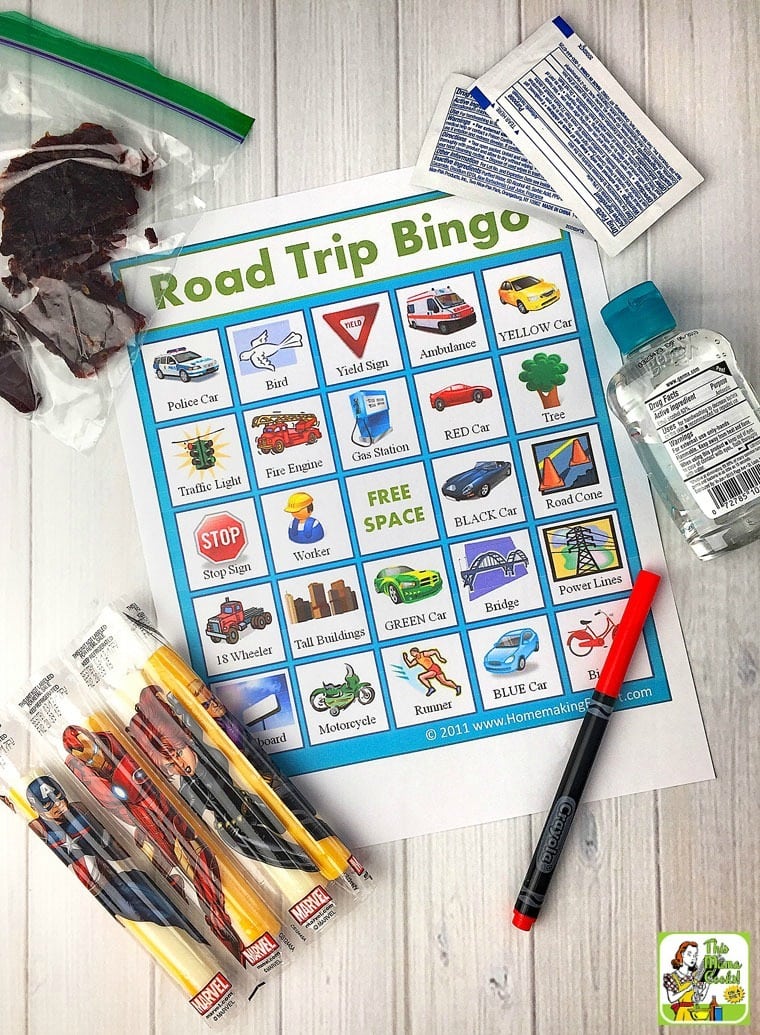 Keep things tidy while traveling with kids
I like taking my car in for a full service carwash so we start off the trip with a clean car. It just feels nicer and helps inspire everyone to keep the car clean and tidy.
When traveling by car with kids, you should bring along a roll of paper towels, some grocery store bags, and a couple of kitchen trash bags. Every time you stop for gas, toss or empty your trash. If you have kids that get car sick, have them keep a trash bag next to them just in case. (We did this for my son after learning the hard way.)
To keep the kids (and you) clean when traveling, bring along hand sanitizer and hand wipes. Hand wipes work well for mom and dad after filling up the car with gas, too.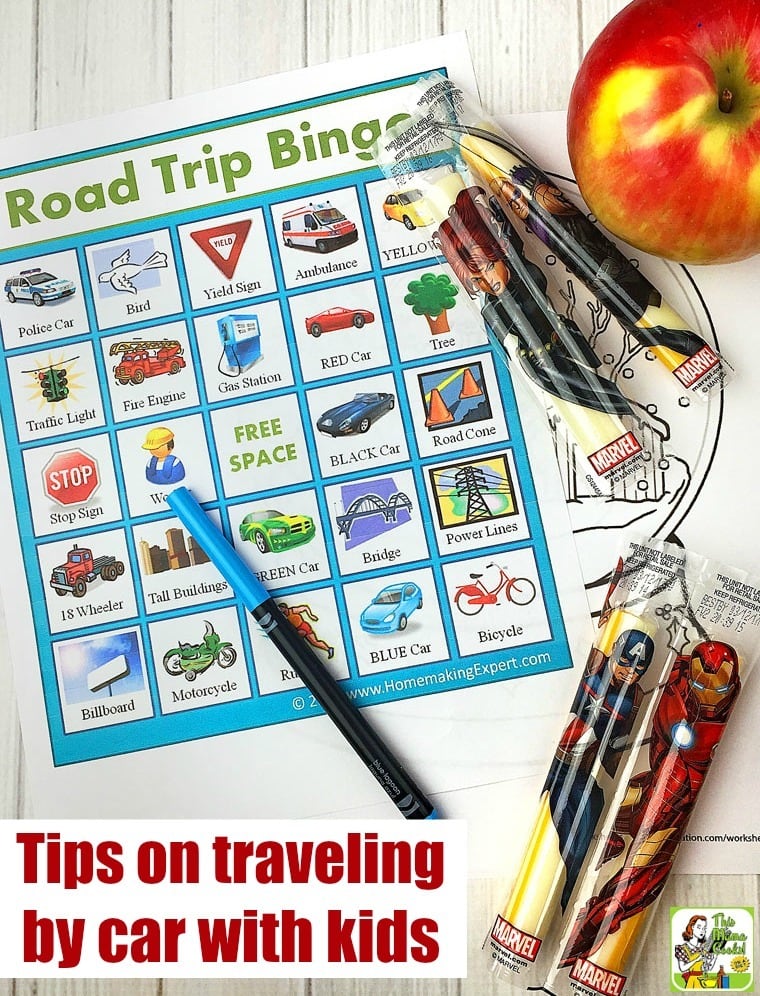 Stay hydrated while traveling with kids
When car traveling with kids, everyone needs to stay hydrated. But you don't want to overdo it and have to stop every hour for a potty and diaper changing break. Many moms find that having individual sports bottles filled with water is ideal since kids tend to drink water only to quench their thirst.
Mom and dad should bring their favorite travel mugs and water bottles, too.
Keep the kids entertained
These days, most parents have a smart phone or tablet to keep the kids entertained. Take time before your long car trip to load your devices with family friendly movies, TV shows, and game apps. Don't forget extra charging cords (both for the car and hotel room) and extra ear buds. (My kids tend to lose or break both.)
If you prefer more old fashioned entertainment when traveling by car with kids, pack coloring books, markers, crayons and pencils, easy card games (my kids love Uno), and road bingo for the whole family. Bring along lap desks or make your own with a 3-ring binder or a metal cookie sheet.
You can find wonderful holiday coloring pages and road bingo sheets online. You can also find kid's activities and tips for parents at CheeseAdventures.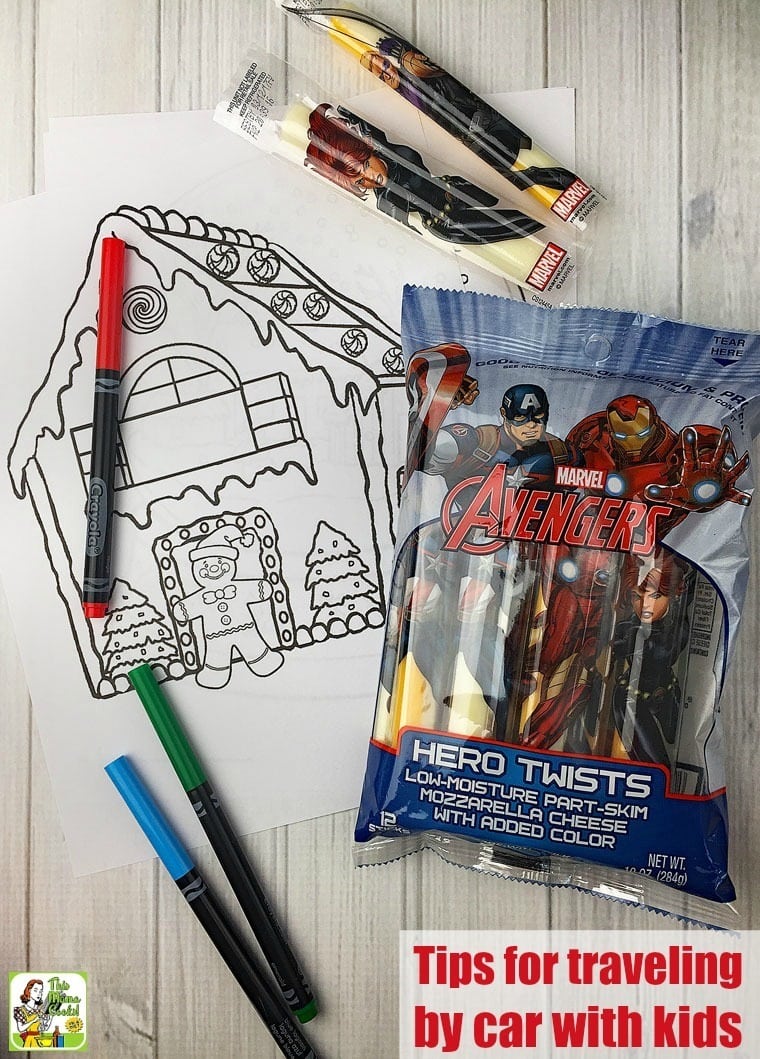 Car traveling with kids? Make sure to pack some snacks!
While many truck stops, gas stations, and fast food places are offering healthier fare, packing your own healthy snacks is a great way to save money and avoid junk food temptation.
Here's a list of a few healthy snacks my family and I like to take on road trips:
Hard boiled eggs – peel and salt them ahead of time
Easy to eat fruit like grapes, bananas, oranges, and apples
Dried fruit – buy the kind without the added sugar
Beef jerky
Healthy crackers and snack bars
Healthy homemade trail mix
Marvel® Avengers String Cheese
Traveling with Marvel® Avengers String Cheese makes road trips more fun
Are your kids (or you!) passionate about all things Marvel® Avengers? Then you have to check out Marvel® Avengers String Cheese – so cool!
Marvel® Avengers String Cheese is made with milk and is a good source of calcium and protein. (Protein helps tummies feel fuller longer, which means less "I'm hungry" complaints while traveling.) They're a super convenient on-the-go travel snack. (Marvel® Avengers String Cheese is also great as an afterschool snack or to put in your kids lunchboxes.)
Having Marvel® Avengers String Cheese on your road trip makes parents' lives easier and adds fun while being a wholesome snack choice. Travel tip: Along with your Marvel® Avengers String Cheese, download some Marvel® Avengers coloring sheets and movies for a fun, theme-filled trip!
I found Marvel® Avengers String Cheese at Walmart in my area at a terrific price. Use a $1 off coupon on Marvel® Avengers String Cheese at CheeseAdventures.com (expires 1/15/2017) to stock up before your trip! Don't forget to check out CheeseAdventures.com for more fun kid's activities and tips for parents, too.