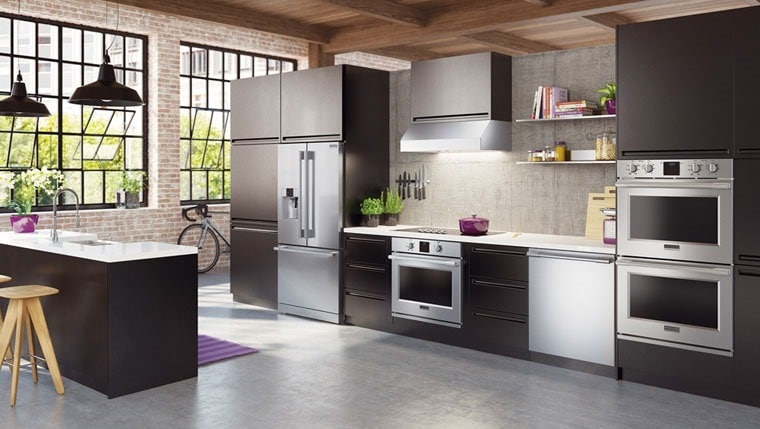 Are you upgrading or remodeling your kitchen? Well, you should consider installing professional appliances in your kitchen. Why? First, top quality, professional appliances adds value to your home. This is an important consideration if you will be moving soon or even in a few years if your current kitchen appliances are outdated.
Professional kitchen appliances also work better than lower end appliances since they have more functionality and features. They're also built to stand the wear and tear of a pro kitchen, so should do even better in a home setting.
Finally, if you love to cook, why not treat yourself to better appliances with out going way over a reasonable budget? That's why you should check out the Frigidaire Professional Collection.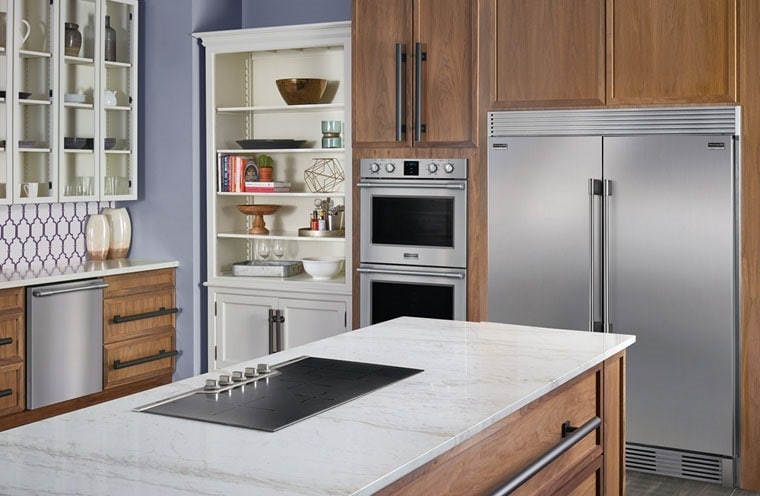 Why Frigidaire Professional?
Frigidaire is a name you can trust. I had a Frigidaire dishwasher, stove, and microwave in my old home and miss those appliances very much. Unfortunately, when I moved and did a partial remodel of my new kitchen (we purchased a new stove top, refrigerator, and dishwasher) Frigidaire appliances didn't fit. Boy, was I mad.
However, if I was starting from scratch, I would consider going with the Frigidaire Professional Collection. Here's why:
The entire collection is gorgeous.
All of Frigidaire Professional stainless steel appliances features Smudge-Proof Stainless Steel, a blessing if you spend all your time wiping down the fridge. (I do, which is why my current not-Frigidaire refrigerator drives me crazy.)
The Frigidaire Professional Collection goes with any style of kitchen décor – traditional, retro or modern. 
The Professional Collection has everything you need to complete your kitchen remodel  – ovens (wall or freestanding), stove tops, freestanding stove top/oven combos, range hoods, refrigerators, dishwashers, microwaves, and even small appliances like toasters and slow cookers .
Read how The Makerista and Chris Loves Julia upgraded their kitchen appliances with the Frigidaire Professional Collection.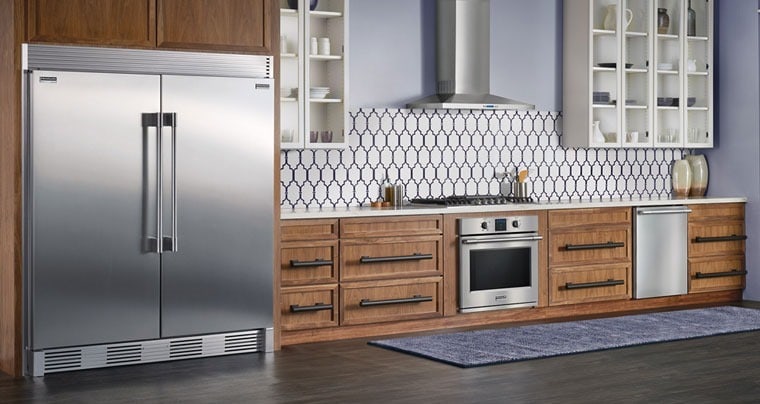 Frigidaire Professional Wall Ovens
Do you have a wall oven? I have a 20+ year old wall oven that cooks rather unevenly. I'd love to replace it, which is why I'm eyeing both the Frigidaire Professional 30" Double Electric Wall Oven and the Frigidaire Professional 30'' Single Electric Wall Oven.
Both wall ovens have PowerPlus® No Preheat, so your dishes are ready to cook in minutes! They also have PowerPlus™ Convection Bake and Roast, so meals are cooked quickly so that dinner gets to the table faster.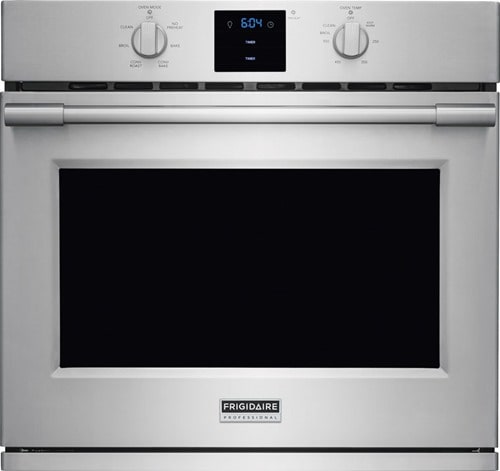 You can also set and monitor dish temperature with the PowerPlus™ Temperature Probe that's built right in. No having to deal with a stand alone meat thermometer anymore!
There's also a timer that you can set for both ovens when cooking dishes simultaneously. Love this, because I have to use my phone's timer and the microwave timer – until I have something cooking in the microwave, too.
Induction vs. Gas Cooktop? You can have either with Frigidaire Professional!
I have an induction stove top and love it. (You can read more about induction cooktops in my 5 things you need to know about induction cooktops article.) The Frigidaire Professional 30" Induction Cooktop has four burners. But if you have room, you may want to look into the Frigidaire Professional 36" Induction Cooktop, which has five burners. (My induction stove top has five burners – and there are times I use them all!)
Both induction stove tops have PowerPlus™ Induction Technology, which boils water in less than two minutes so you can shave time off of cooking dinner everyday. The  PowerPlus™ Induction Cooktop offers the the speed, control, and consistency of gas, without requiring the converting of your kitchen from electric to gas. Induction stove tops are also easier to clean (in my opinion) than a gas cooktop.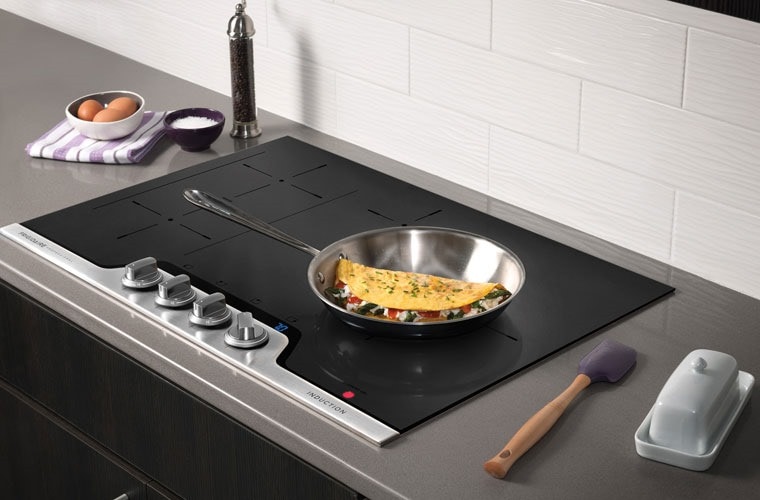 The induction cooktop's SpacePro™ Bridge Element allows you to cook two separate dishes at once, or combine elements for large pots or griddle-use. (Wish my induction stove top had this!) The cooktop adapts to the size of the pan whether it's a small pot, a large frying pan, or a big pancake griddle.
If you're more of a traditionalist and want to stick with gas, check out the Frigidaire Professional 36'' Gas Cooktop with Griddle. It's PowerPlus™ Burner delivers a strong performance, every time with 18,200 BTU. (Professional stoves often have higher BTU ratings that lower end gas stove tops.)
The durable, continuous cast-iron grates allow you to slide a variety of heavy pots and pans across burners – ideal if you do a lot of canning or use big, heavy pots for stock or soups.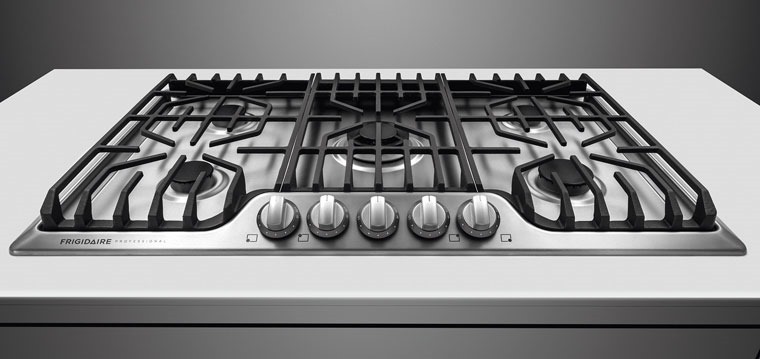 Get more information on the the Frigidaire Professional Collection
Click for more information on the Frigidaire Professional Collection. You can also connect with Frigidaire on: