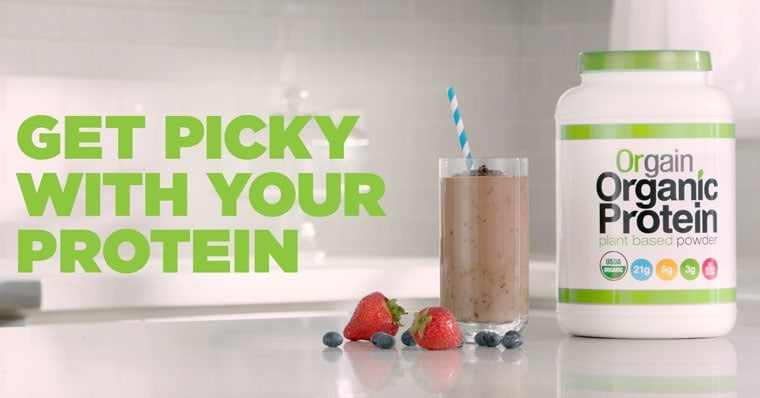 I'm picky about the protein powder I add to my morning fruit smoothie. I have a whey sensitivity, so most protein powders give me a tummy ache. While there's soy protein powders, I'd rather have a non-soy alternative. And have you checked out the label of the protein powders sold at your grocery store? So many of them have some sketchy ingredients like corn syrup, genetically modified soy, artificial flavors, hormones, antibiotics, and low quality non-organic ingredients
That's why I've been using Orgain Organic Protein Powder for over a year now. It's made from plant-based proteins like brown rice, hemp, chia, and pea. Orgain has 21g of plant-based protein per serving, only 3g net carbs, no added sugar, and 5g of fiber per serving.
Since it's made from USDA organic plant sources, Orgain is ideal for vegetarians and vegans. It's gluten free, non-GMO, and there's no dairy, soy, or lactose in Orgain products, too.
I'm also picky about the taste of my protein powder. Orgain is smooth, delicious and isn't gritty or medicinal tasting like other plant based protein powders.
About Orgain Organic Protein Powder
Orgain was created by  Andrew Abraham, M.D. He created the Orgain company in 2008 after being diagnosed with cancer. He was disappointed with the nutritional shakes he was given when he was trying to gain back the weight he lost during cancer treatments. He felt the need to develop a better quality, nutritionally complete, high protein nutritional shake.
You can buy Orgain Protein Powders in two different flavors – creamy chocolate fudge and vanilla bean. It's delicious not only in smoothies, but on cereal, in your breakfast oatmeal, and even in baking.
To find where Orgain Protein Powder is sold, check the store locator or store listings for online ordering.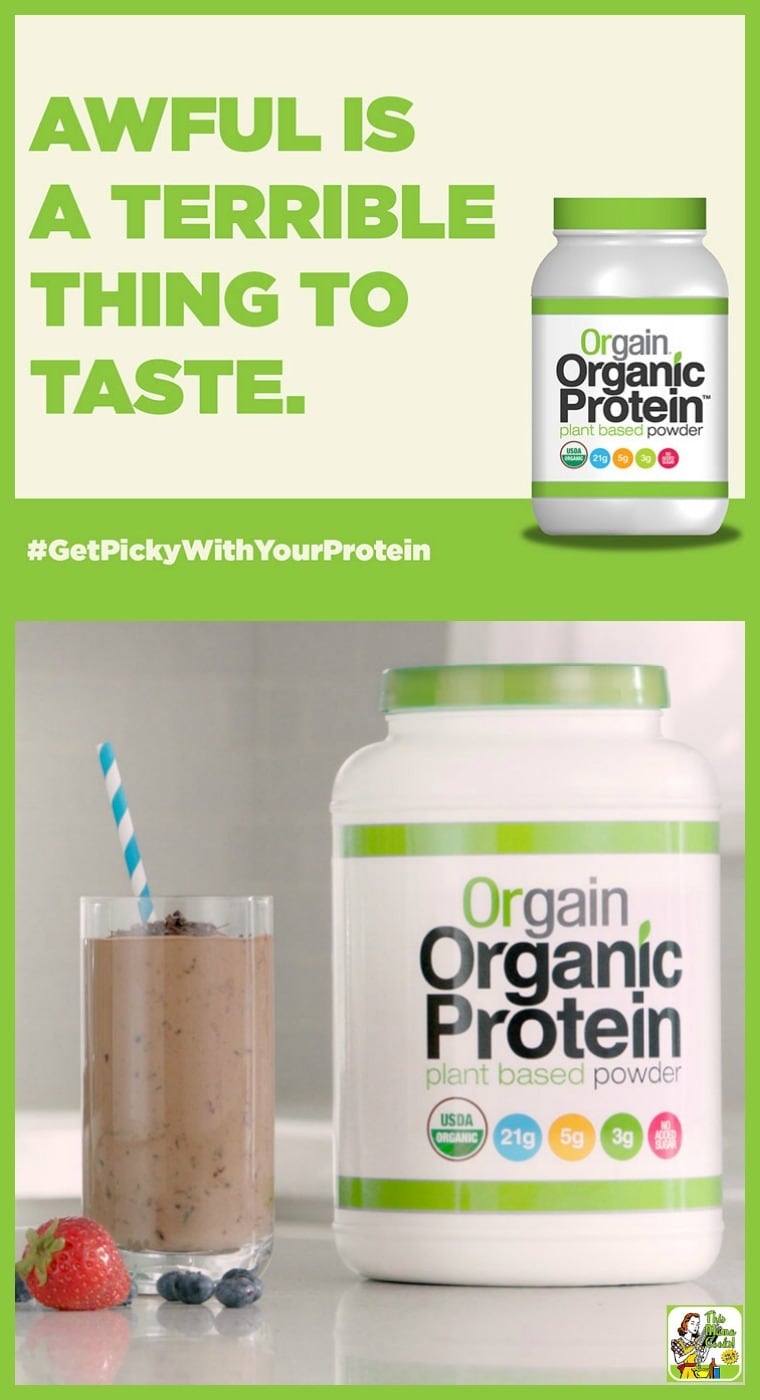 My morning routine with Orgain
I love using Orgain Organic Protein powder in my morning fruit smoothies. After all, there's nothing like starting off the day with 21g of plant-based protein. It leave me satisfied until lunch time.
I place one serving of Orgain, a handful or two of frozen fruit, some ice cubes and a little unsweetened coconut milk or water in my high speed blender. My blender quickly turns the Orgain enriched fruit into a delicious ice cream shake-like smoothie that's packed with plant based protein. I used frozen blueberries, strawberries or mixed berries. But you can use fresh bananas, peaches, or even some leafy greens for a "green monster" smoothie. (If you want a fresh fruit smoothie that has the consistency of ice cream, just add a handful of ice cubes to your blender.)
You can also combine one serving of Orgain Organic Protein powder with 4 to 5 ounces of water, almond milk, or unsweetened coconut milk. Just shake it up in a shaker blender bottle for an on the go drink or snack. It's perfect for on the go kids who need something quick before or after extra-curricular sports or other after school activities.
Get more information about Orgain Protein Powder
To learn more, check out the Orgain website. You can also connect with Orgain on Twitter, Facebook, YouTube and Instagram.
At Orgain, being picky means they don't compromise on nutrition, ingredient quality, or taste. It's my kind of protein powder. If you're picky with your protein, I bet you'll find that Orgain will be your protein powder of choice, too!