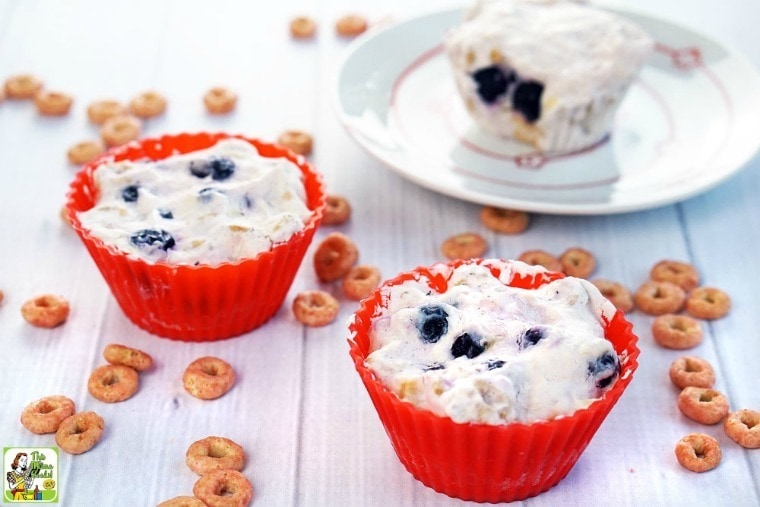 If you're looking for a quick, easy breakfast ideas, you need to make a batch of these Easy Frozen Greek Yogurt Bites!
I love them because each frozen yogurt bit contains all the elements you want in a healthy breakfast recipe – fruit and berries, non-fat Greek yogurt, and gluten free whole grain cereal.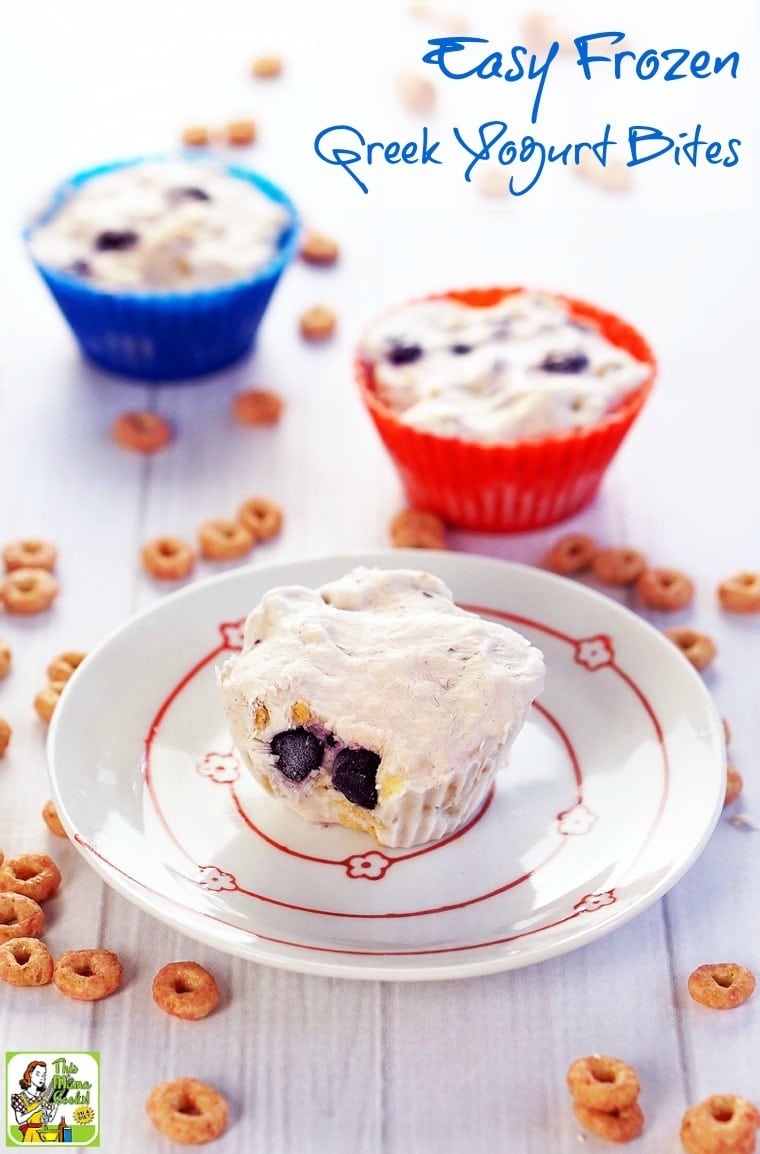 Easy Frozen Greek Yogurt Bites are easy to make, too! I make each batch of yogurt bites in colorful silicon baking cups. It's so easy to pop the bites out of the cups and store them in the freezer for breakfast.
Or you can leave them in the baking cups for serving. They're easy to clean, too, and great for making cupcakes or Picadillo Hash Brown Muffin Cups.
You can also customize this quick easy breakfast recipe to what you have on hand or your personal preferences. Don't like vanilla Greek yogurt, use blueberry! You can also make this dairy free by using a soy or coconut yogurt.
Can't find Strawberry Cheerios? Use another variety of Cheerios or another brand of gluten free cereal in your Easy Frozen Greek Yogurt Bites!
If you don't have fresh or frozen blueberries, try strawberries. (Just make sure to cut them up into small, bite sized pieces.)
Dried fruit like raisins or cranberries would also be delicious in this frozen Greek yogurt bite recipe.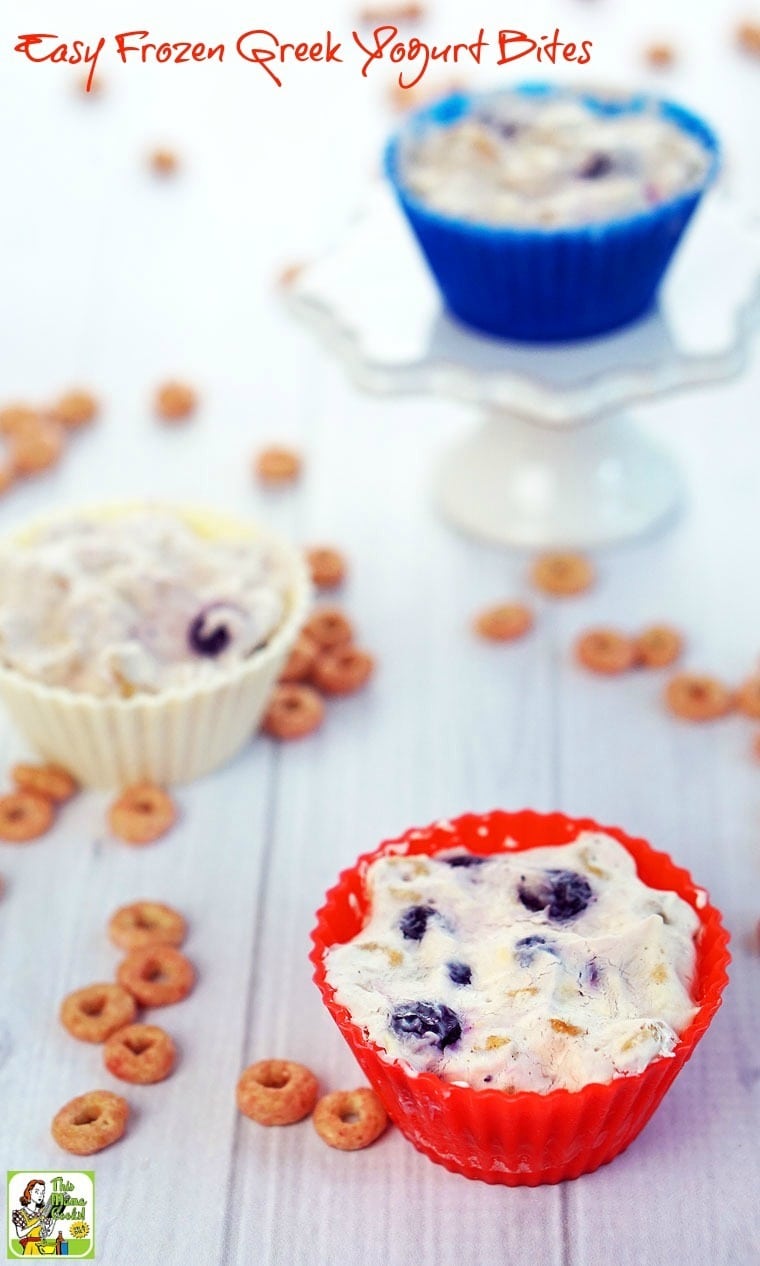 Don't like bananas like my daughter, Lucie? Then substitute applesauce for the bananas in this quick and easy breakfast recipe.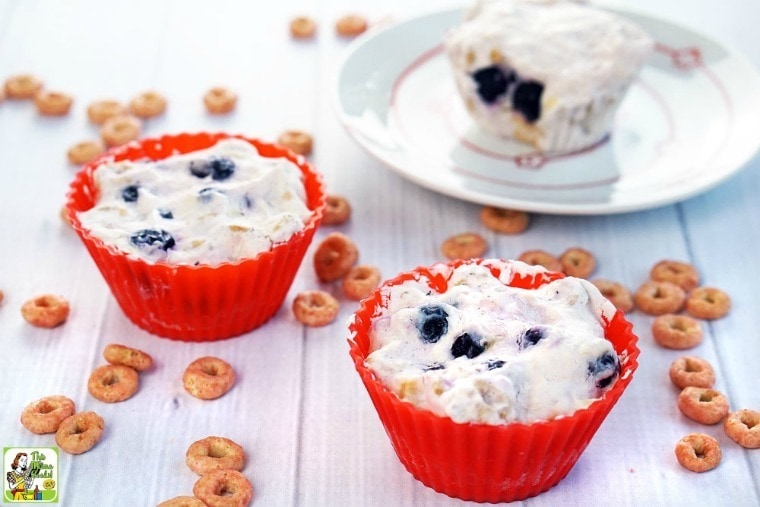 Easy Frozen Greek Yogurt Bites
Ingredients
1 cup

sliced bananas

2 cups

vanilla non-fat Greek yogurt

1 cup

gluten free Strawberry Cheerios

1 cup

gluten free Cheerios (non-flavored)

1 cup

fresh or frozen blueberries
Servings
:
Makes 14 yogurt bites
Serving size:

2-3 yogurt bites