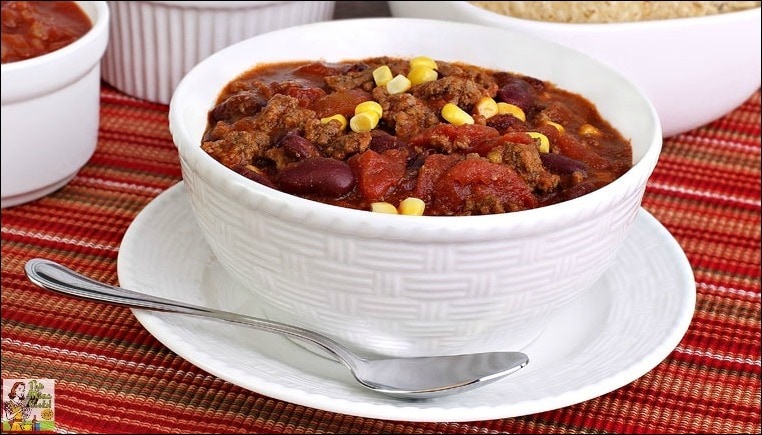 Are you looking for a recipe for easy taco soup? For years, I've made a version of healthy taco soup based on a Weight Watchers taco soup recipe I got in a meeting.
This taco soup from Weight Watchers soon became a family favorite. Over time, I tweaked it to make it even easier and healthier, so that I can quickly open a few cans of beans, tomato sauce, and even pureed pumpkin – and have a quick, healthy and delicious dinner in less than an hour.
This healthy taco soup recipe is such a favorite that I can make it twice a month and my family doesn't get bored. In fact, my kids thank me for making what they call, "The best taco soup recipe ever!"
I've healthed up the original Weight Watchers taco soup recipe by eliminating the dry ranch dressing. Have you ever read what is in those packets? Either you buy the brand name stuff, which has buttermilk – not great for us lactose intolerant people. Or you buy the generic ranch dressing which is full of MSG. I wouldn't want that in my healthy taco soup. No thanks!
I added more vegetables and fiber to this quick and easy taco soup recipe by including canned pumpkin puree, canned beans, and canned corn. (You can also use frozen corn, if you wish.)
I also added diced fire roasted tomatoes with green chilies (you can use Ro*tel tomatoes) to give my Easy & Healthy Taco Soup a little heat. My son always adds even more heat by adding his favorite Mexican hot sauce! If you like spicy, add your favorite hot sauce, too.

This Mama's tips for making Easy & Healthy Taco Soup even better!
This easy taco soup recipe uses ground beef. But you can use ground turkey, or venison. To make a vegetarian version use soy crumbles instead. Or leave out the "meat" altogether. The beans will give you plenty of vegetarian protein.
Any type of canned beans are fine – kidney, pinto, garbanzo, black beans, or a combination. (Not baked beans though!) Just make sure to rinse them well.
Add cilantro, some shredded cheese, no fat Greek yogurt, slices of avocado, and a scoop of salsa as garnish to your bowl of healthy taco soup. Yum!
Double the healthy taco soup recipe and freeze half for later. However, you'll need a very large stock pot to cook it in! I already cook this in a 7 1/4 quart Le Creuset Dutch Oven.
Easy & Healthy Taco Soup is a terrific dish to make for a large group to bring to potluck parties. I put my healthy taco soup in a Cook N Carry Crock-Pot and take it an insulated travel bag. Works great!
Le Creuset Signature Enameled Cast-Iron 7-1/4-Quart Round French (Dutch) Oven
Crock-Pot SCCPVL610-S 6-Quart Programmable Cook and Carry Oval Slow Cooker, Digital Timer, Stainless Steel
Reynolds Slow Cooker Liners 2 Pack
Crock-Pot SCBAG Travel Bag for 7-Quart Slow Cookers, Black
You can also make crock pot taco soup in a large 6-Quart Crock Pot. Brown the ground meat and onion in a large skillet and then transfer it and add the rest of the ingredients to your slow cooker. Cook for 8 hours and serve. Use slow cooker liners for easy cleanup.
Stock up on pumpkin puree during Thanksgiving when it's on sale to use during the year in this healthy taco soup recipe!
Add extra frozen vegetables to this healthy taco soup recipe to make it even more nutritious! No need to thaw the frozen vegetables either. Just add the frozen vegetables to the pot. I recommend frozen pepper strips.
Most taco seasoning mixes are naturally gluten free, but some do contain whey so are NOT dairy free. If you want to avoid whey – and save some money, too – make your own homemade taco seasoning by trying my easy homemade taco seasoning recipe!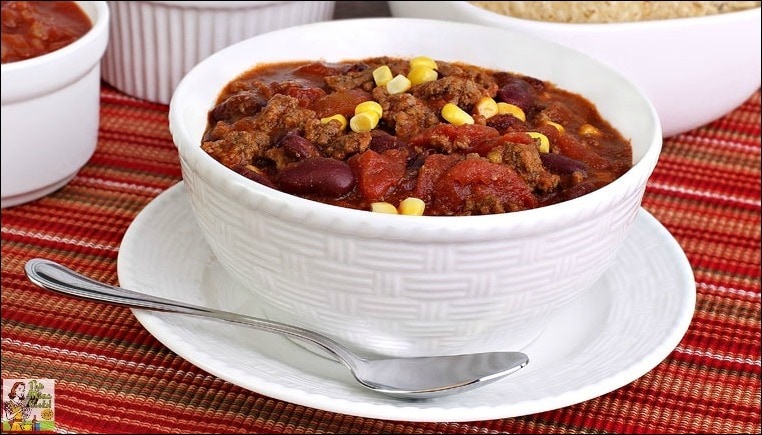 Directions
Brown ground meat with one large diced onion in a large stew pot.
Add rest of ingredients. Heat to boiling. Lower heat and simmer for 30 minutes. Serve.
Serving size:

1/4 to 1/6 of recipe
Originally published on January 9, 2010. Updated with new pictures.