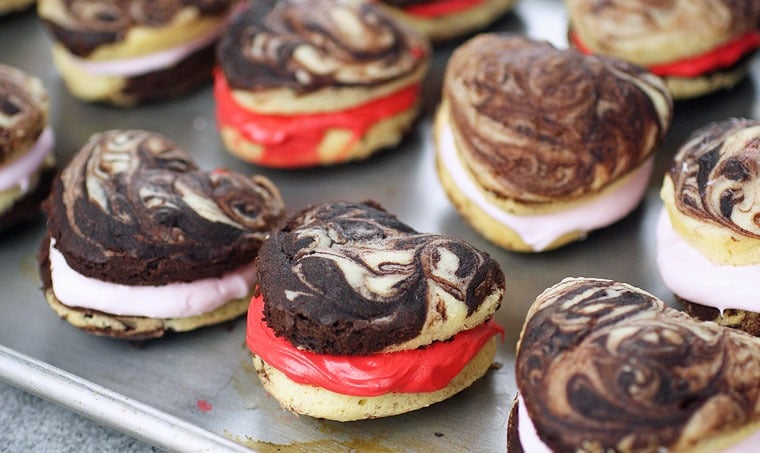 I couldn't resist buying this adorable heart shaped whoopie pie pan. So inspired I had to come up with an easy gluten free whoopie recipe for Valentine's Day! You won't believe how easy it is to make these gluten free dessert treats:
What is a whoopie pie?
First, I had to do a little research on creating whoopie pies that are gluten free. Believe it or not, I don't think I've ever eaten a whoopie pie. For some reason, I was under the impression it was like a Moon Pie. Wrong! Whoopie pies are basically a cupcake in sandwich cookie form with a gooey layer of marshmallow cream in the middle. The whoopie pie is usually chocolate, pumpkin or gingerbread.
The origin of the whoopie pie is contested as Maine, Massachusetts, New Hampshire, and Pennsylvania all claim to be the birthplace. According to Wikipedia:
Labadie's bakery in Lewiston, Maine has been making the confection since 1925. The now-defunct Berwick Cake Company of Roxbury, Massachusetts was selling "Whoopee Pies" as early as the 1920s, but officially branded the Whoopee Pie in 1928 to great success. Various claims suggest that the whoopie pie originated in Massachusetts and spread both north and south, or that German immigrants in Pennsylvania brought the predecessor of the Whoopie Pie to communities throughout the northeast.
What's Cooking in America says that whoopie pies were an Amish dessert featured in a 1930s cookbook called Yummy Book by the Durkee Mower Company, the manufacturer of Marshmallow Fluff. Naturally, the whoopie pie recipe used Marshmallow Fluff in the filling!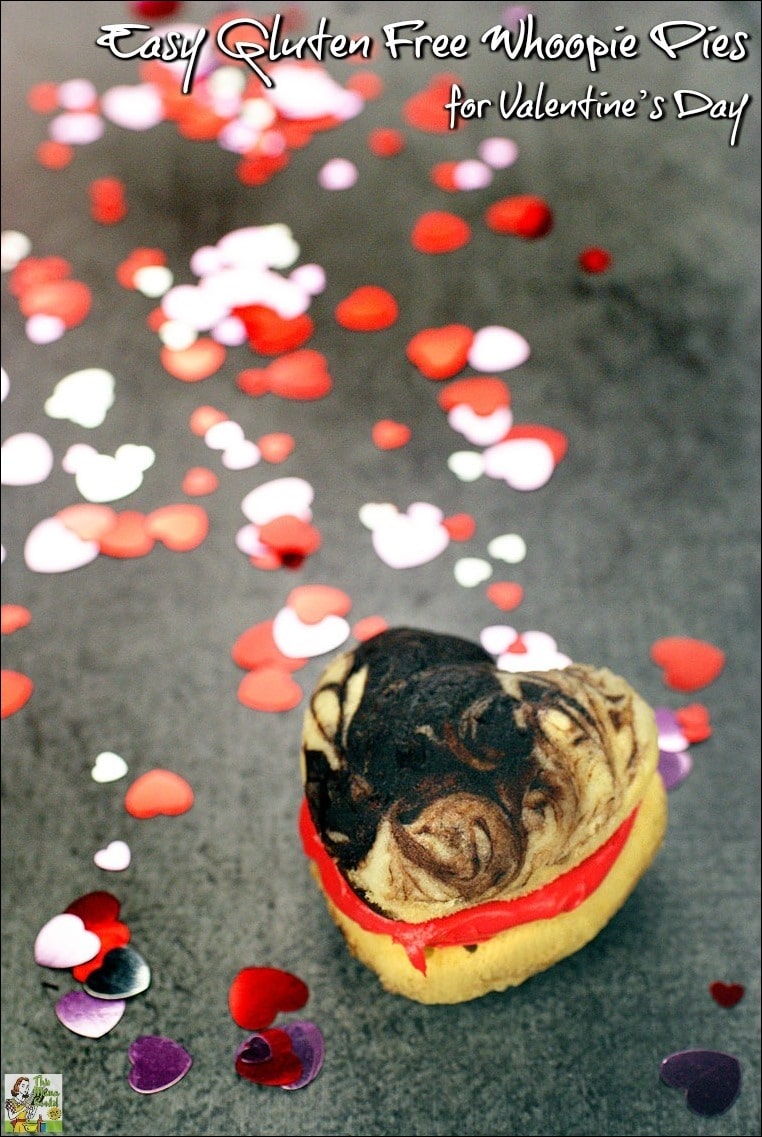 Can you make an easy gluten free whoopie pie recipe?
I had only baked gluten free cupcakes from mixes. Since I wanted to create a gluten free whoopie pie recipe, I did some online and cookbook research on gluten free cupcakes from scratch. Well, sheesh, I didn't want my readers to go out and buy two or three different kinds of flours, a binder like guar gum, and experiment with adding cocoa powder to all that, too. Plus, there was the matter of making homemade frosting, too.
Us busy gluten free folks ain't got time for that! Obviously, there must be a better way. Then I ran across Out of a Box: Big Fat Whoopie Pies, Gluten Free at the Gluten Free Canteen blog. Lisa made an easy whoopie pie recipe with gluten free Betty Crocker cake mix and gluten free Betty Crocker frosting mixed with marshmallow fluff. Hooray, so much easier! (Or should I say, whoopie, such a time saver?!)
Betty Crocker Gluten Free Devil's Food Cake Mix, 15-Ounce Boxes (Pack of 6)
Betty Crocker Gluten Free Cake Mix Yellow 15.0 oz Box
Betty Crocker Rich and Creamy Frosting - Cherry - 16 oz.
Marshmallow Fluff - 16 oz plastic tub
I would base my easy gluten free whoopie pie recipe on hers. However, I wanted to do something original, too, besides using a heart shaped whoopie pie pan. How about swirling yellow and chocolate gluten free cake mix together for a cool effect?
Since Valentine's Day was coming up, I'd look for some red or pink gluten free frosting to mix with the marshmallow fluff, too!
This Mama's tips for swirling the batter
Don't worry about your results. Worse comes to worse, you've completely mixed the two batters. However, your whoopie pie will still look and taste great after baking!
If you find swirling too hard after a few tries, make half the easy gluten free whoopie pies with yellow cake mix and half with the gluten free chocolate cake mix. Then make black and white whoopie pies with whatever flavor frosting you picked in the middle. It'll still be a cute Valentine's Day treat for your special gluten free sweetie!
This Mama's tips for making whoopie pies gluten free and dairy free
My other challenge was not only make the whoopie pies gluten free but dairy free, too. I checked the Betty Crocker website and their Gluten Free Devil's Food Cake Mix and Gluten Free Yellow Cake Mix are both dairy free.
I'm glad Lisa chose Betty Crocker frostings, since the company clearly labels their gluten free foods. I also like both the Betty Crocker frostings and cake mixes since you can easily find it at your local grocery store and don't have to go to a specialty health food store or order it online.
I chose strawberry marshmallow and Funfetti Red Radiant Vanilla that I found at Walmart. I believe both are special seasonal flavors since they were pink and red, and neither contain any dairy products per their labels. You can choose any gluten free Betty Crocker frostings that appeal to you.
The recipe below uses two flavors to reflect what's shown in the pictures. If you want to be frugal, one can of frosting and 1/2 container of Marshmallow Fluff should be enough as there was enough leftover frosting to make another batch of whoopie pies.
Finally, I made changes to Gluten Free Canteen's original recipe and used a dairy free buttery spread and unsweetened coconut milk. If you aren't dairy free, you can use regular butter and milk.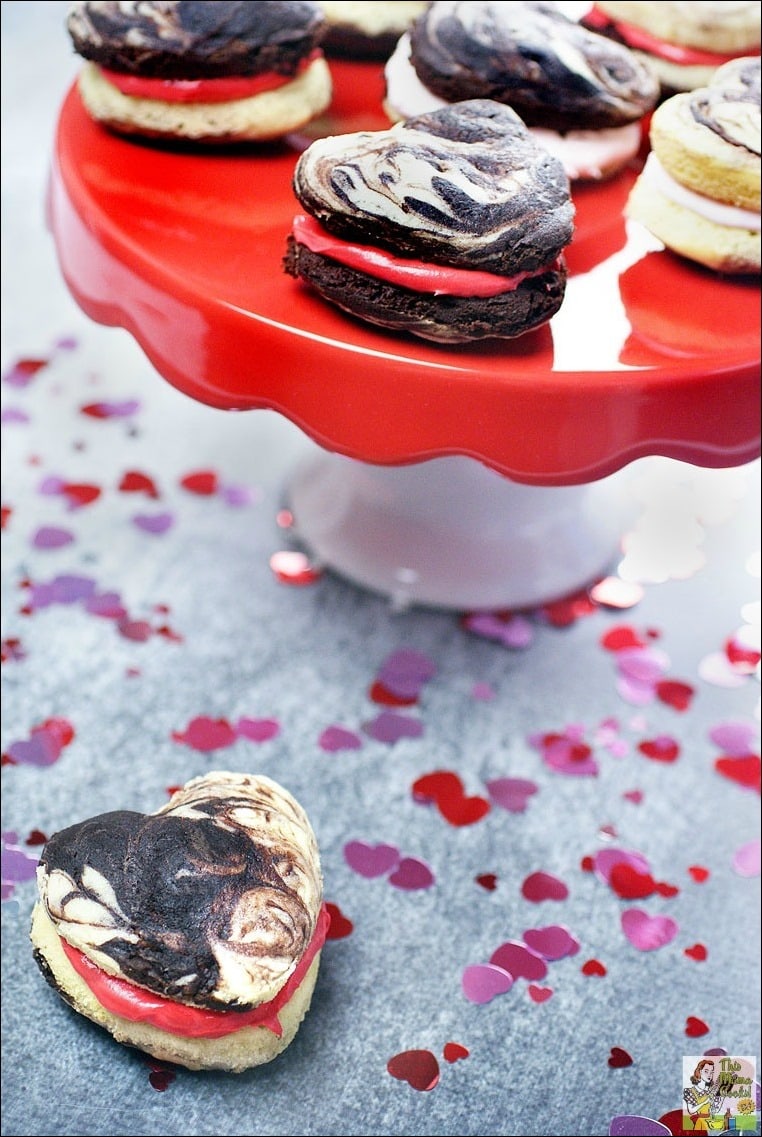 Whoopie pies are not just for Valentine's Day
Now I know you must be thinking that buying a whoopie pie baking pan for one holiday is a bit silly. Well, you can use the heart shaped whoopie pie pan to make cookies in, too.
Other whoopie pie ideas are using yellow cake mix and green frosting for St. Patrick's Day or maybe some red, white and blue frosting for Fourth of July. There are birthdays, baby showers, engagement parties, bridal showers, and class parties to bake whoopie pies for, too. If you can't find colored frosting, use a Wilton Icing Color Set to change the color of Betty Crocker white vanilla frosting. I've used Wilton colors for years and love how well they work!
Wilton 601-5580 1/2-Ounce Certified-Kosher Icing Colors, Set of 12
I also just bought a box of Pillsbury Funfetti Gluten Free Cake and Cupcake Mix, so the ideas for easy gluten free whoopie pies are endless! Experiment – have fun – and buy two whoopie pie baking pans – a round pan and a heart shaped pan. Or two of each! You'll thank me when you are baking one dozen, while another dozen cool.
Wilton Nonstick 12-Cavity Whoopie Pie Pan
Wilton Nonstick 12 Cavity Heart Whoopie Pie Pan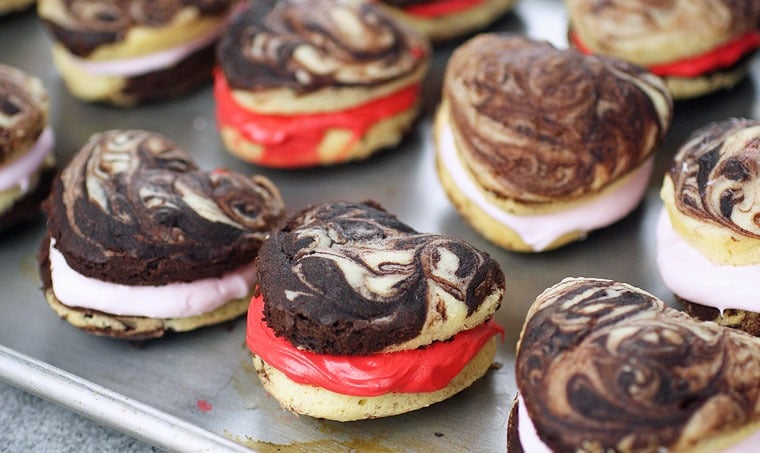 Easy Gluten Free Whoopie Pies
Ingredients
For gluten free chocolate cake batter:
1 box

Betty Crocker Gluten Free Devil's Food Cake Mix

6 tablespoons

dairy free or vegan buttery spread, softened

2

eggs

5 ounces

coconut milk
For gluten free vanilla cake batter:
1 box

Betty Crocker Gluten Free Yellow Cake Mix

6 tablespoons

dairy free or vegan buttery spread

2

eggs

5 ounces

coconut milk
For the filling:
2 cans

Betty Crocker gluten free frostings, flavors of choice

1 container

marshmallow fluff, divided
Directions
For the whoopie pies:
Preheat oven to 350 degrees F.
Place the devil's food cake mix, buttery spread, eggs, and coconut milk into the bowl of your stand mixer. Mix on low until the ingredients are incorporated. Then mix on high for one minute. Scrape down the sides of the bowl with a spatula. Then mix on high for one minute more.
Pour the mix into a medium mixing bowl.
Repeat with the yellow cake mix but leave the batter in the stand mixer bowl.
Using a small batter spoon, scoop 2 tablespoons worth of one flavor of batter into each pan cavity. Then spoon 1 teaspoon of the other batter flavor into each cavity.
Use a toothpick to swirl the batter flavors together and spread the batter evenly to the edges of the pan cavity. The cavity should be 2/3 full.
Place the pan in the oven and bake for 8-10 minutes or until the top of the whoopie cake springs back when touched.
Remove pan from oven and allow whoopie cakes to cool for 8 minutes before removing from pan.
Wash and dry pan thoroughly. Repeat steps 5-8 (switching batter as "base flavor") until all batter is used up.
For the filling:
As the last cakes are baking, wash and completely dry the mixer bowl.
Empty one can of frosting into the mixer bowl. Add 1/2 of the marshmallow fluff. Whip contents on high until the filling is fluffy and the color is fully mixed.
Scoop frosting out into a mixing bowl.
Wash and complete dry the mixer bowl. Repeat step 2 with second flavor of frosting and remaining marshmallow fluff. Leaving filling in mixer bowl.
For assembling the whoopie pies:
Using an offset icing spatula, gently spread a generous dollop of filling on the flat side of one cookie. (If you spread the filling around too much, as you would with cake frosting, it'll just pick up crumbs and start looking messy.)
Place the flat side of a second cookie on the filling. Keep the whoopie pies as flat as possible even though the tops make be bit uneven. If you stack them on their sides or at an angle, the top cookie may slide off.
Serve them up! Easy Gluten Free Whoopie Pies are best eaten within a day or two. After that, they have a tendency to get a bit stale.
Serving size:

1 whoopie pie