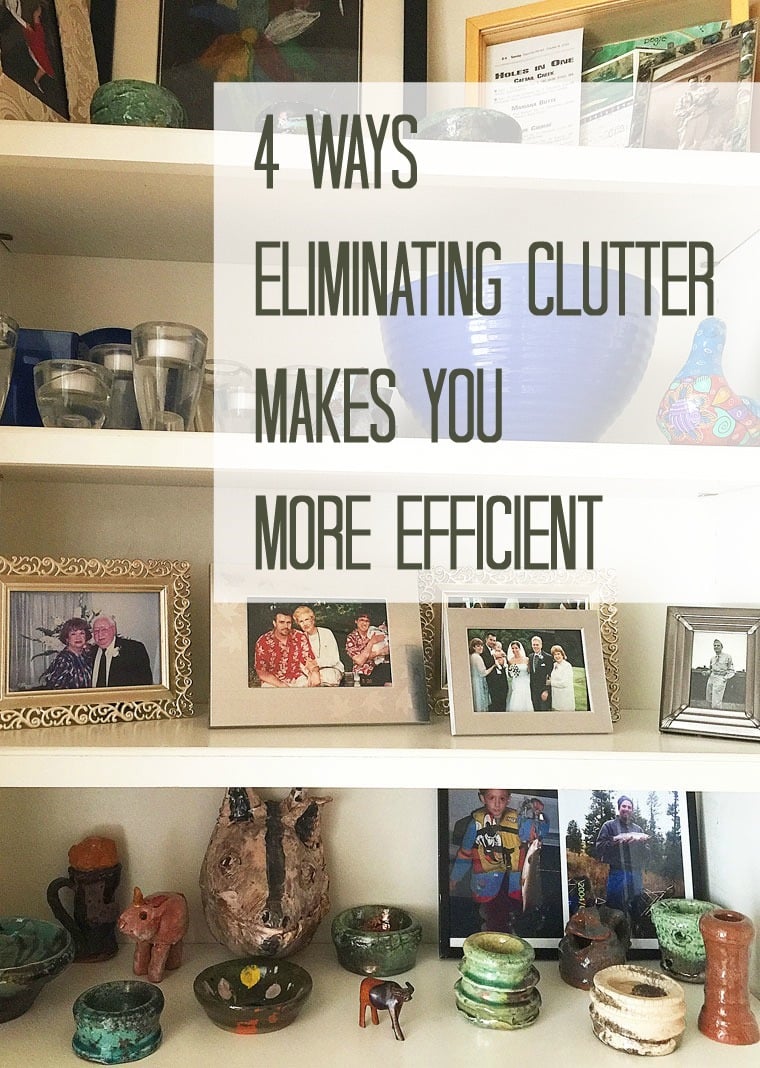 2016 is my year of working better, not harder. I'm all about being more efficient and upping my productivity, whether that's in my job or around the house. After reading that clutter affects productivity – it also relieves stress and makes you happier –  I've been  trying to eliminate clutter both in my home office as well as other spots around the house. I've even tried to get my family to do the same.
Here are a few tips that I hope will help you eliminate clutter and become more efficient.
Deal with paperwork immediately
Previously, I would let paperwork – everything from paid bills to the kids' report cards – pile up. Then it would take hours to organize and file it. I'd have to go through the pile just to find a receipt from a few months ago. What a waste of time!
For the things that had to be shredded, I would sit and shred until the shredder overheated. Then I'd have to wait until it would cool down. Ultimately, doing a big shred would cause my shredder to freeze up, and I'd have to buy a new one. A waste of time and money!
Now I immediately deal with paperwork. I put bills in an accordion envelope where they'll be dealt with at the beginning of the month. Other items are immediately filed that day. Credit card applications and bank slips are immediately shred them. All personal receipts go from my wallet into a big manila envelope for that month or to my desk if it's a business expense to be reconciled. There's no time wasted as everything has its place and I can find things immediately if needed.
Free up some room in  your pantry
Luckily, my husband wanted to organize his collection of scotches and bourbons that he's been storing in the kitchen pantry. After hunting around, he found an antique dealer who imports gorgeous vintage bars from England. Not only does he have a place to store his lovely bottles, but we can now show off some of the vintage barware we've collected, too.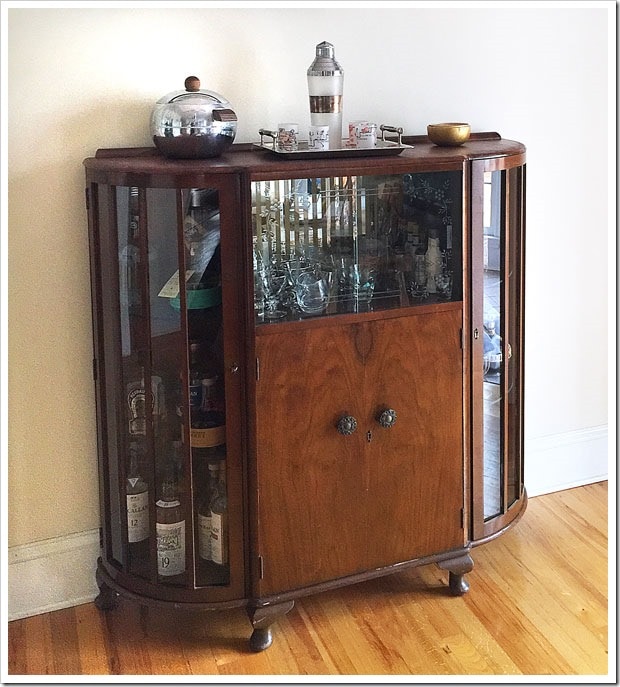 I benefit by getting two shelves in my pantry to move all my baking goodies to such as gluten free baking flours and mixes, and alternative sugars. Now that the other shelves aren't crowded I don't waste time looking for the chocolate chips or the apple cider vinegar!
Tidy up your collections
We've insisted that the kids start going through their rooms, which we joked look like a version of Hoarders meets The Walking Dead. Now that they have freed up some space, I've removed their trophies from the living room. (Kids should keep their trophies in their rooms, don't you think?) Now that I have more space, I can display the ceramics they've made along with other things we've collected like shells from our travels, family photographs, and interesting rocks and animal bones from our nature hikes. It's a nice blend of collections, kids' creations, and memories. We also have a place to put our extra change, so if the kids need some quarters for the school or church vending machines, they can just grab a few coins.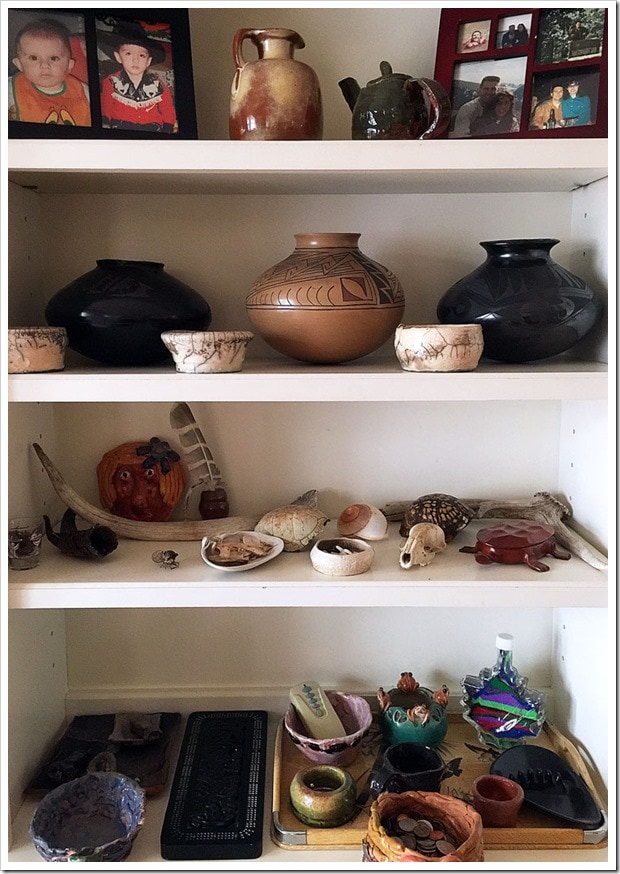 In this case it's efficiency meets Zen – the pleasure that your collection of memories gives you gives you a boost throughout your day to get your work done.
Get rid of unwanted stuff
All this organization means we've found a bunch of junk. Heck, I even went through the Christmas decorations this year and got rid of stuff. It's so freeing!
Some junk went into the trash like broken pens and old Halloween candy that the kids had squirreled away. Magazines, old papers, and anything else that was recyclable was taken to the local recycling center. Some things were regifted at "white elephant" holiday parties. Things like ribbons, went into my "props box" for my food photography. Good stuff, like my daughter's old clothes and toys went to the girls next door.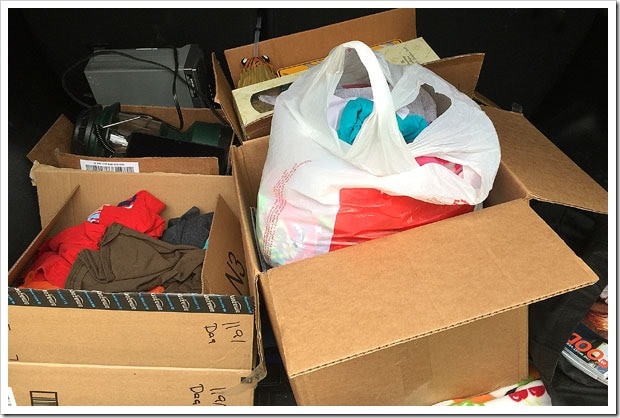 However, much of it was donated to one of our charities, Goodwill. I hope if you're motivated to clean out your closets and attic, you pass gently used items on to your favorite thrift store charity.
In this case, the efficiency in getting rid of clutter means that you get more room and less distraction, help out the environment, help out others, and you get a tax write off. Maybe all of these with just a few hours of work – wow!
How Clorox 2® helps out
During all this clutter reorganization, you'd find me sorting through a bin, dusting off a shelf, or on the floor cleaning out the bottom of the pantry. I'd usually end up covered in dust bunnies, looking rather filthy. Luckily, I use Clorox 2® Stain Remover & Color Booster. I like it as it keep colors bright and can be used as a pre-treater for stains.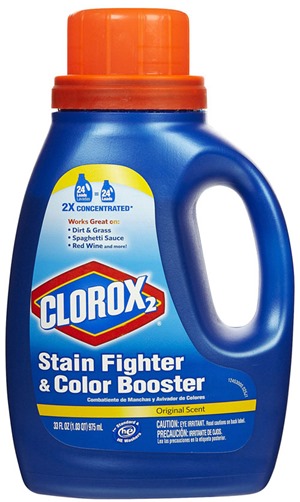 This is especially handy on my aprons and shirts, which are always getting stained during cooking. Grass stains, mud splatter and wine spills. They're signs of life well-lived. And while you want to delight in the discovery, savor the new skill, or celebrate the accomplishment, you want the stain gone – all gone.
Clorox 2® works on tough stains like soy sauce, coffee, wine, and grape juice. It's even worked on set-in stains that I thought would be there forever – even ones that went through the dryer! You know, the ones that your kids and husband don't tell you about until afterwards? That's why I'm glad Clorox 2® is on my laundry shelf!
Win a Clorox 2® Kate Spade/Stitch Fix Prize Pack!
Since Clorox 2® and I want to inspire you to get organized this year, we're giving away a 2016 Kate Spade planner ($40 value), a $100 StitchFix gift card, and Clorox 2® Stain Remover & Color Booster Liquid – (total approx. retail value $155). All you need to do is comment below in the comment widget box on how you'll eliminate clutter at your home or office.
a Rafflecopter giveaway
I am participating in a VIN campaign for Clorox® . I am receiving a fee for posting; however, the opinions expressed in this post are my own. I am in no way affiliated with Clorox® and do not earn a commission or percent of sales."