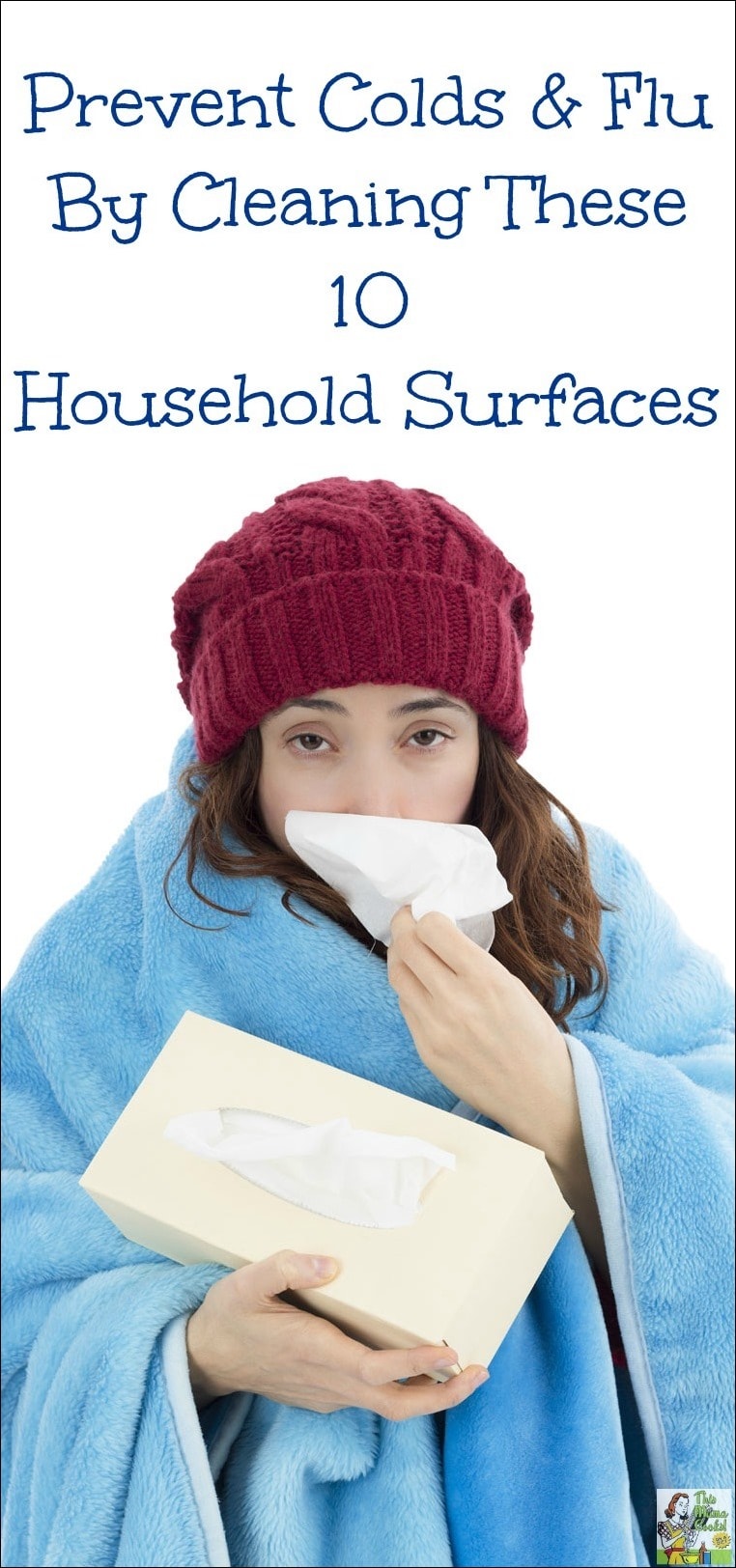 This is a sponsored post written by me on behalf of Clorox. All opinions are 100% mine.
This cold and flu season, my family has already been through two rounds of colds! Since I'm determined not to get sick, I'm on a mission to kill viruses and scrub away the germs. One of the best household disinfectants that's also the easiest to use is an antibacterial wipe. No spreading more germs with a rag or sponge! Just wipe – kill viruses – and toss!
When I came across Clorox® Disinfecting Wipes with Micro-Scrubbers at Target, I thought – here's a product that totally fits most busy moms' needs since it cleans while it kills germs! As an antibacterial disinfectant, Clorox® Disinfecting Wipes with Micro-Scrubbers kills 99.9% of viruses*, bacteria, staph†, E.Coli‡, salmonella§, and strep**. As a cleaning product, its texture and thickness handles bigger messes and disinfects 2x the surface area of other disinfecting wipes.
If you're on a mission to kill germs and viruses like me, Clorox® Disinfecting Wipes with Micro-Scrubbers are available at Target. Save 10% off your purchase by using the Target Cartwheel app on your purchase!
10 Household Surfaces You Should Clean with Clorox® Disinfecting Wipes with Micro-Scrubbers to Prevent Colds and Flu
Here's a list of 10 shared household surfaces that you should be cleaning with with antibacterial wipes to prevent the spread of germs!
1. Computer keyboard and mouse
Many germs that can live on surfaces for up to 48 hours! Do your kids share a computer or tablet? A disinfecting wipe is the best home disinfect for cleaning the shared keyboard and computer mouse. Just unplug the keyboard or if you have a wireless mouse or keyboard, turn it off or remove the batteries.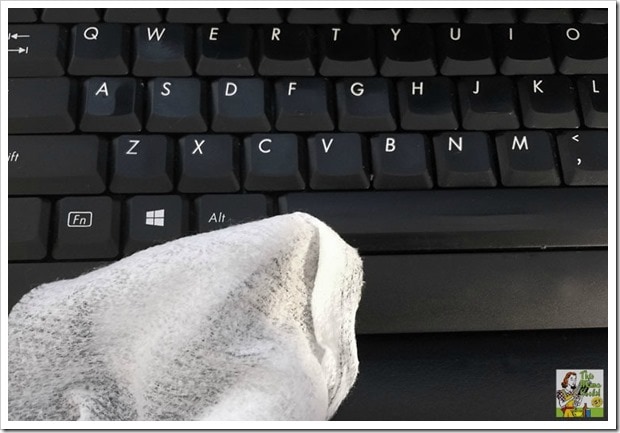 2. Phones
Whether you still have a LAN line house phone or your family all has personal wireless phones, everyone should wipe off their phones regularly with an antibacterial wipe. Your kids and their friends share phones and put them down on germy surfaces. Cleaning phones with a disinfecting wipe will keep them cleaner and less of a germ reservoir!
3. Remotes
Whether it's to the TV, the kids' gaming system, or even the garage door opener, we're all handling the same remotes. While you're disinfecting the house after the flu (or hopefully before it happens) make sure to wipe down every remote you can find with a Clorox® Disinfecting Wipes with Micro-Scrub.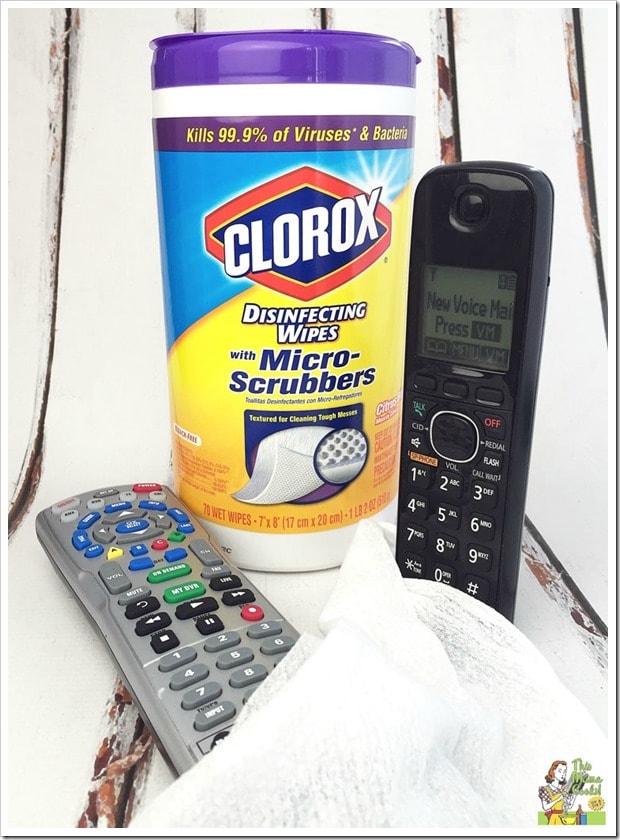 4. Drawer pulls
Do you have drawer pulls in the kitchen or bathroom? I don't know about you, but the ones in our kitchen are always a bit crusty or sticky. So I know those textured Clorox® Disinfecting Wipes will come in handy for both cleaning and getting rid of germs that spread colds and flu!
5. Chairs
Wipe down the back of kitchen chairs with a disinfecting wipe to get rid of any germs as well as sticky residue left from messy fingers after meals! While you're doing that, wipe any messes off the seat, too.
6. Door handles
Another shared surface are door handles throughout the house. The front and backdoor need wipe down with disinfecting wipes to kill any viruses trying to make their way inside, too!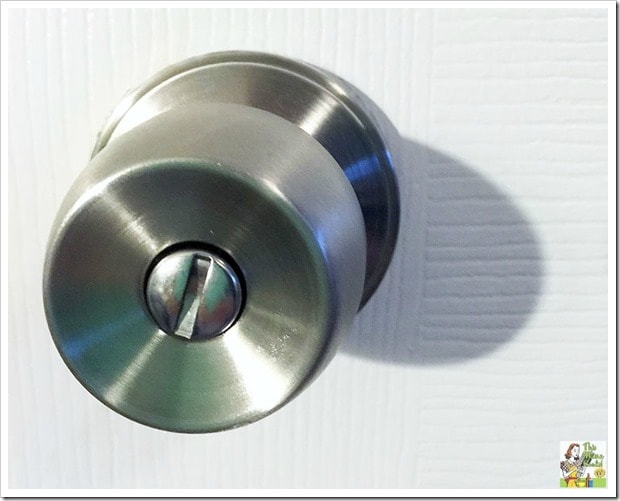 7. Refrigerator handle
I'm forever wiping down our refrigerator handle as it always sticky or has some dried on food stuck to it. Gross! With Clorox® Disinfecting Wipes with Micro-Scrubbers, now I can get that refrigerator handle clean AND germ free! I especially like that the disinfecting wipes are also killing kitchen germs like E.Coli‡ and salmonella§ along with germs that cause colds and flu.
8. Car steering wheels and controls
My husband and I swap cars and now that our teen is learning to drive, our cars' steering wheels are an even bigger potential area for germ exchange. Clean the steering wheel and controls with a disinfecting wipe. You'll be surprised how dirty your steering wheel gets, especially after filling the tank with gasoline or checking the tire pressure! And while you're at it, wipe down the interior door handles and the stereo knobs, too!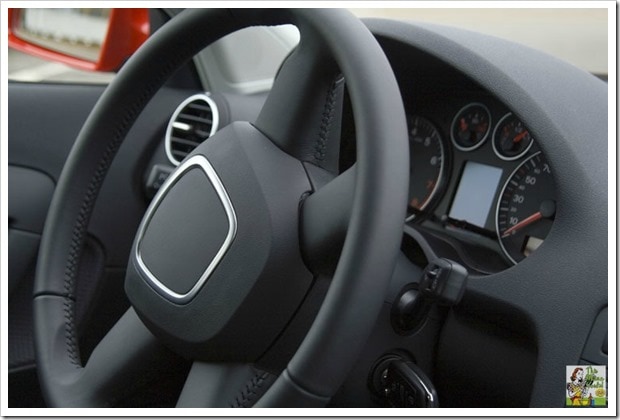 9. Light switches
Here's another shared surface you may not have thought of – light switches! Give those a good wipe down with Clorox® Disinfecting Wipes with Micro-Scubbers. You may be surprised how dirty they were. I was – yuck!
10. Dog leash handle
Do you have a dog? We do and several of us walk the dog throughout the week. Give your doggy's leash handle a good wipe down since it's a shared surface.
What areas in your home will you be wiping down with Clorox® Disinfecting Wipes with Micro-Scrubbers?
*Human Coronavirus, Influenza A2 Virus; †Staphylococcus aureus; ‡Escherichia coli O157:H7; §Salmonella enterica; **Streptococcus pyogenes