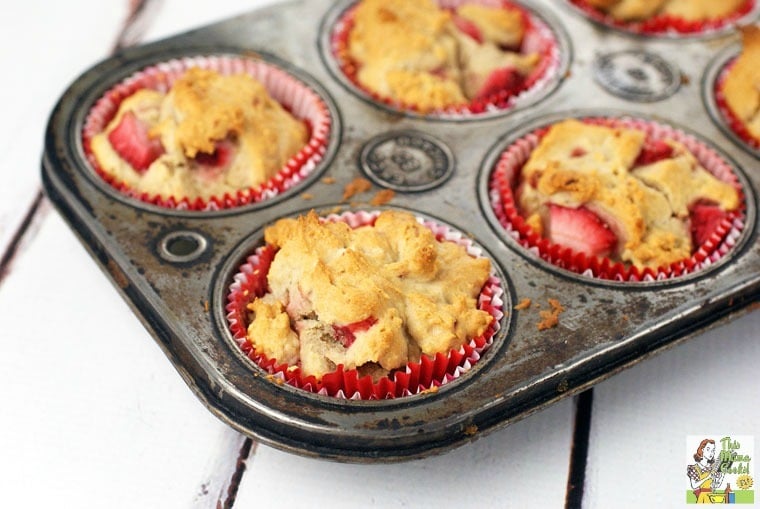 When you're gluten free, it's hard to travel and find foods that you can eat safely. That's why you should have an easy gluten free muffin recipe like these Gluten Free Strawberry Yogurt Muffins. Gluten free muffins travel well and should last a few days without refrigeration.
I recently went through this myself during a conference trip to Las Vegas. Luckily, I found a mini-grocery store within walking distance that had a terrific selection of gluten free crackers, fresh fruit, and good for you foods like strawberry yogurt. Still, I wish I had some gluten free strawberry muffins with my strawberry yogurt for breakfast!
Gluten Free Strawberry Yogurt Muffins for breakfast, snack or dessert!
Another way you can health up your breakfast is by putting dabs of yogurt on your Gluten Free Strawberry Yogurt Muffins instead of butter – a much smarter choice, don't you think? And it doesn't have to be all strawberry yogurt either! Try another flavor that you think will go with strawberry yogurt muffins like lemon or peach yogurt.
I believe in being prepared, so I bake a double batch of the yogurt muffins and freeze half for later. That way I always have a batch of gluten free muffins ready to go, whether it's for breakfast, a snack, dessert – or another conference trip!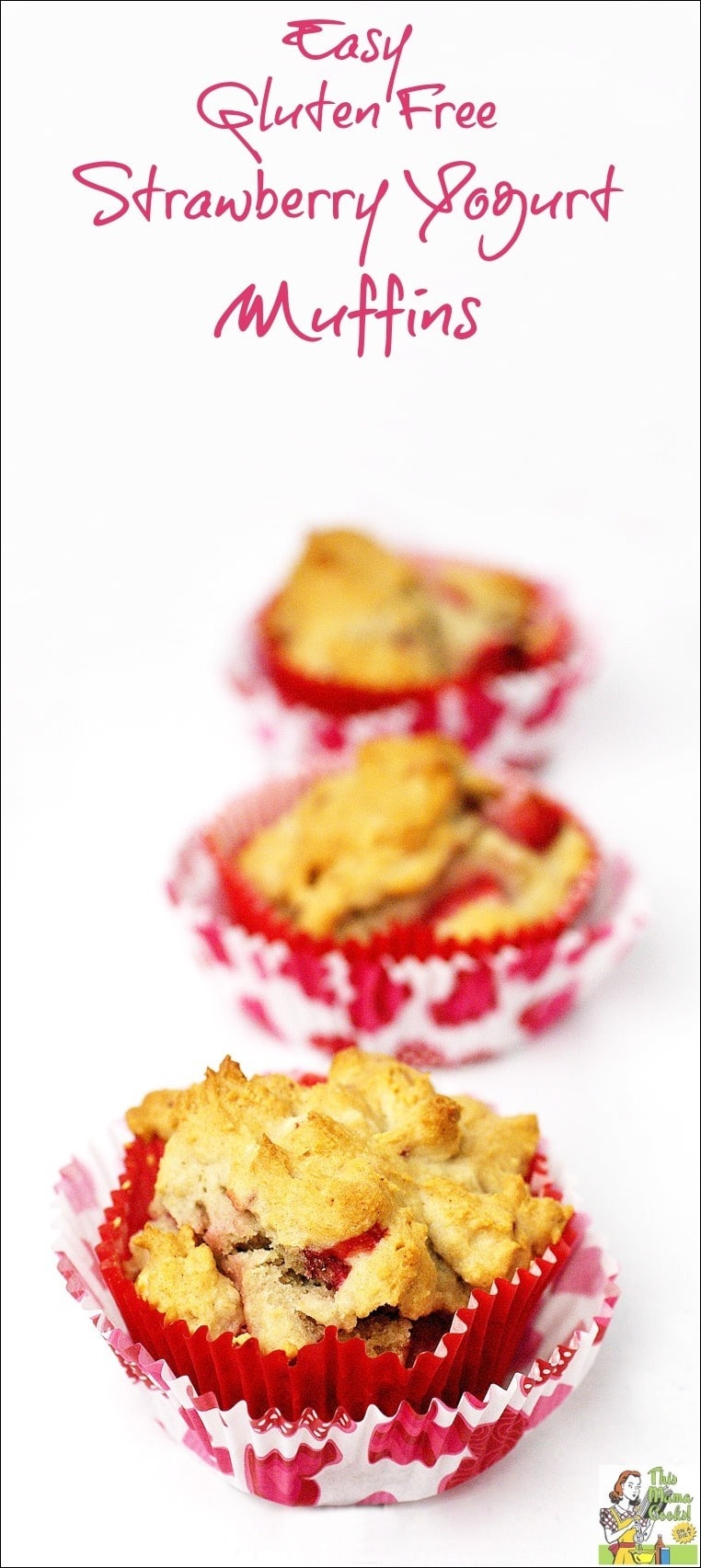 When you're healthing up your meals, why not do the same during afterschool snack time or substitute a Gluten Free Strawberry Yogurt Muffin instead of a heavy, calorie laden dessert? It's all about making healthier choices!
Looking for more healthier fruit muffin recipe choices? Check out my recipe for  Raspberry Yogurt Muffins!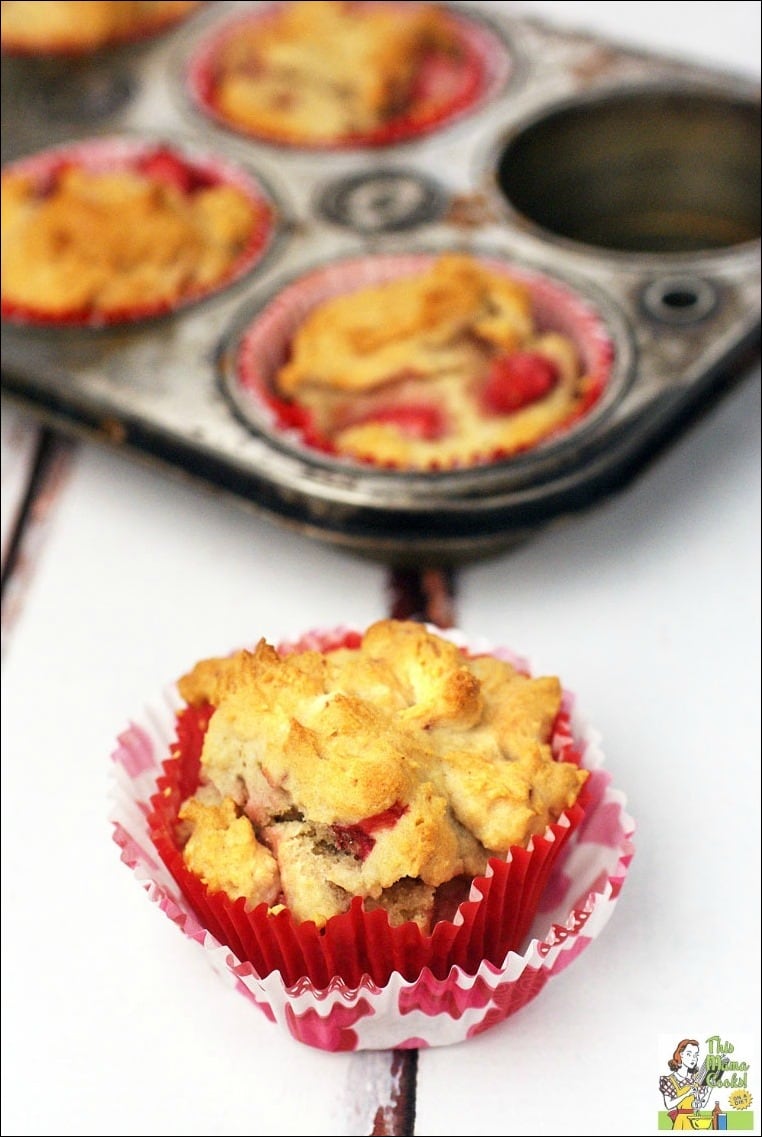 This Mama's Gluten Free Strawberry Yogurt Muffins cooking tips
You must use cupcake liners with this muffin recipe as these gluten free muffins will stick to the muffin pan if you don't. A good alternative are silicon cupcake liners or a silicon muffin baking pans so you can "pop out" the muffins. Both work great!
You can use fresh or frozen strawberries. If using frozen strawberries, there's no need to defrost them. I find sliced frozen strawberries easier to chop.
Make sure you chop up the strawberries into small pieces. Strawberries hold a lot of moisture and will make the strawberry muffins mushy if they're too big.
I used monk fruit powder, a natural no calorie sweetener, in these muffins. If you're not worried about calories, regular sugar is fine.
My favorite gluten free flour is Bob's Red Mill Gluten Free 1-to-1 Baking Flour.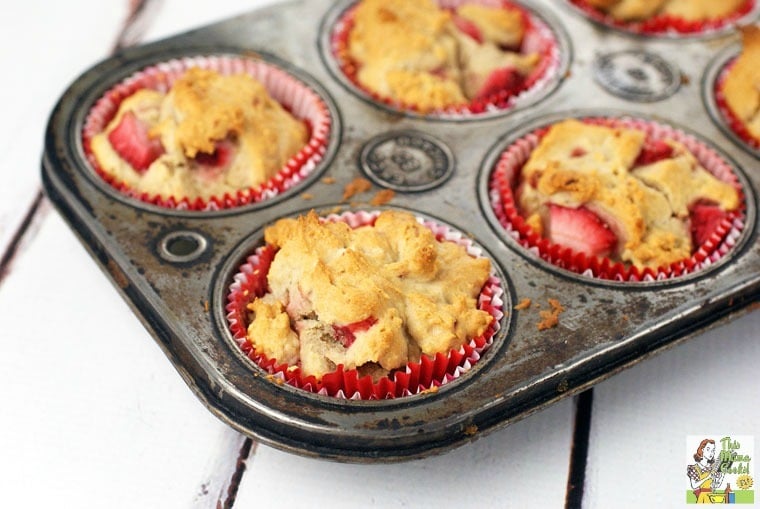 Ingredients
1 3/4 cups

all-purpose gluten free flour

1/3 cup

monk fruit powder

1 teaspoon

baking powder

1/2 teaspoon

baking soda

1/2 teaspoon

salt

1 carton (6 ounces)

low-fat strawberry yogurt

3 ounces

canola oil

1

egg

3 tablespoons

egg whites

1 cup

diced strawberries
Directions
Preheat oven to 400 degrees F.
Put paper liners in 12 muffin cups.
In a large mixing bowl, stir together flour, monk fruit, baking powder, baking soda and salt.
In a small bowl, beat together yogurt, canola oil, egg, and egg whites.
Pour yogurt mixture into flour mixture. Stir until almost blended.
Add strawberries and stir until strawberries are evenly distributed. Don't over mix. (Batter will be very thick.)
Spoon batter into muffin cups.
Place muffin pan(s) on oven's middle rack. Bake for 20 to 22 minutes until nicely browned.
Servings
:
Makes 1 dozen muffins