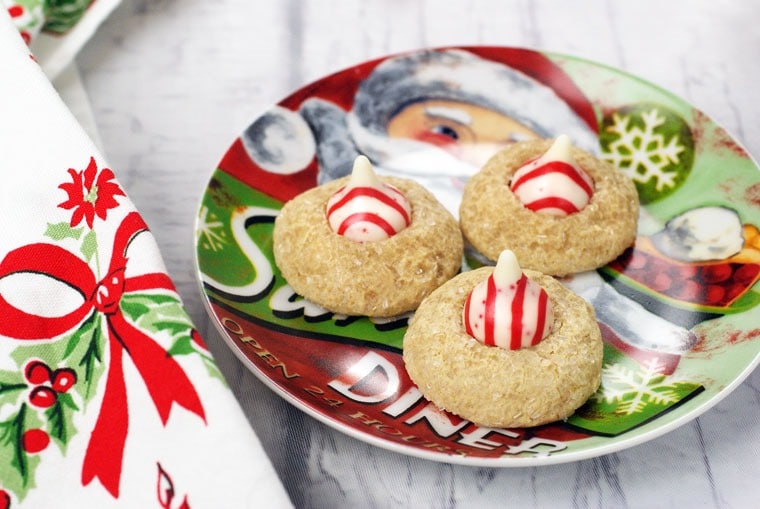 Have you ever gotten a last minute email from school that your child needs to bring in a couple dozen cookies for the club holiday cookie swap? I just got one today! That's why I created this recipe for Easy Gluten Free Peppermint Blossom Cookies. It's an easy recipe that you can make quickly from ingredients you probably have in the pantry during the holidays or can quickly pick up at the store.
I also wanted to create an easy cookie recipe that's gluten free, since so many kids are on a gluten free diet these days. You can cook up a batch of Easy Gluten Free Peppermint Blossom Cookies after dinner. Or if you don't mind waking up 40 minutes early, you can bake up some Easy Gluten Free Peppermint Blossom Cookies in the morning before going to school. You can easily convert Easy Gluten Free Peppermint Blossom Cookies into a dairy free thumbprint cookie recipe, if there are any dairy free kids you are making cookies for, too!
A festive cookie for the Christmas holidays
Blossom cookies are so much fun for the Christmas holidays with the addition of a chocolate kiss candy in the middle. I always have candy dishes around with chocolate kiss candies, but I especially like the striped mint ones. They're so pretty and I like the crunch from the bits of peppermint candy. However, all chocolate kisses – dark, regular and white chocolate, do contain lactose, which is a milk sugar. I have a food sensitivity to whey, so lactose doesn't bother me and I can eat the white chocolate kisses without getting a tummy ache.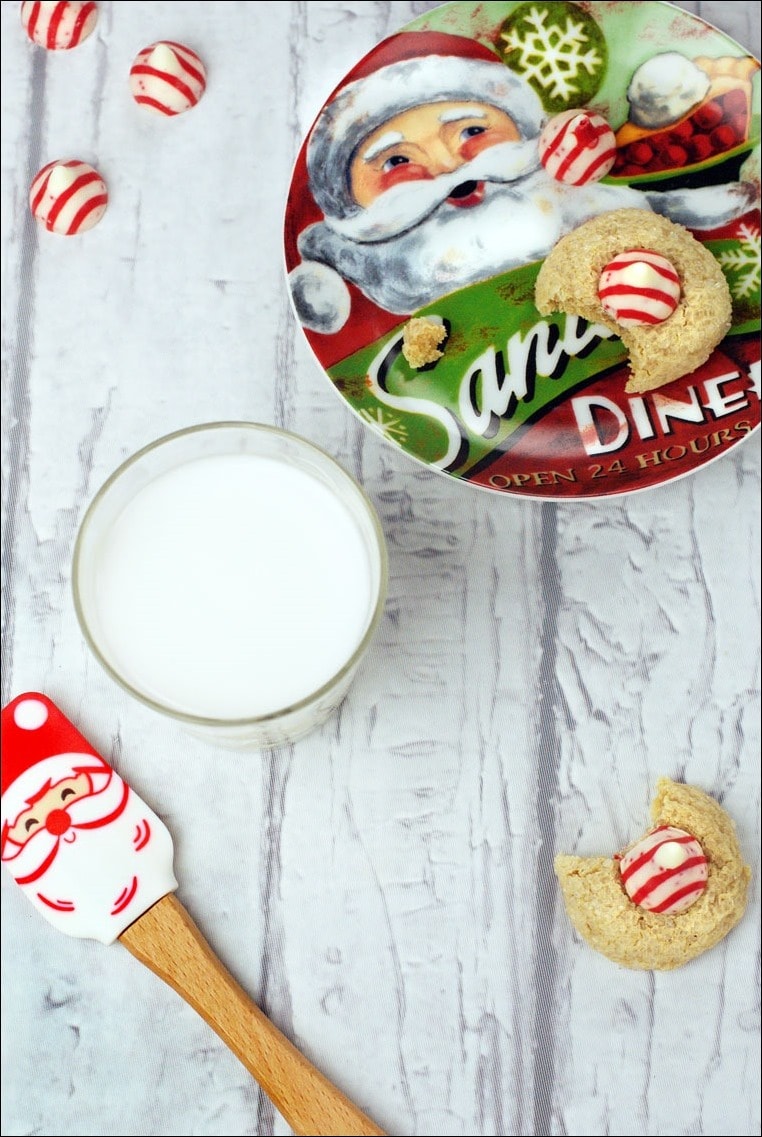 However, if you're making a batch of these Easy Gluten Free Peppermint Blossom Cookies for someone who is has to avoid milk products, the dough is already dairy free. So instead of adding a chocolate kiss, you could add a square of dairy free dark chocolate (search the aisles at your favorite health food store for some dairy free varieties). Or you could turn the Easy Gluten Free Peppermint Blossom Cookies into Easy Gluten Free Peppermint Thumbprint Cookies and add a dollop of cherry or raspberry jam instead of chocolate. Or leave half the cookies without any additional candies or jam.
All three ways, these gluten free and dairy free holiday cookies are divine – soft, moist and buttery with a bit of crunch from the sugar on the outside. Plus you have a festive cookie that's perfect for holiday cookie swaps and Christmas parties that can be made in less than an hour (including cool down time). Don't forget to save a few for Santa!
Baking gluten free with Bob's Red Mill
I've been using Bob's Red Mill products for many years, almost from the time I found out my mother-in-law had celiacs – about 15 years ago. They were one of the first companies that I knew that made alternative flours and products like gluten free certified oats that I needed for gluten free baking. When I learned they came out with an all purpose gluten free flour – Gluten Free 1-to-1 Baking Flour – I was excited to try it out.
There was no doubt in my mind that it would be a high quality product, just like the rest of their flours. But I have to say that Bob's Red Mill Gluten Free 1-to-1 Baking Flour is just about perfect. It's not gritty at all. It tastes and acts just like regular flour in your baking. You don't have to add anything extra or tweak your recipe to get it to work perfectly.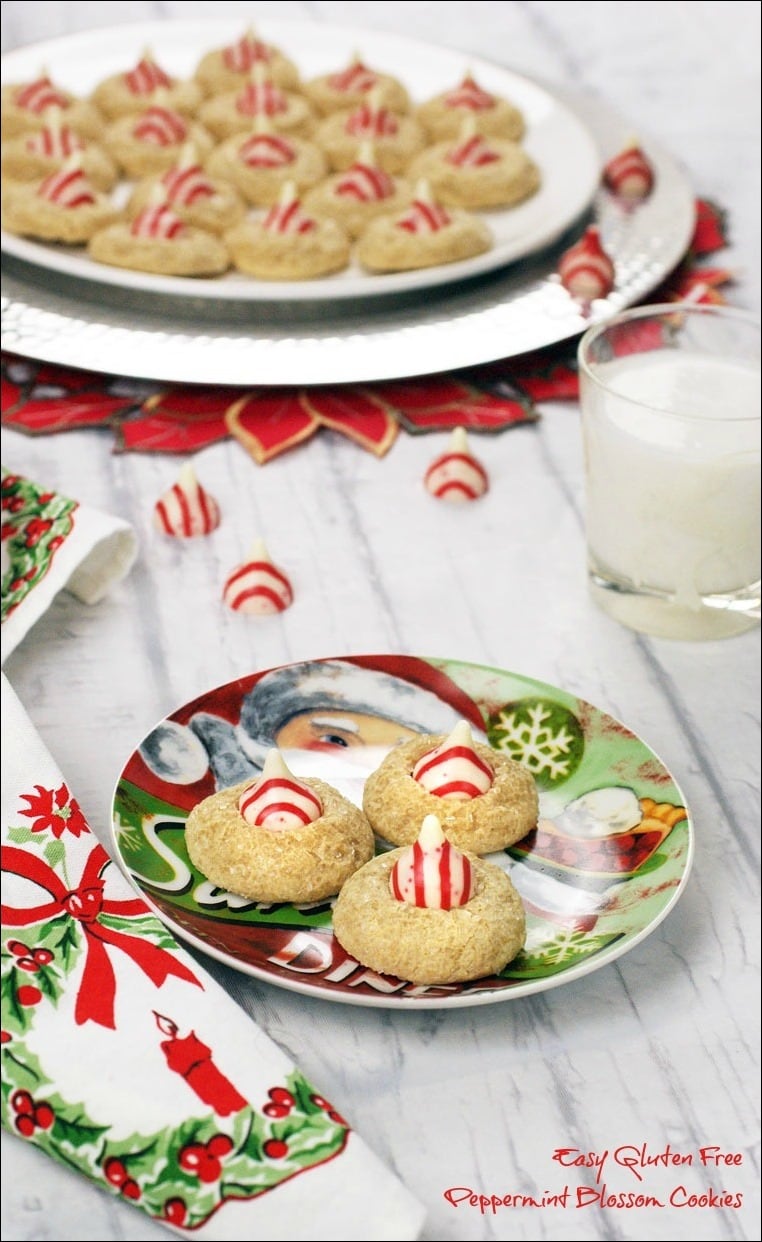 Gluten Free 1-to-1 Baking Flour combines finely ground brown rice flour, sweet white rice flour, whole grain sorghum flour, potato starch, and tapioca flour with a touch of xanthan gum. There's just enough xanthan gum to create chewy cookies and springy muffins. I feel that Bob's Red Mill got the perfect mixture down compared to some of the other gluten free all purpose flours out there, which are very starch-like or seem mostly made up of rice flour. Instead, the protein in the sorghum flour helps give baked goods made with Bob's Red Mill Gluten Free 1-to-1 Baking Flour  an almost wheat-like texture and aids in browning.
Of all the gluten free all purpose flour mixes I've tried so far, Bob's Red Mill Gluten Free 1-to-1 Baking Flour is my favorite. It truly is as advertised – a "1-to-1 baking flour." Go ahead and use it in your favorite cookie, cake or brownie recipe!
You can try it for yourself with this $1 off coupon! If you can't find Bob's Red Mill Gluten Free 1-to-1 Baking Flour at your grocery store or local health food store via the Bob's Red Mill store finder, you can order it online.
This Mama's tips for making Easy Gluten Free Peppermint Blossom Cookies
I already explained above that the Easy Gluten Free Peppermint Blossom Cookie dough is naturally dairy free, but the chocolate kiss candy isn't. You also have the option of using dark chocolate, milk chocolate or any variety of chocolate kiss candy you like. If you want to use squares of chocolate, you can do that, too! All the cookies don't have to match either. Some can be peppermint, some can be dark chocolate, and others can be thumbprints. Have fun and get creative!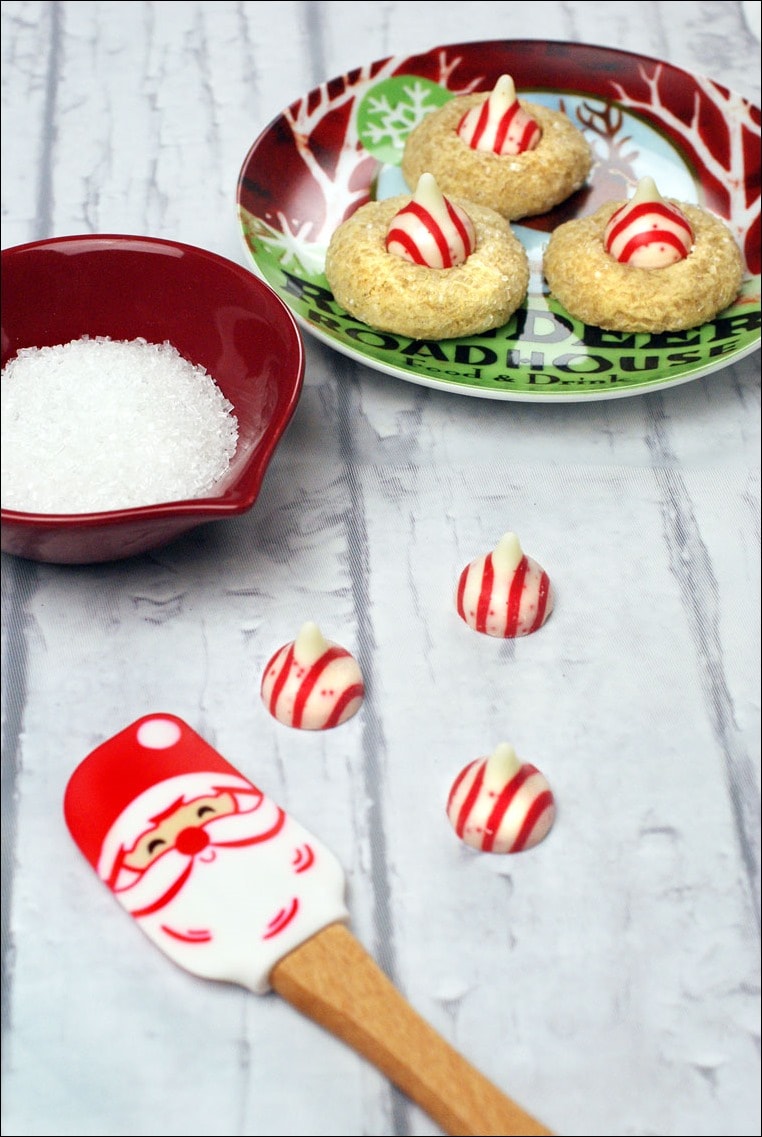 I used Bob's Red Mill Decorative Sparkling Sugar to roll my cookies in. I love the big sugar crystals and how they made the outside of my cookies a bit crunchy! However, you could use colored sugar crystals. Again, get creative and mix it up!
I used coconut milk, but you can use any dairy free milk you wish. However, some kids have allergies to soy or almond milk, so I feel coconut is the safest one to use. Many kids don't like coconut, but so little is used, you can't taste it. Also, a vegan buttery spread may have soy, so again, read the label and check with the parents, teachers and kids you're serving the cookies to, so you are sure no allergens are being ingested!
Easy Gluten Free Peppermint Blossom Cookies aren't just for Christmas. Change the colors and candies for the various holidays. Just make sure to read the ingredients list of any candies you use to check for gluten and dairy.
Finally, Easy Gluten Free Peppermint Blossom Cookies make a wonderful edible holiday gift for teachers, school bus drivers, grandparents, coaches, or friends. Check out my Pinterest board on Wrapping Ideas for Edible Gifts for some gift packaging inspiration!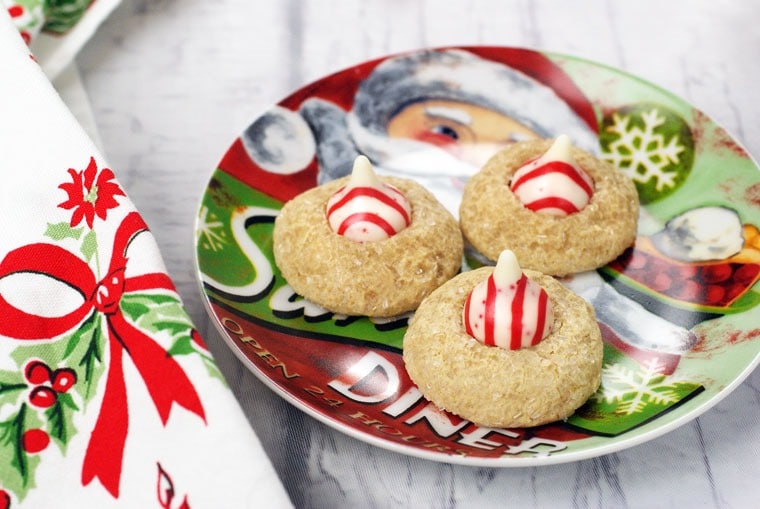 Easy Gluten Free Peppermint Blossom Cookies
Ingredients
1/2 cup

vegan (dairy free) buttery spread, softened

1 cup

brown sugar

1

egg

1 1/2 teaspoons

gluten free vanilla extract

2 tablespoons

coconut milk

2 cups

Bob's Red Mill Gluten Free 1-to-1 Baking Flour

1/4 teaspoon

baking soda

1/4 teaspoon

salt

1/2 cup

Bob's Red Mill Decorative Sparkling Sugar

1 package

white chocolate peppermint kiss candies (approximately 48 candies per package)
Directions
Heat oven to 350 degrees F.
Mix buttery spread, brown sugar, egg, vanilla, and coconut milk in a large bowl until well blended.
In another bowl, stir together Gluten Free 1-to-1 Baking Flour, baking soda, and salt.
Add flour mixture to butter mixture a little at a time. Mix until well blended.
Poor sparkling sugar on to a medium sized plate. Using a small ice cream scoop, measure out dough into enough for a 1-inch ball. Roll ball in sparkling sugar and place cookie on a baking mat on a cookie sheet.
Bake cookies for 8 minutes or until edges have browned slightly and the cookies have set.
While cookies are baking, unwrap candies.
Remove cookie sheet from oven. Cool cookies for 2 minutes. Gently press a chocolate kiss into the center of each cookie. Using a spatula, carefully move cookies to cool on a wire rack.

I was selected for this opportunity as a member of Clever Girls and the content and opinions expressed here are all my own.