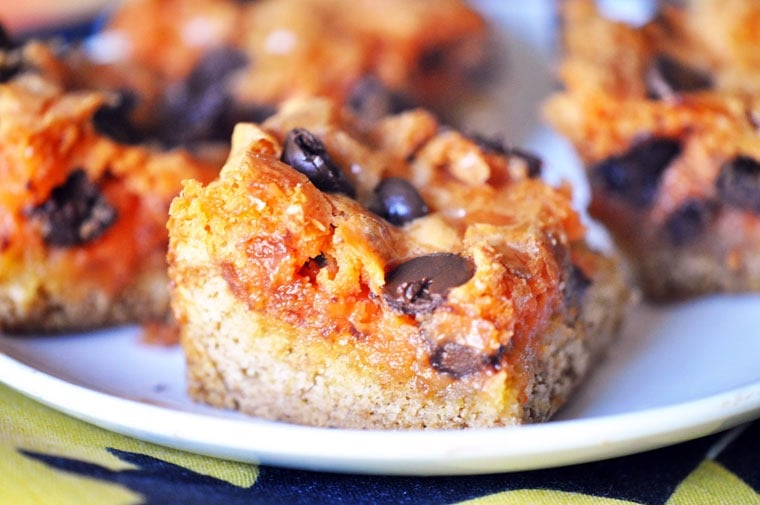 For many of us, Thanksgiving is the start of the holiday entertaining. With relatives visiting and the kids home from school, visiting you need a Thanksgiving dessert that's quick and easy to make.
Luckily, frequent contributor, Holly Clegg, has sent us her holiday dessert recipe of Ooey Gooey Squares Bar Cookies.
These bar cookies are quick and easy to make. They're also portable, making them easy to bring to relatives' homes on Thanksgiving or to a party at school.
Ooey Gooey Squares Bar Cookies can easily be made gluten free by using gluten free yellow cake mix. I like the mixes made King Arthur Flour, Betty Crocker, and Bob's Red Mill.
Holly uses confectioners sugar, also known as powdered sugar, in the Ooey Gooey Squares Bar Cookies recipe. If calories are a concern, order Sverve Sweetener's confectioners sugar. I find that it cooks up and tastes the same as regular sugar, and you don't have to worry about all those calories!
Finally, you can make Ooey Gooey Squares Bar Cookies a dairy free recipe by using a dairy free buttery spread instead of butter, a vegan cream cheese, and Enjoy Life Semi-Sweet Chocolate Chips, which are dairy free and gluten free.
You can find more of Holly's trim& TERRIFIC® recipes at The Healthy Cooking Blog. Check out Holly's trim & TERRIFIC™ cookbooks on Amazon, too!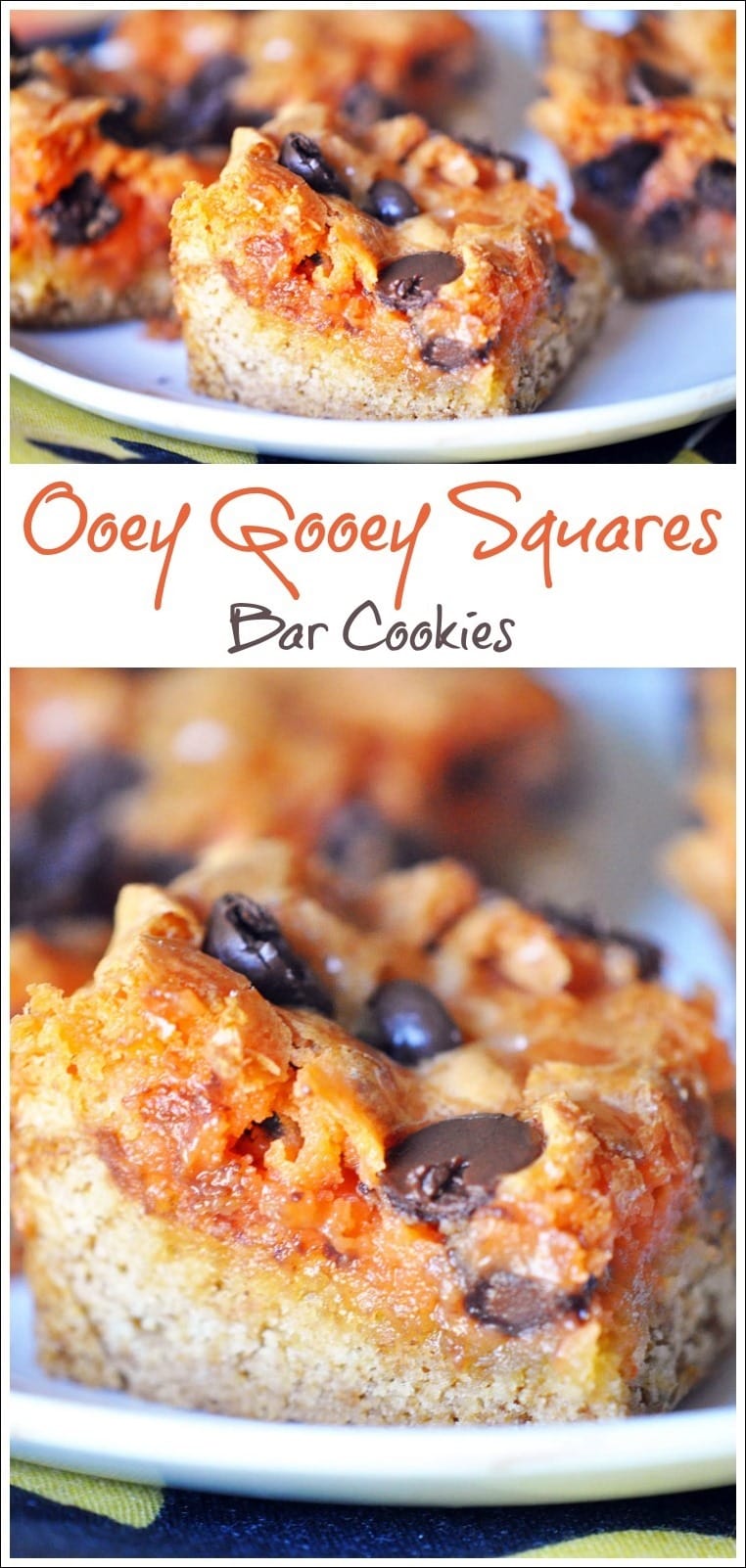 Having fun with Thanksgiving desserts
My Ooey Gooey Squares Bar Cookies gets a fun make-over with added orange (or red and yellow) food coloring keeping in the Thanksgiving and fall time spirit.
This Thanksgiving dessert recipe comes from my trim&TERRIFIC KITCHEN 101: Secrets to Cooking Confidence: Cooking Basics Plus 150 Easy Healthy Recipes cookbook.
Ooey Gooey Squares Bar Cookies are probably my most requested and all-time favorite bar cookie probably because it's so easy and quick to make.
I always keep these pantry-friendly ingredients one hand for when I need a fast dessert that's a winner every time.
If you like these, you'll also love my Yam Chocolate Spice Bars.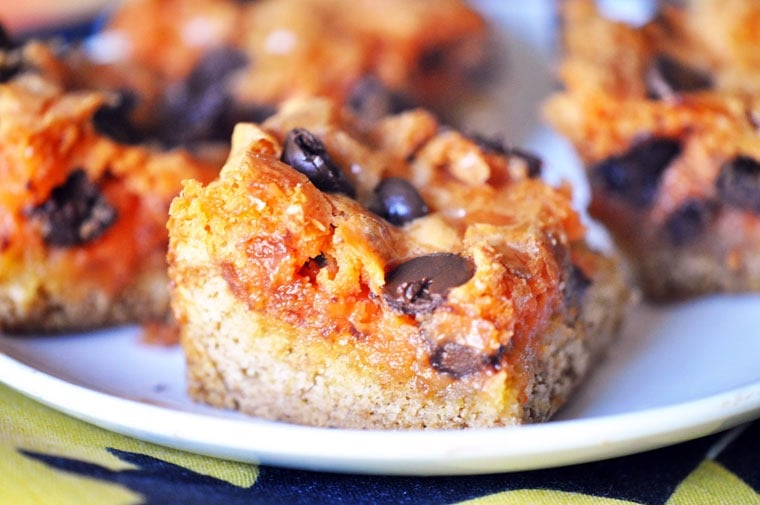 Ooey Gooey Squares from KITCHEN 101
Ingredients
1 (18.25-ounce) box

yellow cake mix, regular or gluten free

1/2 cup

butter or dairy free buttery spread, melted

1

egg

1 tablespoon

water

1 (8-ounce) package

reduced-fat cream cheese or vegan cream cheese

1 (16-ounce) box

confectioners sugar

2

egg whites

1 teaspoon

vanilla extract

Orange food coloring or red and yellow to create orange

1 cup

semisweet chocolate chips or allergy free semisweet chocolate chips
Directions
Preheat oven to 350° F. Coat 13x9x2-inch baking pan with nonstick cooking spray.
In mixing bowl, beat together cake mix, butter, egg, and water until well mixed. Spread batter into prepared pan.
In mixing bowl, beat together cream cheese, confectioners' sugar, egg whites, and vanilla. Add drops of orange food coloring until desired color. Stir in chocolate chips. Pour this mixture over batter in pan.
Bake 40-50 minutes or until top is golden brown. Cool to room temperature and cut into squares.
Total Time:
1 Hour 10 Minutes
Servings
:
Makes 48 squares
Serving size:

1 cookie

Calories:

138

Calories from Fat:

50 (36%)

Total Fat:

6g

Saturated fat:

3g

Unsaturated fat:

3g

Sodium:

112mg

Total Carbohydrates:

21g

Sugar:

17g

Fiber:

0g

Protein:

2g

Cholesterol:

13mg
Dietary Exchanges:  1 1/2 other carbohydrate, 1 fat
Recipe and photo used with permission of the author.