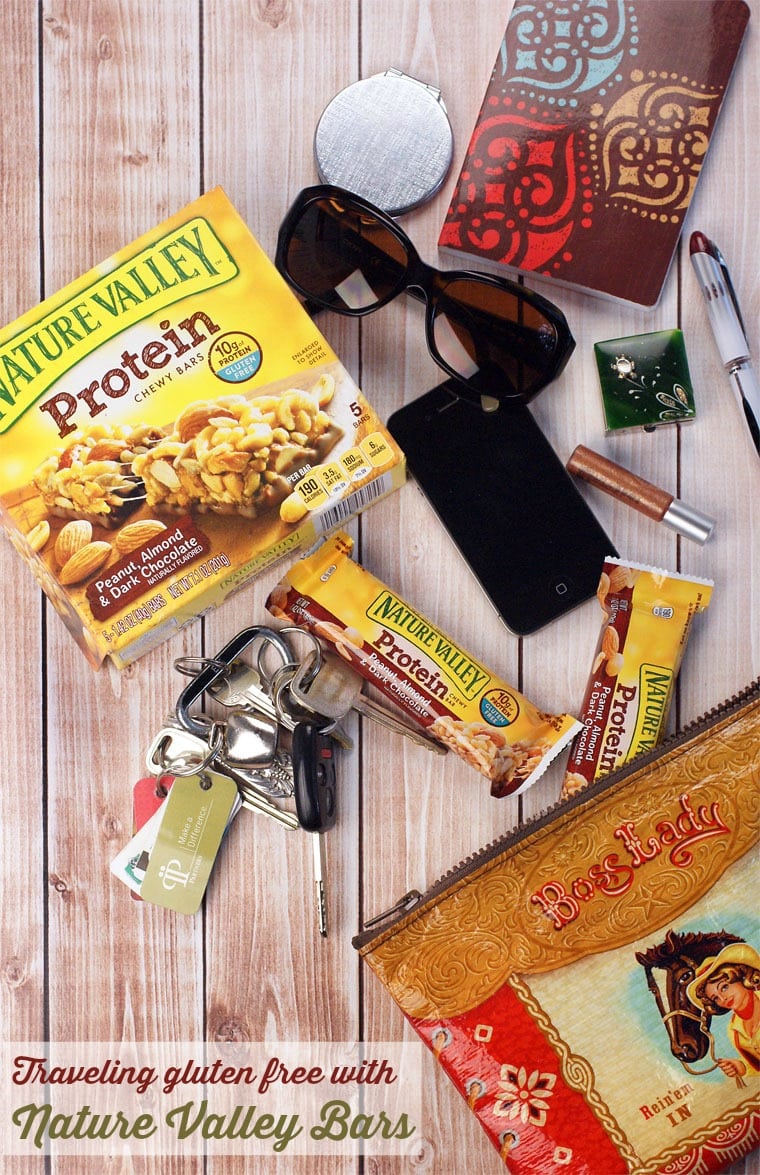 I've been eating a gluten free diet for over four years now and cooking gluten free recipes for my mother-in-law, who has celiacs, for over a decade. It's never been easier to eat gluten free because of all the new gluten free food products in the stores. However, once you leave home and hit the road, you never know if you can find gluten free foods.
If you're at the stuck in an airplane on the tarmac or coming in late to a hotel, your meal and snack options may be limited. Then there's the moment when you go downstairs in the morning for your complimentary breakfast, only to find that the only gluten free foods are yogurt, fruit, and tea. And if you're like me and eat dairy free, then it's just an apple and tea until lunch time when you can grab a salad (hold the croutons, please)!
That's why I always travel with something that doesn't need refrigeration and can easily be kept in my purse or in my luggage. Meet Nature Valley's new gluten free snack bars, my new traveling companion!
There are four varieties and 10 flavors to choose from:
Nature Valley Nut Crisp Bars – almond dark chocolate | salted caramel peanut nut
Nature Valley Nut Crunch Bars – peanut crunch roasted nut | almond crunch roasted nut
Nature Valley Simple Nut Bars – almond cashew sea salt | roasted peanut honey
I like traveling with Nature Valley Protein Bars since they offer 10 grams of protein per bar. I find them very filling and satisfying, especially if I'm on the go and unable to stop for a real meal. Plus, the little bit of chocolate makes me feel like I'm indulging!
I enjoy the other Nature Valley bars as an afternoon snack with a cup of hot tea. I love that Nature Valley is keeping up with the latest flavor trends by offering bars with touches of sea salt, dark chocolate, and salted caramel, don't you?
More gluten free travel tips
Plan gluten free eating online. Go online and plan what restaurants you'll be visiting. Not only is this a good way to make reservations at popular restaurants, but you can take the opportunity to check out menus and talk to managers and chefs on the phone. Many restaurants now have gluten free menus posted as well as regular and children's menus. The Yelp app is a great resource for checking out menus and reader reviews. Cruise lines, resorts, and the bigger amusements parks now cater to people with special dietary needs. Consult their websites and call ahead to speak to a restaurant manager or concierge.
Do your own gluten free cooking. Sure you want to relax while traveling, but getting sick from being accidentally "glutened" is no fun. Instead, plan to do your own cooking while traveling by getting a hotel suite with a kitchen. That way you're in control of at least a few meals a day. (You may save money, too!) If you're a foodie, think of the fun you'll have exploring the local farmer's markets and specialty grocery stores!
Enter the Nature Valley Perfect Pair Sweepstakes – #NVPerfectPairSweepstakes!
Do you take gluten free Nature Valley bars on your travels? Or maybe you just enjoy them as a snack at home. Show everyone how you enjoy your Nature Valley bars on Facebook or Instagram and you may win one of two $500 VISA gift cards!
All you need to do is 1) post a photo on Facebook or Instagram showing a Nature Valley gluten free bar, 2) another food item, object or activity that you feel goes well with the bar, and 3) include the hashtag #NVPerfectPairSweepstakes.
Official Entry Methods:
Facebook Sweepstakes: entry via the Nature Valley Facebook Page.
Instagram Sweepstakes: follow @naturevalley and post to your public Instagram account using the hashtag #NVPerfectPairSweepstakes.
Send a 3" x 5" card with your name, mailing address and email address to Nature Valley Perfect Pair Sweepstakes, P.O. Box 2605, Grand Rapids, MN 55745-2605.
Full contest terms and conditions are available via the Facebook Sweepstakes Entry Page. Good luck!
This is a sponsored conversation written by me on behalf of Nature Valley. The opinions and text are all mine.