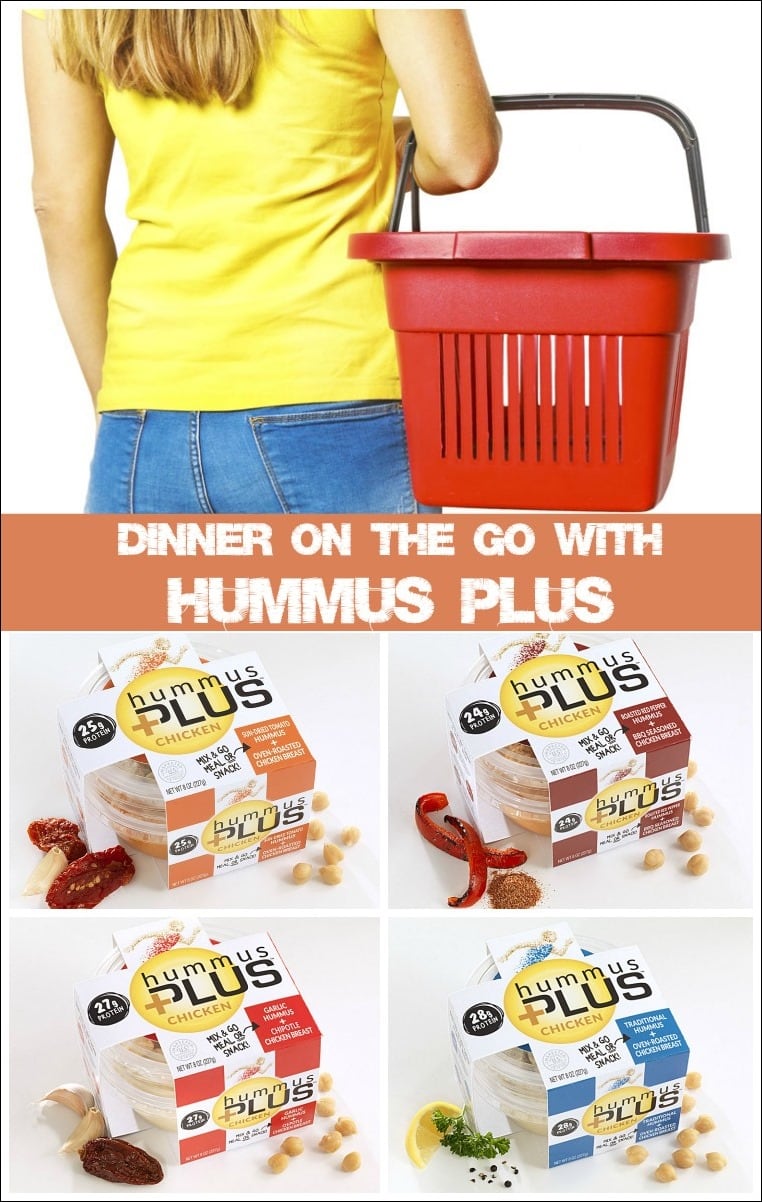 You ever have one of those days that you're so busy that dinner time sneaks up on you? Then you realize you have no idea what you're going to make for the hungry hordes? Or maybe you're too tired to make dinner and all you want to do is veg in front of your favorite TV show? That's why I love doing dinner on the go with Hummus Plus™.
Dinner on the go with Hummus Plus
Hummus for dinner? No way! Well actually, Hummus Plus is different because it comes conveniently packaged in two separate reusable and containers with a serving of delicious chicken. That's right, it's packaged with some already cooked, delicious chicken. You have the option of warming the chicken before adding it to the hummus or eating it cold. (I like it either way, though warm chicken and hummus is something you've got to try at least once. Then you'll be hooked!)
To make a Hummus Plus dinner on the go, serve up Hummus plus with sandwich wraps, some salad leaves, and a few slices of tomatoes and red onion. It's a dinner that you can make in about 15 minutes or less, but it feels like you went to the deli and got a special take out order. How many containers you'll need for dinner on the go (Hummus Plus has an 8 ounce and a 6 ounce size) depends on how big your family is and how big their appetites are.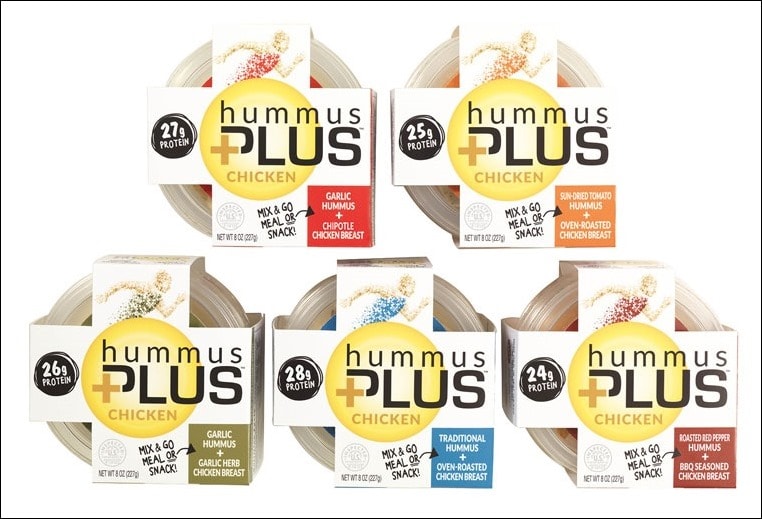 What's wonderful about Hummus Plus is that there's a flavor to fit everyone's tastes, so you don't have someone complaining that it's too spicy or not their favorite.
Hummus Plus comes in the following flavors:
Traditional Hummus + Oven-Roasted Chicken Breast
Garlic Hummus + Garlic Herb Chicken Breast
Roasted Red Pepper Hummus + BBQ Seasoned Chicken Breast
Garlic Hummus + Chipotle Chicken Breast
Sun-Dried Tomato Hummus + Oven-Roasted Chicken Breast
So far, my favorite is the Sun-Dried Tomato Hummus + Oven-Roasted Chicken Breast, though Traditional Hummus + Oven-Roasted Chicken Breast was darn good.
While making a sandwich wrap is fun, I also like making a big bowl of salad, putting the chicken in it, and dipping forkfuls in the hummus instead of using dressing. Delish!
Afterschool and family travel on the go with Hummus Plus
Each Hummus Plus container comes packaged with a fork and napkin making it perfect to take to school or work as a hearty lunch. I love the tiny "fold over" forks and have been saving them to reuse in my kids' lunch bags.
If you have a child in an afterschool activity, Hummus Plus is perfect for packing in a cooler with some baby carrots and a water bottle. Each 8 ounce container of Hummus Plus delivers up to 28 grams of protein and 12 grams of fiber. The 6 ounce varieties pack up to 23 grams of protein and 8 grams of fiber. Protein is so important for athletic recovery after playing sports! Also, Hummus Plus hummus and chicken contain no artificial flavors or colors.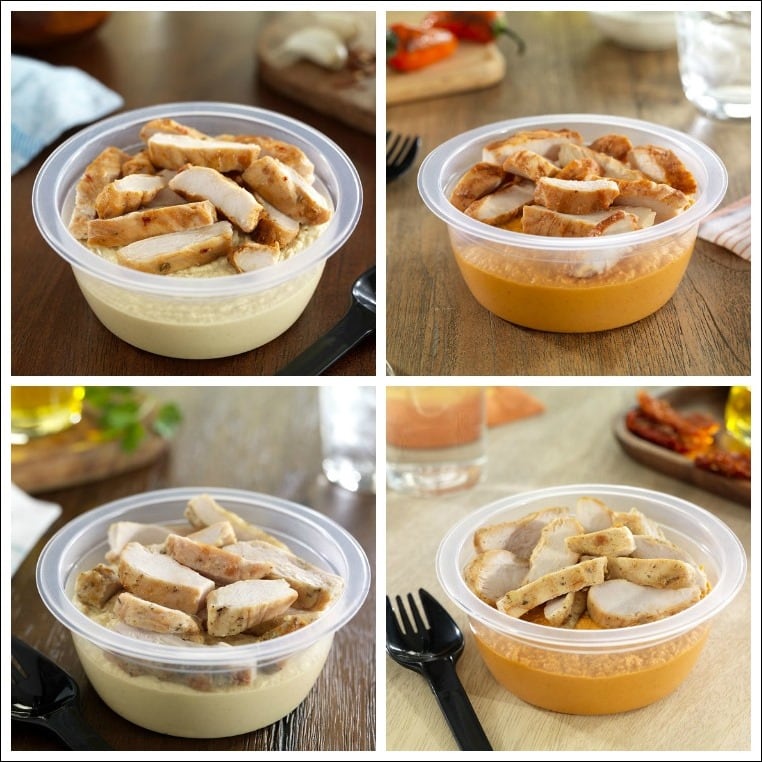 Don't forget to pack some Hummus Plus in the cooler if you're making a car trip this holiday season. Packing something nutritious and satisfying like Hummus Plus along with veggie sticks, crackers, low fat mozzarella sticks, fruit, hard boiled eggs, nuts, and refillable water bottles will mean you won't be tempted to stop for fast food on the way. It's more economical, too!
Entertaining on the go with Hummus Plus
All of Hummus Plus's varieties make for delicious and convenient entertaining! Maybe your teens are having a study date. You may be having a play date with the kids and their parents or having a girl's night in. Or maybe you're having some friends over to watch the game this weekend.
Whatever the situation is, what could be more convenient than breaking out some Hummus Plus and making your own pita pocket sandwiches? Just lay out the supplies – pita bread, some slices of tomatoes and onions, lettuce, , etc. along with several varieties of Hummus Plus hummus and chicken all laid out in their convenient bowls.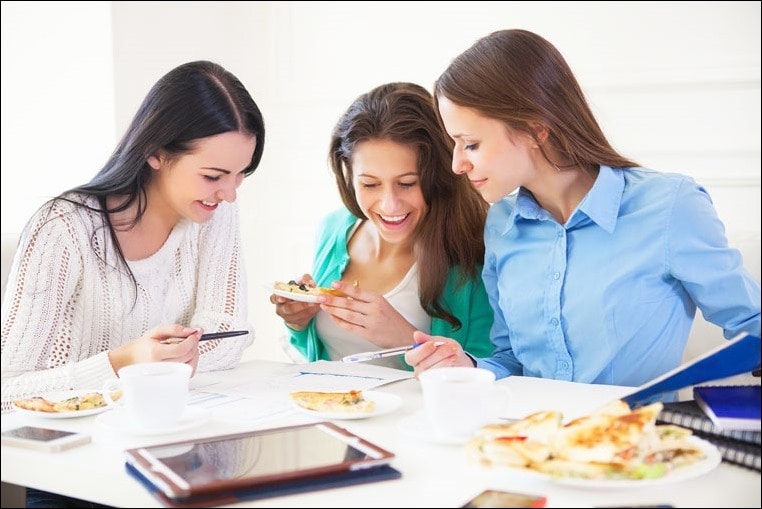 Or you could make hummus pizzas by spreading your favorite variety of Hummus plus on flatbread, adding chicken, and other toppings like crumbled feta cheese, some broccoli, black olives, etc. Finally, there's the old standby of using Hummus Plus as a dip with pita chips and already prepared veggie sticks from the store. The chicken can be served with party toothpicks and dipped into the hummus, too. Entertaining is easy with Hummus Plus!
Since the Hummus Plus bowls are reusable and come with lids, you can put any leftovers in the refrigerator for later. However, I notice that when my family eats Hummus Plus, they use their fingers to get every last bit of hummus out of the containers until they're almost clean. It's just that good!
For more information about Hummus Plus, visit Hummus-Plus.com. You can also connect with them on Facebook or follow them on Twitter @hummusplus.