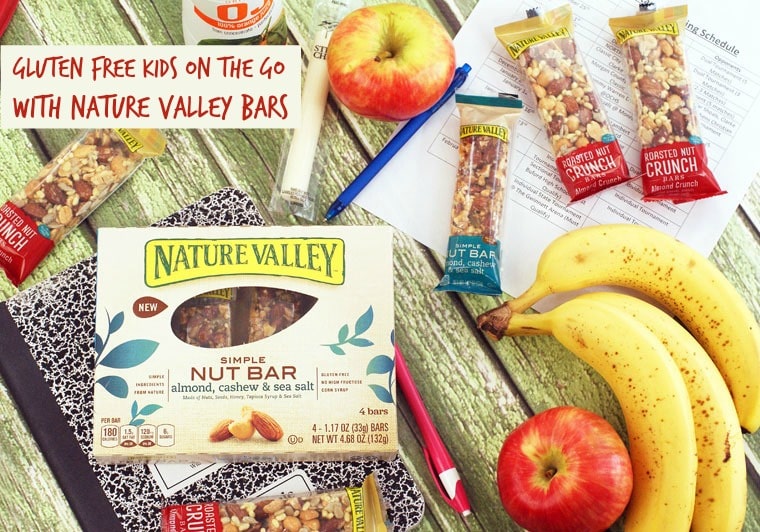 If you're the parent of a gluten free child who's involved with afterschool activities, you've learned to pack your own snacks. Maybe you've even had to pack dinners for long road trips to competitive meets. While many marching band and sports parents are well aware of food allergies, it's hard to find fast food places that are gluten free on those road trips to football games or wrestling meets. Even if you think your child can have something that is normally gluten free, like French fries, there's always cross-contamination issues to worry about.
Parents like us have become experts at stocking our pantries and refrigerators with quickly put together snacks and drinks that fill growling tummies and put a smile on our gluten free kids. We know what foods are portable in a cooler or insulated bag and can be easily eaten in the car. Now we can add Nature Valley's new gluten free snack bars to that list!
There are four varieties and 10 flavors to choose from:
Nature Valley Nut Crisp Bars – almond dark chocolate | salted caramel peanut nut
Nature Valley Nut Crunch Bars – peanut crunch roasted nut | almond crunch roasted nut
Nature Valley Simple Nut Bars – almond cashew sea salt | roasted peanut honey
Your kids will love the chocolate or peanut butter flavored bars. For the grownups, try the Nature Valley Simple Nut Bars since they're a bit more sophisticated. After all, you'll need to pack Nature Valley Bars road snacks for mom or dad, too!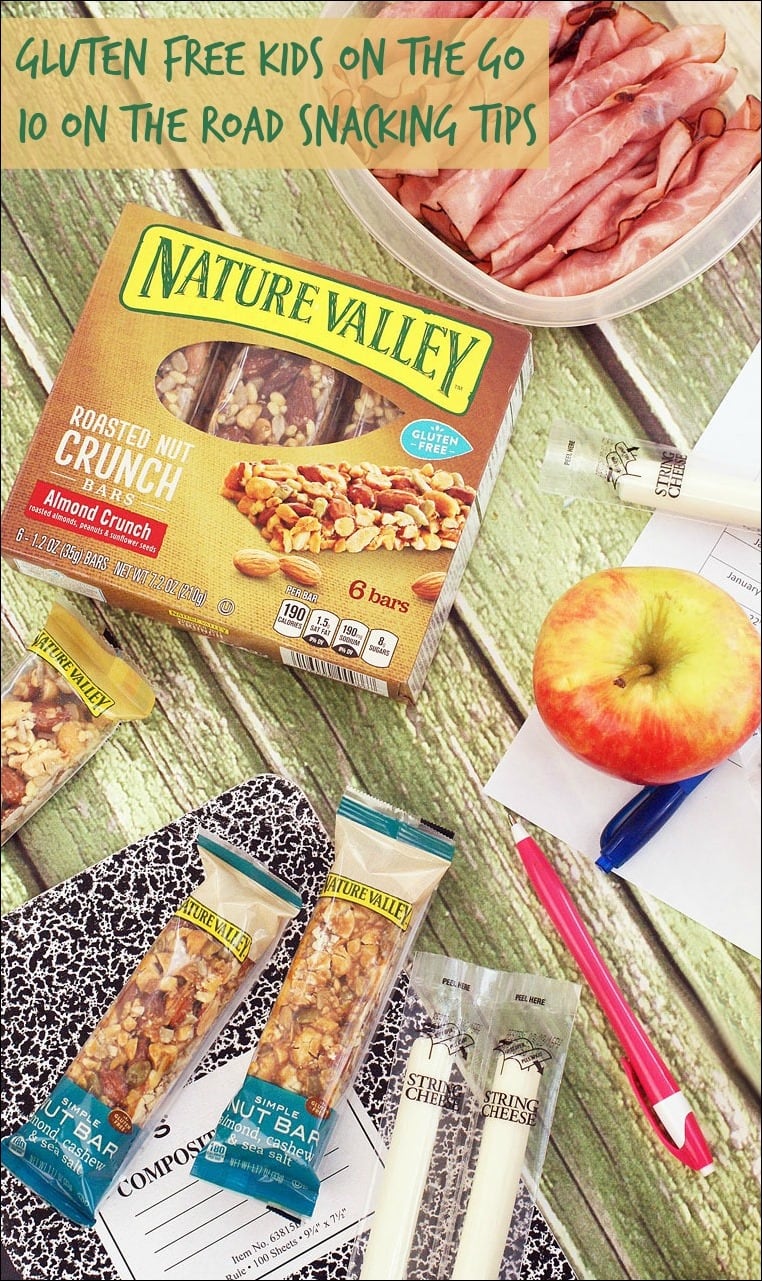 10 On the Road Snacking Tips
If you find you and the kids are always on the road on the way to a meet, music lesson or dance practice, here are some tips for keeping the car and you clean!
Keep a couple of packs of hand wipes in the car – one for the front seat and one in the back. There's nothing worse than sticky hands and faces, especially when you can't stop to find a bathroom to wash up!
Invest in a leak proof car litter bag that hangs on the back of the front seat. Find one with side pockets to put napkins in. It's important to remember to empty it out every time you fill up the gas tank so it doesn't begin to stink. (Been there – yuck!)
Get those air fresheners that clip to your air vents. Nothing worse than the car smelling ham and cheese and hour after you eat!
Put extra napkins, plastic utensils, baggies in your glove compartment. You never know when you'll need a few extra.
A big roll of paper towels. You'll thank me when that can of soda explodes all over the back seat.
A few trash bags. You never know when this will come in handy as a rain poncho, a trash container, a seat cover, or a dirty laundry bag. Life is messy.
Kids get bored with the same old snacks. Take them shopping with you to get a different kind of cheese, deli meat, yogurt, fruit, and Nature Valley gluten free snack bars!
If you have time, smoothies with protein powder are a great car snack. These can be made right before you hop into the car. I like making mine with frozen fruit so they're extra thick. Invest in blender shaker smoothie bottles as they're fairly leak proof and hold large quantities.
Fruit is a terrific car snack. Frozen grapes are fun to eat, though make sure to keep it away from the family dog if she's traveling with you as grapes are poisonous to canines. (Remember to bring your dog some snacks and a water bowl, too!) Cut up apples for anyone wearing braces.
Water! It's important that your athlete keep hydrated with plain old water, especially when it's hot out. Keep extra bottles of water in the trunk in case of emergency, too.
Enter the Nature Valley Perfect Pair Sweepstakes – #NVPerfectPairSweepstakes!
Do you take gluten free Nature Valley bars on your afterschool activities? Or maybe you just enjoy them as a snack at home. Show everyone how you enjoy your Nature Valley bars on Facebook or Instagram and you may win one of two $500 VISA gift cards!
All you need to do is 1) post a photo on Facebook or Instagram showing a Nature Valley gluten free bar, 2) another food item, object or activity that you feel goes well with the bar, and 3) include the hashtag #NVPerfectPairSweepstakes.
Official Entry Methods:
Facebook Sweepstakes: entry via the Nature Valley Facebook Page.
Instagram Sweepstakes: follow @naturevalley and post to your public Instagram account using the hashtag #NVPerfectPairSweepstakes.
Send a 3" x 5" card with your name, mailing address and email address to Nature Valley Perfect Pair Sweepstakes, P.O. Box 2605, Grand Rapids, MN 55745-2605.
Full contest terms and conditions are available via the Facebook Sweepstakes Entry Page. Good luck!
This is a sponsored conversation written by me on behalf of Nature Valley. The opinions and text are all mine.