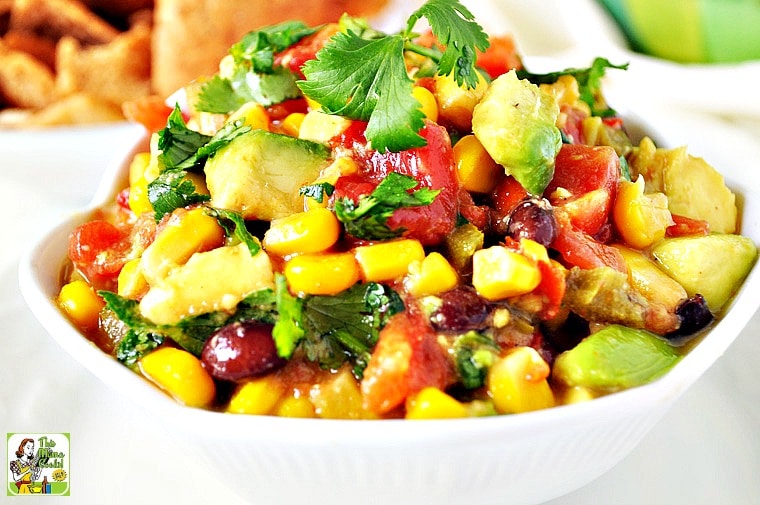 This Super Easy Corn & Avocado Salsa is a terrific snack for football watching parties. So says, my frequent contributor, Holly Clegg, who knows the importance of football being a true Southerner.
Whether you're watching football at a friend's house or going to tailgate at the game, this nutritious and delicious Super Easy Corn & Avocado Salsa and a bag of tortilla chips is the perfect party dish to share with friends.
This easy to make corn and avocado salsa recipe is from Holly's cookbook, Too Hot in the Kitchen: Secrets to Sizzle at Any Age.
You can find more of Holly Clegg's trim& TERRIFIC® recipes at The Healthy Cooking Blog.
Check out Holly's trim & TERRIFIC™ cookbooks on Amazon, too!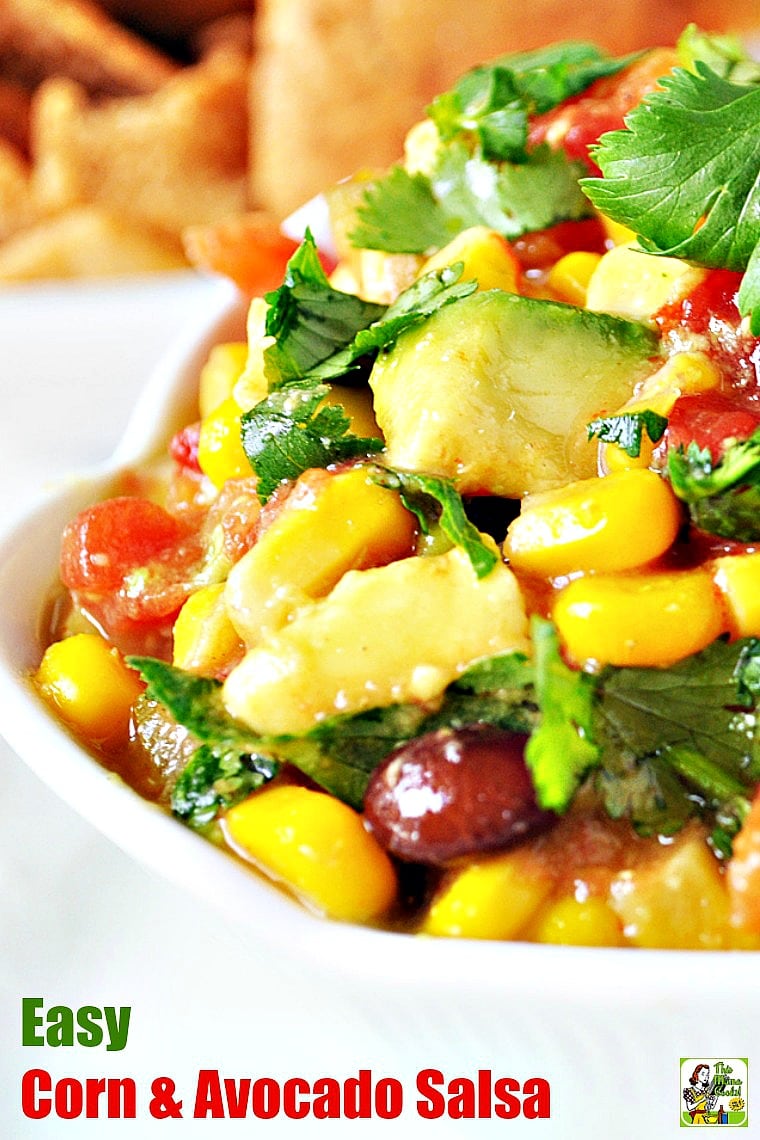 Tips for making Corn & Avocado Salsa
I know my gang, who've already yelled at me for only having hummus in the house, would go through a chips and salsa recipe like Holly's in no time.
So you may want to make a double or triple batch of this salsa recipe.
The only advance planning is to make sure you have some ripe avocados.
If you arrive at the store and can't find any – and it's just a few hours until game time – ask for the produce manager. They may be able to find a few ripe avocados in the back.
Or check the organic section. I've lucked out and found avocados for salsa recipes there before.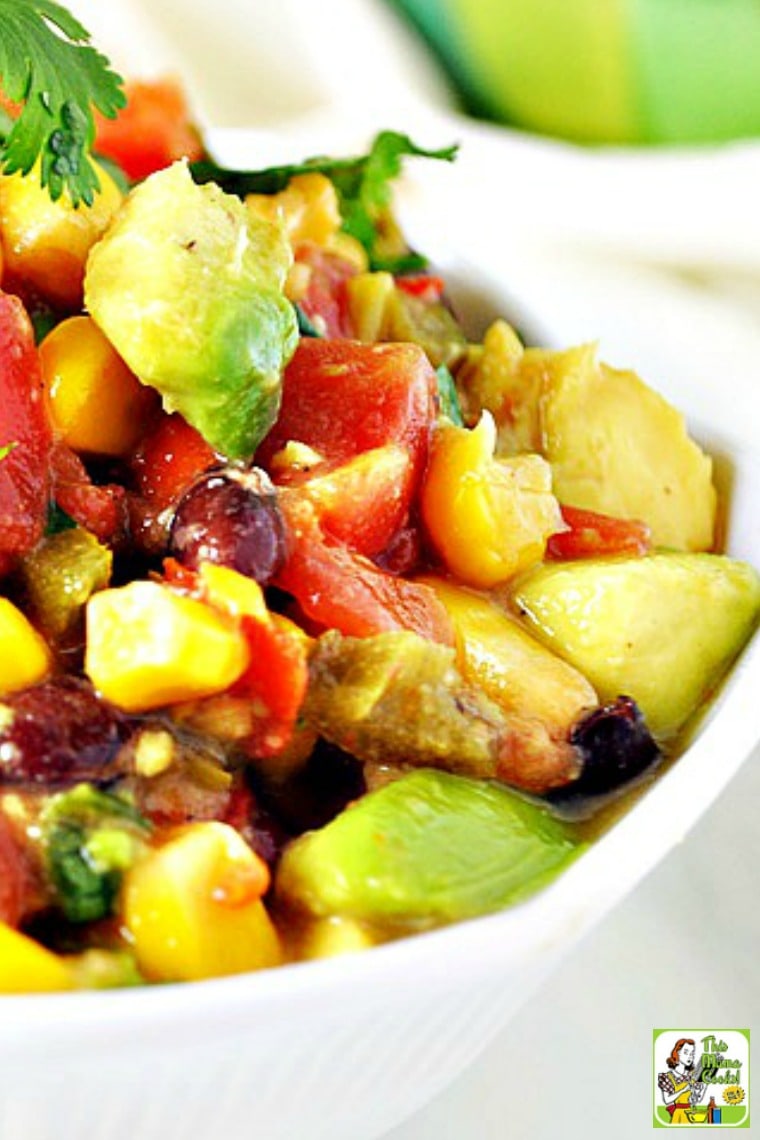 Create a salsa bar at your next party!
It's football season! And what goes best with laid-back entertaining than a fresh array of salsas?
Set up a salsa bar for an innovative way to highlight different salsas.
Salsas have joined the race with ketchup as the most popular condiment, and their versatility and variety make them a perfect football watching recipe.
Of course, commercially prepared salsas are available in an abundance of flavors, but take advantage of fresh ingredients and create these salsas sure to lure everyone to your fun salsa bar.
For the very best salsa with little effort, Super Easy Corn & Avocado Salsa, from Too Hot in the Kitchen: Secrets to Sizzle at Any Age is a must on your menu.
With only four ingredients, this simple, but super easy salsa requires you to just open a few jars and add an avocado for a dip your guests will fall in love with.
You can pick up your favorite brand commercially prepared salsa for the recipe. (Super convenient, right?)
But I love to buy the freshly made salsa in the refrigerator section of the supermarket. This is the ultimate fresh + convenience = homemade recipe!
More awesome recipes from Holly Clegg
● Southwestern Sweet Potato Salad
● Ultimate Double Chocolate Brownies Recipe
● Watermelon and Cantaloupe Salad
Yield: 24 SERVINGS
Corn & Avocado Salsa Recipe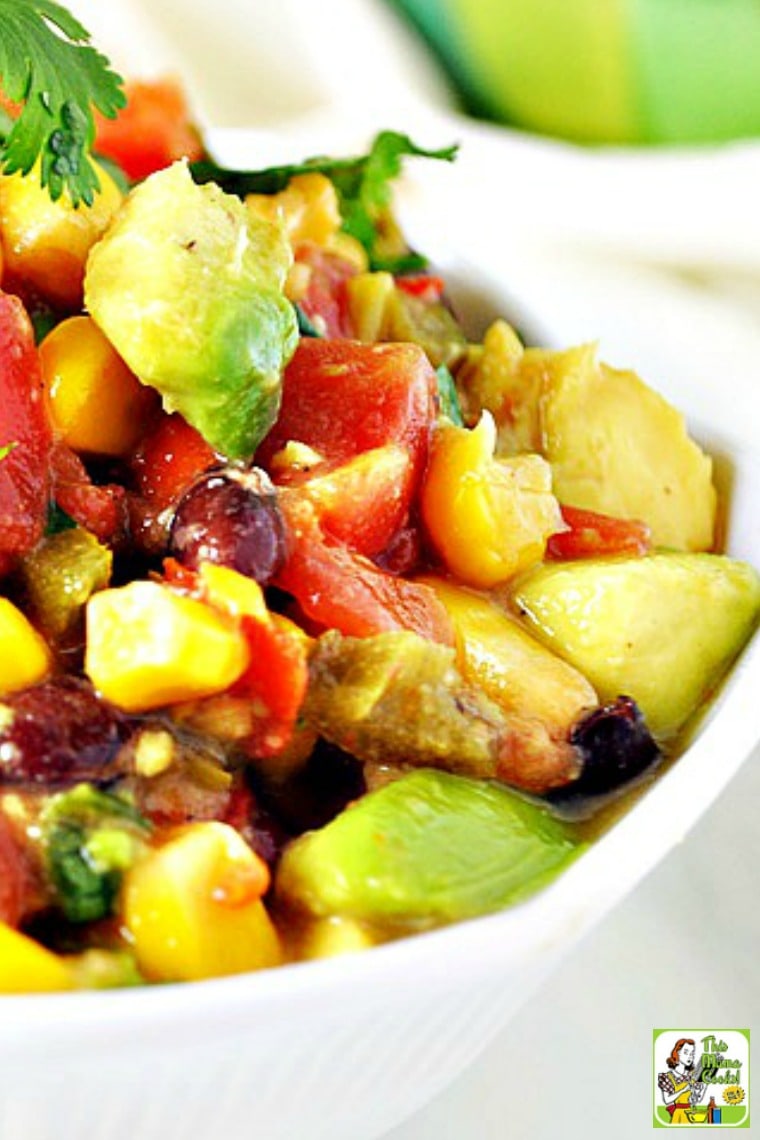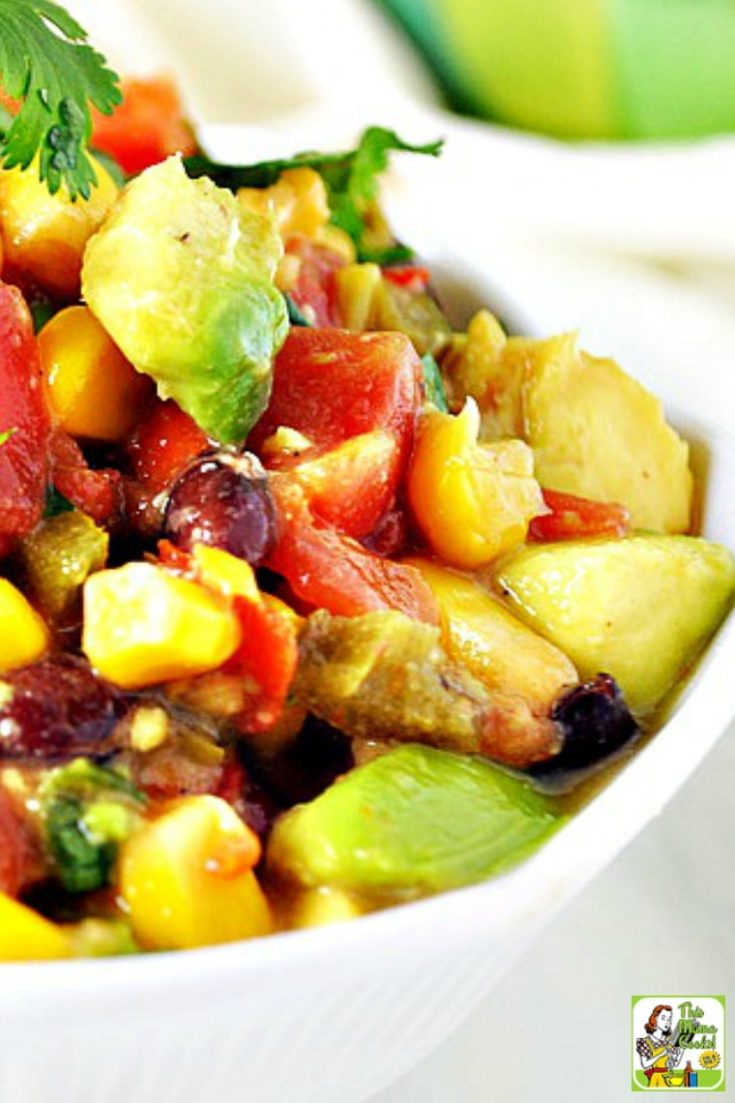 An easy salsa recipe using avocado and corn. This corn and avocado salsa makes a wonderful party dip recipe.
Ingredients
2 cups fresh salsa from your supermarket refrigerated section or jarred salsa
1 11-ounce can Mexican-style corn, drained
1 avocado, diced
2 tablespoons lemon juice
Instructions
Combine all ingredients in a medium bowl. Serve with tortilla chips.
Nutrition Information:
Yield:
24
Serving Size:
2 tablespoons
Amount Per Serving:
Calories:

30
Total Fat:

1g
Unsaturated Fat:

1g
Sodium:

149mg
Carbohydrates:

5g
Fiber:

1g
Sugar:

1g
Protein:

1g
Diabetic Exchanges: 1 carbohydrate
Recipe and photograph used with permission of author.