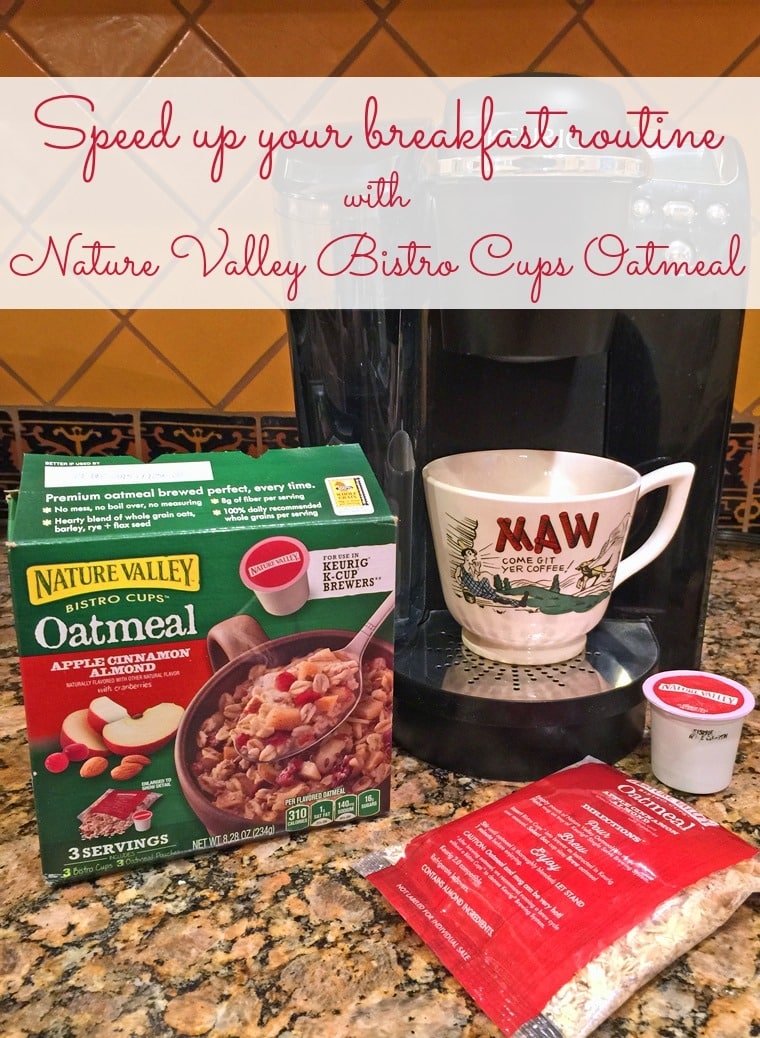 Mornings around my house are hectic. Between getting dressed and lunches being made, there's barely enough time for breakfast. Anything I can find to make the morning routine go a little quicker is a blessing.
Now that mornings are on the cooler side, my kids want something warm in their tummies. Usually that means a bowl of oatmeal. However, that usually spells disaster – either a bowl of soupy water and undercooked oats or a microwave explosion and scalding oatmeal. Either I'm scraping oatmeal off the microwave door after everyone leaves. Or sometimes my son makes his oatmeal so hot that it's too hot to eat and he ends up running off to the bus without breakfast.
So when I was introduced to Nature Valley Bistro Cups Oatmeal, I thought this would speed up our morning routine and make our lives easier. My son could make a perfectly cooked bowl of oatmeal every time in the coffee brewing machine. And I wouldn't have to worry about microwave oatmeal explosions or him burning the roof of his mouth with too hot oatmeal.
But first I had to test it.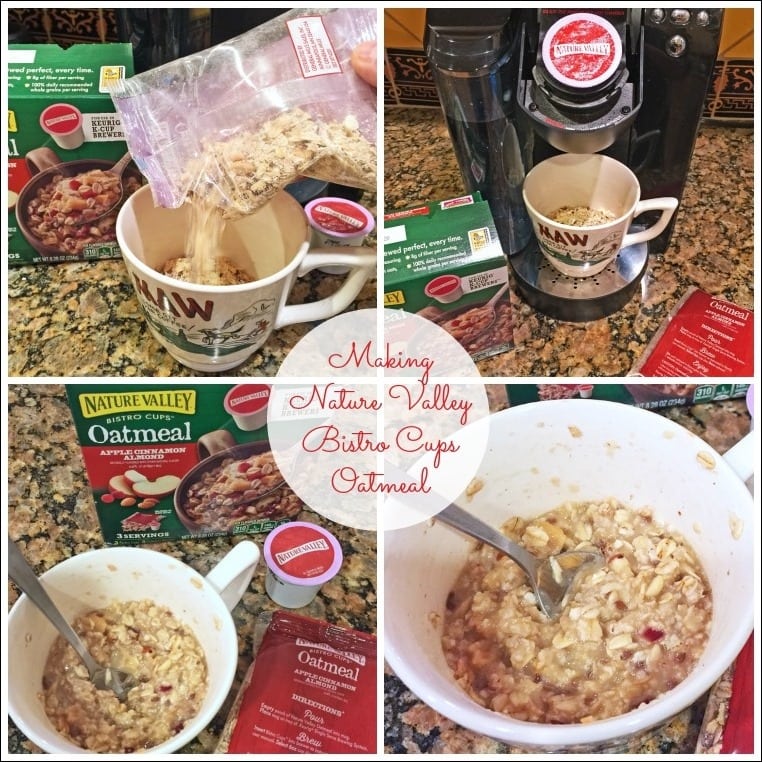 I went to Publix and bought a box of Apple Cinnamon Almond and a box of Brown Sugar Pecan in the hot cereal section. I used this coupon to get $3 off my purchase. (One coupon per box.)
While my coffee brewing machine was heating up, I tore open the packet of oatmeal and poured it in my mug. Then I placed the mug underneath, put the K-cup in place, and set the machine to brew 6 ounces. Afterwards, I stirred the oatmeal and let sit for a minute. That was it!
I found Nature Valley Apple Cinnamon Almond Oatmeal to be better than anything I'd make myself. It was perfectly cooked, filled with delicious cranberries and pieces of almond and apple. It wasn't too sweet and had just the right amount of cinnamon, too.
I'd recommend Nature Valley Bistro Cup Oatmeal for breakfast or an afternoon snack. They're perfect for the office or for kids who need to make their own breakfast in the morning. Not only do Nature Valley Bistro Cups Oatmeal speed up your morning routine, you don't have to worry about kids making a mess in the microwave or burning themselves with overly hot oatmeal, too!
Don't forget to print out a Publix coupon for $3 off on your next purchase of Nature Valley Bistro Cup Oatmeal!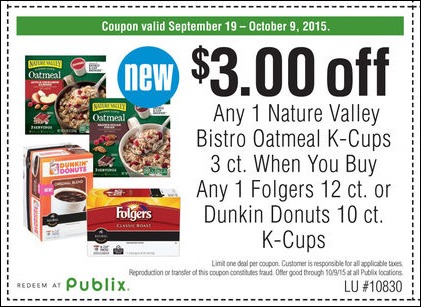 Enter to Win a Cash Giveaway!
Besides the $3 off Publix coupon, I'm giving away $10 in PayPal cash to encourage you to try out Nature Valley Bistro Cups Oatmeal for yourself! All you need to do is visit the Publix coupon page!
If you don't have a Publix near you, visit the coupon page anyway, then go on to the next entries. You're still eligible to win the cash. You must have a PayPal account to receive the cash. No substitutions.
a Rafflecopter giveaway