These Kid Friendly Surprise Breakfast Sweet Rolls are terrific for back to school breakfasts. Quick. Simple. Delicious. PERFECT!
Since this sweet roll recipe only has five ingredients, your kids can bake up a batch first thing in the morning.
I know my kids will find this recipe enticing not only for breakfast, but for an afternoon snack as well.
These rolls are so delicious that maybe they can convince my youngest – my daughter, Lucie – to eat breakfast.
Since she has school lunch at 10:30 am now (crazy, right?) she's skipping breakfast except for a glass of juice. I can't blame her a bit as 10:30 is too early even for a mid-morning snack.
This breakfast sweet roll recipe comes from my frequent contributor, Holly Clegg. She's a lady who knows what kids love!
You can find more of Holly Clegg's trim& TERRIFIC® recipes at The Healthy Cooking Blog.
Check out Holly's trim & TERRIFIC™ cookbooks on Amazon, too!
Update on Holly: Holly was diagnosed with gastric cancer in 2018. For the latest on Holly's health, see her Instagram page.
You can learn more about Holly's Cancer Journey and donate to the Holly Clegg Gastric Cancer Research Fund at MD Anderson Cancer Center on her behalf.

Kid friendly breakfast sweet rolls with only five ingredients
Kids are back to school and parents everywhere are scrambling to find the perfect snacks and breakfast to fill their yummy without filling up their time!
These Kid Friendly Surprise Rolls are the perfect quick and easy solution to snack times and play dates.
My youngest daughter's standard breakfast when friends spent the night can be a fun project for everyone.
When she was young, I would help her put the rolls together and as she got older, she would make them herself.
Keep these ingredients on hand for a yummy breakfast.
My cookbook, KITCHEN 101: Secrets to Cooking Confidence has more easy and fun family recipes for you to try. Check it out!
More awesome recipes from Holly Clegg
● Easy Chicken and Sausage Gumbo
● Blueberry Muffin Streusel Cake
● Ooey Gooey Squares Bar Cookies
● Mardi Gras King Cakes Recipe with Cream Cheese Cinnamon Filling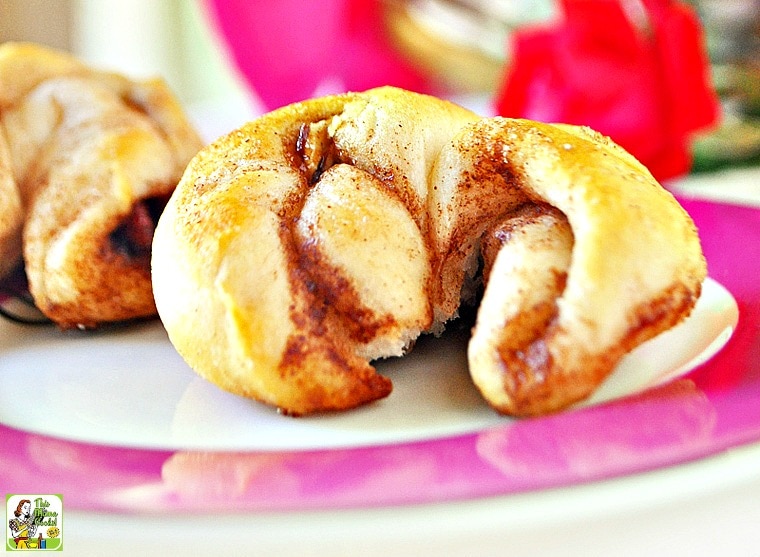 Ingredients
3 tablespoons

light brown sugar

1/2 teaspoon

ground cinnamon

8

large marshmallows

2 tablespoons

butter, melted

1 (8-ounce) can

reduced- fat crescent dinner rolls
Directions
Preheat oven 375 degrees F. Coat 8 muffin cups in nonstick muffin tin with nonstick cooking spray or paper liners.
Mix brown sugar and cinnamon together in small bowl. Dip each marshmallow in melted butter, roll in sugar mixture.
Separate crescent dough into triangles. Wrap one triangle around each marshmallow, pinch dough together. Place each one in muffin tin. If there is any extra butter, drizzle over top of rolls.
Bake 8-12 minutes or until lightly browned. Serve immediately.
Serving size:

2 rolls

Calories:

168

Calories from Fat:

67 (40%)

Total Fat:

7g

Saturated fat:

1g

Unsaturated fat:

6g

Sodium:

276mg

Total Carbohydrates:

23g

Fiber:

0g

Protein:

2g

Cholesterol:

0mg
Diabetic Exchanges: 1 starch, 0.5 other carbohydrate, 1 fat
Pictures and recipe used with permission of author.