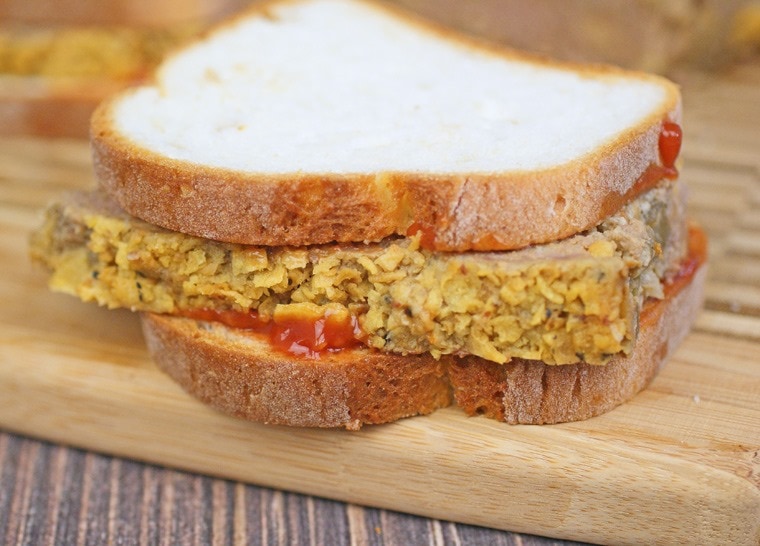 It's back to school season and that means packing school lunches. If you have a gluten free child it can be a challenge to come up with something new besides PB&J sandwiches or cold cuts on gluten free bread. So I've come up with a gluten free recipe that does double duty – a Gluten Free Meatloaf that can be served at dinner with leftovers that can be made into Gluten Free Meatloaf Sandwiches the next day. Because we all know that once school starts we're all busy with homework and afterschool activities and don't have much time for cooking!
This Gluten Free Meatloaf Sandwiches recipe combines two of my favorite Udi's Gluten Free products. Instead of breadcrumbs I use a bag of Udi's Jalapeno Cheddar Ancient Grain Crisps and I serve the slices of cold meatloaf on Udi's bread the next day. Makes sure you buy two bags of Crisps because you'll want one bag to snack on or to pack along with your meatloaf sandwiches for lunch the next day!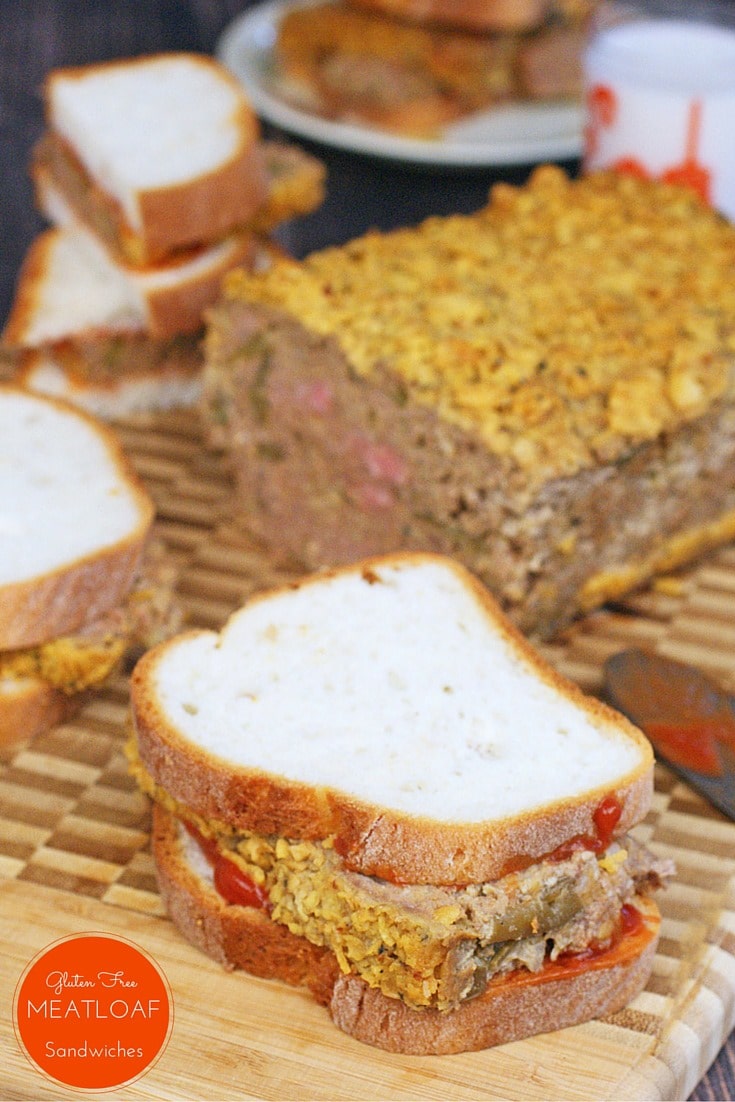 Usually, I serve meatloaf with mashed potatoes and a side of veggies. My kids usually ignore the vegetables, so this time I put the vegetables in the meatloaf! I used green beans, but you could try broccoli, carrots or mixed vegetables, too. Like in my Layered and Chopped Taco Salad, I find if you put the vegetables in with all the other food, the kids will eat it up! Plus, if it's a school night, the less cooking of other dishes you have to do, the better!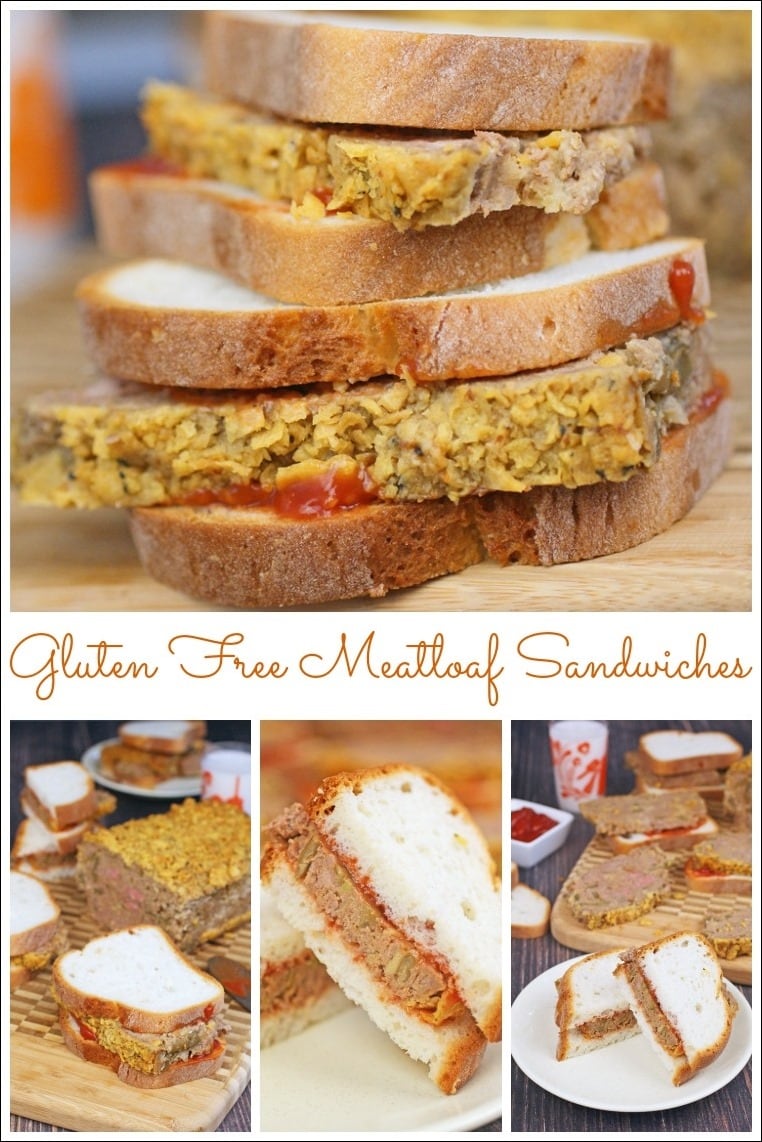 This Mama's Tips
In the past, I've always used the leanest ground beef I could buy because I wanted to avoid the fat calories. However, my meatloaf would always fall apart. I noticed that chefs and cookbook authors I admired always recommended ground chuck, which is 80% lean and 20% fat, so that's what I now use.
To easily remove the Gluten Free Meatloaf from your bread pan, line it with aluminum foil and have plenty of it hanging over the edge to serve as handles so you can lift the meatloaf out of the pan.
Occasionally we like to smoke our meatloaf on our grill, so I have a couple of meatloaf pans that my husband drilled holes on the bottom and sides for the smoke to seep into. I now use them in the oven too, since I find the holes help drain the fat off the meatloaf. So the fat doesn't drip all over the oven, I now place the meatloaf pan (lined with aluminum foil) on a cookie sheet. Yes, there are more pans to clean, but my meatloaf isn't sitting in grease either!
Double the recipe and make two meatloaves at a time. Freeze one for later!
If you and your family liked this Gluten Free Meatloaf Sandwiches recipe, make sure to try my Gluten Free Potato Chip and Carrot Meatloaf!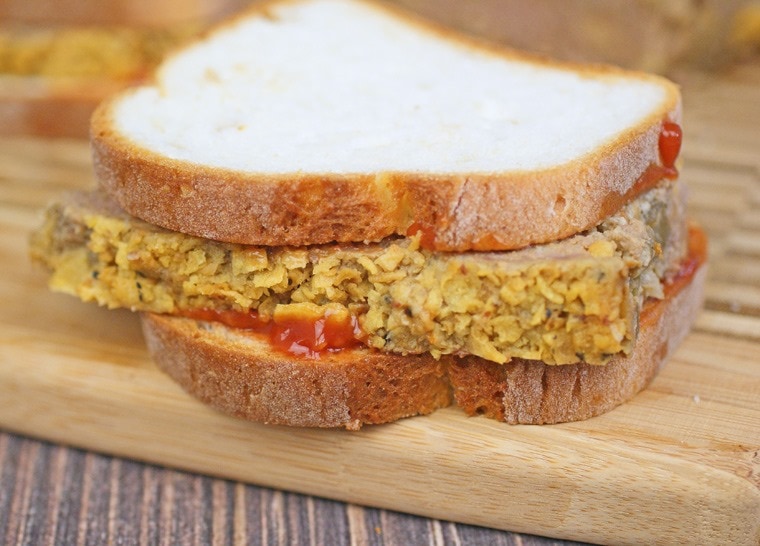 Gluten Free Meatloaf Sandwiches
Ingredients
2 pounds

ground chuck (80% lean, 20% fat)

1 (4.9 ounce) bag

Udi's Jalapeno Cheddar Ancient Grain Crisps, crushed (approximately 1 1/2 cups, divided)

1 cup

frozen green beans, defrosted

1 cup

minced red onion

2

garlic cloves, minced

2

eggs

1/2 cup

ketchup

1 teaspoon

Worcestershire sauce
For the sandwiches:
Slices gluten free bread

Ketchup
Directions
For the meatloaf:
Preheat oven to 375 degrees F.
Line a 9" x 5" meatloaf pan with foil. Set aside.
Combine all ingredients – except 1/2 cup of the crushed Ancient Grain Crisps – in a bowl. Mix with hands or a potato masher until all ingredients are well combined.
Place meatloaf ingredients into the pan. Pat down evenly.
Spread the 1/2 cup of crushed Ancient Grain Crisps evenly on top of loaf and press down into loaf.
Place meatloaf pan on top of a baking sheet and place into oven.
Bake at 375 degrees F for 45 to 50 minutes.
Remove from oven. If eating hot, let sit for 10 to 15 minutes. Gently remove the meatloaf by lifting up on the aluminum foil. Peel foil off of meatloaf, cut into slices and serve.
For the sandwiches:
If serving meatloaf for sandwiches, remove the pan from oven and let the meatloaf cool in the pan for awhile before places in the refrigerator for several hours or overnight.
Remove pan from refrigerator. Gently remove the meatloaf by lifting up on the aluminum foil. Peel foil off of meatloaf, cut into slices.
Spread ketchup on slices of Udi's bread. Place meatloaf between two slices. Cut in half and serve.
Total Time:
1 Hour 15 Minutes
Servings
:
Makes 6-8 servings
Serving size:

1 sandwich or 1 slice