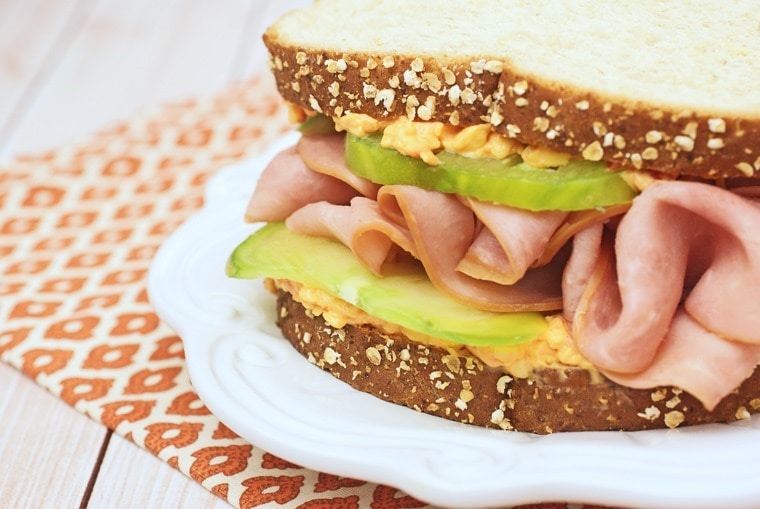 They say an army travels on its stomach. And so do I. At least I have been during my travels this summer. But I've noticed something. Whether I'm dining at the upscale One Flew South at the Atlanta's Hartsfield-Jackson Airport, the funky Green Truck Pub in Savannah, the downhome Oakwood Café in Dalton, Georgia, or at the Blackhorse Pub in Clarksville, Tennessee – I found they all have one thing in common. Pimento cheese is on the menu!
I've eaten pimento cheese in an open face meatloaf sandwich with bacon and a runny egg (One Flew South) and as a sandwich spread (Green Truck Pub and Oakwood Cafe) and on a burger (Blackhorse Pub). But the first time I had pimento cheese was on a squished, day-old white bread sandwich that my husband brought home from the Masters golf tournament in Augusta, Georgia.
It was a joke gift, since I could care less about the golf goodies Paul brought home for the kids. Yet one bite and I was hooked, which is why I created my Ham & Pimento Cheese Sandwich with Green Heirloom Tomatoes recipe. Any excuse to eat pimento cheese!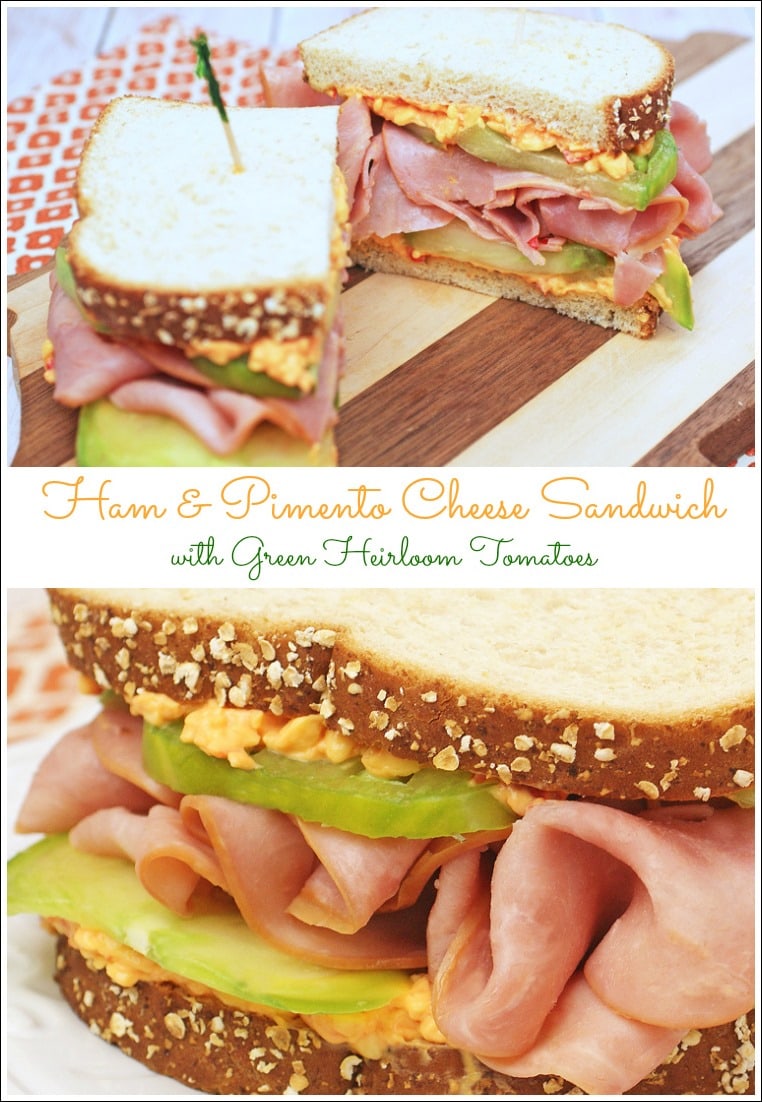 Lightening up the pimento cheese sandwich
Eating a pimento cheese sandwich is fine if you're on vacation or at the Masters, but not as an everyday event. The problem with pimento cheese spread is that it's high in calories. So I've developed a "lite" Pimento Cheese Recipe, which uses low fat cream cheese.
However, you may be able to find lite pimento cheese spread at your supermarket if you live in the South. If you're in other parts of the county, it's probably harder to find though you never know since Southern foods are trendy these days. My husband told me he saw pimento cheese, fried chicken on waffles, and other Southern classics on a brew pub menu in Colorado just a few months ago.
Even using a lite pimento cheese spread, you should still treat it as a condiment and use just enough to barely cover the bread. In addition, I've lighten up the Ham & Pimento Cheese Sandwich with Green Heirloom Tomatoes recipe by using lean ham and heirloom tomatoes and whole grain bread instead of white.
If you can't find a green heirloom tomato, any type of tomato will do. To keep your sandwich from getting soggy, make sure to blot your tomato slices with a paper towel before adding them to your sandwich. You can serve this on gluten free bread as well. Toast the bread if you wish.
Also, the amount of ham and pimento cheese shown in the pictures is exaggerated to make the sandwich look more beautiful. (They were originally shot for a paid assignment and not used.) If you used as much ham and cheese in the pictures, you could probably only eat 1/3 of the sandwich. (That's about all I could manage!) The recipe below makes a proper and satisfying portion, so don't worry if your Ham & Pimento Cheese Sandwich with Green Heirloom Tomatoes doesn't look like the pictures.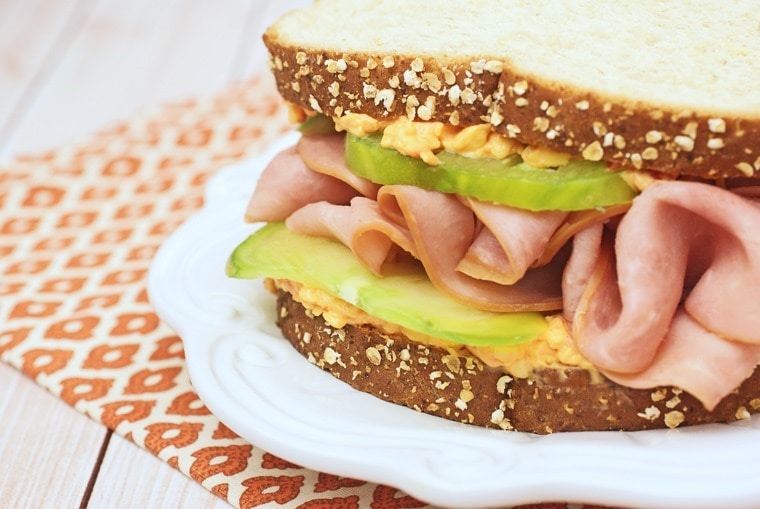 Ham & Pimento Cheese Sandwich with Green Heirloom Tomatoes
Ingredients
2 pieces

bread (gluten free or whole grain)

2 tablespoons

lite pimento cheese spread

4 slices

green heirloom tomatoes

4 ounces

thinly sliced deli honey ham
Directions
Spread the lite pimento cheese spread on one side of each bread slice.
On one bread slice, place 2 tomatoes, then the ham. Cover the ham with the other tomatoes.
Cover with the remaining bread slice, pimento cheese side down.
Cut in half, if you wish, and serve.
Servings
:
Serves 1 person