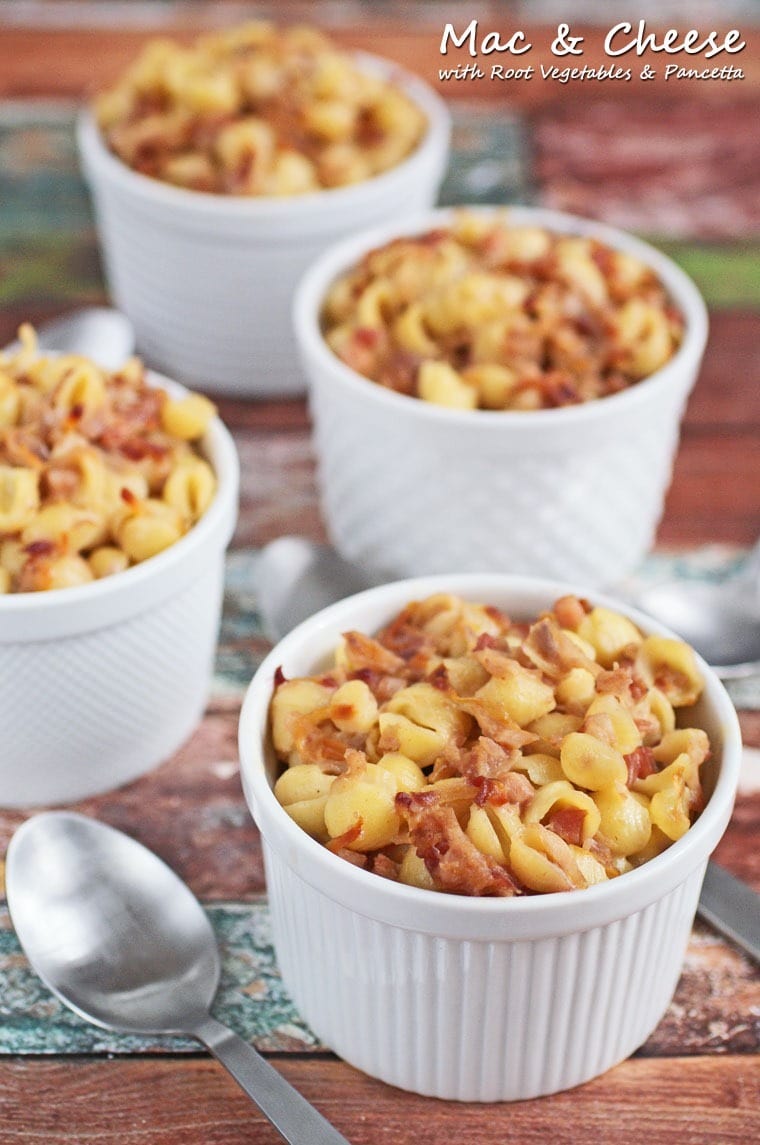 On a recent family trip, we stopped at a fantastic brew pub in Charlottesville, North Carolina that offered a variety of gourmet mac and cheese casserole dishes that combined pasta, three cheeses, and ingredients like Virginia ham, crab, and apples.
My husband was surprised that neither of the kids ordered any of these fancy mac and cheese casserole dishes. Instead, they decided to have burgers.
I wasn't surprised as Nathan and Lucie are the type of kids who prefer their mac and cheese out of a box. Their favorite is Horizon Mac & Cheese, and we usually make it when daddy isn't coming home for dinner.
Nathan and Lucie are old enough to make it on their own now, so I always make sure that there's a big supply in the pantry and stock up when it's on sale.
However, those intriguing restaurant dishes gave me the idea to start making mac and cheese casseroles a regular part of family dinners.
Since I don't want to slave over the stove making three-cheese sauce from scratch knowing my kids would hate it, I'm fine using something they already liked – Horizon Mac & Cheese out of the box – and dressing it up to my more adult standards.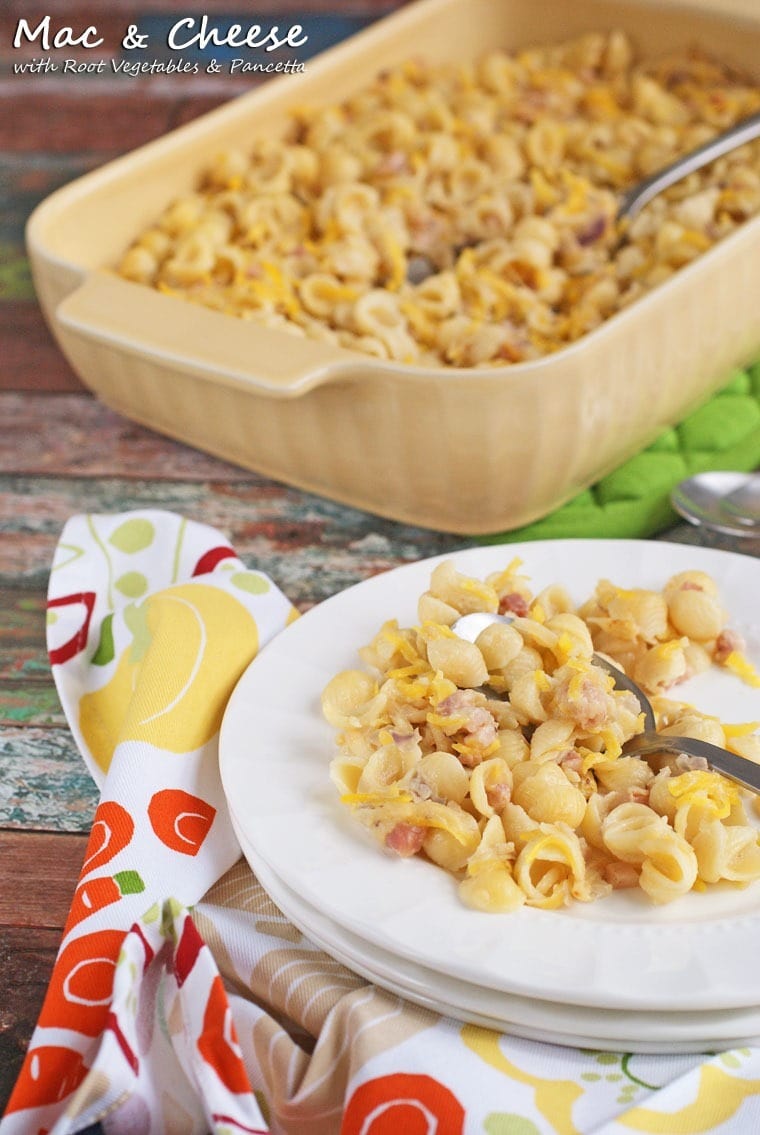 Since this was a weeknight family dinner recipe, I wanted to:
add some vegetables since my kids don't eat enough of them!
make sure the mac and cheese casserole was done in under 30 minutes
To do this:
I chose root vegetables like such as red onions, parsnips and carrots (I used yellow and purple carrots in these pictures, but you can use regular orange ones).
I grated the parsnips and carrots with a food processor, minced the onions with a food chopper, and bought precut pancetta and grated shredded cheese at the store.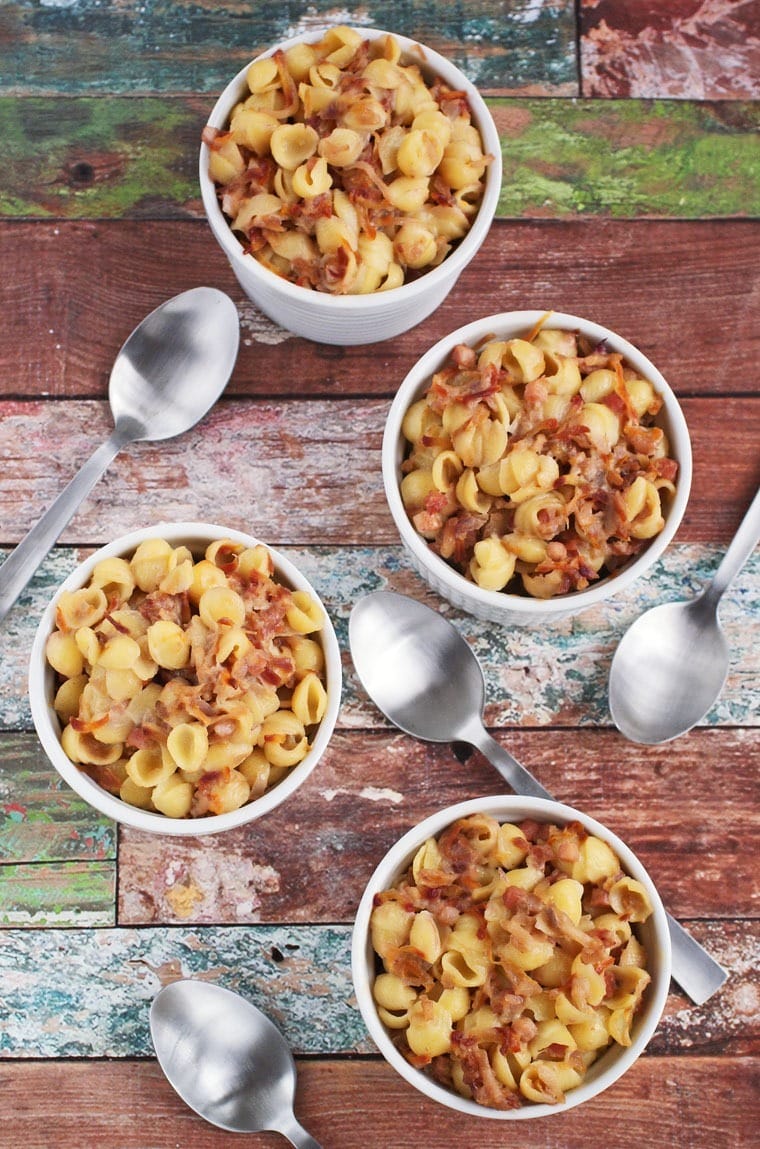 For the recipe, I used Horizon ClassicMac Pasta Shells & White Cheddar Cheese. The white cheddar cheese sauce blended well with the sweetness of the red onions, carrots and parsnips and complimented the pancetta.
However, if you're gluten free, you can use Horizon Gluten-Free Macaroni & White Cheddar Cheese instead.
If you prefer a certified organic option, there's Horizon® Pasta Shells & White Cheddar Cheese. Don't you love how Horizon gives you three options?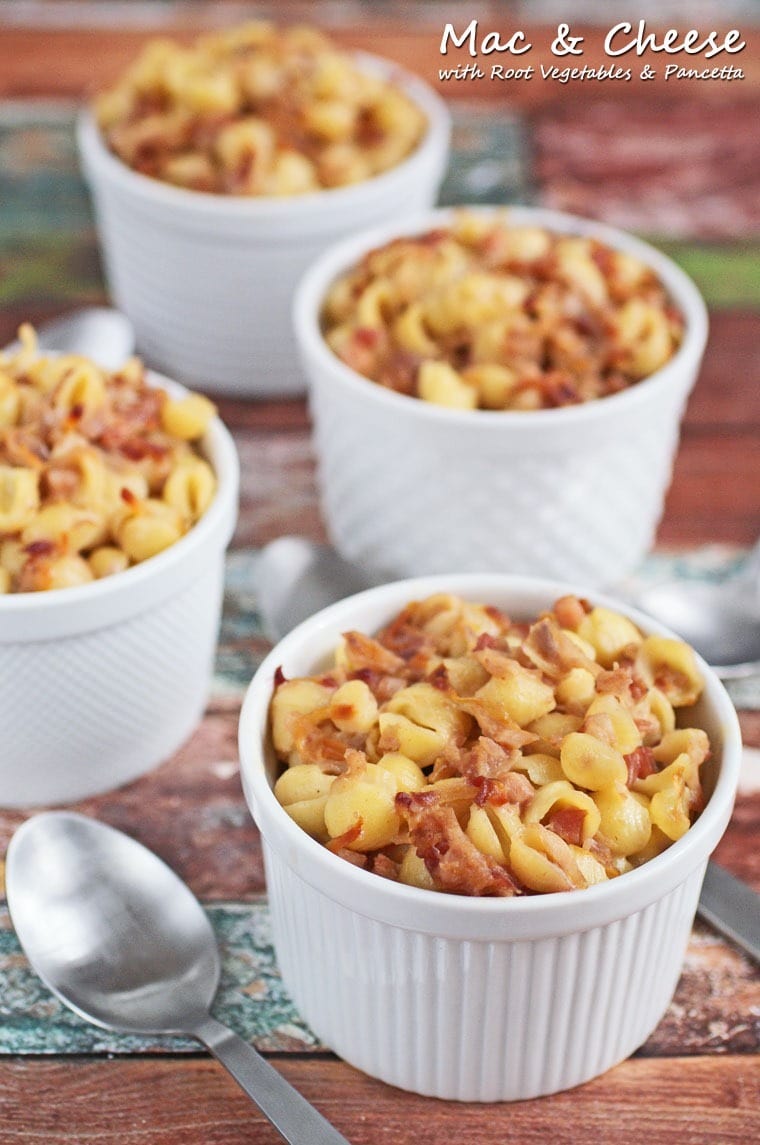 Mac & Cheese Casserole with Root Vegetables & Pancetta
Ingredients
2 boxes

Horizon ClassicMac Pasta Shells & White Cheddar Cheese or Horizon Organic Gluten Mac with White Cheddar

1/2 cup

Reduced fat milk

4 tablespoons

butter

1 tablespoon

olive oil

1 cup

parsnips, grated

1 cup

carrots, grated

1/2 cup

red onion, minced

2 ounces (approximately 1/2 cup)

pancetta, diced

1/2 cup

shredded cheddar cheese
Directions
Preheat oven to 350 degrees F.
Cook two boxes of Horizon ClassicMac Pasta Shells & White Cheddar Cheese according to the instructions on the side of the box. Cook pasta to the al dente (firm) stage. Do not overcook!
While pasta is cooking, grate and mince vegetables. Set aside.
Once Horizon Mac & Cheese is cooked, set it aside.
On stovetop, heat a large skillet over medium high heat. Place olive oil in skillet then add parsnips, carrots and onions. Stirring occasionally, sauté for 3 minutes until vegetables have softened.
Add pancetta to skillet and stir. Cook for 1 minute.
Add cheese to skillet. Cook until cheese has melted.
Then spoon mac and cheese into a large ovenproof casserole dish or into four large soufflé ramekins. (Ramekins can be placed on a cookie sheet.)
Bake in oven for 10 minutes. Remove and serve.
Serving size:

1/4 to 1/6 of recipe