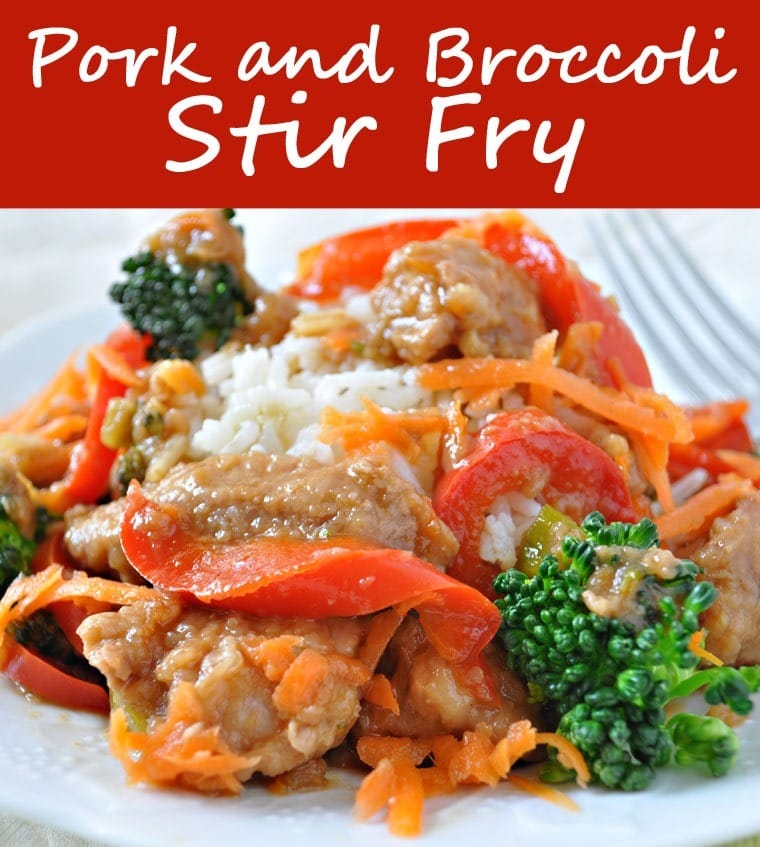 I'm always on the look out for recipes like stir fry that you make in one pan or skillet. That's why I have a Pinterest board – One Pot Meals – devoted to it. So I was thrilled that this month's recipe from Holly Clegg is for Pork and Broccoli Stir Fry from her Eating Well To Fight Arthritis cookbook.
While I love going out for Chinese food, preparing stir fry is so much healthier when done at home. Also, If you're gluten free, it's nearly impossible to avoid gluten if you're going out to eat at Asian restaurants. So it's always better to prepare stir fry at home – or to make Holly's recipe for Pork and Broccoli Stir-Fry gluten free with a few substitutions.
First, for the hoisin sauce, I have an easy to make gluten free hoisin recipe that goes along with my Gluten Free Hoisin Glazed Turkey Meatballs. It's delicious! I love making extra hoisin sauce just to serve on leftover rice the next day.
Second, use a gluten free soy sauce or tamari sauce as a substitute for the low sodium soy sauce.
Finally, make sure the chicken broth you use is gluten free.
Another way to make Holly's Pork and Broccoli Stir Fry even easier is to use instant brown rice or cook up your regular brown rice in a rice cooker.
You can find more of Holly's trim& TERRIFIC® recipes at hollyclegg.com and The Healthy Cooking Blog. Check out Holly's trim & TERRIFIC™ cookbooks on Amazon, too!
And check out my One Pot Meals Pinterest board for more healthy meal ideas!
Stay home for a healthier Chinese stir fry meal!
Craving Chinese but don't want to go out? These days Chinese stir fry has become one of America's most popular meals and is a regular favorite at our house. Quick and healthy, my diabetic-friendly Pork and Broccoli Stir Fry from my Eating Well To Fight Arthritis cookbook Is loaded with fresh ingredients – delicious veggies and lean pork tenderloin – so you will know you are feeding your family a nutritious meal without the added fat and calories. I've included tons of diabetic-friendly recipes in my Arthritis cookbook so just look for the "D" symbol to enjoy all your diabetic-friendly favorites!
Although authentic stir fry can be complicated with a long list of fancy ingredients, I'm going to show you how to have your favorite flavorful meals quicker than take-out!
Try serving over brown rice for added fiber and nutrition.
Ginger is a root with a peppery flavor and is found in produce section. I prefer fresh ginger in this recipe. However, ground ginger may be substituted.
Use a teaspoon to peel off the paper-thin skin of ginger before dicing
This quick, fantastic family pleaser resulted from pork tenderloin in my fridge and needing dinner pronto which includes pork tenderloin, veggies and classic Asian flavors that meld to make the perfect combination.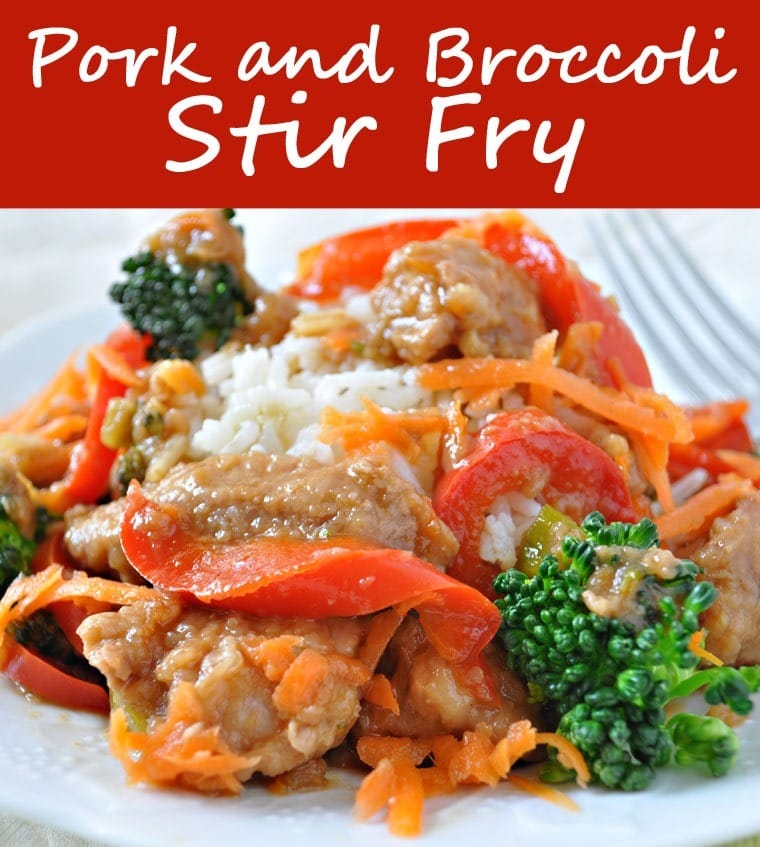 Pork and Broccoli Stir-Fry
Ingredients
1 1/2 pounds

boneless pork tenderloin, sliced in strips

1/4 cup

cornstarch

1 tablespoon

sesame oil

1

red bell pepper, cored and cut into strips

2 cups

broccoli florets

1 teaspoon

minced garlic

1 cup

fat free chicken broth

1 teaspoon

grated fresh ginger

1/4 cup

hoisin sauce

1 tablespoon

seasoned rice vinegar

2 tablespoons

low-sodium soy sauce

1/2 cup

grated carrots

1 bunch

green onions, chopped

Toasted sesame seeds, optional
Directions
In resealable plastic bag, combine pork strips with cornstarch, coating well.
In large nonstick skillet coated with nonstick cooking spray, heat oil over medium high heat and stir-fry pork strips 5-7 minutes. Add bell pepper, broccoli, garlic, broth and ginger, scraping bits from bottom of pan.
In small bowl, mix together hoisin sauce, vinegar, and soy sauce; add to pork mixture in skillet. Add carrots and continue cooking until pork is tender. Add green onions. Sprinkle with sesame seeds, if desired. Serve.
Serving size:

1 cup

Calories:

330

Calories from Fat:

69 (21%)

Total Fat:

7g

Saturated fat:

2g

Unsaturated fat:

5g

Sodium:

680mg

Total Carbohydrates:

24g

Sugar:

9g

Fiber:

5g

Protein:

39g

Cholesterol:

111mg
Dietary Exchanges: 1 starch, 2 vegetable, 4 lean meat
Recipe and photo used with author's permission.