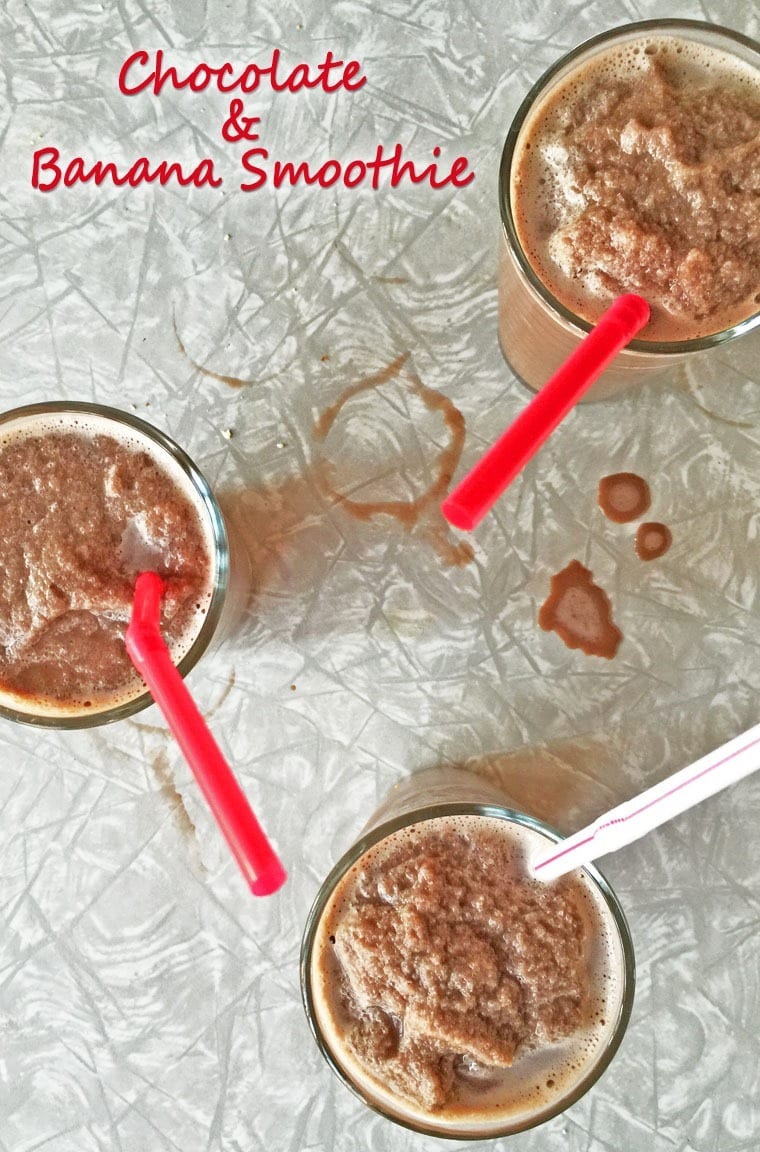 I love making healthy smoothies in my Blentec Blender. It's just a matter of combining healthy ingredients like my favorite chocolate alternative milk, a banana, some ice cubes, and a scoop of nut or seed butter and you have a delicious frozen smoothie recipe. But what I don't like is the cleanup!
Inevitably, I've spilled some smoothie down the side of the glass, so there are rings all over the table. Or I've spilled some smoothie out of the blender jar all over the counter trying to get that last little bit out. So when the folks at Bounty asked me to try out their new Bounty with Dawn paper towel to clean up this sticky chocolate smoothie mess, I thought I'd give it a whirl.
Clean up by Bounty with Dawn!
First, I had to deal with the spills on the table top as well as the messy table – leftovers from the previous breakfast and dinner. I took one Bounty with Dawn paper towel and ran it partially under the kitchen faucet. It quickly cleaned up the chocolate smoothie spills as well as the crusted on food spills from the previous two meals that I purposely left on the table for my Bounty with Dawn test drive.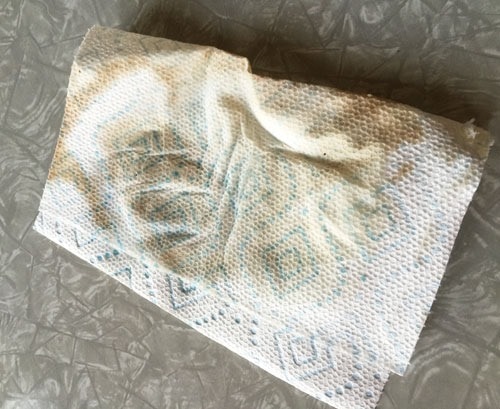 When activated by water, Bounty with Dawn stands up to tough messes like grease and dried food residue. The Bounty with Dawn paper towel is much thicker than regular paper towels – sort of like a thinner dishtowel.
Since I didn't make the power towel too wet, I then went over to the sink and added more water and used it to clean out the blender jar and lid. It got a bit soapy and got the job done.
More ways I cleaned up my kitchen with Bounty with Dawn:
I then took a second Bounty with Dawn paper towel to my induction stove top. It has a similar finish to ceramic or glass stove tops and did a terrific job on the grease and crusted on messes from the previous night's cooking. It worked just as well as the expensive cleaner I have just for ceramic stove tops, too. While I had to use a second damp paper towel to wipe up the soapy residue, I have to do that with the special stove cleaner as well.
I then rinsed it out and used the same Bounty with Dawn paper towel to clean up my marble top counters. Bounty with Dawn Paper towels are durable!
I was really impressed with the cleaning power of Bounty with Dawn. It didn't fall apart until I was done with the stove AND a full counter top. (It was still usable, but it had separated in two pieces.) Bounty with Dawn stands up to tough messes similar to a dishcloth, but it has the grease-fighting power of Dawn dish soap.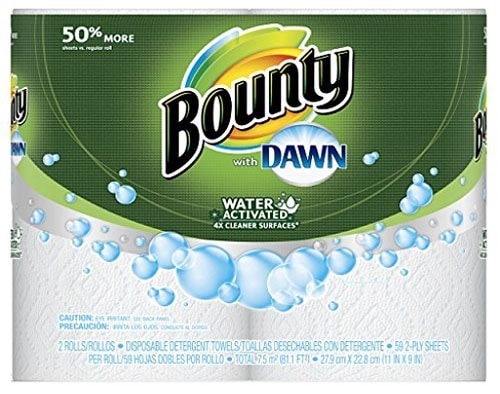 This would be a terrific product for cleaning up foods like raw chicken or gluten containing foods where you're concerned about bacteria or cross-contamination. You can just clean up the mess and toss the Bounty with Dawn paper towel in the trash when you're done. You don't have to worry about putting a sponge in the dishwasher to sterilize it or the hassle of getting a new dishtowel.
Also, with warmer weather approaching, Bounty with Dawn will be perfect to use on your patio furniture!
You can buy Bounty with Dawn at Walmart (in stores or online) as well as on Amazon. I recently saw Bounty with Dawn at my local grocery store in roll form as well as in a sample pack of a few sheets, which is a great way to check it out!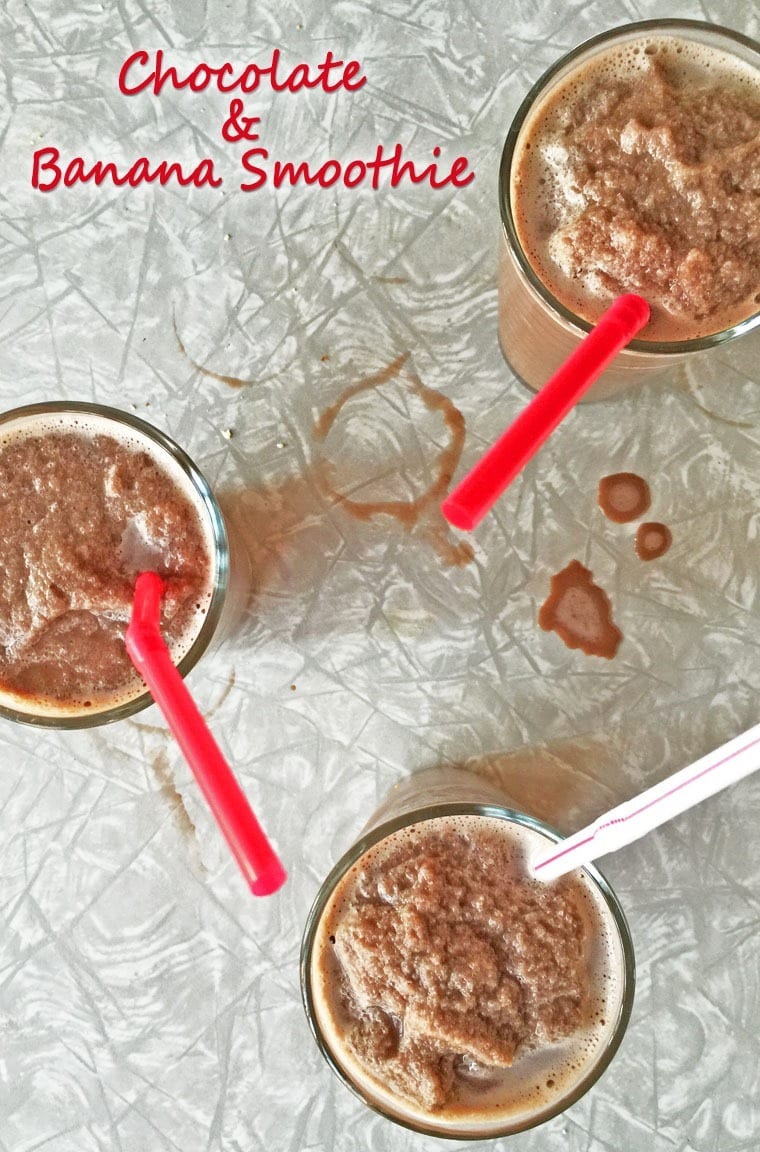 Chocolate & Banana Smoothie
Ingredients
2 cups

chocolate milk (soy, almond or almond)

1

banana, peeled

1 heaping tablespoon

nut or seed butter (peanut, almond, cashew or sunflower)

2 large handfuls

ice cubes
Directions
Place chocolate milk, banana, nut or seed butter, and ice in a blender. Blend on high until the ice cubes are pulverized and the smoothie is frothy.
Pour smoothie into 3 glasses. Serve immediately.
Serving size:

Makes 3 smoothies – 1 cup each