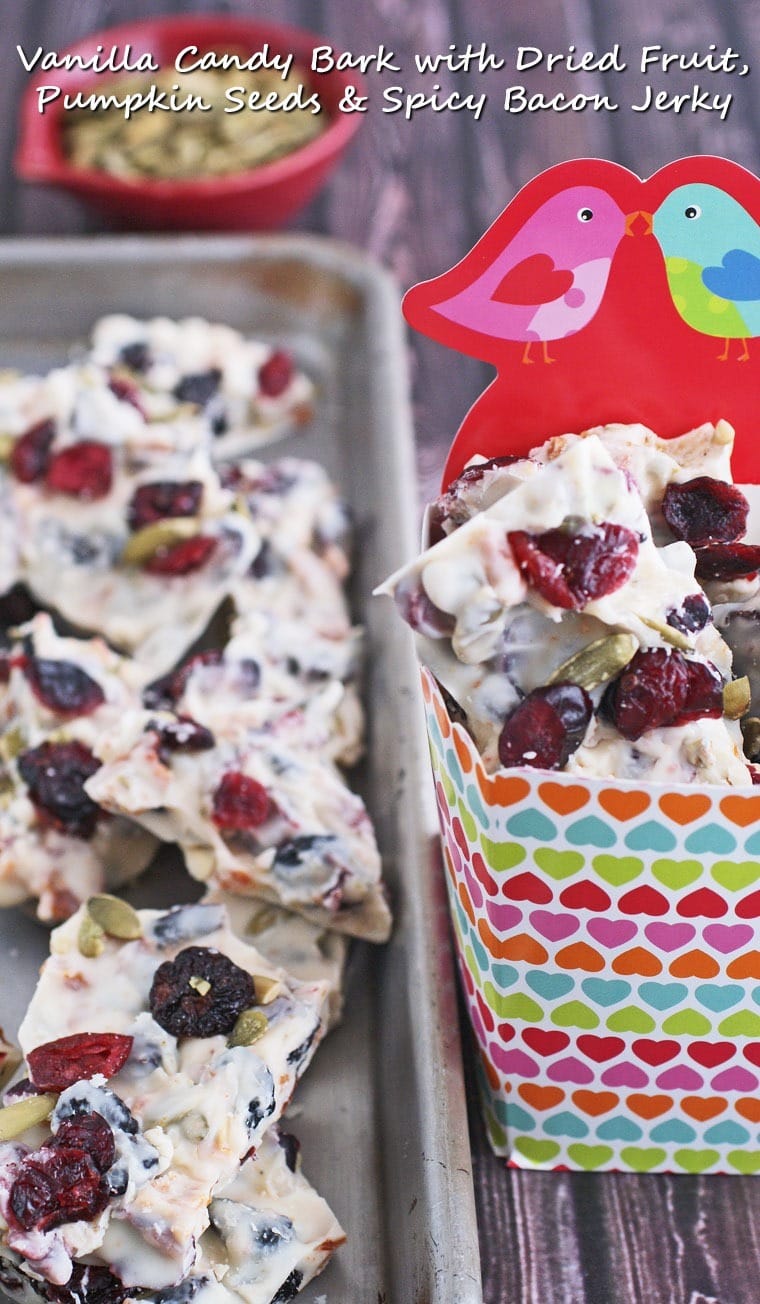 I usually make bark around the Christmas holidays. However, since I have leftover healthy goodies like pumpkin seeds, dried cherries, and dried cranberries in the pantry from holiday baking, I thought Valentine's Day would be a perfect time to make vanilla candy bark. I also found a wonderful new product at Trader Joes – Sweet Sriracha Uncured Bacon Jerky to add to the candy bark to give it a spicy, salty kick. (If you can't find their jerky, any spicy and sweet quality jerky will do.)
The combination of the sweet, salty and spicy flavors of this bark is really unique. My kids thought it was awesome! Healthing up the candy with the wholesomeness of dried fruit and seeds make me feel a little less guilty in letting them indulge in a sweet treat. Plus, I loved the color combination!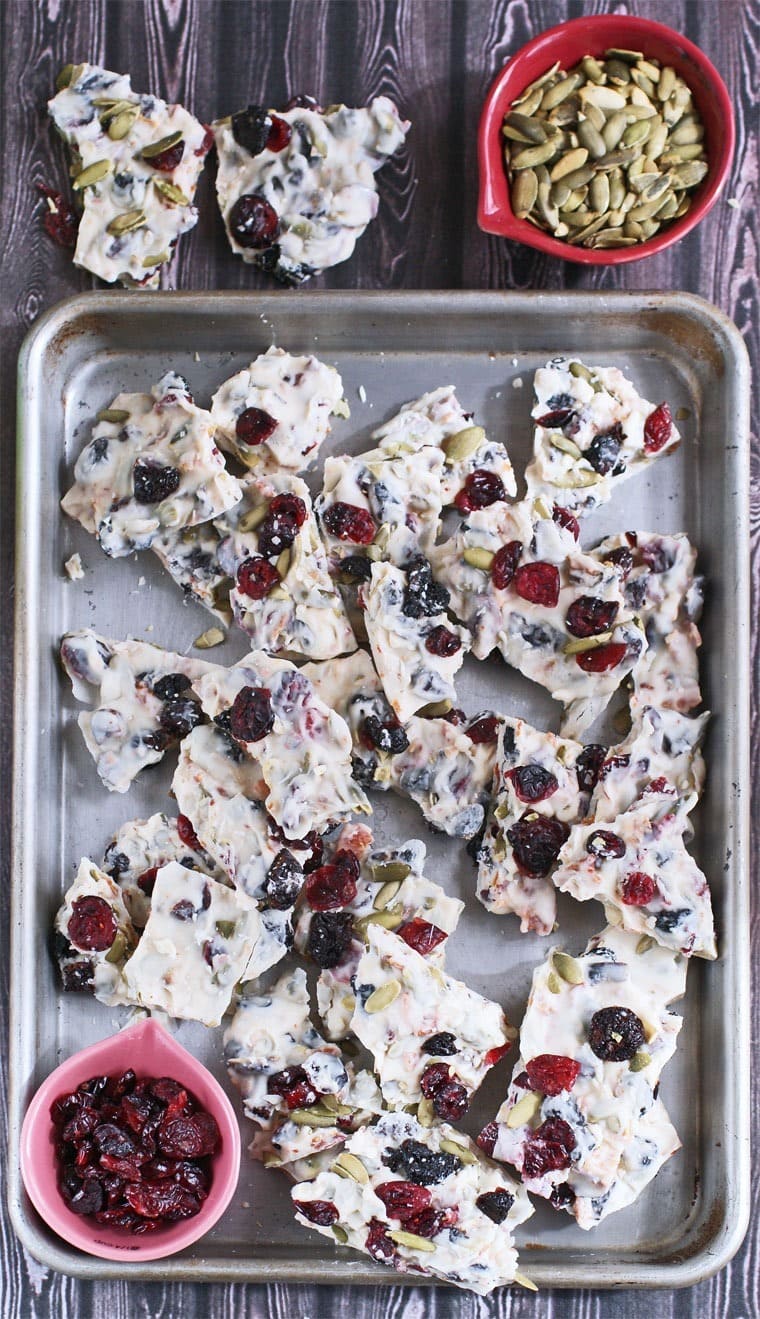 In defense of candy coating
If you're a regular reader of This Mama Cooks! On a Diet, you're probably thinking, "Wait a minute, isn't candy coating made of some sketchy ingredients like palm oils?" Well, you're right. Believe me, I'd rather be using Lindt white classic chocolate. But the advantage of candy coating is that it's easy to use and foolproof since it quickly melts in the microwave and sets up just as quickly, too.
This is especially handy if you're cooking with kids, since safety is a big issue. I want my readers to enjoy what they're doing, have fun in the kitchen, and have a good balance between healthy recipes, convenience, safety and fun. This recipe should be easy enough for the kids to make with just a bit of supervision from mom, dad or the babysitter. However, if you want to go ahead and use a quality white chocolate like Lindt, please do so. You'll need to melt the chocolate on the stove top. (I recommend using a Paderno double boiler, which slowly melts chocolate without scorching it.) And adjust set up time accordingly.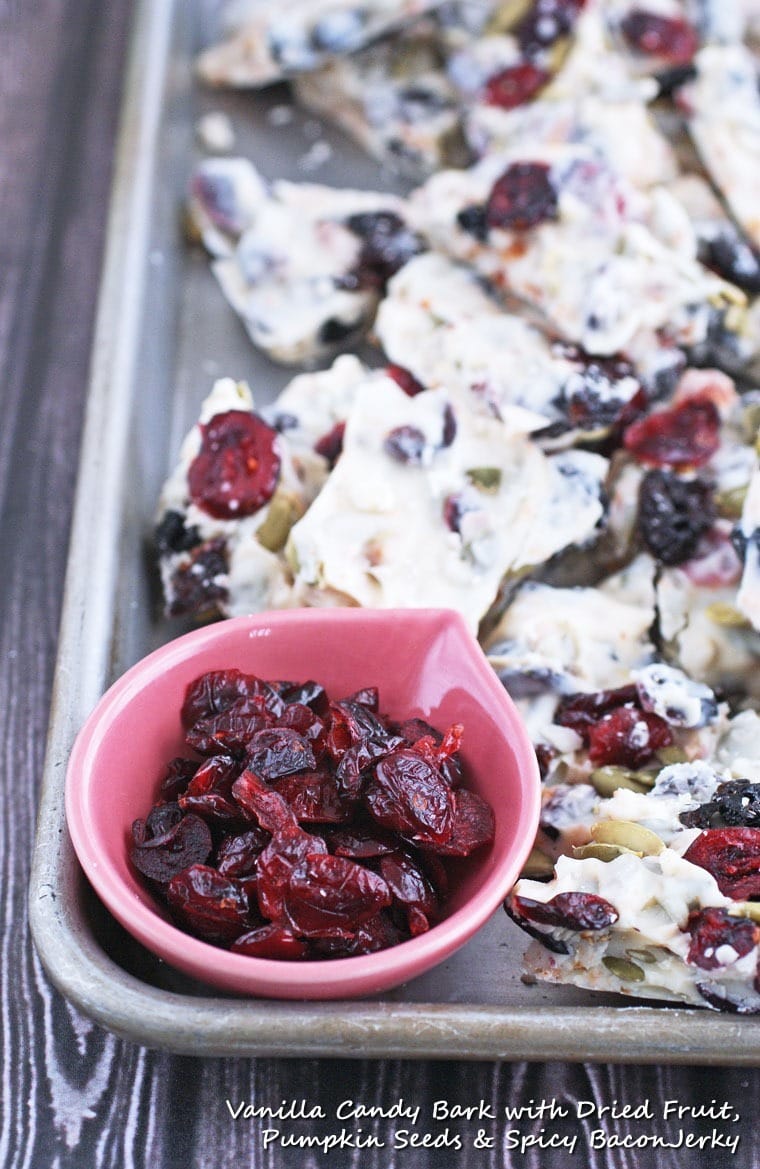 Finally, have fun with this recipe. You can add all sorts of dried fruit – mango, papya, mixed berries, raisins, and so on. Try pine nuts, sunflower seeds, and dried coconut. And remember, the better the quality of your ingredients, the healthier your indulgence is!
Homemade gift ideas
Here are a few ways Vanilla Candy Bark with Dried Fruit, Pumpkin Seeds & Spicy Bacon Jerky is perfect for a homemade gift giving during Valentine's Day.
Buy some cute candy holders at the craft store for friends, relatives and/or teachers.
Put the pieces in a ziplock baggies or cellophane bags tied with ribbons. Then print out labels (Pinterest is a great source for this), and attach them to the baggies or bags.
Fill a Mason jar with the Vanilla Candy Bark. Attach a label with a ribbon to the lid.
Fill a coffee mug with the Vanilla Candy Bark. Attach a label with a ribbon to the handle.
Click on the "Print Recipe" icon and include the Vanilla Candy Bark recipe in your Valentine's Day card along with your homemade gift. Teachers, friends and relatives love recipes!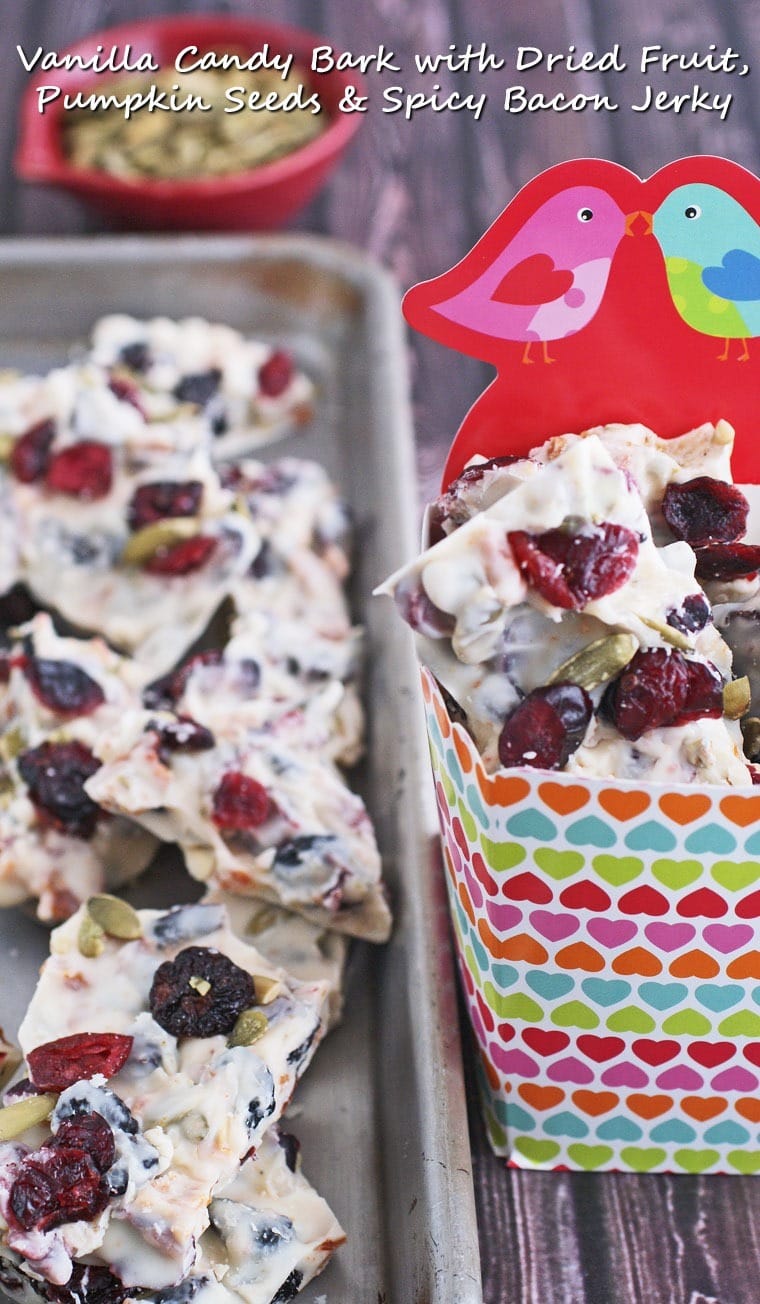 Vanilla Candy Bark with Dried Fruit, Pumpkin Seeds & Spicy Bacon Jerky
Ingredients
1 cup

raw pumpkin seeds

1 cup

dried cherries, chopped in half (approx. raisin sized)

1 cup

dried cranberries

1/2 cup

diced Trader Joe's Sweet Sriracha Uncured Bacon Jerky (or any quality brand of sweet and spicy jerky)

2 (16 ounce) packages

vanilla candy coating (also called candy melts)
You will also need:
A large cookie sheet

Parchment paper
Directions
Place a large cookie sheet in your freezer for one to two hours until well chilled.
In a large bowl, mix pumpkin seeds, dried cherries, cranberries, and jerky.
Remove 3/4 cup of mixture and set aside.
Remove cookie sheet from freezer and line with parchment paper.
Melt candy coating according to directions.
Stir melted vanilla candy coating into the seeds and dried fruit mixture.
Spread mixture onto the parchment lined baking sheet. (Use the back of a spatula to spread the mixture.)
Once spread, sprinkle on remaining seed and dried fruit mixture and gently press on to the surface.
Cover with parchment and place into freezer until solid – 30 to 60 minutes.
Break into pieces.
Prep Time:
2 Hours 30 Minutes
Total Time:
2 Hours 33 Minutes
Servings
:
Approximately 2 1/2 pounds of Vanilla Candy Bark
Serving size:

A much as you'd like to eat!