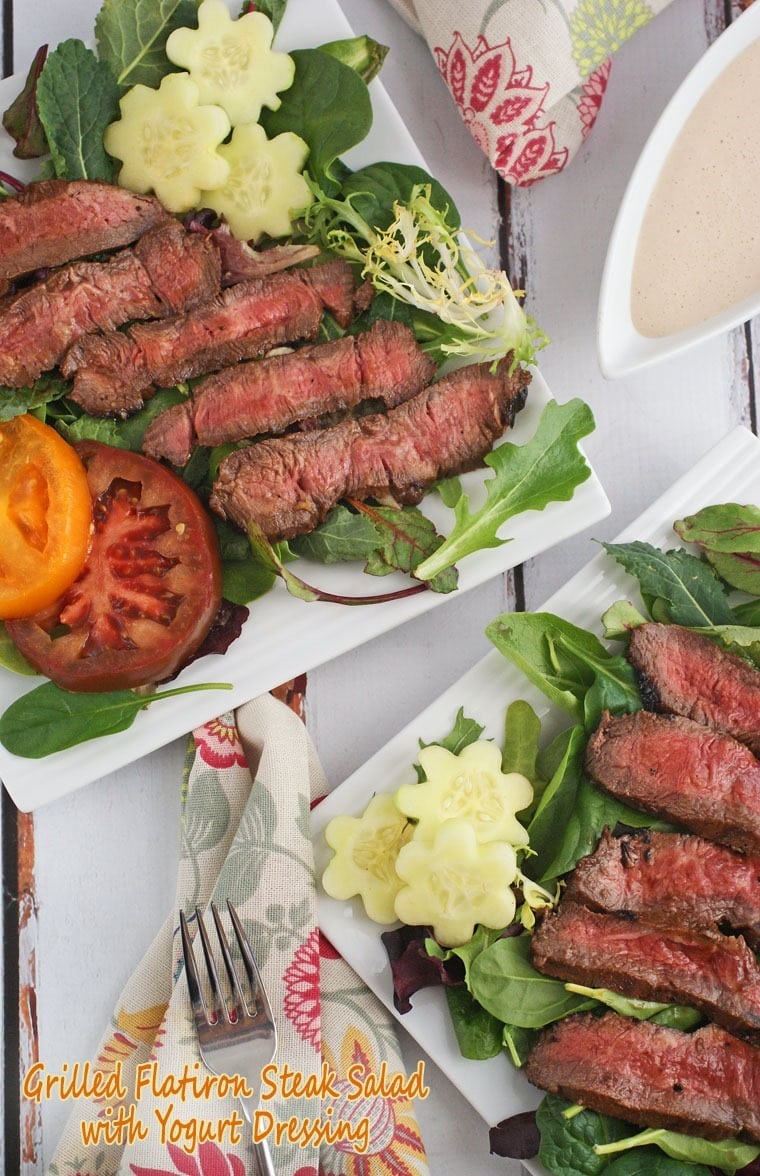 I love grilling year-round no matter what the weather. Lately, one of my favorite things to grill up are flatiron steaks. (Also called flank steak or top blade steak.) Since I'm trying to eat smart after an indulgent holiday season, I thought I'd create a recipe that combined flatiron steak with a wholesome salad filled with vegetables, and a homemade yogurt dressing.
And since I'm a big believer in real ingredients, I made my marinade with Kraft's recently revamped line line of barbecue sauces. Kraft Barbecue Sauces feature high-quality ingredients like tomatoes, sweet molasses, cider vinegar and cane sugar – and no high fructose corn syrup! (They use cane sugar instead, just like you would if you made barbecue sauce from scratch.) I was excited to learn this, because while I loved Kraft's reasonable prices, I didn't like the HFCS and would buy brands that were three to four times the price just to avoid it.
Kraft Barbecue Sauce is sold at retailers nationwide at a suggested retail price of $1.99 per 18-ounce bottle and is available in eight varieties: Original, Hickory Smoke, Sweet Honey, Mesquite Smoke, Sweet Brown Sugar, Sweet & Spicy, Spicy Honey, and Thick & Spicy. (Select flavors are also available in 28, 40, and 82.5-ounce varieties.) I've tried Kraft Original and Sweet Honey and they are delicious and just as good as the expensive barbecue sauces I've been buying. I'm impressed!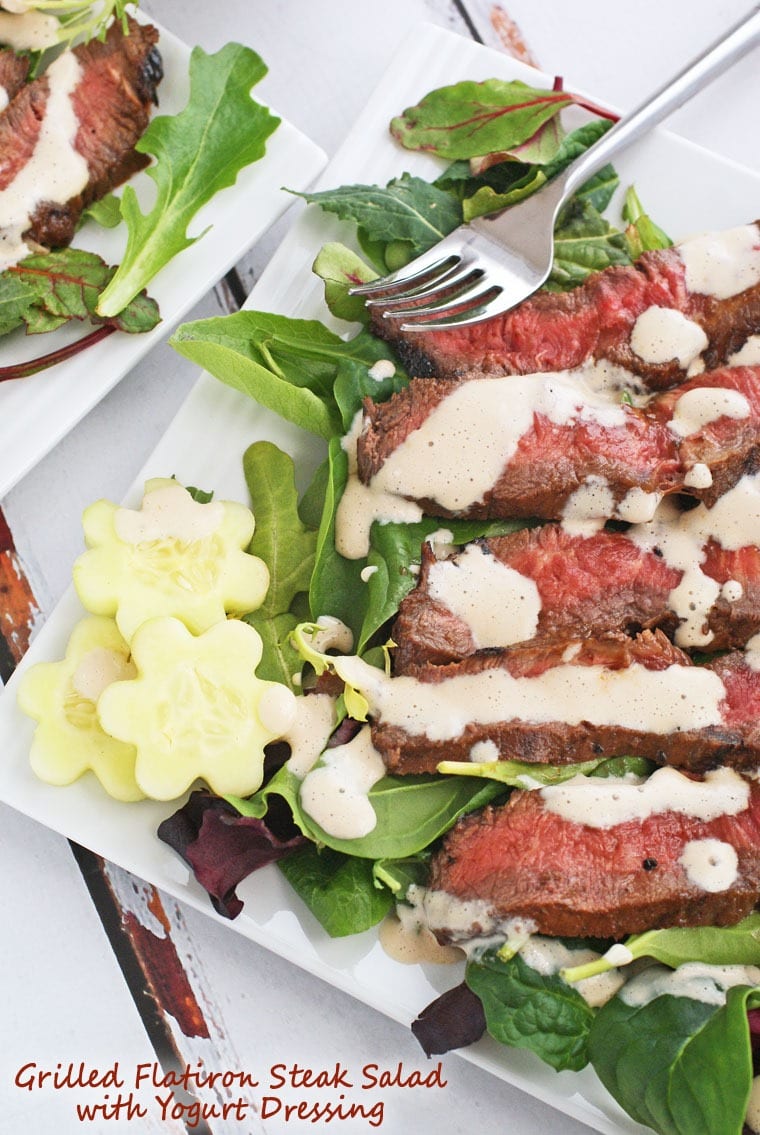 Win an Evergriller Grill 'N' Flip Mitt and a year's supply of Kraft Barbecue Sauce!
Are you an "Evergriller"? According to Kraft, that's who loves to endures the outdoor elements when they grill year-round. They strive to get the perfect char on their meat and take their saucing seriously. (Or maybe they're just like me and love the TASTE of grilled food with a passion and will do anything to be able to eat it year-round!)
To celebrate the new Kraft Barbecue Sauces, they've created custom, over-the-top grilling innovations to help America's well-known grilling gurus, "Evergrillers," endure those year-round outdoor elements. So they've developed the Evergriller Grill 'N' Flip Mitt to help these barbecue lovers fire up the grill no matter the weather conditions.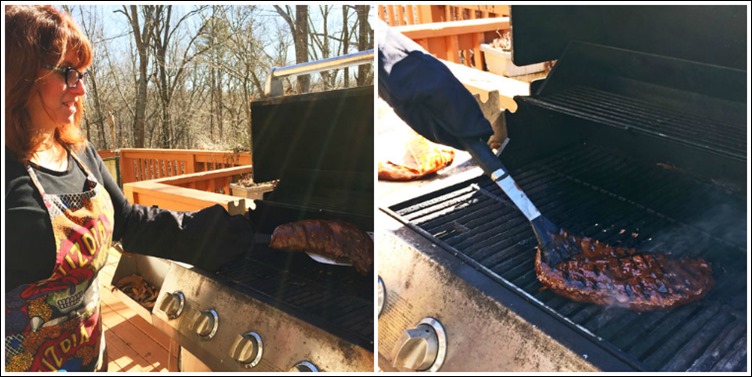 The Evergriller Grill 'N' Flip Mitt is a specially designed, fire-resistant grilling glove that protects the griller's hands from both the heat of the grill and the chill of the outdoors during winter grilling season. The unique design of the top insert can hold many grill tools, making it easy to flip, stab, and baste with ease and precision. I had a lot of fun using it when I was grilling up my Flatiron Steak Salad.
You can enter for a chance to win an Evergriller Grill 'N' Flip Mitt of you own and a year's supply of Kraft Barbecue Sauce at GrillinFools.com until January 30. The winner will be randomly selected at the close of the giveaway.
Tenderizing the steak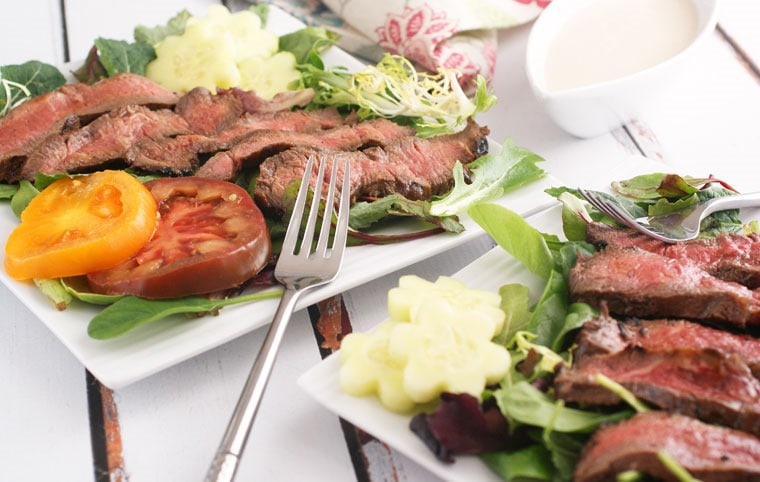 While the marinate does a good job on its own, I highly recommend using a blade meat tenderizer tool. This tool pierces the flank steak all over, helping it to absorb the marinade better. I have a Jaccard Supertendermatic 48-Blade Tenderizer and highly recommend that you buy yourself one, too. It also prevents cheaper cuts of meat from shrinking and curling up.
You'll want to marinade the steak overnight to up to 24 hours before grilling, so plan accordingly!
Notes on putting the Grilled Flatiron Steak Salad and Yogurt Dressing meal together
You can make this salad with just-off-the-grill steak. Or you can grill the steak and let it cool to room temperature – or even refrigerate it – and then carve it up. I love steak salad both warm, room temperature and cold, so I'll let you decide how you want to do the steps of grilling, salad preparation, and dressing preparation.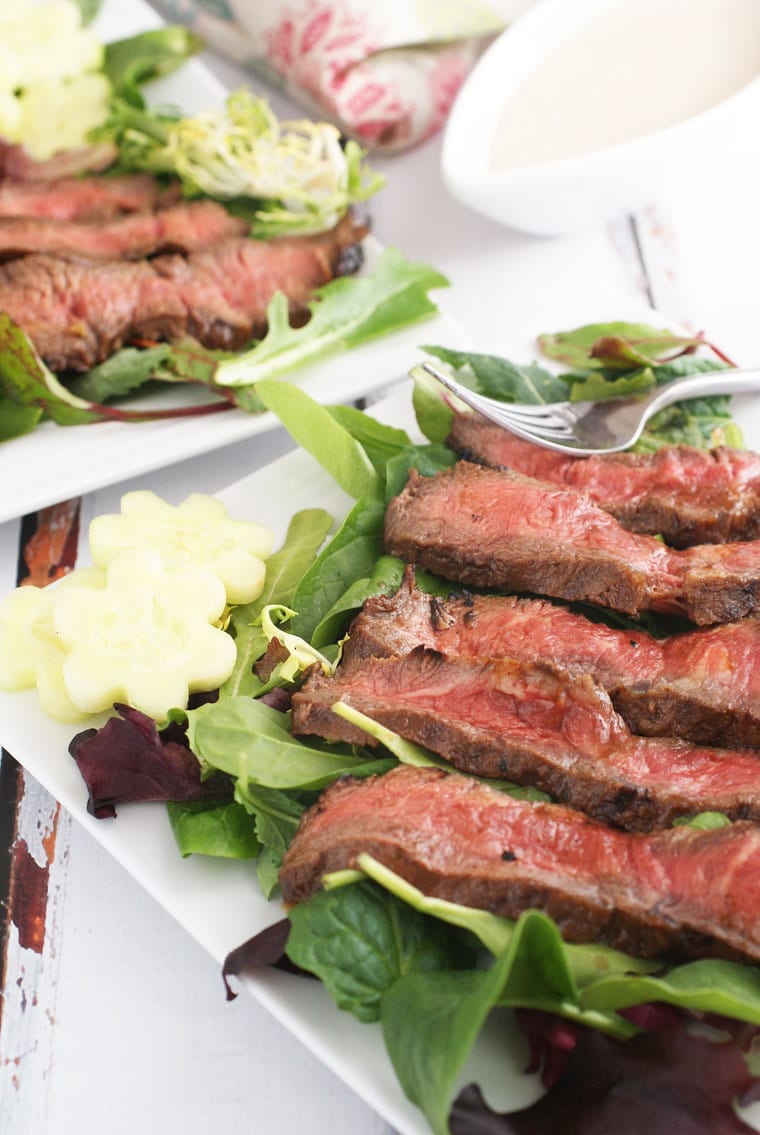 For example, you can make the salads and dressing ahead of time. Since you're going to use extra marinade in the dressing, make up a small batch of extra marinade, reduce it over the stove, cool it down in the refrigerator, and then make your dressing before you grill. (Make sure to boil the heck out of any marinade you've used on raw meat. You want to kill any germs! If you don't feel it's safe, make an extra half batch to use for the dressing.)
Then later on just before mealtime, do the grilling, and so you'll have a warm steak salad. Or grill the flatiron steak and make the dressing the evening before, and put it all together for a Sunday brunch. You can serve it with the dressing on it or on the side. (I like it on the side myself!)
If you're making this for a romantic meal for Valentine's Day, you may want to all the prep ahead of time and do the grilling last minute. Since this recipe is for four people, any leftovers can be made into sandwich wraps for the next day's lunch!
This recipe is very flexible, so have fun with it!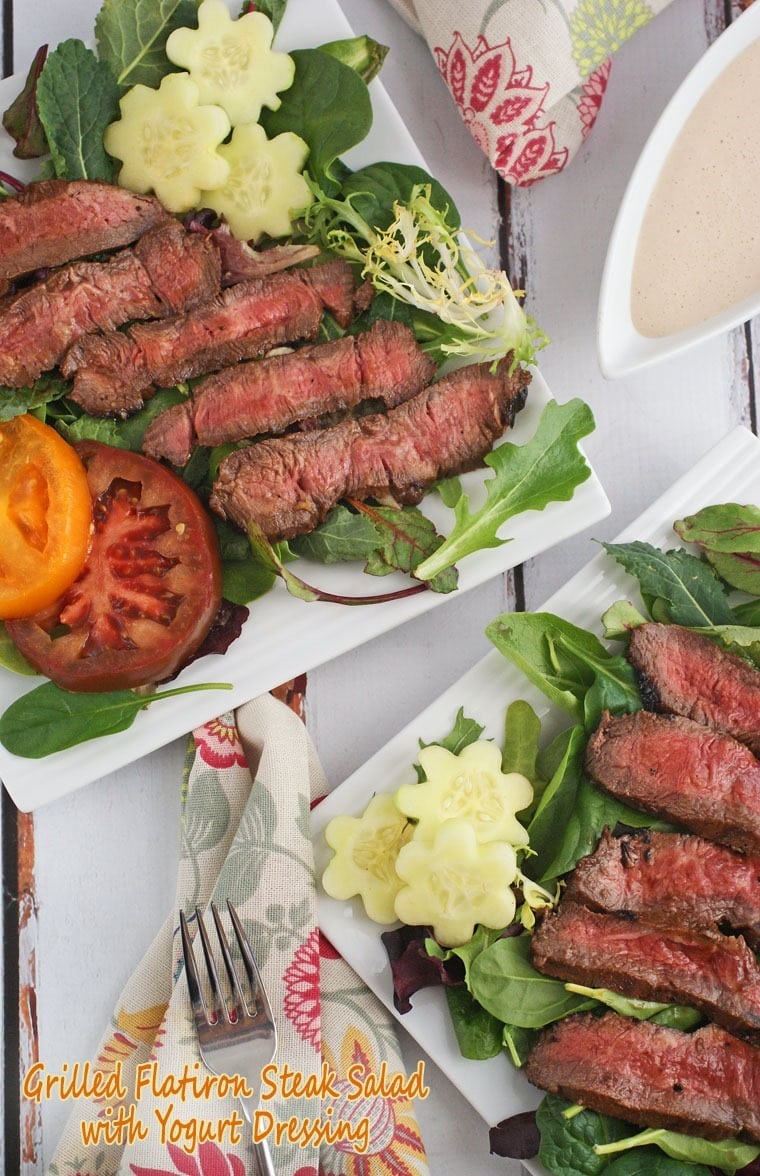 Grilled Flatiron Steak Salad with Yogurt Dressing
Ingredients
For flatiron steak marinade:
1 cup

Kraft Honey Barbecue Sauce

1/2 cup

olive oil

1/4 cup

balsamic vinegar

2

cloves garlic, minced

1 1/2 pound

flatiron beef steak
For yogurt dressing:
3 tablespoons

flatiron steak marinade (boiled and reduced) 1/2

1/2

cucumber, peeled, seeded and roughly chopped

1 cup

low fat Greek yogurt

1/2 teaspoon

sea salt
For salad:
8 cups

mixed baby salad greens, divided (2 cups per plate)

tomato and cucumber slices
Directions
For the marinade and steak:
Combine the barbecue sauce, olive oil, vinegar and minced garlic in a bowl. Whisk to mix thoroughly.
Place flank steak on a cutting board. Generously tenderize both sides of the steak with a blade meat tenderizer tool.
Place steak in a large zip lock plastic baggie. Pour in marinate. Push out extra air and seal.
Place on a tray or large plate (in case of accidental leaks) in the refrigerator overnight up to 24 hours before grilling.
To grill, remove flatiron steak from baggie and reserve marinade.
Grill steak until medium rare – about 3 to 4 minutes on each side. Brush steak with extra marinade.
Remove from grill. Transfer to cutting board and let rest for 10 minutes.
Slice meat in thin strips against the grain
For the dressing:
Take the reserved marinade and place in a small saucepan. Bring to a rolling boil over medium high heat.
Reduce heat to medium and boil for 10 minutes until reduced and thickened.
Place saucepan in freezer to cool. (Marinade should be room temperature or cooler.)
In a blender or food processor combine cucumber, Greek yogurt, sea salt and marinade. Process until cucumber is liquefied and ingredients are thoroughly combined.
For the salad:
Place salad greens, tomato slices and cucumbers on a plate.
Place the thin strips of flatiron steak on top of the salad.
Serve with salad dressing on the side or drizzled on top just before serving.
Servings
:
Serves 4 people
Serving size:

Serving size: 6 ounces of steak, 2 cups salad greens and vegetables, 1 1/2 tablespoons dressing per person
I was selected for this opportunity as a member of Clever Girls and provided product samples by Kraft Foods, and the content and opinions expressed here are all my own.