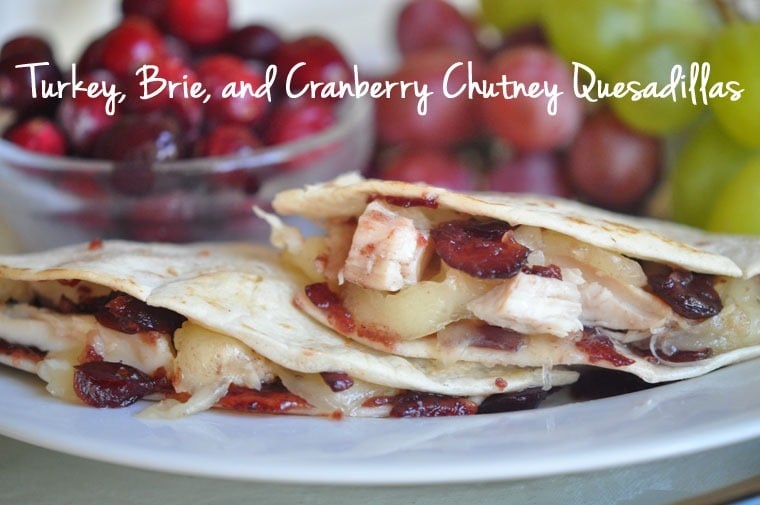 With Thanksgiving just around the corner, I'm sure you're more concerned about what you'll be cooking than what you're going to do withThanksgiving leftovers. But before you get frustrated with the kids complaining about heating up turkey and stuffing in the microwave again, Holly Clegg has come to the rescue with Turkey, Brie and Cranberry Chutney Quesadillas from her cookbook, trim & TERRIFIC™ Gulf Coast Favorites. This looks so good that I'd roast a turkey just to have an excuse to cook up a batch!
You can find more of Holly's trim& TERRIFIC® recipes at hollyclegg.com and The Healthy Cooking Blog. And don't forget that with the holidays coming up, Holly's trim & TERRIFIC™ cookbooks make wonderful gifts for anyone who loves to eat healthy and cook!
What to do with those Thanksgiving leftovers?
A plump juicy turkey is more than likely included on your holiday table, but what to do with all of those leftovers?! Turkey sandwiches are good, but this year, have fun with leftovers, thinking of them as a no-stress convenience item. This versatile lean protein has endless options to magically create easy meals, disguising leftover turkey into a delicious turkey creation like my Turkey, Brie and Cranberry Chutney Quesadillas from the trim & TERRIFIC™ Gulf Coast Favorites cookbook.
Turkey, cranberry sauce and Brie easily become mouth-watering quesadillas. The perfect snack or light dinner for a delicious change of pace.
This Mama's tips
Instead of cranberry chutney, you can use leftover cranberry sauce.
To make this gluten free, use corn or gluten free tortillas instead of flour ones.
Use a pizza wheel cutter to easily cut the quesadilla into wedges.
This recipe works just as well with leftover rotisserie chicken or even canned chicken as it does with leftover Thanksgiving or Christmas turkey.
Turkey, Brie, and Cranberry Chutney Quesadillas would make a fun party appetizer or girl's night in snack!
Brie cheese is often on sale this time of year. If it's one of your favorites, stock up as it freezes well.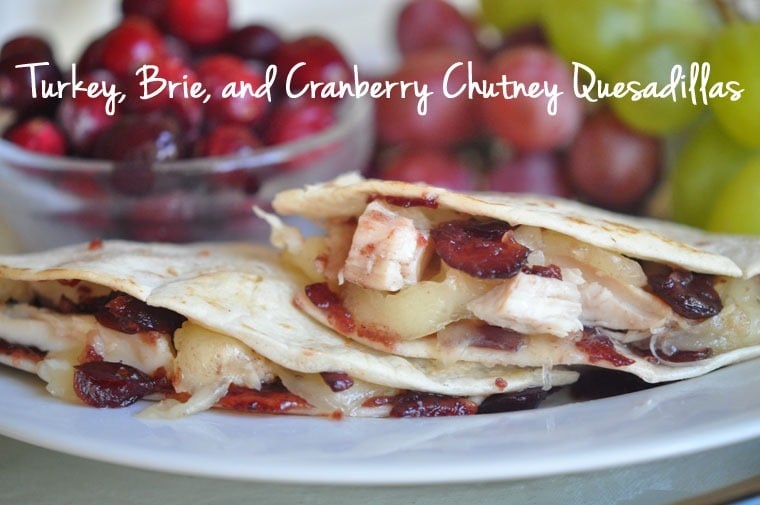 Turkey, Brie, and Cranberry Chutney Quesadillas
Turn leftover holiday turkey into a dinnertime delight with the addition of Brie cheese and cranberry chutney in this easy, fast, and mouth-watering quesadilla.
Ingredients
Cooking spray

6

(8 to 10-inch) flour tortillas

1 (9 ounce) jar

cranberry chutney

8 ounces

Brie cheese, rind removed and thinly sliced

2/3 cup

leftover cooked turkey, chopped into small pieces
Directions
Preheat oven 425 degrees F. Coat a baking sheet with cooking spray and set aside.
Spread one side of the tortilla with cranberry chutney and top with sliced Brie. Add turkey. Fold in half, pressing edges together.
Place on baking sheet and bake until cheese is melted and tortillas are golden, about 5 minutes. Let sit few minutes before cutting into wedges.
Servings
:
Makes 24 wedges - feeds 4
Serving size:

6 wedges per person

Calories:

85

Calories from Fat:

26 (31%)

Total Fat:

3g

Saturated fat:

2g

Unsaturated fat:

1g

Sodium:

149mg

Total Carbohydrates:

10g

Sugar:

4g

Fiber:

1g

Protein:

4g

Cholesterol:

13g
Diabetic Exchanges: 1/2 starch, 1/2 lean meat
Recipe and photo used with permission.