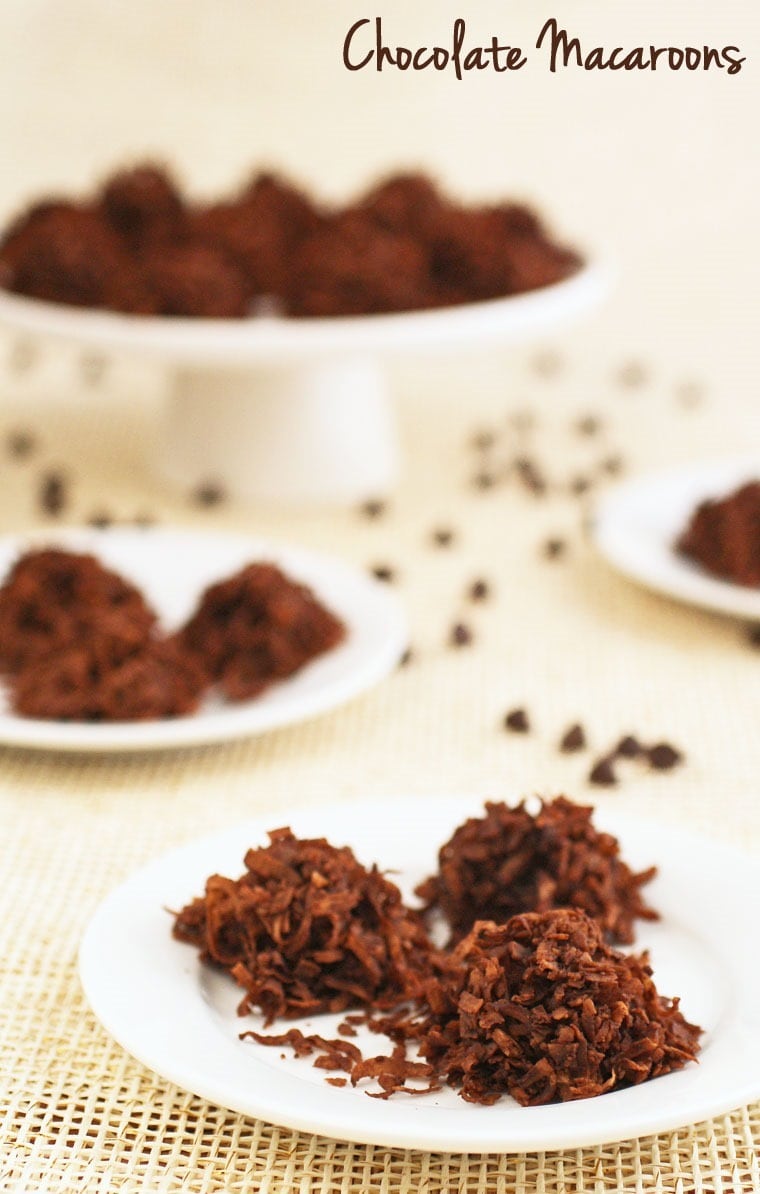 Check out this recipe for chocolate macaroons! It was developed especially for people who have irritable bowel syndrome (IBS), ulcerative colitis (UC) or just want to eat gluten free. 
What is Irritable Bowel Syndrome (IBS)?
Irritable Bowel Syndrome (IBS) is a serious GI issue that affects the large intestine (colon) and commonly causes cramping, abdominal pain, bloating, gas, diarrhea and constipation. Up to 20 percent of U.S. adults have IBS symptoms. More women than men are diagnosed with IBS but many never seek medical help for it. There is no known cure.
Did you know that children can get IBS? IBS is thought to affect about 15% of children and teenagers after the age of 5 or 6. The peak period of onset is between the ages of 8 and 14. Children with IBS have to deal with abdominal discomfort and bloating. Often their chronic medical condition can result in the disruption of social, school, and family activities.
For adults, IBS symptoms first appear before the age of 35 for about half of IBS sufferers and is often diagnosed between the ages of 30 and 50.
Studies show that up to 75% of IBS patients get relief of their symptoms on a low FODMAP diet.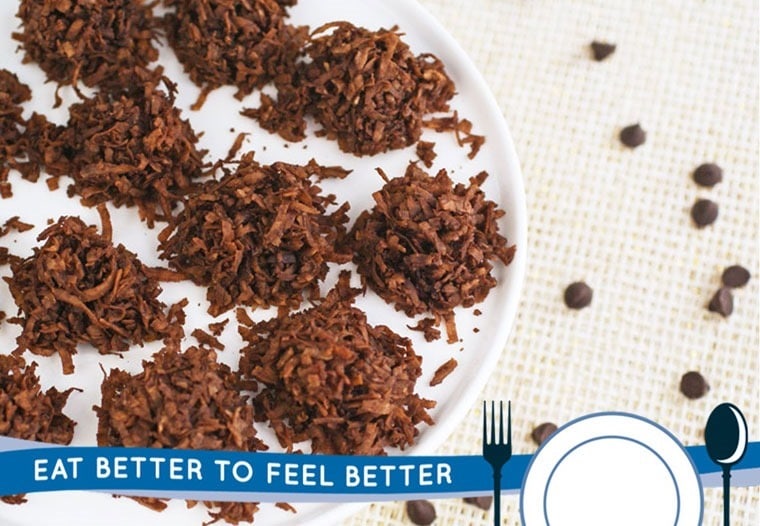 What is Ulcerative Colitis (UC)?
Ulcerative colitis is a chronic disease that causes inflammation and ulcers in the inner lining of the large intestine, colon and rectum. The inflammation causes erosion of the lining of the colon, leading to bleeding, production of pus, diarrhea, and severe abdominal discomfort.
Ulcerative colitis affects more than 1 in every 1,000 Americans and mostly starts between the ages of 15 and 30.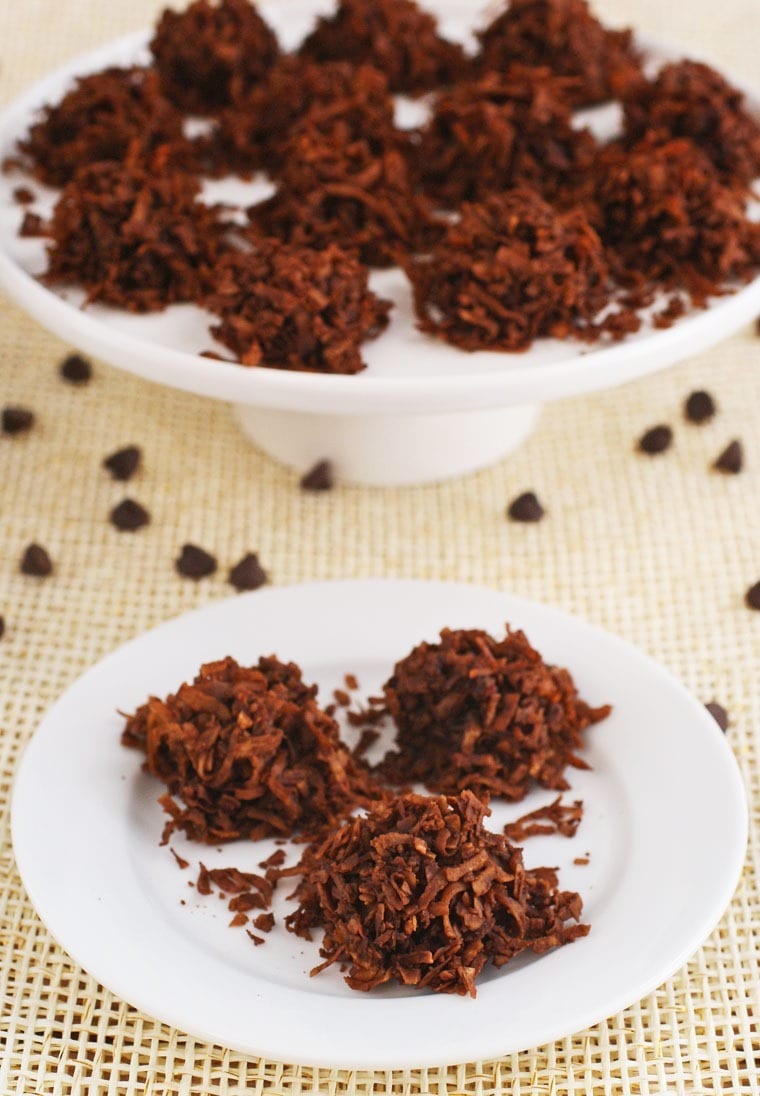 IBS friendly Chocolate Macaroons
I made just one change to Patsy Catsos' chocolate macaroon recipe. I substituted Monk Fruit in the Raw for the sugar to reduce the calories. But you can use sugar if you like.
I've also increased both the egg whites and the chocolate as I felt the macaroons wouldn't have been moist enough to hold together without the extra ingredients.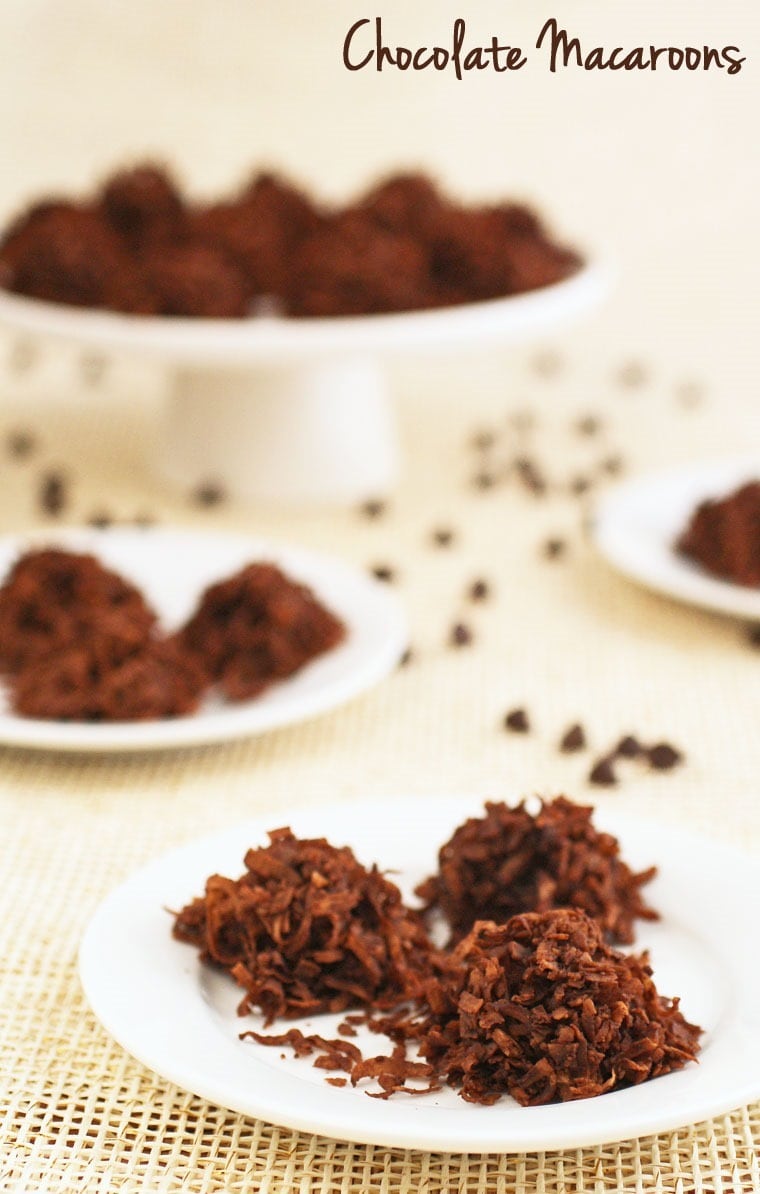 Chocolate Macaroons
Based on the recipe created by Patsy Catsos, RD
Ingredients
1 1/4 cup

liquid egg whites

2/3 cup

Monk Fruit In The Raw

3 cups

unsweetened coconut flakes

1/2 teaspoon

gluten free pure vanilla extract

2/3 cup

semisweet gluten free chocolate chips
Directions
Combine egg whites, Monk Fruit In The Raw, and coconut flakes in a 4-quart saucepan. Stir frequently over medium-low heat for 8 minutes until the sticky, moist mixture suddenly becomes drier.
Remove from the heat, stir in vanilla and chocolate chips until chips have melted and the chocolate has thoroughly been mixed in with the coconut. Cover and chill in the refrigerator for 30 minutes.
Preheat oven to 300 degrees F. Cover 2 baking trays with parchment paper and set aside.
Use a small cookie scoop to transfer 1-inch balls of dough to the prepared baking trays. Place macaroons in refrigerator for 15 minutes.
Remove baking sheets from refrigerator and place in oven. Bake for 30 minutes. Macaroons will be firm to the touch. Don't over bake or macaroons will be dried out and crumbly!
Cool completely on the baking tray before removing and storing in an airtight container.
Total Time:
1 Hour 40 Minutes
Recipe used with permission.