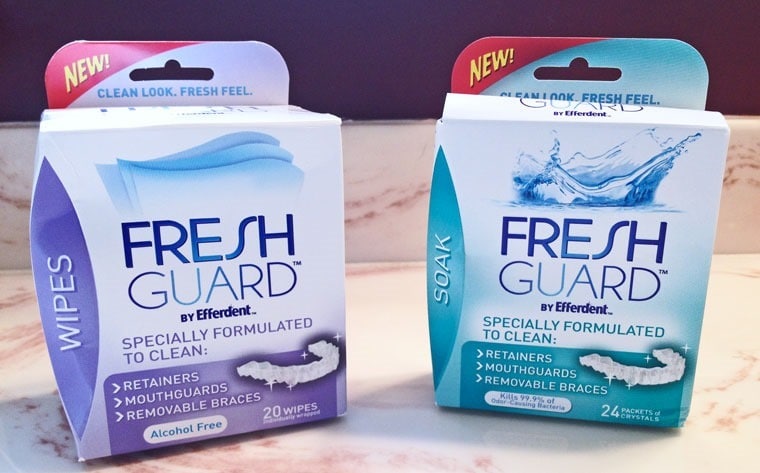 During my time as on the Invisalign Teen Mom Advisory Board, I heard so many stories from adults who had braces as kids but were going through braces again because they stopped wearing their retainers. You have to wear a retainer at least 8 to 10 hours a day to keep your smile straight and so many of us didn't.
I found myself in that situation, because my retainer was gross tasting and nasty smelling no matter how much I brushed it and soaked it in mouth wash. I hated wearing it, so I stopped when I went off to college. My teeth ended up moving and all my parents' hard earned money was wasted.
Luckily, my Invisalign retainer isn't that bad. I brush it each morning with water (toothpaste can damage retainers) and air dry it. Still there's some mouth film build-up on it that I can't remove, and it's starting to get rather gross after over a year of wearing it. Luckily, there's a product like Fresh Guard™ Soak to help keep my retainer clean, fresh tasting and smelling!
Easy to use
What I like best about Fresh Guard™ is that it's very easy to use. All you need to do it fill a glass or cup with warm water. Then tear open one packet of Fresh Guard™ Soak and pour the contents into the water. The solution will foam up and turn blue. Place your retainer in it and soak for 5 minutes. The solution will turn clear when it's done. Remove your retainer and rinse thoroughly. (Don't soak your retainer more than 10 minutes.)

Since my normally clear retainer was very cloudy with a lot of white, hardened build-up, I did two cleanings – one for 5 minutes and the next one for 10 minutes. The first cleaning got rid of the funky smell and left the retainer tasting fresher, but it still had a lot of build-up on it. The second cleaning got rid of nearly all of the build-up and my retainer looks almost new on about 90% of the surfaces.
I'm really impressed how clean my retainer was after a couple of treatments of Fresh Guard™ Soak. The product is amazing and I'm going to keep on using it. Luckily, there's a $1 off coupon for Fresh Guard™ on their website, so I can stock up. (Use their store locator to find where Fresh Guard™ is sold near you.
You can also use Fresh Guard™ Soak on mouth guards, removable braces, and even your plastic case to keep everything fresh smelling and clear of odor causing bacteria, stains, and mouth film build-up.
Fresh Guard™ also has a Wipes product, which comes in handy if you don't have water to do a soak, like when traveling or at school or work. The wipes packages are small enough to keep in your wallet, pocket, purse or backpack.
You can learn more about Fresh Guard™ in their video.
Fresh Guard™ is specially formulated to clean mouth guards, retainers, and clear braces. Fresh Guard™ Soak kills 99.9% of odor-causing bacteria in just 5 minutes while Fresh Guard™ Wipes offer a convenient on-the-go cleaning solution with no water needed. Visit Fresh Guard™ for more information, store locator and coupons!
This is a sponsored conversation written by me on behalf of Fresh Guard™. I received promotional items and Fresh Guard™ products in exchange for my participation. The opinions and text are mine.