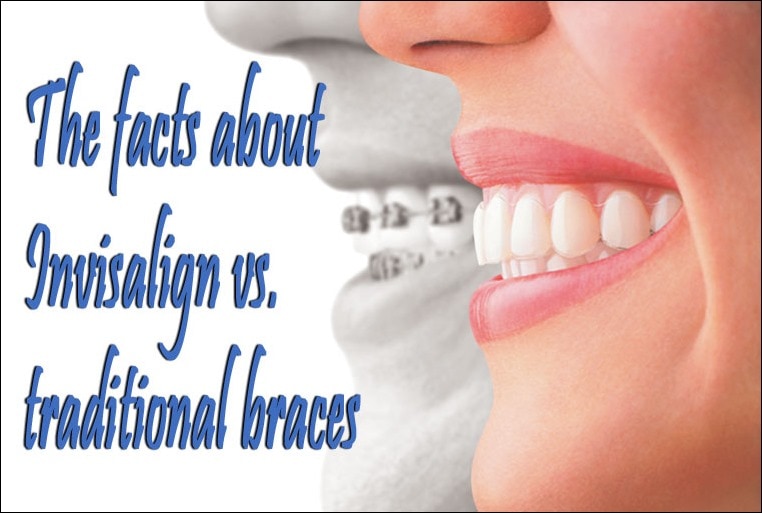 My son Nathan is just about ready to finish up his time with traditional braces. After going through several painful months with a Herbst appliance to fix his underdeveloped jaw, and over two years with traditional brackets and wires, I know he's looking forward to getting his braces off. I just hope that he'll be good about wearing his retainer, since that's where I goofed up as a teen and why I needed Invisalign later in life to correct all the teeth that moved.
Then it'll be Lucie's turn. I'm still not sure if she'll be eligible for Invisalign or not, but if you have a child who you think may need braces, here are a few things to keep in mind.
Getting an orthodontic evaluation
First, don't wait until your child is a teenager to take them for an orthodontic evaluation!  The American Association of Orthodontics recommends taking children for their first orthodontic check-up no later than age seven. The American Dental Association says this is because, "Your child's dentist can spot problems with emerging teeth and jaw growth early on, while the primary teeth are present." Since my kids' adult teeth were coming in so crookedly, my orthodontist decided to pull a few baby teeth early to help those adult teeth come in straighter saving us problems – and possibly money – later on.
If you're considering Invisalign for you or Invisalign Teen for your child, take the Smile Assessment. Then you need to find experienced Invisalign and Invisalign Teen doctors in your area. (Use the Find a Doc locator to find offices near school, home and work.) And just because you're told your teen is not an Invisalign candidate, it may be worth getting a second opinion from more than one orthodontist. Doing so may help ensure that you have all the information you need to make an educated decision. I actually had three orthodontists – two in Colorado and one in Georgia tell me that Nathan wasn't a good candidate because of the numerous problems he had with his overbite and underdeveloped jaw.
To learn more about the Invisalign treatment process, check out the Straight Talk: Smart Path to Straight Teeth Infographic.
Want to know more? Here are questions to ask your doctor.
The benefits of Invisalign over traditional braces
Length of treatment: Invisalign treatment takes about the same time as traditional braces. The length of treatment time for teens may vary depending on the severity of the case and can only be determined by your orthodontist. My Invisalign treatment took a bit over two years, and Nathan's traditional braces is taking a bit over two years. Some of the people I was in the Invisalign Teen Mom Advisory Board with were done in about a year. Each person is different. You can learn more about the treatment process here.
Cost: Like traditional brace, Invisalign and Invisalign Teen is covered by many dental insurance policies. Up to 50% of the cost may be covered by insurance depending on your policy. Even if dental insurance doesn't apply, many doctors will help parents find options to make straightening their child's teeth more affordable. Many offer flexible and affordable monthly finance plans that can be as low as $99 per month. Flexible Spending Health Savings Accounts (HSAs) can be used for Invisalign, making money go farther with pretax dollars, too!
Convenience: With Invisalign, teens can play sports without fear of injury and continue cheerleading, musical instruments, acting and singing with little to no interference because they can remove their aligners if they get in the way. Now that Nathan is getting his traditional braces off, he's going to have to "relearn" how to play his trumpet. He's not looking forward to it!
Better hygiene: And because the Invisalign aligners are removable, brushing and flossing is easy. There are no food restrictions to worry about either with Invisalign! I cannot tell you how many times Nathan popped out his Herbst appliance or broke a wire because he ate the wrong thing. We had a lot of extra office visits because of that!
Time savings: Invisalign is much less disruptive for parents and kids, too. Invisalign Teen eliminates emergency orthodontist visits for broken wires and brackets and requires fewer appointments (and missed school) since several aligner sets are provided in advance.
Enter the Straight Talk Sweepstakes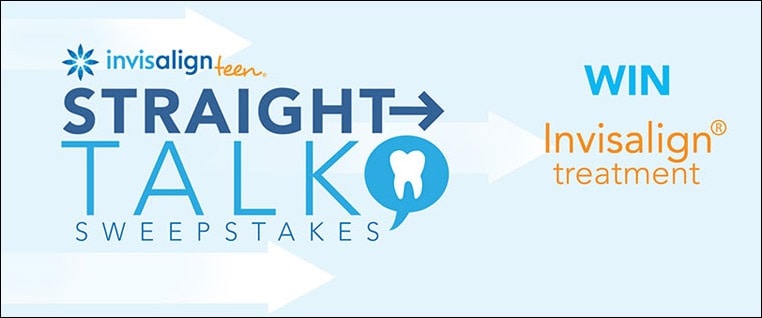 Enter the Straight Talk Sweepstakes for a chance to win free Invisalign treatment. Sweepstakes runs through September 30th, 2014.