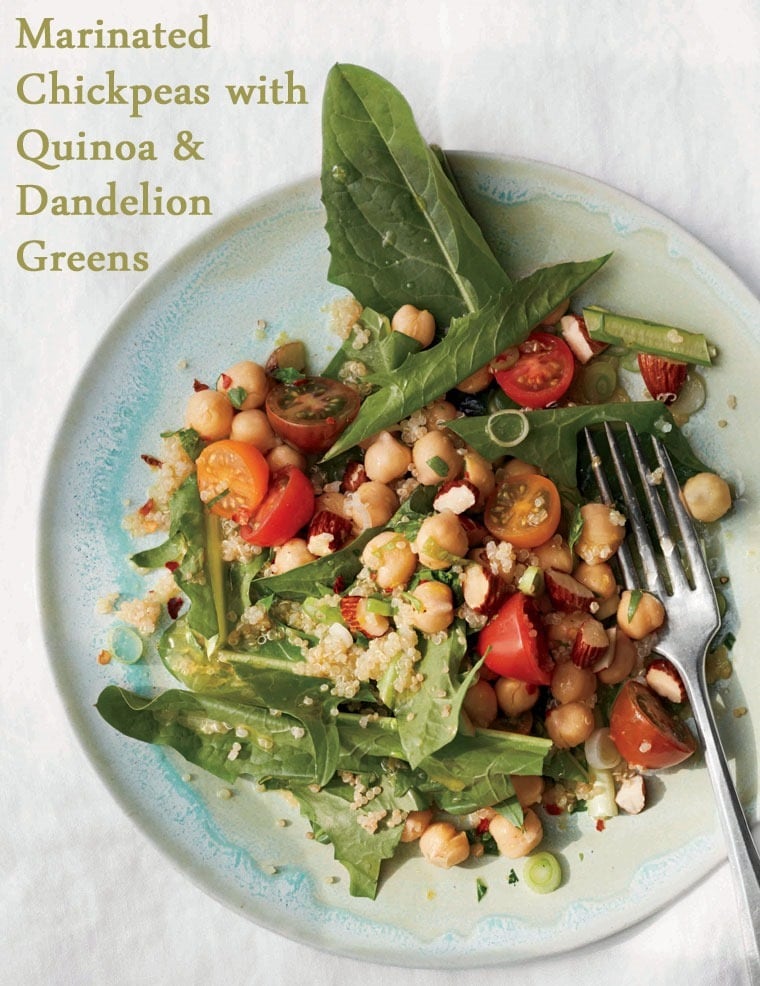 When I saw this recipe for Marinated Chickpeas with Quinoa and Dandelion Greens salad in the July/August 2014 issue of Martha Stewart Living, I really thought they should have called it "leftover quinoa and chickpea" salad, because it's perfect for using up leftover food you may have from creating a quinoa side dish. Or maybe you have an extra can of chickpeas  in the cupboard after making something like Flank Steak With Chickpea Arugula Salad or Chana Masala.
And dandelion greens? Yes, you can pick them from the front yard, but only if you're not using something like Roundup or any other pesticides on your dandelions. (I know, I know. Some of our husbands go a little crazy about having lawns that look as nice as the 18th hole at the Masters.) You can also forage them in wild open space. (Not a park as you never know what they may be spraying on the lawn or around the trees.) Take the kids, the dog, and/or a friend and make a day of hiking, foraging, and picnicking.
Or go to your local farmer's market and see if you can find dandelion greens there. Many farmers are growing dandelion greens for local restaurants and markets.
Dandelion greens are a good source of folate, magnesium, phosphorus, copper, vitamin A, vitamin C, vitamin E, vitamin K, thiamin, riboflavin, vitamin B6, calcium, iron, potassium, and manganese. Along with the protein from the chickpeas and quinoa, and the lycopene from the tomatoes, this Marinated Chickpeas with Quinoa and Dandelion Greens salad is one heck of a nutritional dish – and perfect for Meatless Mondays, too!
You can make this nut free by using pine nuts instead of almonds.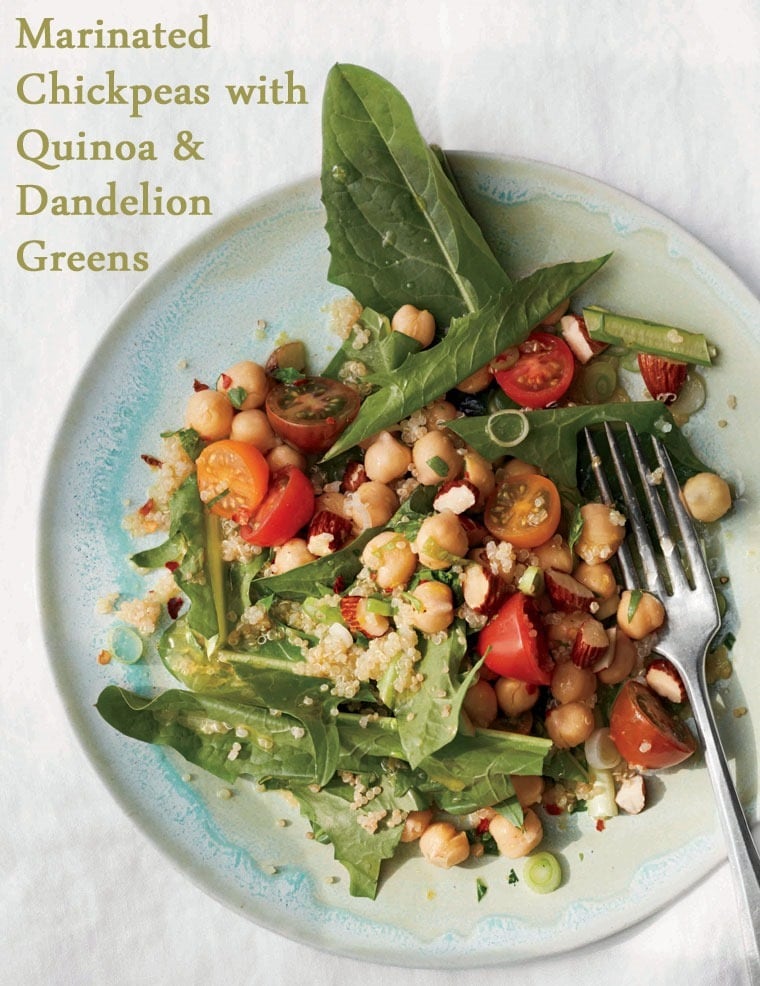 Ingredients
Grated zest of 1 lemon, plus 2 tablespoons fresh lemon juice

3 tablespoons

extra-virgin olive oil

1 tablespoon

chopped fresh flat-leaf parsley leaves

1 can (15 ounces)

chickpeas, drained and rinsed

Coarse salt

Red-pepper flakes

1/2 cup

almonds, toasted and chopped

1/2 cup

cooked quinoa

2

scallions, trimmed and thinly sliced (about 1/4 cup)

6 ounces

cherry tomatoes, halved (about 1 cup)

1/2 bunch

dandelion greens, stalks cut into 1-inch pieces, leaves torn (about 4 packed cups leaves and stalks)
Directions
Whisk together lemon zest and juice, oil, and parsley in a bowl. Add chickpeas and season with salt and pepper flakes. Let stand 30 minutes.
Combine almonds, quinoa, scallions, tomatoes, and dandelion greens and stalks in a bowl. Add marinated chickpeas; toss to combine. Season with salt; serve.
Serving size:

1/4 of recipe
Photography by Jonathan Lovekin. Courtesy of Martha Stewart Living. Copyright © 2014. Used with permission.