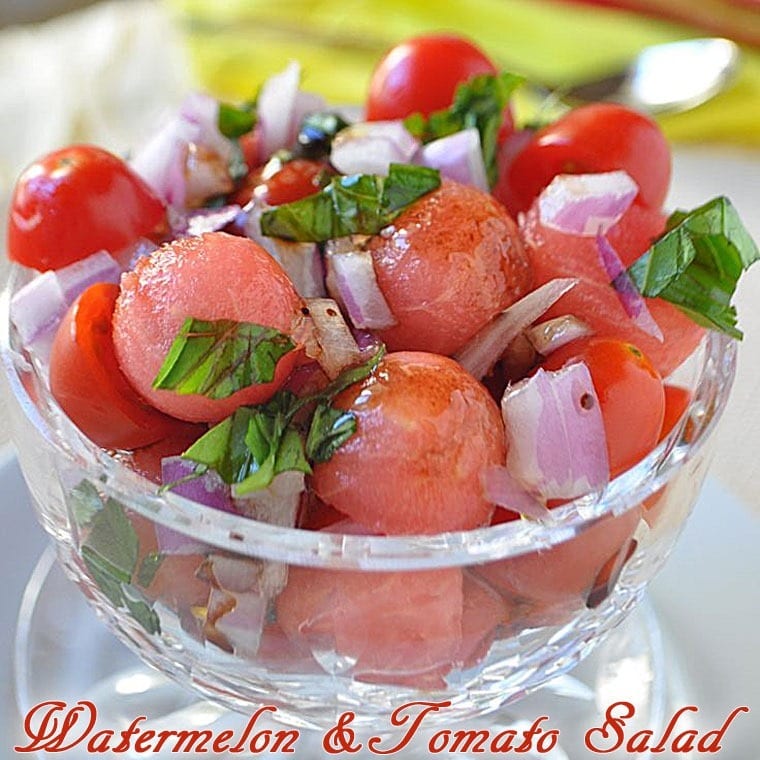 This month's recipe from Holly Clegg uses a wonderful combination for summer – watermelon and tomato – in a healthy and delicious salad. This would be a wonderful side dish to bring to an outdoor pool party or Fourth of July barbecue.
I love how this salad is naturally gluten free, vegan/vegetarian, dairy free and can be made in about 20 minutes. You can even get the kids cooking in the kitchen this summer, by helping you cut the cherry tomatoes and watermelon.
If you're really ambitious, save the watermelon rinds to make Watermelon Rind Pickles or Watermelon Rind, Carrot and Pineapple Slaw. I just spent last weekend at the Eat Write Retreat food blogger conference and met representatives from the National Watermelon Promotion Board. They got me all fired up about using watermelon rinds in some recipes, especially after sharing that the rinds contain citrulline, an amino acid that can help maintain blood flow within the heart and cardiovascular function.
Holly's tips to picking the right watermelon
Summer and fresh juicy watermelon go hand and hand. Watermelon is usually available from early May to September but they are at their peak from mid-to late June. I love to use watermelon in many of my recipes as it adds a sweet touch, and though water accounts for over 90% of it's weight, it's rich in potassium, and Vitamins A & C.
Your watermelon should feel heavy for its size; compare to similar melon.
Rind shouldn't have any soft spots, gashes and should be dull and barely yield to pressure.
A good melon has a symmetrical shape; no matter if round or oval.
Look on the bottom of the melon and you'll find a discolored spot where the melon rested on the ground when it was growing. If this spot is light green, the melon is not yet ripe. If the spot is a yellowish-white color, the melon is probably ripe.
You can also test for ripeness by scratching the surface of a watermelon with your fingernail. A greenish-white color beneath the outermost layer of the rind indicates a ripe watermelon.
If you are watermelon thumper-a ripe melon will sound as if the fruit is hollow. You don't want to hear a thud or a tone that is high in pitch.
From my trimandTERRIFIC Too Hot in the Kitchen [affiliate link] cookbook, Watermelon & Tomato Salad is a fresh, satisfying salad you will want to dig into! This combination of cool crisp watermelon, juicy tomatoes, and fresh basil with balsamic vinegar creates an extraordinary and invigorating light salad. It's the perfect way to use leftover watermelon, too!
You can find more of Holly's trim& TERRIFIC® recipes at hollyclegg.com and The Healthy Cooking Blog.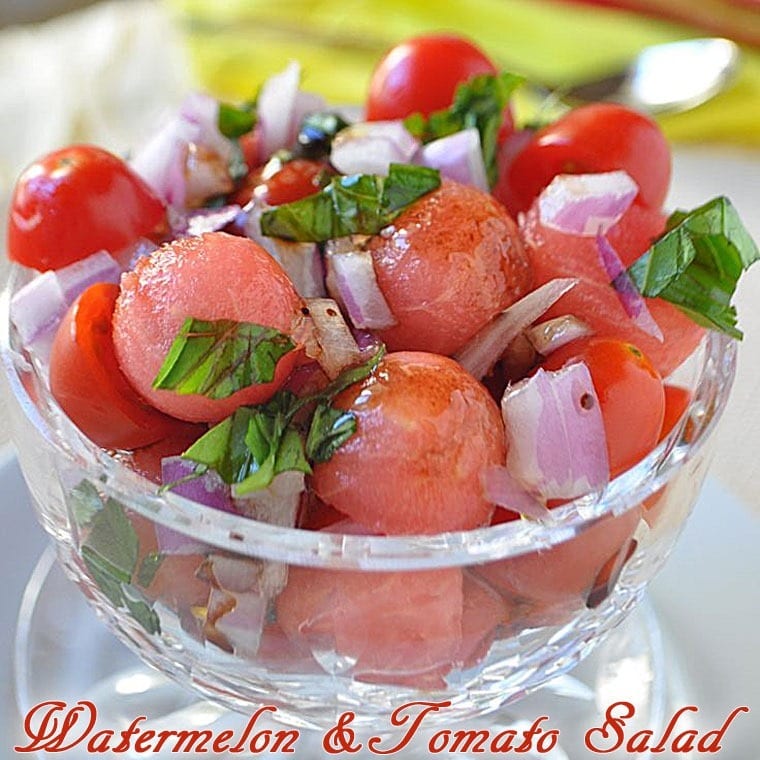 Watermelon & Tomato Salad
From Holly Clegg's trimandTERRIFIC Too Hot in The Kitchen
Ingredients
4 cups

scooped out watermelon balls or chunks

1/2 cup

chopped red onion

1 pint

cherry tomatoes, halved

2 tablespoons

fresh chopped basil

1 tablespoon

olive oil

2 tablespoons

balsamic vinegar

Salt to taste
Directions
In a large bowl, combine watermelon, onion, tomatoes and basil.
Whisk together oil and vinegar in a small bowl.
Pour over salad and toss. Season to taste with salt. Serve immediately or store in refrigerator and server later that day.
Servings
:
Makes 10 servings
Serving size:

1/2 cup

Calories:

46

Calories from Fat:

13 (29%)

Total Fat:

2g

Saturated fat:

0g

Unsaturated fat:

2g

Sodium:

6mg

Total Carbohydrates:

8g

Sugar:

6g

Fiber:

1g

Protein:

1g

Cholesterol:

0mg
Dietary Exchanges: 1/2 fruit, 1/2 fat
Recipe and photograph used with permission.