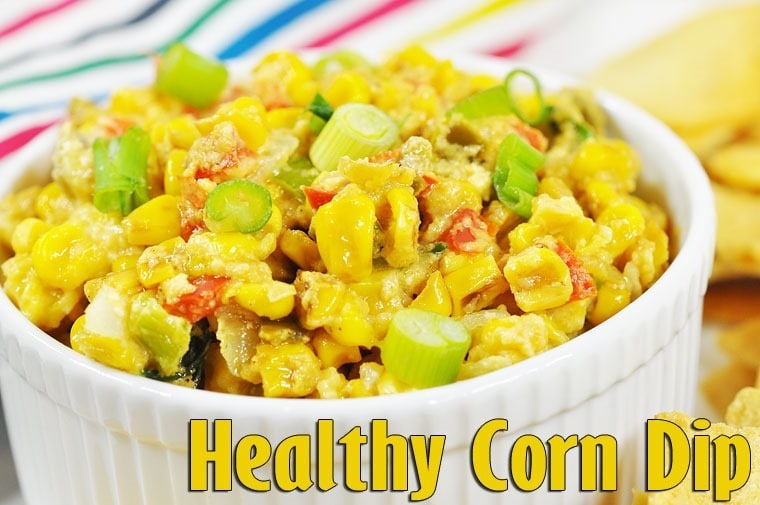 You have to serve this Yummy Corn Dip at your next party! We just had our first party of the summer – a pig roast and it was a big hit!
We invited people from the neighborhood as well as friends and coworkers, who all brought a dish. During the summer, there always seems be a reason to have friends hang out – a weekend grill-out, a picnic in the park, or a good old-fashioned game night.
Whatever the gathering – this Yummy Corn Dip from Holly Clegg's cookbook,  trim&TERRIFIC KITCHEN 101: Secrets to Cooking Confidence is the perfect appetizer to whip together.
Yummy Corn Dip is the epitome of fresh + convenience = homemade, too. You probably have these easy pantry-friendly ingredients already! (I always have frozen corn in the freezer and a can of chopped jalapenos in the pantry.)
When entertaining, make it easy on yourself by making this corn dip ahead of time. Just refrigerate and reheat in the microwave until heated through. Diabetic-friendly, and definitely a people-pleaser, this creamy dip with a kick is a sure-fire hit! It's also naturally gluten free and vegetarian.
Feel free to substitute nonfat Greek yogurt for the sour cream, if you wish.
You can find more of Holly's trim& TERRIFIC® recipes at The Healthy Cooking Blog.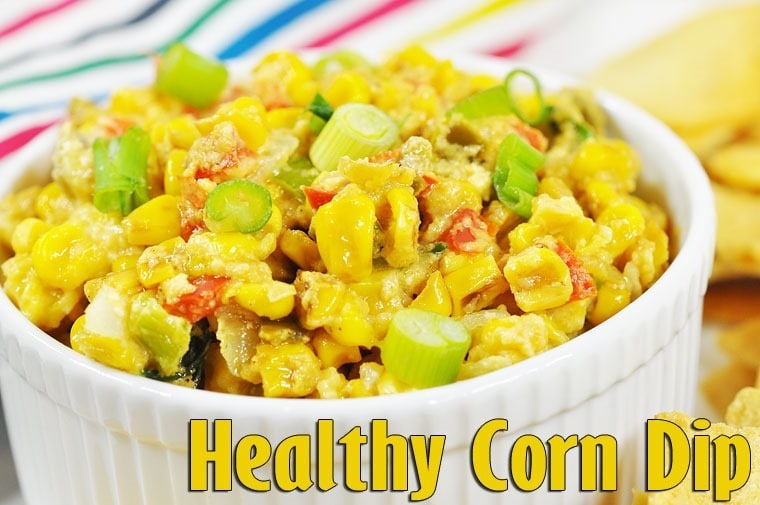 Yummy Corn Dip
A quick and easy, economical dip that's creamy, crunchy, and spicy in each bite.
Ingredients
1 tablespoon

olive oil

2 cups

frozen corn, thawed

1/2 cup

chopped onion

1/3 cup

chopped red bell pepper

1/2 cup

chopped green onions

2 tablespoons

chopped jalapeño (found in cans or jars)

2 tablespoons

light mayonnaise

1/3 cup

nonfat sour cream

2/3 cup

shredded reduced-fat sharp cheddar cheese

Salt and pepper to taste
Directions
In large nonstick skillet, heat oil and add corn cooking over medium heat, stirring until golden brown, about 5 minutes.
Add onion and pepper, sauté until tender, 3-4 minutes.
Add green onions, jalapeño, mayonnaise, sour cream and cheese, stirring until heated and bubbly; cheese is melted. Season to taste
Servings
:
Makes 10 servings
Serving size:

1/4 cup

Calories:

89

Calories from Fat:

35 (39%)

Total Fat:

4g

Saturated fat:

1g

Unsaturated fat:

3g

Sodium:

108mg

Total Carbohydrates:

11g

Sugar:

3g

Fiber:

1g

Protein:

4g

Cholesterol:

7mg
Dietary Exchanges: 1/2 starch, 1 fat
Recipe and photo used with permission.