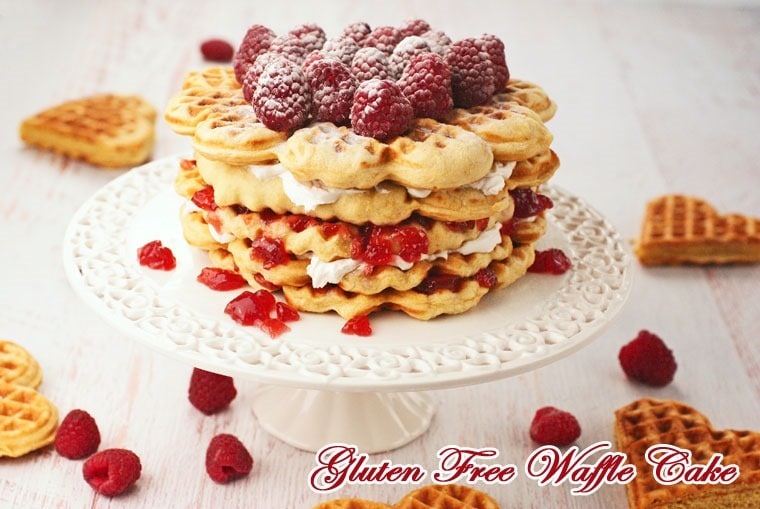 It's hard to believe that my 30 Day #LivingNowFoods Challenge with LivingNow Foods line of gluten free mixes, flours and grains is coming to a close! This week I made quinoa for as a side dish for dinner using white cooking wine and tricolored roasted bell pepper strips. You can see it on Instagram. I also made brownies using LivingNow Foods Organic Chocolate Fudge Brownie Mix with some add ins of pumpkin seeds and dried cranberries to make it a bit more wholesome. (You can see a picture of the brownies on Instagram, too.)
For a new recipe, I thought I'd try something for breakfast – gluten free waffles and a Gluten Free Waffle Cake!
Creating a waffle cake
Living Now lists a dozen or so gluten free recipes on their website, but I noticed there wasn't one for gluten free waffles. So I decided to come up with one using their Gluten-Free All-Purpose Flour Mix. Along with the waffles, I thought it would be fun to try making a waffle cake. If you're a fan of Pinterest, you may have seen crepe cakes or waffle cakes. I've been dying to try my hand at one.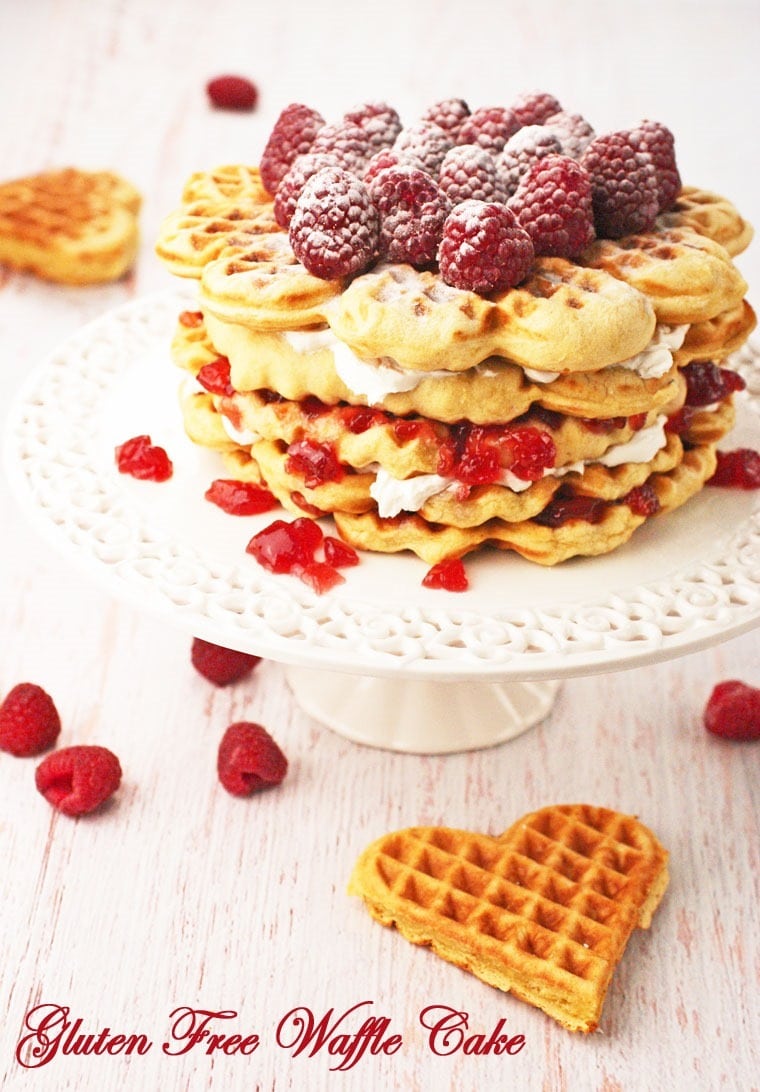 Around here, I always make the kids pancakes for their breakfast birthday. But wouldn't a waffle cake be something really great for the whole family to share on the special day? Maybe it's a little too much work to do on a school morning without getting up at the crack of dawn. Still, it's a fun presentation for brunch during a birthday weekend, for a special occasion like Mother's Day,  or when you have guests visiting like your gluten free mother-in-law.
What's nice about waffle cakes is that, "Messy Is good!" Let the kids help you put one together. If there's jam and cream cheese oozing out the sides, all the better. Waffle cakes are sort of the shabby chic of breakfast.
I've made this particular waffle cake dairy free by using vegan cream cheese and rice milk.  I've also kept it sugar free by using powdered Swerve Sweetener, Monk Fruit in the Raw, and Polander All Fruit Red Raspberry Spreadable Fruit, which is sweetened only with fruit juices.
And you don't have to make the waffle cake sweet! It could be savory instead. Imagine using slices of Havarti or Jarlsberg cheese on one layer. Then maybe slices of bacon, prosciutto or possibly lox on another. Finally, try a layer of asparagus, and a nice runny egg on top! This would be a waffle cake for grownups, but I'd be first in line for it!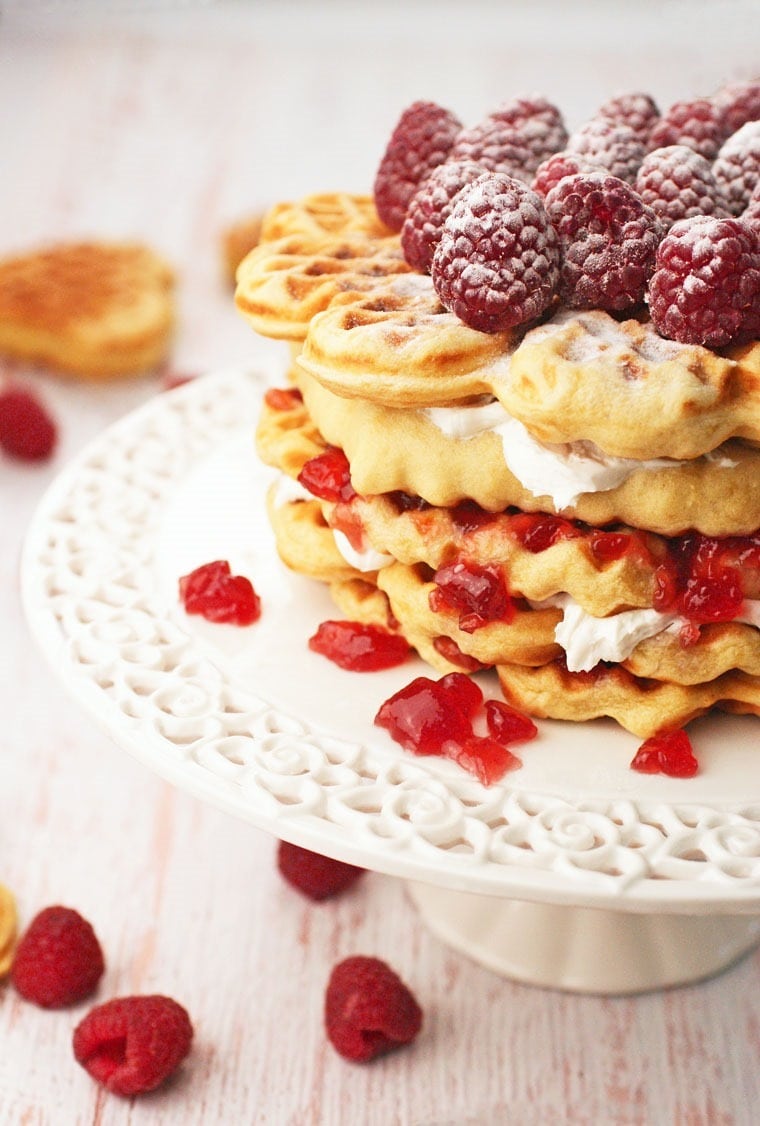 Connect with LivingNow Foods
You can connect with LivingNow Foods on: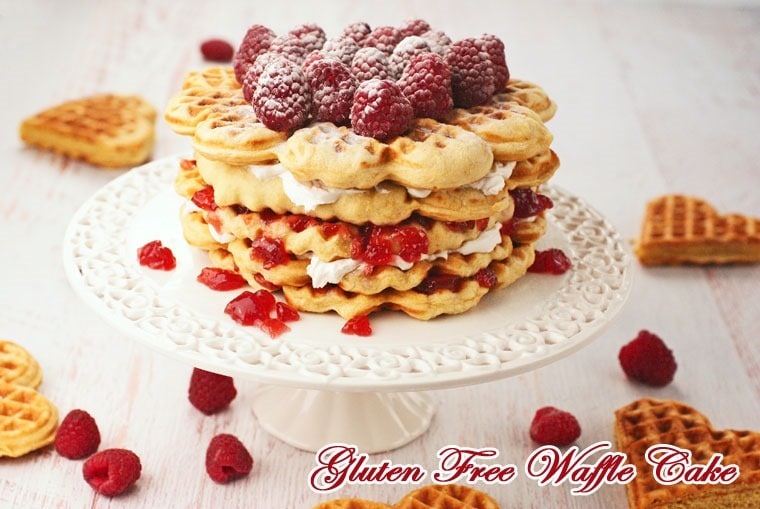 Ingredients
For the waffles:
1 box

LivingNow Foods Gluten-Free All-Purpose Flour Mix

4 teaspoons

gluten free baking powder

1 teaspoon

baking soda

1 teaspoon

salt

4 tablespoons

Monk Fruit in the Raw

2 tablespoons

coconut oil, melted

1 1/2 cups

rice milk

8

eggs, separated

2 teaspoons

gluten free vanilla extract

Cooking spray
For the waffle cake:
1 (8 ounce) tub

vegan cream cheese

2 tablespoons

Monk Fruit in the Raw

1 (10 ounce) jar

Polander All Fruit Red Raspberry Spreadable Fruit

1 large container

raspberries

Confectioners (powdered) Swerve Sweetener
Directions
For the waffles:
In a large mixing bowl, combine the all purpose flour, baking powder, soda, salt, and Monk Fruit in the Raw.
In a medium mixing bowl, mix together the rice milk, egg yolks and coconut oil.
In a stand mixer, whip the egg whites and vanilla on high until the eggs are glossy and form stiff peaks.
Add the milk, egg yolks, and oil to the dry ingredients and blend together. The mixture will be very thick. With a rubber spatula, fold in egg whites with the rest of the ingredients. The entire mixture should be light and fluffy.
Spray waffle iron and begin making waffles according to the manufacturer's directions.
For the waffle cake:
Place cream cheese and Monk Fruit in the Raw in a stand mixer or in a bowl with a hand mixer. Beat on medium until ingredients are combined and the cream cheese is smooth.
Place a waffle on a plate or a cake stand. With a knife or spatula, spread a generous layer of sweetened cream cheese on one waffle.
Place next waffle on top and spread on a generous layer of the Polander Spreadable Fruit. Repeat until you have a stack of waffles.
Place raspberries on the top waffle and sprinkle Confectioners (powdered) Swerve Sweetener on top of fruit. Serve and enjoy!
Servings
:
Batter makes approximately 6 to 8 waffles - enough for 1 waffle cake