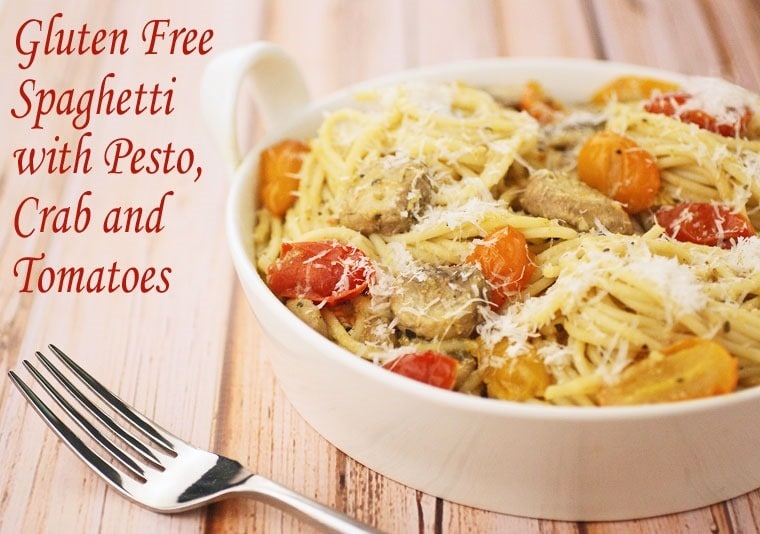 I was blessed growing up in a family that appreciated great food thanks to a father who, after surviving his Army experience in World War II, vowed never to have a bad meal again. Not only did he marry a Frenchwoman who was a fabulous cook, but he taught us to appreciate good food and try new cuisines. I grew up eating escargot and gefilte fish as a kid, and then when we moved to San Diego in the late '70s, sushi and Mexican food like fish tacos. All those foods really were exotic back then!
So it was no surprise when I was first living with my then boyfriend, now husband, Paul that my mom gave me a subscription to a fancy cooking magazine she enjoyed. While I was no stranger to cooking – my Sally Lunn bread would have blown you away – I had no understanding of cooking dinner every single night.
In the pages of that magazine, I learned how to prepare dishes like Cornish game hens with raspberry sauce. Unfortunately, it was too fancy and expensive for someone supporting her boyfriend through graduate school. While delicious that recipe soon fell by the wayside, since I was on the lookout for something gourmet but affordable.
I soon learned about a magical sauce called pesto. Mind you, back then pesto was only available in specialty gourmet stores in tiny little jars that cost a fortune. At the time, I had no idea you could make pesto yourself in a blender. And this was before you could get big jars of pesto at your favorite discount warehouse store for less than $10!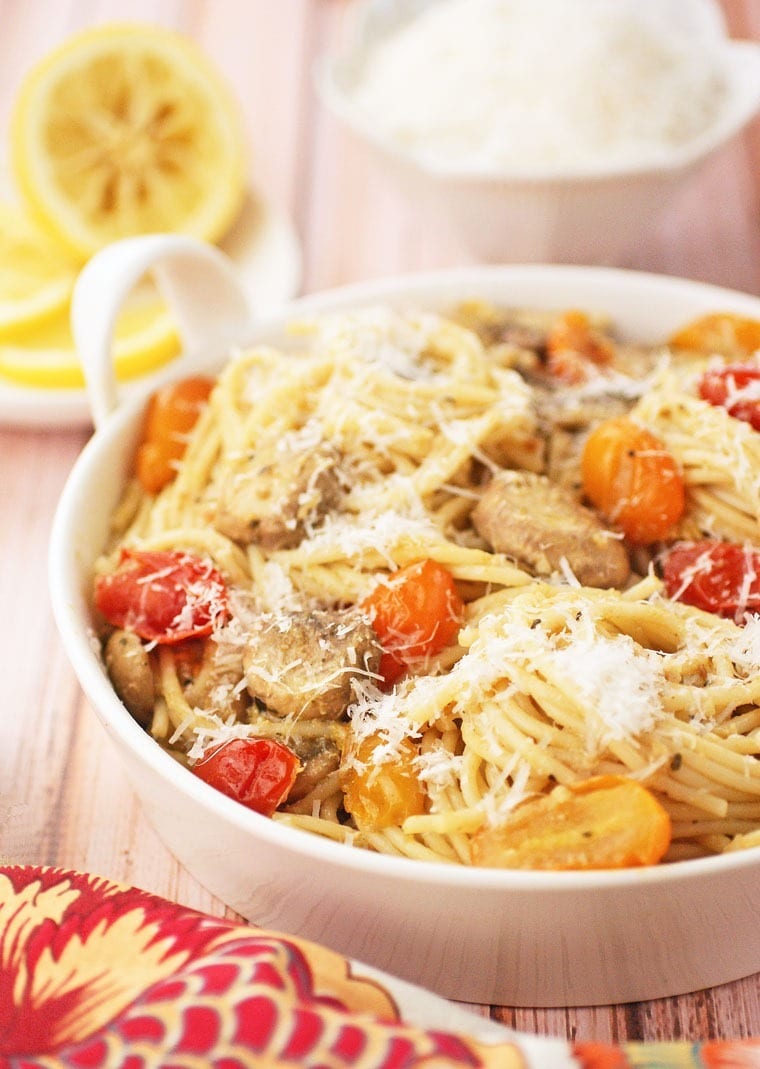 Luckily, I came across McCormick Pesto Sauce Mix at my grocery store, which was very affordable and worked well with a recipe I read about that combined pesto with pasta, mushrooms, tomatoes, and imitation crab. Finally, I could make something for dinner than fit within our budget and our taste buds!
Over the years, the recipe has made several changes. Sometimes I leave out the tomatoes. (It's much prettier and healthier with the tomatoes left in!) Since imitation crab has wheat in it and isn't gluten free, I now use canned crab. This is more affordable than the so-called fresh crab at the grocery store and has the advantage of "disappearing" into the sauce since it's finely chopped, so the kids don't go, "Ew!" too much. If you're not big crab fans, you can make this with bay shrimp instead.
My kids are both big pesto fans, but Lucie's against mushrooms and tomatoes at the moment and makes herself a panini instead. On the other hand, Nathan will eat two gigantic bowls of this if I let him. So will his dad, who still counts this pasta dish as one of his all time favorites. By the way, if you find the gluten free corn and rice store brand pasta (there's also a national brand with an Italian name that carries it) that looks like regular pasta, your non-gluten free family members won't be able to tell the difference.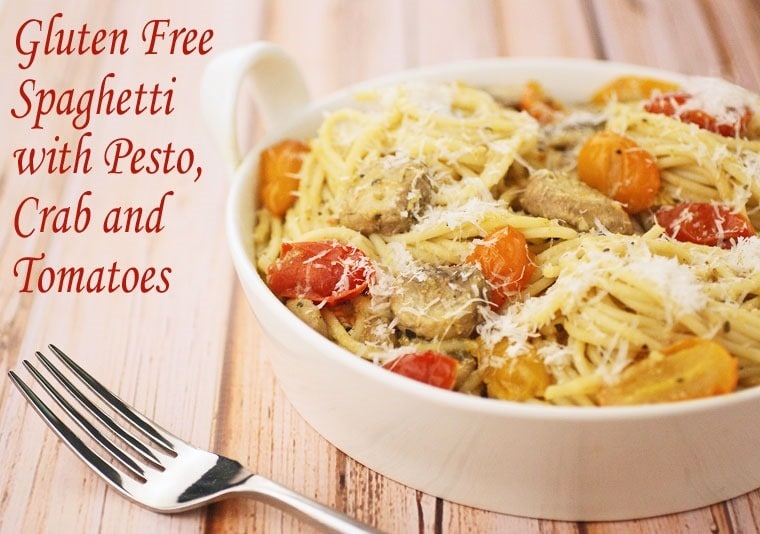 Gluten Free Spaghetti with Pesto, Crab and Tomatoes
Ingredients
2 (12 ounces) boxes or packages

gluten free spaghetti (corn and rice blend), cooked in salted water

1 cup

water

1/2 cup

olive oil

2 packets

McCormick Pesto Sauce Mix

1 pound

white mushrooms, sliced

1 pound

cherry tomatoes, sliced in half

3 (6 ounce) cans

crabmeat

Pecorino Romano cheese, shredded for serving

Lemon wedges, for serving
Directions
Cook pasta in salted water according to package directions while preparing sauce. Rinse and set aside.
In a large pan, whisk together water, oil and pesto mix. Bring to a boil over medium high heat.
Lower to medium and add mushrooms and tomatoes. Cook until tomatoes are tender.
Add crabmeat and cook for another 10 minutes. Sauce should be simmering. If not, turn up heat.
Lower heat and add pasta. Toss to combine pasta and sauce.
Serve with shredded Pecorino Romano cheese and a spritz of fresh lemon juice.
Serving size:

1/6 of recipe
Share your flavor story
I'm always on the lookout for new recipes, which is why I created a FlavorPrint profile on McCormick.com. FlavorPrint takes into account the flavors and foods you love, and provides recipes based on your personal tastes and how you like to cook. Sign up now!
While you're on the McCormick website, make sure to share your own American Homemade dish stories.  For each flavor story you share, McCormick will make a $1 donation to help feed those in need through the United Way Worldwide.