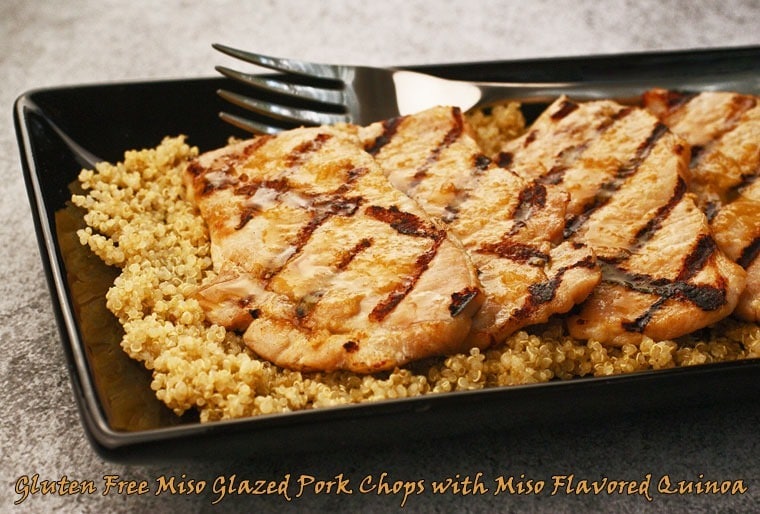 When I'm down in Atlanta, I often stop by Buford Highway Farmer's Market, a huge ethnic foods market in Doraville. When I was there the last time, I bought two flavors of organic miso paste – a red type and a white type. As you can see by the picture below, they carry a huge variety, but I make sure to get the organic miso, since it has no MSG added and it's made from non-GMO soybeans.
Miso is fermented soybean paste that's combined with salt and yeast. Some varieties are sweet. Other varieties are mild and still others are quite strong. You can find it at Asian markets, health food stores, and now at Trader Joe's. It keeps in the refrigerator just about forever. Many people believe it has health properties since it's fermented and made from soy, especially if you buy a high quality brand.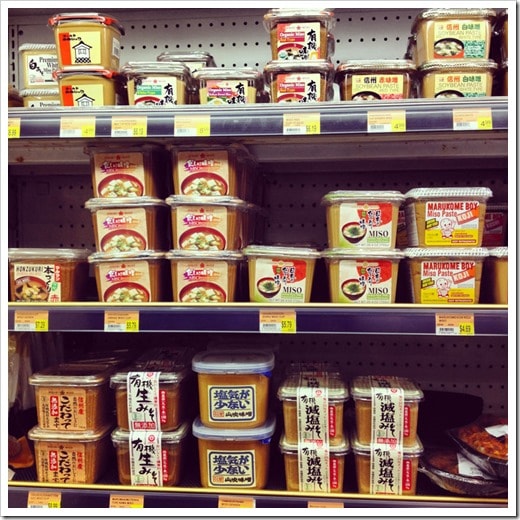 I use miso paste in a variety of things from flavoring soups to salad dressings. I love using it to flavor the water I boil when making quinoa, which is why I decided to try it out when I tried out my LivingNow Foods Quinoa for the first time. Since I like to use quinoa as a side dish, I decided to use the miso, along with some ginger, as a glaze for some thin cut pork loin chops I had in the freezer. It made for a very tasty and rather elegant dish.
You can drizzle the extra miso sauce on the quinoa or on steamed vegetables. Or use it the next night as a sauce for stir fry!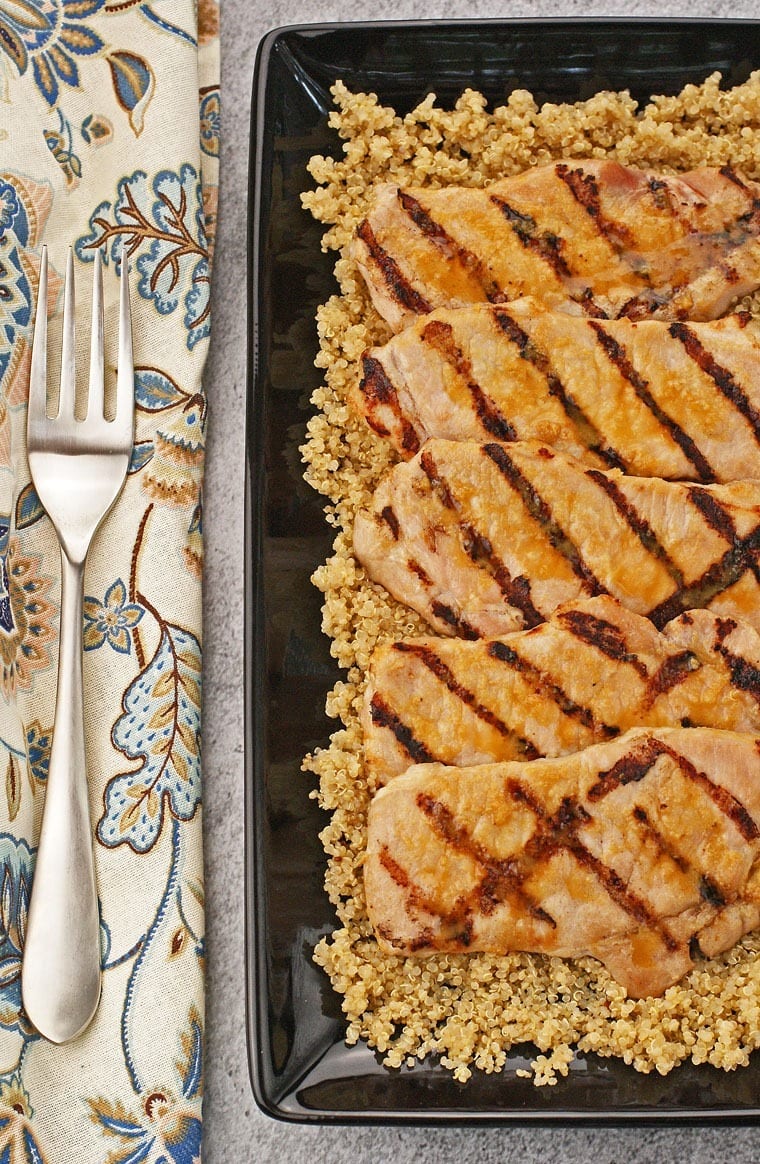 True confession time here. My kids do not like quinoa no matter how much I dress it up. That's fine by me, because I eat the leftovers with my eggs in the morning! However, you know who loves quinoa? My dog, Nellie! I had to stop her from trying to steal it off my plate both at dinner and breakfast the next morning. Naughty dog!
You can learn more about LivingNow Foods quinoa on their website. You can also connect with LivingNow Foods on: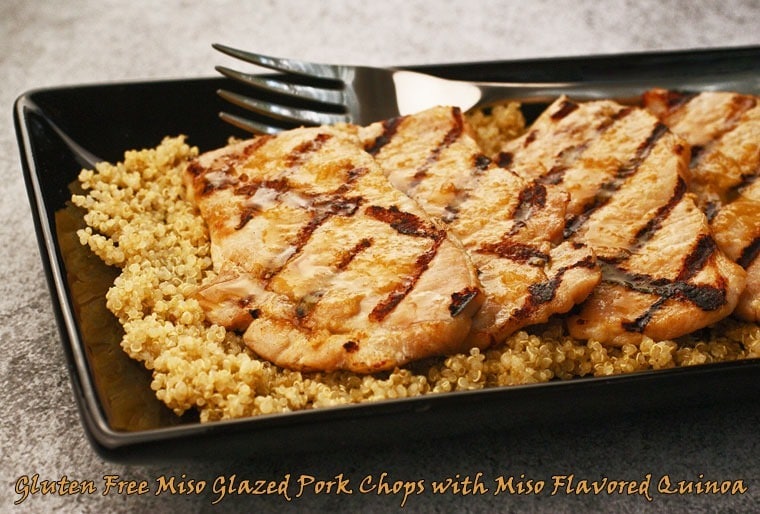 Gluten Free Miso Glazed Pork Chops with Miso Flavored Quinoa
Ingredients
For pork glaze and chops:
3/4 cup

white cooking wine

1 1/2 tablespoons

white miso

1 tablespoon

freshly grated ginger

1 teaspoon

molasses

1 teaspoon

stevia

1

large clove garlic, minced

10

boneless pork loin center cut chops thin cut or 4 thick cut pork chops (1 1/2 pounds)
For quinoa:
1 heaping tablespoon

white miso

2 cups

water

1 cup

LivingNow Foods Quinoa
Directions
For pork glaze and chops:
Place all ingredients except for pork chops in a small sauce pan over medium high heat. Bring glaze to a boil. Lower heat and simmer glaze for 15-20 minutes until liquid is reduced by half.
Remove from stove and let glaze cool to room temperature. (While glaze cools, prepare your quinoa.)
Prepare your grill.
Place a small amount of glaze in a bowl – just enough for brushing on to pork chops so you don't contaminate the rest of glaze with juices from raw pork. Brush glaze on to both sides of pork chops.
Grill pork chops until done. Time will depend on thickness of chops. For larger chops you may want to brush on more glaze while cooking. When pork is done, remove from grill and let rest.
Serve chops on a bed of quinoa. Drizzle with reserved glaze.
For quinoa:
Place miso and water in medium saucepan over high heat. Stir to dissolve miso. Heat to boiling.
Prepare quinoa as directed on packaging.
Serving size:

2-3 thin chops or 1 thick chop