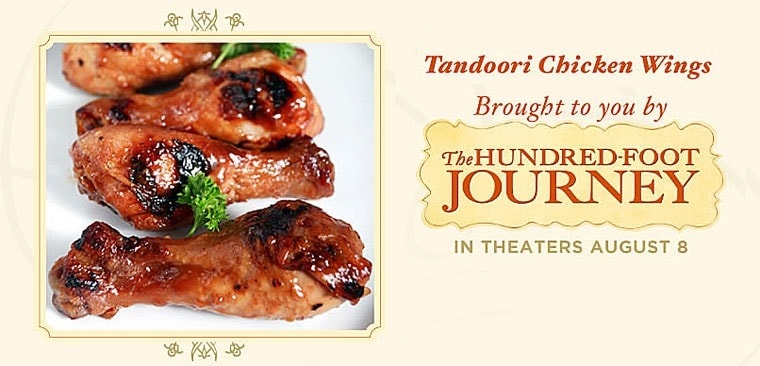 Now that I've read the book, The Hundred-Foot Journey, and I'm looking forward to the movie, The Hundred-Foot Journey with Helen Mirren coming out in August, I've been going through my Indian cookbooks for some recipes to share with you! However, I real that not everyone's not familiar with Indian food or may not think they like it. That's why I'll be introducing a dish or two that may surprise people, like carrot halwa, which is a sweet carrot dish that's almost like a pumpkin or squash dish or a sweet potato mash.
One of the Indian cookbooks I really like is The Indian Slow Cooker: 50 Healthy, Easy, Authentic Recipes by Anupy Singla thought I really need to invest in a few cookbooks by Madhur Jaffrey, too.
So when the folks at DreamWorks Pictures sent me an Indian inspired recipe for chicken wings, I thought that this would also be a terrific "gateway recipe" for those of you who aren't familiar with Indian spices to try at home. It will introduce you to the spices and flavors of Indian cooking as well as one of the techniques – sautéing spices to release their flavors.
This Mama's tips
You can make this dairy free by using plain soy or coconut yogurt.
To make this even spicier, used smoked paprika instead of sweet (regular) paprika.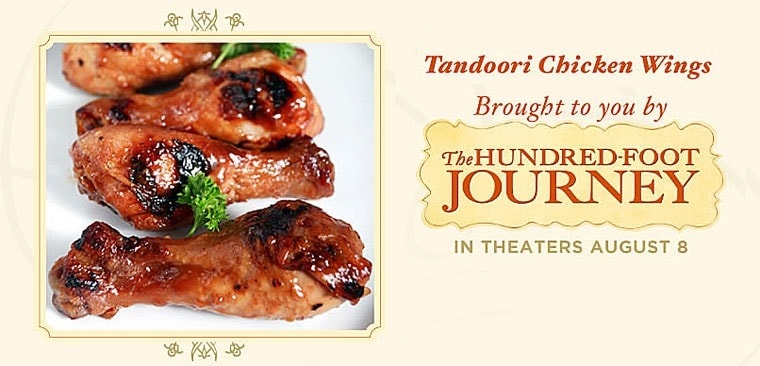 Tandoori Chicken Wings
Recipe courtesy of The Hundred-Foot Journey
Ingredients
3/4 tablespoon

sweet paprika

1 tablespoon

garam marsala

1 tablespoon

ground cumin

1 tablespoon

ground coriander

1/2 teaspoon

ground tumeric

1 tablespoon

fresh ginger, finely grated

5 cloves

garlic, minced

1/4 cup

fat-free Greek yogurt

1 tablespoon

lemon juice

Salt and pepper to taste

1/2 cup

canola oil, divided

4 pounds

chicken drumsticks

1 cup

cilantro, chopped

1

shallot, minced

3 tablespoons

white vinegar
Directions
Preheat the oven to 450 degrees F.
In a small skillet, toast the paprika, garam masala, cumin, coriander, and tumeric over low heat. Stir for approximately 2 minutes. Transfer spices to a bowl and let cool.
Next, mix in the ginger, garlic, yogurt, lemon juice, salt, pepper, and 2 tablespoons of the canola oil.
Before cooking the chicken, cut 3 slashes in each drumstick.
In a large bowl, toss the chicken with 2 tablespoons of canola oil and season with salt and pepper. Add the spiced yogurt mixture, and rub on to the chicken.
Set a rack on each of 2 large baking sheets. Arrange the chicken on the racks, leaving 2 inches between the pieces. Roast for 45 minutes, turning occasionally, until the chicken is golden brown and cooked through. Then broil the chicken 6 inches from the heat for about 5 minutes until lightly charred. Remove from oven.
In a small bowl, stir the cilantro, shallot, vinegar, 1/4 cup of canola oil, and salt to taste. Serve with the chicken.
Total Time:
1 Hour 10 Minutes
Serving size:

1/4 to 1/6 of recipe