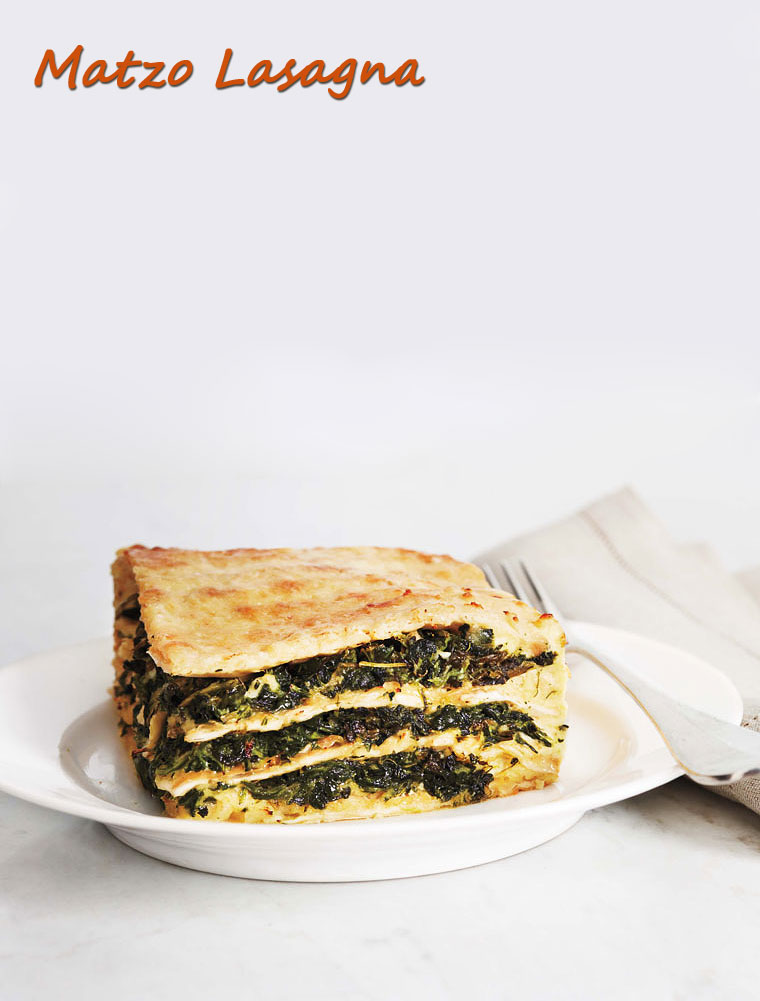 I love foods that mix multiple culinary traditions with religious holidays, which is why I'm featuring this recipe for Matzo Lasagna. It brings back so many memories!
I'll never forget the numerous times my mother stared out the kitchen window watching the sun go down on Passover wondering when the heck my father was going to come home from the office. Inevitably, he'd be late for the Passover seder that my French Catholic mother, who was raising her two American daughters as Presbyterians, had prepared her English born but Brooklyn raised Jewish husband. My mother was a great sport for whole heartedly embracing my father's culinary traditions. And for constantly putting up with his tardiness!
While I wasn't raised Jewish, I grew up eating traditional Jewish foods like gefilte fish, borscht, chicken soup, pickled herring, chopped liver, smoked salmon, and during Passover, matzo! (No schmaltz as my father blamed all his health problems on his mother's delicious schmaltz, which he indulged in whole heartedly as a young man.) I loved coming home from school and having a snack of butter spread on matzo or going to my friend, Suzanne's house and having PB&J on matzo.
So when I saw this recipe for Matzo Lasagna in the April 2014 issue of Martha Stewart Living, I laughed, tore out the page from the magazine, and giggled to myself thinking, "This is so cool!" By the end of Passover, most people are sick of matzo and don't know what to do with the leftover boxes or broken pieces. This is a perfect way to use all that up!
You can also make this matzo lasagna recipe even healthier by doing the following:
Pesach Sameach!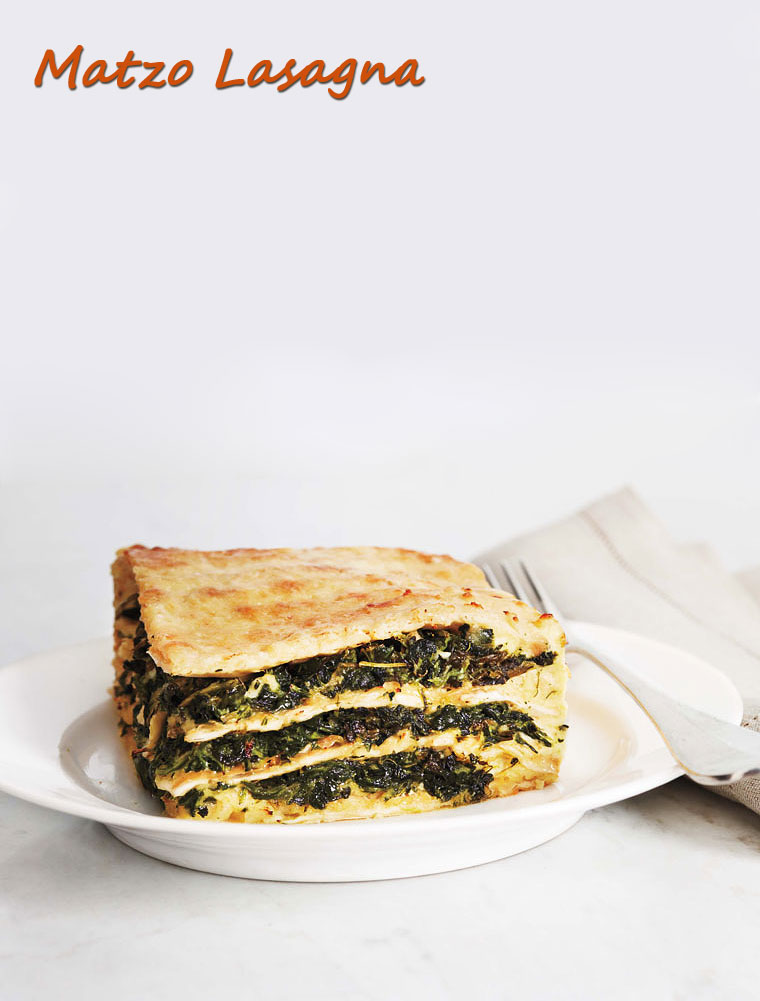 Ingredients
3 tablespoons

unsalted butter

3

large onions, thinly sliced (about 8 cups)

2 1/2

teaspoons coarse salt

1/2 teaspoon

freshly ground pepper

1/2 teaspoon

sugar

1

bunch Swiss chard, leaves only, sliced crosswise 1 inch thick (about 5 cups)

16 ounces

whole-milk ricotta cheese (2 cups)

2

large eggs, lightly beaten

5

(6 inch by 6 inch) lightly salted matzo

1/2 pound

Fontina cheese, coarsely grated (about 2 1/2 cups)
Directions
Preheat oven to 375 degrees. In a large sauté pan over medium-low heat, melt butter. Add onions, 1 teaspoon salt, 1/4 teaspoon pepper, and sugar. Cook, stirring occasionally, until golden brown and caramelized, about 30 minutes.
Add chard, and cook, scraping up browned bits from the bottom of the pan with a wooden spoon for about 10 seconds. Cover, and cook until chard is wilted, about 3 minutes. Remove from heat, and stir in ricotta, eggs, 1/2 teaspoon salt, and remaining 1/4 teaspoon pepper.
Meanwhile, place matzo in a 9-by-13-inch baking dish. Cover with 6 cups water. Add remaining 1 teaspoon salt. Let stand until soft, about 2 minutes. Drain matzo; dry baking dish.
In the same baking dish, arrange one-third of the drained matzo in an even layer. It may be necessary to break some of the pieces for even coverage. Spread half the ricotta mixture evenly over the matzo, and sprinkle with 1/4 cup Fontina. Repeat with remaining matzo, ricotta mixture, and Fontina, finishing with a layer of matzo. Sprinkle remaining 2 cups Fontina cheese evenly over the top. Bake until the cheese has melted and is beginning to brown, about 45 minutes.
Cook Time:
1 Hour 30 Minutes
Serving size:

1/8 of recipe
Photo by Burcu Avsar. Recipe and photo used with permission.