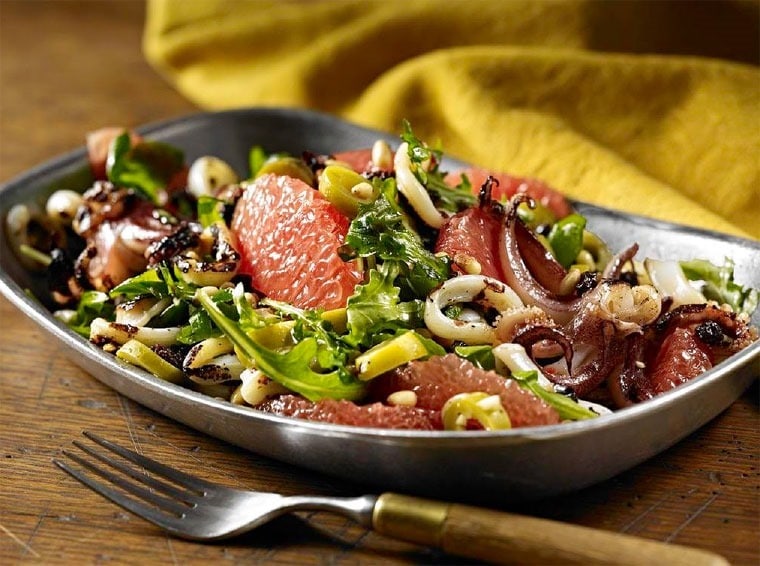 I love calamari, but most of the time when I see it on a menu, it's breaded and fried. When we go into Atlanta and have lunch at Legal Sea Foods after visiting the Georgia Aquarium, I take the opportunity to indulge in an order of fried calamari off their gluten free menu.
What I really miss it having calamari the way my mom used to make it – Italian style in a tomato based sauce served on top of pasta. She also use to sauté calamari steaks in butter and vermouth after dipping it in an egg and wheat germ batter. If anyone knew how to serve calamari, it was my mom!
Well, I have to say that celebrity chef and winner of Food Network Star Season Six, Aarti Sequeira also has a way with calamari. In this dish, she combines it with Florida grapefruit, olives, and my favorite nut substitute, pine nuts, for a wonderful wilted salad.
You can find calamari in the freezer section of your grocery store or at an Asian grocery store. If you find it fresh or frozen and whole, here's a tutorial on how to clean it. It's not that hard unless you're squeamish.
To toast your pine nuts, put them in a pan over medium heat and toast them until they start to turn golden. Keep an eye on them, as it's very easy to burn the pine nuts!
For more recipes from Chef Aarti, go to Florida Grapefruit's Facebook page. Or check out her other healthy grapefruit recipes here at This Mama Cooks! On a Diet like:
More recipes for you grapefruit lovers: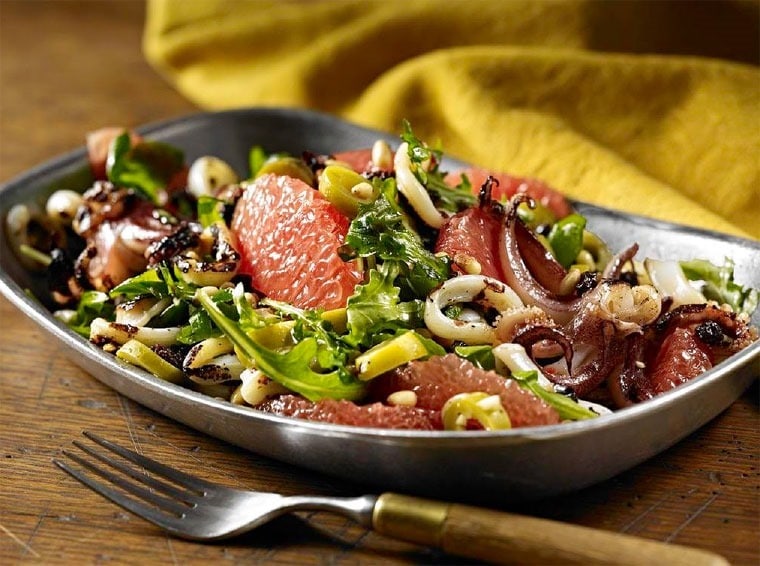 Grilled Calamari with Grapefruit, Olives and Pine Nuts
Recipe by Chef Aarti Sequeira
Ingredients
1 pound

baby squid (tubes and tentacles), cleaned

3

cloves garlic, minced

1/4 cup

100% Florida grapefruit juice

1/4 cup

extra virgin olive oil, plus extra for grilling

Pinch

red chile flakes

Kosher salt and freshly ground black pepper

1

large ruby red grapefruit, cut into segments

1 cup

baby arugula, washed and dried completely

1/4 cup

green olives (about 8), pitted and thinly sliced

1 tablespoon

currants

1 tablespoon

toasted pine nuts

Salt and pepper
Directions
Pat squid dry with paper towels. Stir together garlic, grapefruit juice, 1/4 cup extra virgin olive oil, red chile flakes and a big pinch of salt and pepper in a large bowl. Separate out 3 tablespoons of this marinade into a smaller bowl, add the squid and toss to coat.
Heat a large grill pan over high heat. Wait until it's very hot to start cooking or else the squid will stick.
While the pan heats up, toss grapefruit segments, arugula, olives, currants and pine nuts in the large bowl of marinade.
Lightly brush the grill pan with oil. Shake the squid of any excess marinade, lay it on the hot grill and cook about 3 minutes per side for the tubes; cook the tentacles until nice and crispy, about 5 minutes total. Work in batches if necessary. If the squid sticks after 3 minutes, cook another 30 seconds; it will release when it's cooked.
Toss tentacles into the large bowl. Slice tubes into thin rings. Toss calamari with the arugula mixture. Taste for seasoning. Serve immediately.
Serving size:

1/4 to 1/6 of recipe
Picture and recipe used with permission.