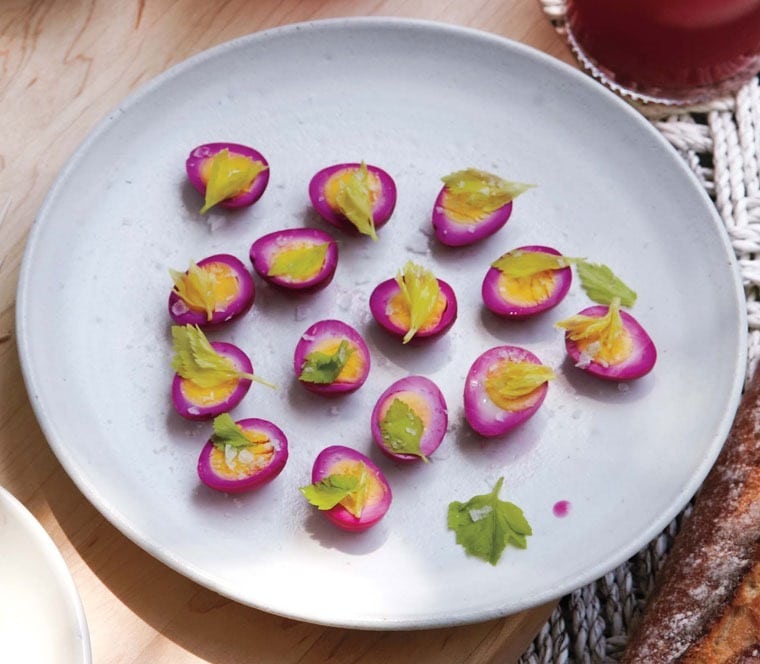 I'm in the middle of remodeling h-e-l-l. Actually, I shouldn't complain, because it hasn't been too bad, since we started with a small project first – the kids' bathroom. Yet it seemed as soon as my husband and his friend, Guy, started working on one thing, they would break another. Like cutting into a pipe and flooding the bathroom, which meant that the living room ceiling had to be repaired and repainted. Then they, along with the plumber and electrician, used my two vacuums like shop vacs, and broke them both. Then the bathroom lighting had to be done twice. The toilet that wasn't supposed to be installed by the plumber, was indeed installed, and was broken in the process. I'm not even going to tell you about the fight with the painter regarding his quote and the trim.
Then the kitchen remodeling started with a reminder call. But I didn't even know we were on the schedule to get our counter tops done that day! First, I had to reschedule my daughter's hearing test appointment. No biggie. Then I had to camp out with my dog, Nellie in our bedroom, because as soon as the workmen left to get something from their truck and came back into the house, she'd growl at them like they were breaking in. Such a silly dog!
It also meant no cooking for a few days, since we had to wait for the plumber to come and hookup the sink and the electrician to hook up the stovetop. Luckily, I have another wonderful recipe from the April 2014 issue of Martha Stewart Living to fill in while my kitchen is closed for a few days. This one is perfect for Easter, parties, and picnic season – Beet Picked Quail Eggs with an amazing picture by Jennifer Causey.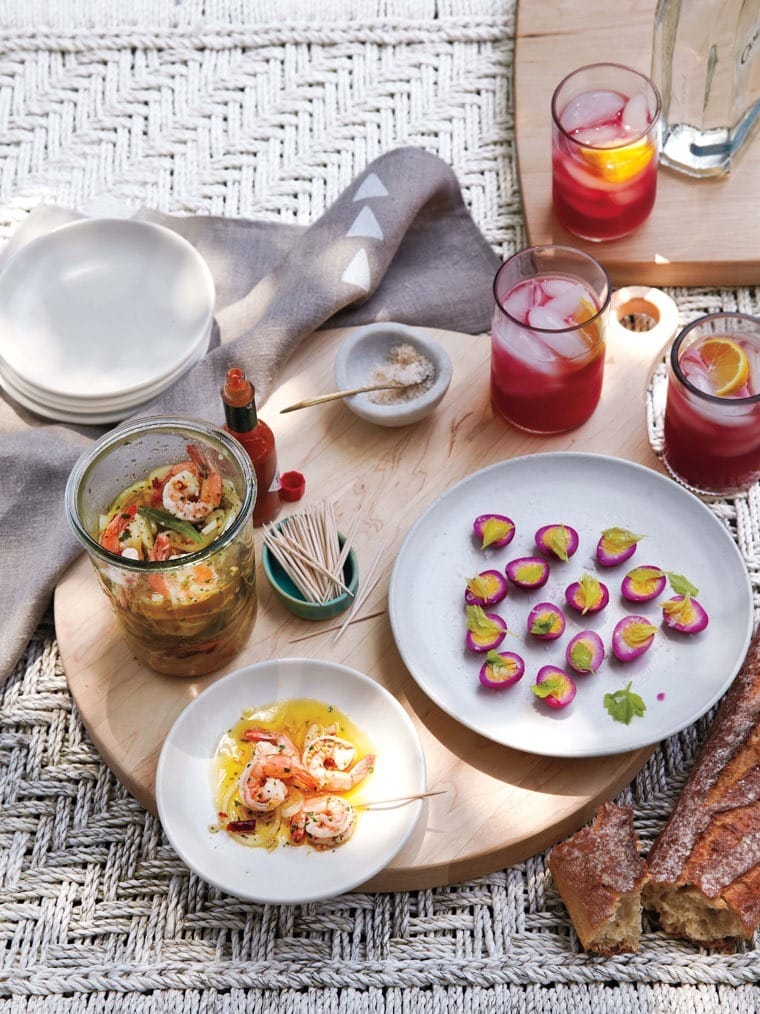 Just because it's Easter doesn't mean you have to stick with chicken eggs. Any sort of eggs will do. Martha Stewart Living suggests getting quail eggs at dartagnan.com, but I've had good luck finding fresh and canned quail eggs at Asian markets. (My mom puts quail eggs in salads and quail eggs in pho soup are amazing.) Canned quail eggs are pretty affordable, too.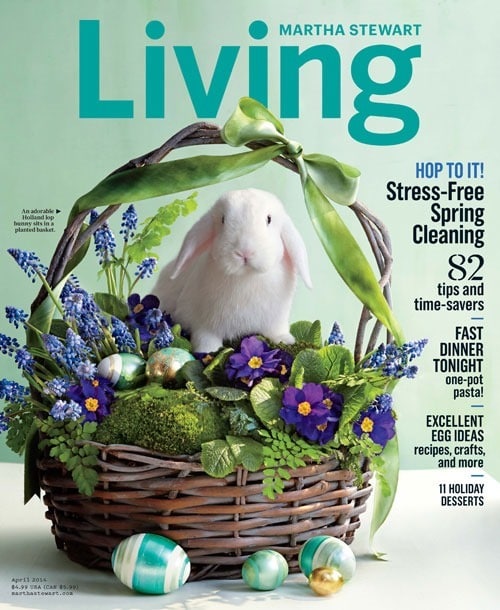 I love the idea of dying the egg whites with the beets. Some people use beets or other foods to dye eggs shells. Or they gently crack the hard boiled egg before dyeing to form a cracked pattern on the egg white. They use foods such as:
Blueberries or red cabbage for blue
Skins of red onions or yellow apples for green
Skins of yellow onions or paprika for orange
Carrots, turmeric, chamomile, green tea or orange peel for yellow
Coffee or black tea for brown
Grape juice for purple
If you're interested in using foods or plants as natural food dyes, About.com has instructions on how to do so.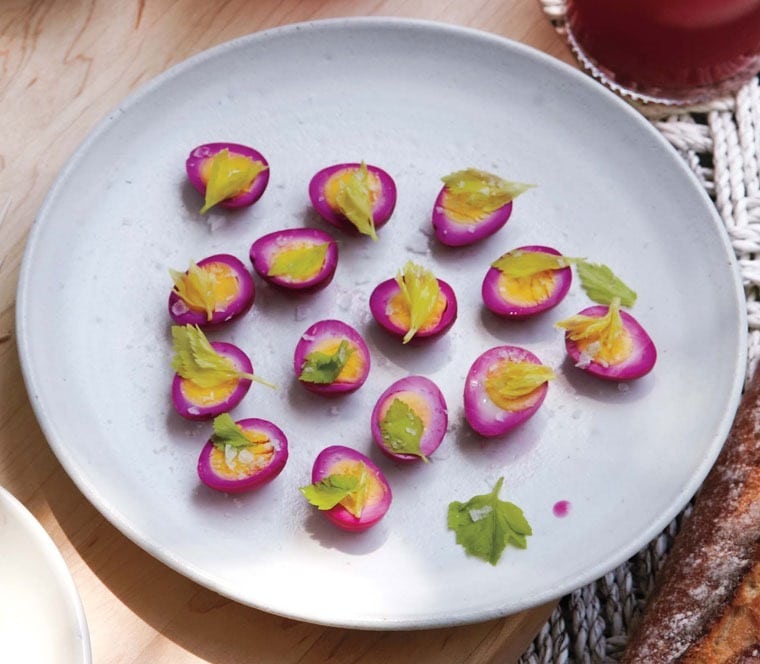 Ingredients
1

small red beet, peeled and coarsely grated

1 cup

white balsamic vinegar

1/2 cup

sugar

1 teaspoon

coarse salt

1 teaspoon

juniper berries 1 dried bay leaf

24

quail eggs

Hot sauce, celery leaves, and flaky sea salt, for serving
Directions
Bring beet, 1 cup water, vinegar, sugar, coarse salt, juniper berries, and bay leaf to a boil in a small pot, stirring until sugar and salt are dissolved. Let cool completely. Pass through a fine sieve; discard solids.
Cover eggs with 1 inch of water in a small saucepan. Bring to a boil; remove from heat, cover, and let sit 3 minutes. Transfer to an ice-water bath until chilled. Drain and peel eggs.
Place eggs in a container. Top with beet vinegar. Cover; chill 4 to 5 days. Slice in half and serve with accompaniments.
Total Time:
120 Hours 45 Minutes
Serving size:

3 quail eggs
Recipe and photography used with permission.