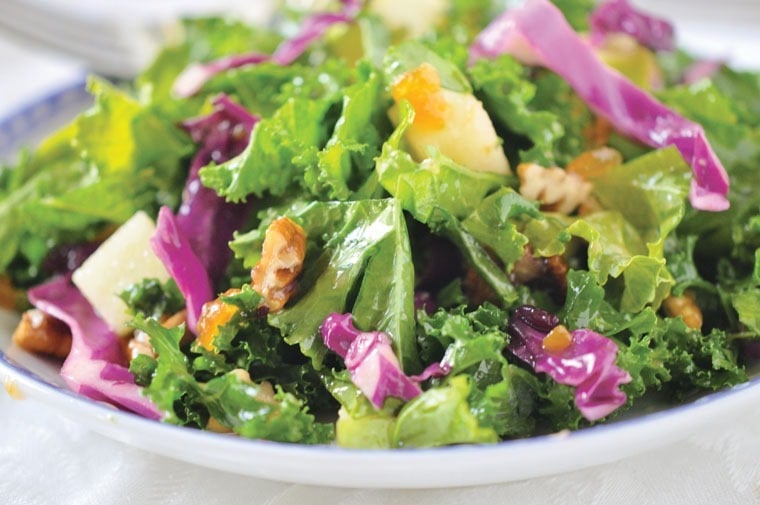 Spring must be in the air because friend and frequent contributor, Holly Clegg, has sent me a salad recipe for kale. This recipe comes from Holly's cookbook, Eating Well To Fight Arthritis.
This is a terrific cookbook for not only arthritis sufferers, but anyone who's trying to eat a low-inflammation diet. You can find more of Holly's trim& TERRIFIC® recipes at The Healthy Cooking Blog.
And don't forget that Holly's cookbooks make wonderful gifts for anyone trying to eat in a more healthy way!
Kale for National Nutrition Month
With National Nutrition Month upon us, why not branch out and try a new veggie you may have heard about recently – kale?
The funny-looking, trendy green has been around a while, but has had a resurgence in popularity recently and for good reason! Just one cup of kale boasts a whopping 5 grams of fiber, 15% of your daily calcium recommended intake, 180% of vitamin A, and 200% of vitamin C!
Kale is also super versatile as you can add it to smoothies and even bake it with a little olive oil and a sprinkle of salt for yummy kale chips.
And this Kale Salad with Fruity Vinaigrette from my trim&TERRIFIC Eating Well to Fight Arthritis cookbook is a must try, using the super green as a base topped with chopped fruit and pecans.
You will love the Fruity Vinaigrette for it's perfect blend of sweet and savory flavors. Gluten-free, vegetarian, and diabetic-friendly – this salad will appeal to your taste buds as it does to your health!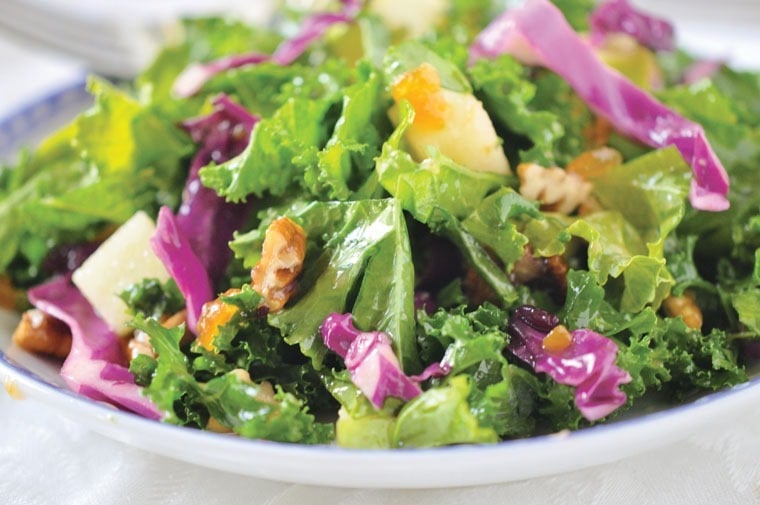 Kale Salad with Fruity Vinaigrette
You must give kale a try in this toss together invigorating and dazzling salad with fruit, pecans in an outstanding vinaigrette.
Ingredients
For Kale Salad:
8 cups

chopped kale, center ribs and stems removed

1 cup

shredded red cabbage

1

apple, nectarine or fruit of choice, chopped

1/3 cup

chopped pecans, toasted

Fruity Vinaigrette (recipe follows)
For Fruity Vinaigrette:
3 tablespoons

olive oil

2 tablespoons

apple cider vinegar

1/4 cup

apricot preserves

2 tablespoons

lemon juice

1 teaspoon

Dijon mustard
Directions
For Kale Salad:
In large salad, toss together kale, cabbage, fruit and pecans. Toss with Fruity Vinaigrette (see recipe).
For Fruity Vinaigrette:
In bowl, whisk together all ingredients.
Servings
:
Makes 8 servings
Serving size:

1/8 of recipe

Calories:

145

Calories from Fat:

75 (52%)

Total Fat:

9g

Saturated fat:

1g

Unsaturated fat:

8g

Sodium:

44mg

Total Carbohydrates:

16g

Sugar:

7g

Fiber:

2g

Protein:

3g

Cholesterol:

0mg
Dietary Exchanges: 1/2 fruit, 2 vegetable, 2 fat
Recipe and photo used with permission.