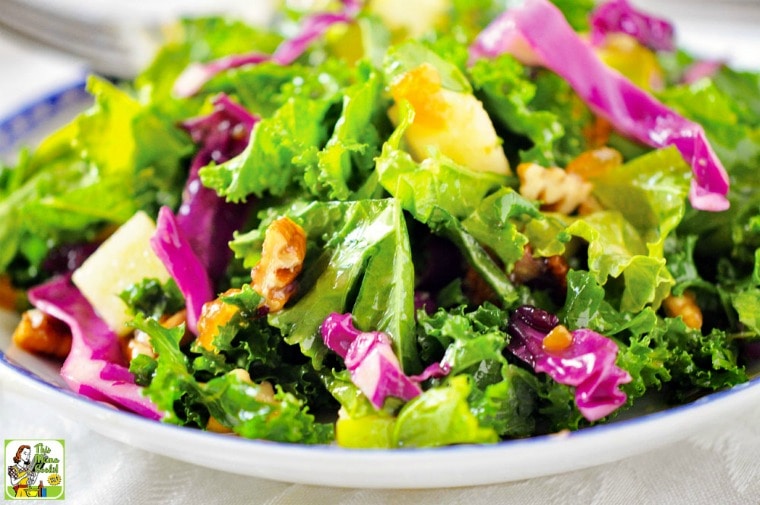 Kale Salad with Fruity Vinaigrette will make you fall in love with kale.
This kale salad recipe comes from my friend and frequent contributor, Holly Clegg.
What I love about this recipe is the kale salad dressing. It's made with apple cider vinegar, apricot preserves, lemon juice, and Dijon mustard.
So delicious! And easy to whip up quickly, making this an easy side dish.
You can easy add a grilled chicken breast or chopped up pieces of cold rotisserie chicken from the store and turn it into a full meal.
(Double the kale salad dressing and use half as a marinade for the chicken. Delish!)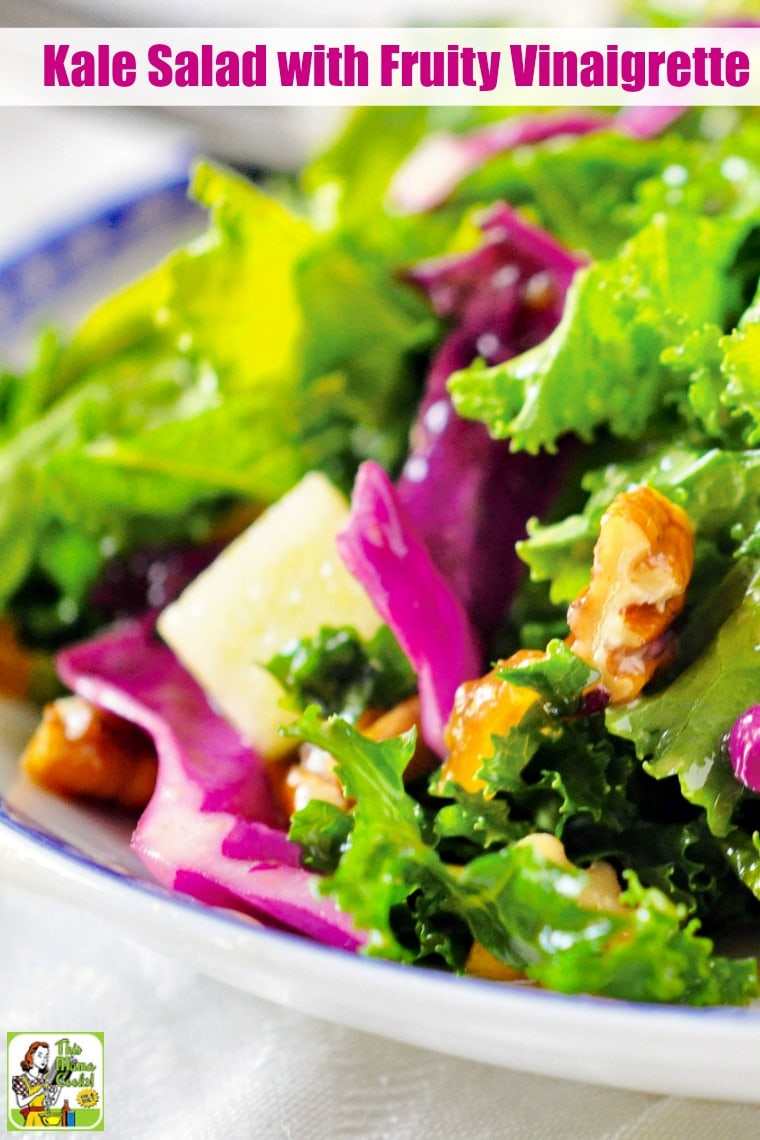 Kale Salad with Fruity Vinaigrette from Holly Clegg
This wholesome salad recipe comes from Holly's cookbook Eating Well To Fight Arthritis.
This is a terrific cookbook not only arthritis sufferers, but anyone who's trying to eat a low-inflammation diet.
You can find more of Holly Clegg's trim& TERRIFIC® recipes at The Healthy Cooking Blog.
Check out Holly's trim & TERRIFIC™ cookbooks on Amazon, too!
A kale salad recipe for National Nutrition Month
With National Nutrition Month upon us, why not branch out and try a new veggie you may have heard about recently – kale?
The funny-looking, trendy green has been around a while, but has had a resurgence in popularity recently and for good reason!
Just one cup of kale boasts a whopping 5 grams of fiber and 15% of your daily calcium recommended intake.
One cup of kale also contains 180% of vitamin A and 200% of vitamin C. It's a nutritional powerhouse!
Kale is also super versatile as you can add it to smoothies.
Try baking it in the oven with a little olive oil and a sprinkle of salt for yummy kale chips.
Kale Salad with Fruity Vinaigrette from my trim&TERRIFIC Eating Well to Fight Arthritis cookbook is a must try, using the super green as a base topped with chopped fruit and pecans.
You will love the Fruity Vinaigrette for it's perfect blend of sweet and savory flavors.
Gluten-free, vegetarian, and diabetic-friendly – this salad will appeal to your taste buds as it does to your health!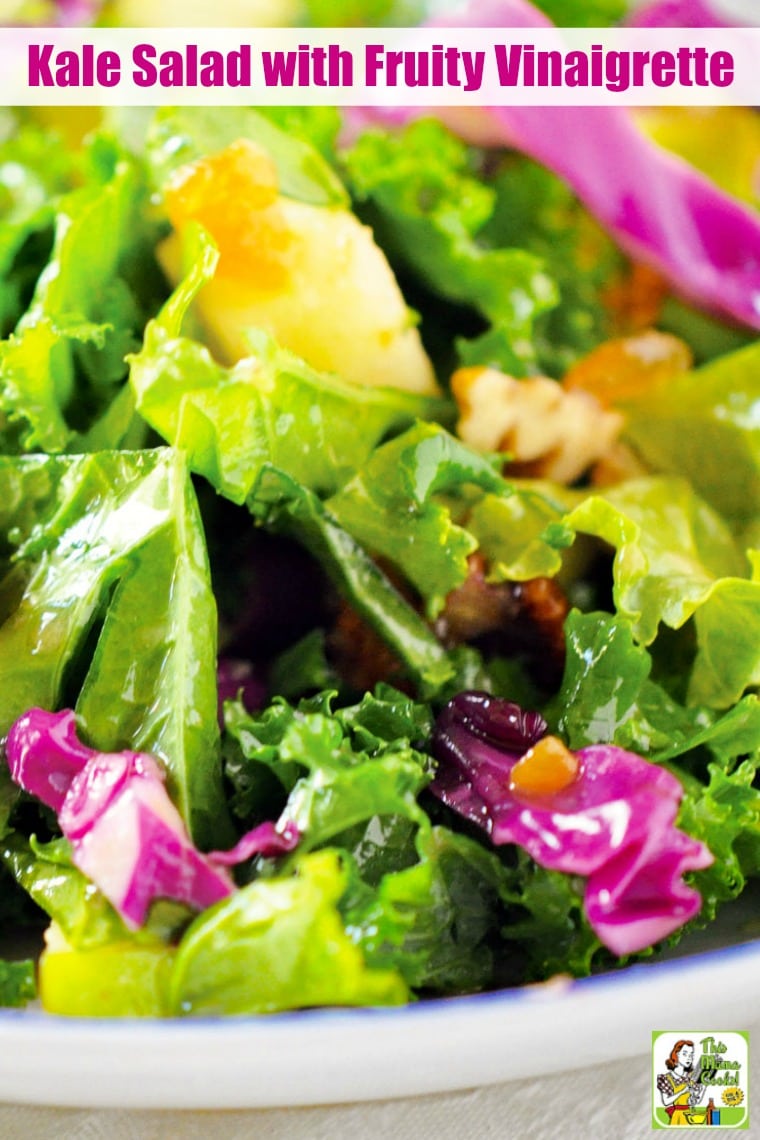 More awesome recipes from Holly Clegg
● Easy Chicken and Sausage Gumbo
● Blueberry Muffin Streusel Cake
● Hot Crab Spinach Dip Baked in French Bread Bowl
● Ooey Gooey Squares Bar Cookies
● Easy Mardi Gras King Cakes Recipe with Cream Cheese Cinnamon Filling
Yield: 8 SERVINGS
Kale Salad with Fruity Vinaigrette Recipe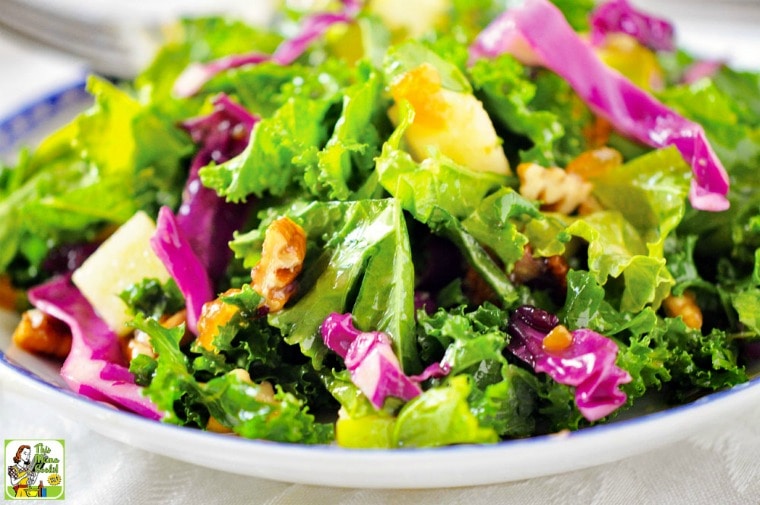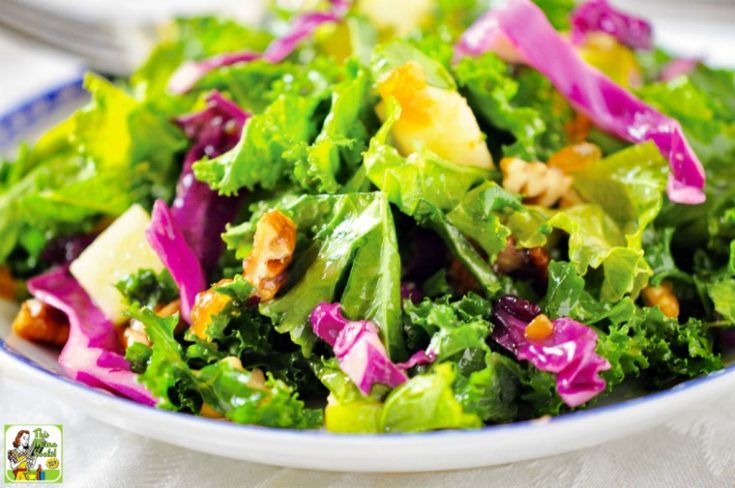 An easy to make fruity kale salad recipe. Features a kale salad dressing that's a blend of sweet and savory flavors.
Ingredients
For kale salad:
8 cups chopped kale, center ribs and stems removed
1 cup shredded red cabbage
1 apple, nectarine or fruit of choice, chopped
1/3 cup chopped pecans, toasted
Fruity vinaigrette (recipe follows)
For the fruity vinaigrette:
3 tablespoons olive oil
2 tablespoons apple cider vinegar
1/4 cup apricot preserves
2 tablespoons lemon juice
1 teaspoon Dijon mustard
Instructions
For the kale salad:
In a large salad, toss together kale, cabbage, fruit, and pecans. Toss with Fruity Vinaigrette (see recipe).
For the fruity vinaigrette:
In a bowl, whisk together all ingredients.
Nutrition Information:
Yield:
8
Amount Per Serving:
Calories:

145
Total Fat:

9g
Saturated Fat:

1g
Unsaturated Fat:

8g
Cholesterol:

16mg
Sodium:

44mg
Carbohydrates:

16g
Fiber:

2g
Sugar:

7g
Protein:

3g
Dietary Exchanges: 1/2 fruit, 2 vegetable, 2 fat
Recipe and photo used with permission.