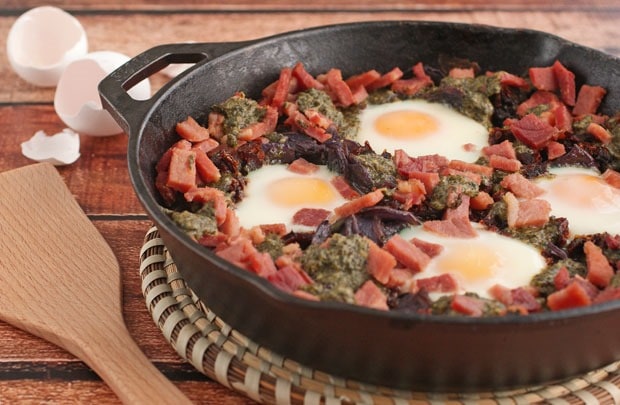 It's Secret Recipe Club time once again! This month's assignment was to cook up something from Adventures in All Things Food by Andrea Kruse. I'm not sure how she has time to blog as she has three kids under the age of six. Plus I'm sure living on a farm keeps her super busy, too.
Some of my favorite pictures on her blog are of her farm, from the snow on the old tractor to all the chicken adventures! Of course, there's food. Some of it's inspired by what they're growing, like Prune Cake. Still others are just things she likes to eat like her recipe for Skillet Baked Pesto & Tomato Taters, which is what I decided to cook up. It combines things I love, too, like eggs, pesto and sun dried tomatoes. Plus, it gives me an excuse to finally break in my 10" Lodge cast iron skillet! [affiliate link]
Speaking of pesto, I can't wait until summer when we have basil growing in the garden so we can make our own from scratch. I have a few pesto recipes here at This Mama Cooks! On a Diet: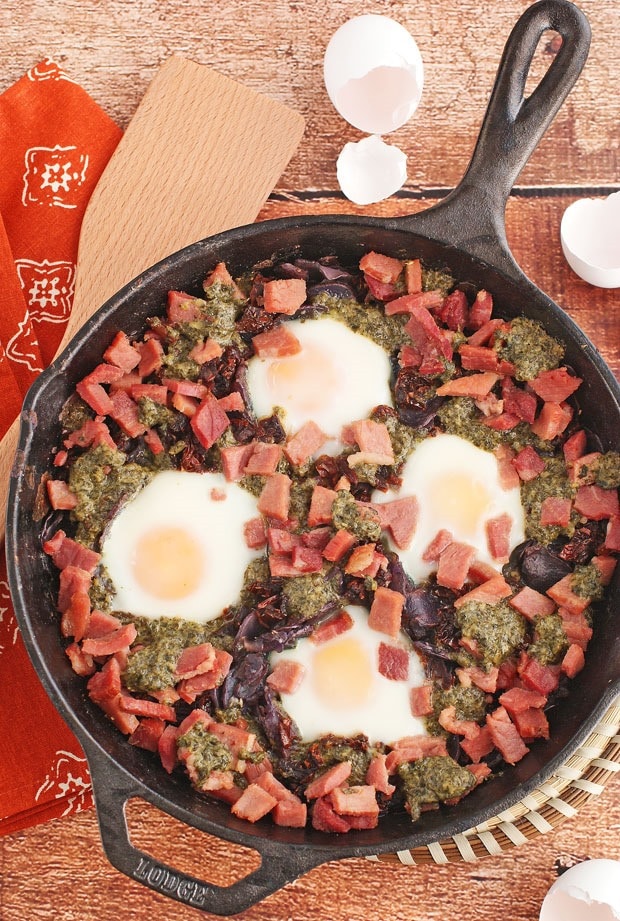 This Mama's tips
Since regular potatoes give me a tummy ache due to my food sensitivities, I decided to use baby purple potatoes instead. I love how regular grocery stores are carrying a variety of potatoes now, including fingerling and baby sized potatoes. You can use red, purple, gold or whatever variety of baby potatoes that suits your fancy since you don't have to peel them. (Just remember to wash them!)
I also substituted country ham for the bacon, since I'm obsessed with it nowadays and always have some in the refrigerator or freezer. If you prefer bacon, use enough to cover your 10" skillet. (Andrea used 4 pieces in her recipe.)
If you have a 12" skillet, increase the amount of ingredients a bit and you should have room for an extra egg or two. When I served this up for a late lunch in my 10" skillet, I found that one egg was plenty of food for me, but that my husband wanted more. (He and my daughter, Lucie, shared another portion.) Next time, I'll serve this with a side salad and some crusty bread or gluten free toast, so everyone feels satisfied.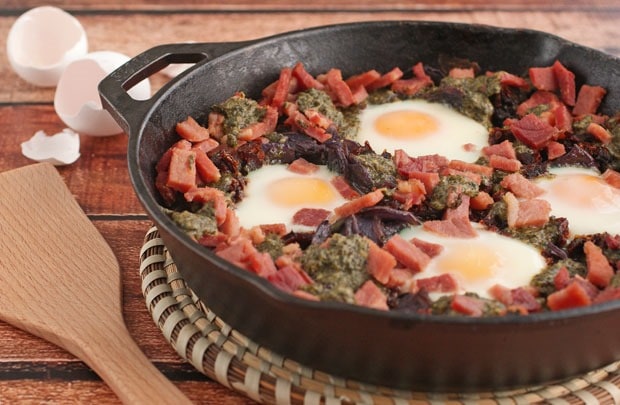 Ingredients
1

large slice country ham (piece or pieces big enough to cover entire 10" skillet)

16

baby purple potatoes

2

garlic cloves, minced

1/3 cup

sun dried tomatoes, diced

1/2 cup

prepared basil pesto

4

eggs
Directions
Preheat oven to 350 degrees.
If the sun dried tomatoes are dried, soften in very hot water for 10 to 15 minutes.
Heat 10" cast iron skillet or oven safe frying pan over medium heat. Place slice of country ham and heat until ham starts to render and curl at the edges.
While country ham is cooking, thinly slice baby purple potatoes in a food processor.
Remove country ham from the pan and place on cutting board. Trim fat from edges and set aside. Dice ham and set aside.
Place sliced potatoes in skillet. Cook on medium heat until potatoes are soft, stirring occasionally. If you feel there isn't enough grease in the skillet leftover from cooking the country ham, place some of the trimmed fat back into the skillet. (This can be removed later.)
Once the potatoes are soft, turn up the heat to medium high to brown. Add the minced garlic.
When potatoes are browned, turn off the heat and remove skillet from the burner.
Evenly sprinkle the top with sun dried tomatoes. Then spoon the pesto over the top in evenly distributed dollops.
Using a spoon, create 4 small wells in the potatoes. Break 1 egg into each well.
Sprinkle the top with diced ham.
Place the skillet in the oven till the eggs have set – 9-12 minutes depending on how firm you like your eggs.
Serve straight from the oven.
Serving size:

1 egg plus surrounding potatoes