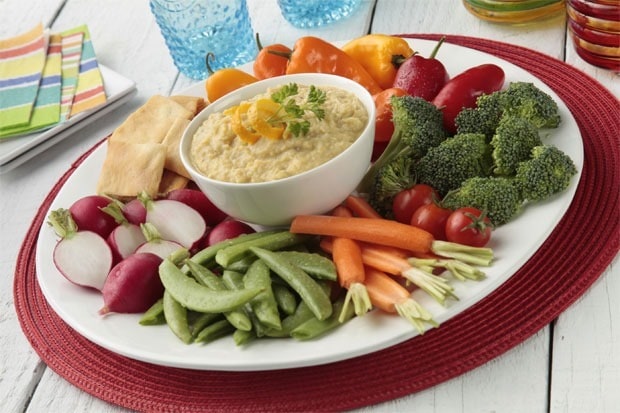 Are you having a party to watch the Oscars this weekend? Or maybe you're just on the lookout for some healthy appetizer recipes so you can watch and munch without feeling too guilty. Either way, I have a terrific heart healthy appetizer recipe for you – Citrus Hummus! That's right, hummus made with 100% orange juice that's also good for your heart.
I don't know about you, but I tend to inhale hummus. That's why it's important that I use veggies like peapods, baby carrots, and broccoli spears as dippers instead of crackers or pretzels, even gluten free ones! Hummus is also a great way to get your kids to eat vegetables – what kid doesn't love to dip?!
This recipe is so easy that you can make a batch of hummus in about 15 minutes in your food processor or Blendtec Blender [affiliate link].
Heart healthy orange juice
Did you know that 100% orange juice is good for your heart health? Orange juice delivers nutrients that have been associated with heart health indicators including vitamin C, folate, and potassium, as well as the phytonutrients hesperidin.3 Research reports that orange juice consumption has been associated with favorable effects on serum cholesterol,1,2 blood pressure and blood vessel function,3 as well as inflammatory and oxidative stress markers that may contribute to the development and progression of cardiovascular disease.4-6 Some of these benefits are believed to be at least partially attributable to the flavonoid hesperidin, found in oranges and orange juice.3
You can find more healthy recipes like Citrus Hummus at Florida Citrus.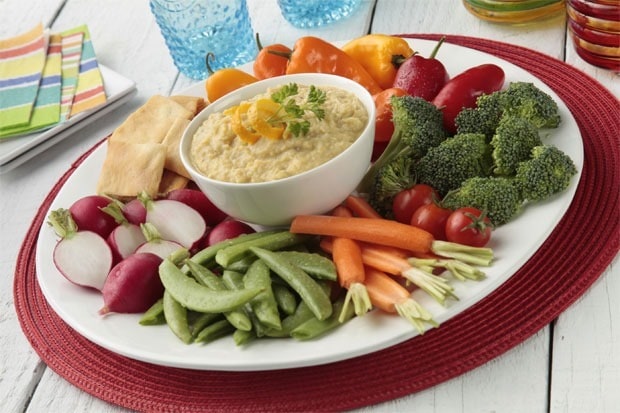 Ingredients
2 (15-ounce) cans

garbanzo beans, drained and rinsed

1 cup

100% Florida orange juice

1 cup

canned artichoke hearts, drained and rinsed

2 tablespoons

extra virgin olive oil

2 tablespoons

fresh lemon juice

2

cloves garlic

1 teaspoon

coarse salt

1 teaspoon

black pepper

2 tablespoons

minced fresh parsley, optional
Directions
In food processor bowl, combine all ingredients except parsley.
Process until smooth, stopping and scraping sides of bowl several times.
Place in serving bowl and sprinkle with parsley, if desired.
Serve Citrus Hummus with pita chips and assorted fresh vegetables such as pea pods, baby carrots and miniature bell peppers.
Servings
:
Yield: About 3 cups, approximately 10 servings
Serving size:

1/10 of recipe

Calories:

120

Calories from Fat:

35

Total Fat:

4g

Saturated fat:

0g

Unsaturated fat:

4g

Sodium:

390mg

Total Carbohydrates:

17g

Sugar:

4g

Fiber:

4g

Protein:

4g

Cholesterol:

0g
Recipe and picture used with permission.
References
1. Cesar TB et al. Nutr Res. 2010;30:689-694.
2. Aptekmann NP et al. Maturitas. 2010;67:343-347.
3. Morand C et al. Am J Clin Nutr. 2011;93:73–80.
4. Ghanim H et al. Diabetes Care. 2007;30:1406-1411.
5. Deopurkar R et al. Diabetes Care. 2010;33:991-997.
6. Ghanim H et al. Am J Clin Nutr. 2010;91:940-949d.