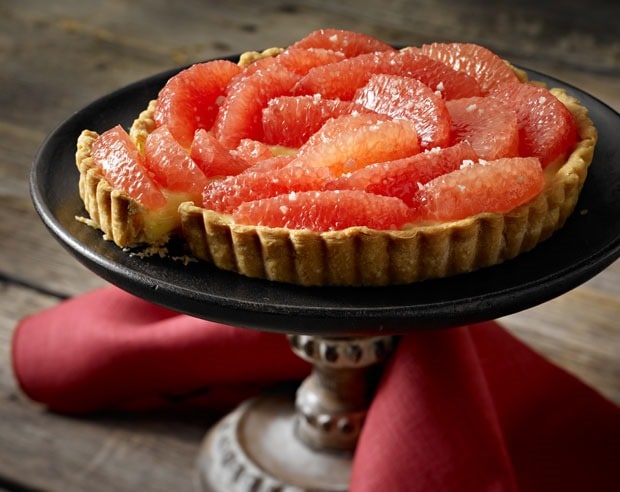 I'm sure you've seen apples and peaches on tarts. But a grapefruit tart? Why not when it's from celebrity chef and winner of Food Network Star Season Six, Aarti Sequeira!
Make sure to visit Florida Grapefruit's  Facebook page and see more of Chep Aarti's recipes. You can also find more grapefruit recipes at Go Florida Grapefruit.
This Mama's tips
Maldon smoked salt is pure crystal sea salt smoked over sustainable English oak. It has a salty and subtle smoky flavor, and when combined with the sweet and citrus taste, it should be just sublime! You can buy maldon smoked salt [affiliate link] online.
Can't find orange blossom water at your grocery store? You can order Nielsen-Massey Orange Blossom Water [affiliate link] online, too.
To save time, buy already cut and peeled grapefruit segments sold in jars or found in the produce section of your grocery store.
If you want to prepare your own grapefruit, save the peels. (The ones you don't use for zesting.) Use them to make candied grapefruit using the method I used to make Candied Ginger. Just make sure to remove as much as the white pith as possible from the peel as it can be bitter.
To make this grapefruit tart recipe gluten free, use a premade gluten free pie crust or use a mix to make your own.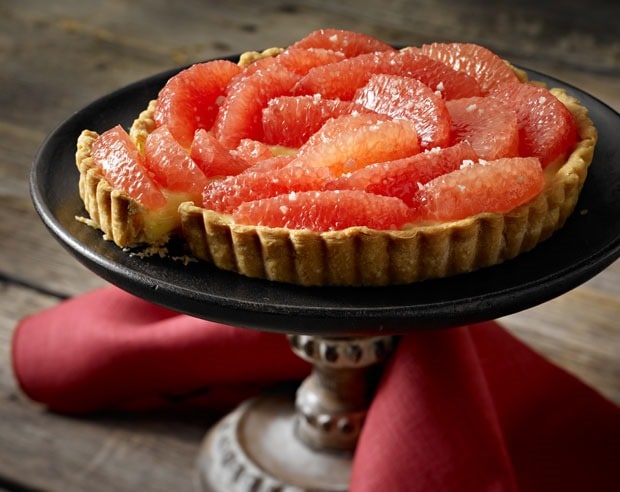 Grapefruit Tart with Cardamom Cream
For individual tartlets: Divide pie crust among four 4 3.4inch tart pans. Bake at 425 degrees F. for about 10 minutes or just until golden brown.
Ingredients
1 1/2 cups

whole milk

5

cardamom pods, crushed

5

extra-large egg yolks, room temperature

3/4 cup

granulated sugar

3 tablespoons

cornstarch

1/2 teaspoon

orange blossom water

1 tablespoon

Florida grapefruit zest

Pinch

Kosher salt

1 tablespoon

heavy cream

1

refrigerated pie crust

3

ruby red Florida grapefruit, peeled, white pith removed, cut into segments

Maldon smoked salt, for sprinkling
Directions
Place milk and cardamom pods in a small saucepan over medium-low heat. Cook, stirring often, until small bubbles form around the circumference of the saucepan. Turn off heat, cover and steep for 20 minutes.
Beat egg yolks and sugar together in a stand mixer at medium-high speed until pale yellow and very thick, about 5 minutes.
Turn the speed down to low, then add the cornstarch.
Meanwhile, strain milk into a measuring cup. Stir in orange blossom water and grapefruit zest, along with a pinch of salt. Keeping the mixer on low, slowly pour in the milk mixture, beating until just combined. Transfer the milk mixture to a medium saucepan over medium-low heat. Cook, stirring constantly with a wooden spoon, until it comes to a boil, 5 to 10 minutes. Switch to a whisk; whisk constantly until it has thickened to the texture of pudding. Turn heat off. Stir in heavy cream and then strain into a large bowl. Place plastic wrap on the actual surface of the pastry cream, then refrigerate for at least 3 hours.
Once pastry cream is chilled, pre-heat oven to 425° F. Place pie crust in 9 1/2-inch tart pan. Prick dough evenly with fork to keep it from puffing up in the oven. Bake for about 12 minutes or until the pie crust is just golden brown. Remove from oven and cool.
Just before serving, pour the pastry cream into the tart crust and even out. Decorate with concentric circles of grapefruit segments. Sprinkle with smoked salt and serve immediately.
Prep Time:
3 Hours 15 Minutes
Serving size:

1/4 to 1/6 of tart or 4 to 6 tartlets
Recipe and photo used with permission.