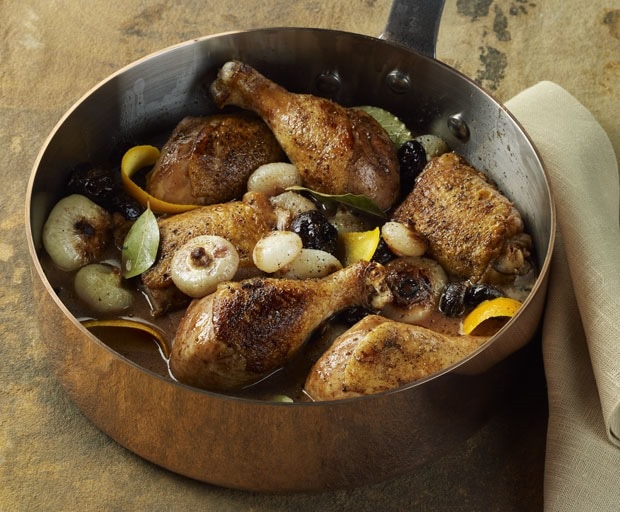 On a busy winter's night, we're all looking for easy to cook up dishes that are also delicious and healthy. This chicken recipe from the National Chicken Council fits the bill. Not only is their Chicken Drumsticks and Thighs with Prunes and Onions recipe a one pot meal and a breeze to clean up, it's made even easier by needing the minimal amount of prep work. No need to chop up onions when you can use frozen pearl onions. And no need to slice up chicken when you can use thighs and drumsticks from the grocery store. Really the only thing you're cutting up here is the orange!
Here are a few tips to make preparing Chicken Drumsticks and Thighs with Prunes and Onions a snap:
You can substitute Marsala cooking wine for Marsala wine if you already have a bottle in your pantry. Since cooking wine has added salt, cut the salt in the recipe below to 1/4 teaspoon.
To health this up a bit, you can substitute chicken breasts (bone in with skin on) for the thighs and/or drumsticks. Remove the skin before serving.
Serve this dish over brown rice, couscous, or quinoa.
For more recipes from the National Chicken Council, go to eatchicken.com.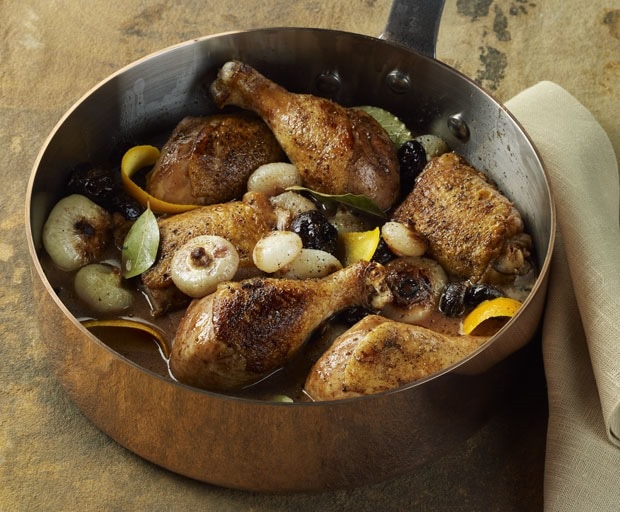 Chicken Drumsticks and Thighs with Prunes and Onions in Marsala Orange Sauce
Ingredients
4

chicken drumsticks

4

chicken thighs

1 bag

frozen pearl onions, thawed

1 teaspoon

salt

1/2 teaspoon

black pepper

1 tablespoon

olive oil

1 tablespoon

butter

1/2 cup

Marsala wine

1 cup

chicken broth

1

orange, peeled and juiced

3/4 cup

pitted prunes

2

bay leaves
Directions
In a large sauté pan, melt butter with the olive oil over medium high heat. Sprinkle all sides of chicken pieces with salt and pepper. Add to pan, skin side down, and sauté until well browned, about 5-6 minutes per side. Remove chicken pieces and set aside.
Return pan and heat over medium heat. Add onions and sauté, tossing occasionally, until well browned, about 5-6 minutes.
Add Marsala wine, stock, and orange juice to pan, bring to a boil and reduce liquid by half. Add prunes, bay leaves, and orange peel to pan. Return chicken and any accumulated juices. Cover and reduce heat.
Cook chicken for about 30 minutes or until an instant read thermometer registers 170 degrees F.
Remove bay and orange peel before serving. Serve chicken pieces with pan juices, prunes and onions spooned over.
Serving size:

1 drumstick and 1 thigh per person

Calories:

490

Total Fat:

22g

Saturated fat:

7g

Total Carbohydrates:

33g

Sugar:

21g

Fiber:

4g

Protein:

31g
Picture and recipe used with permission.