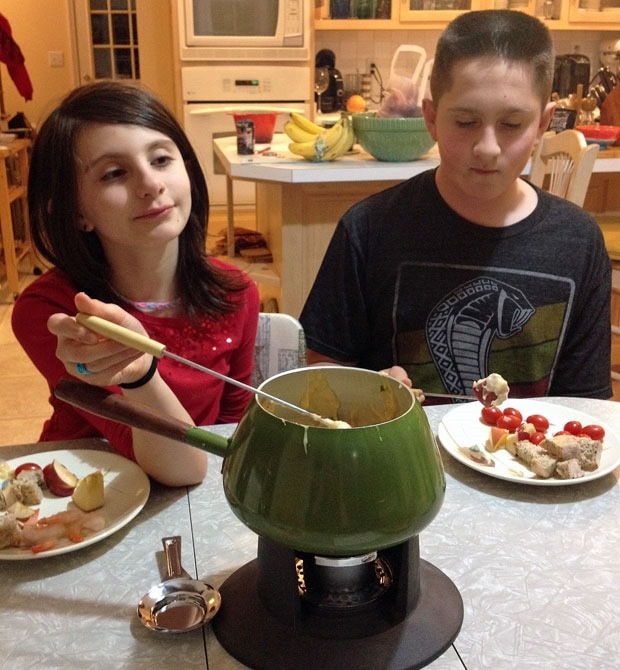 I've been a reader of Bon Appetit magazine since the early '90s. One recipe I've kept in my repertoire from those early days is their Brie and Chive Fondue. It's such an old recipe that you can't even find it on their website! Luckily, I had it tucked away in an old post here at This Mama Cooks! On a Diet (now deleted). Since search engines had a tough time finding the post, and I could only find the recipe at one other source on the web, I thought I'd repost it with a few gluten free changes.
I recently made Brie and Chive Fondue for New Year's Eve. It was such a hit with the kids, that my son has asked that I make it for his upcoming birthday party! At first I was reluctant to do so, since I thought his friends would think that brie's a little weird. But I'm reconsidering since the brie you buy at Sam's Club isn't all that strong. Additionally, the choice of grapefruit juice instead of wine – which is traditionally used in a Gruyere fondue – makes this recipe very child friendly.
This Mama's tips
If you have trouble finding 100% pink grapefruit juice, use 100% grapefruit juice or a pink grapefruit and other 100% juice blend. Don't use grapefruit juice cocktail, which is full of added sugar and other nasty stuff.
I've substituted gluten free flour instead of all purpose flour. If you're making this for a party, use gluten free bread instead of regular bread. Or keep one pot completely gluten free, so there's no cross-contamination between guests who may be dipping regular crusty bread into the pot.
Tail on shrimp as a dipper is amazing. But save it for the adults!
Fondue pots! I have an old one green one from the '70s that I found at a thrift store. I also have a Le Creuset Enameled Cast Iron Fondue Pot that's wonderful. (The picture above is the green fondue pot resting on the Le Creuset base – we were using both fondue pots that night.) Everyone from Target to Pier One to Crate & Barrel sell fondue pots, so you now have an excuse to go out and buy one!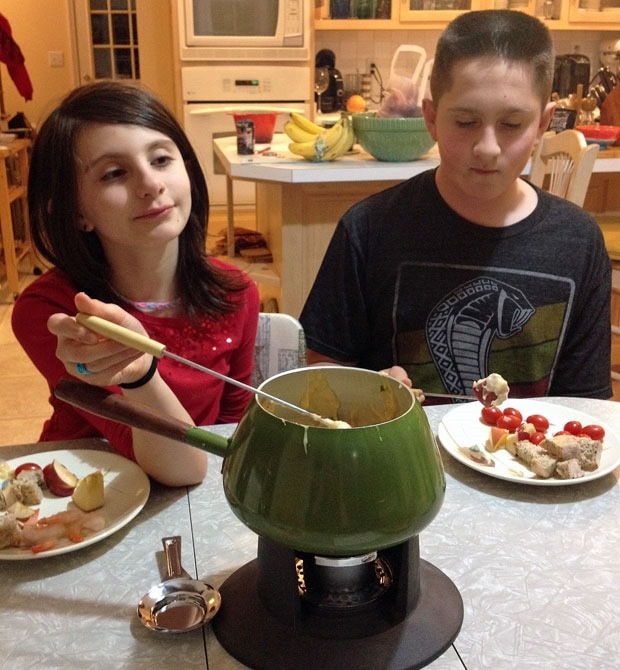 Brie and Chive Fondue
From the September 1991 issue of Bon Appetit magazine.
Ingredients
For fondue:
2 pounds

chilled slightly firm Brie cheese

2 tablespoons

gluten free all purpose flour

1 tablespoon

buttery spread

3 tablespoons

minced shallots

1 1/2 cups (or more)

100% pink grapefruit juice

white pepper, to taste

1/4 cup

chopped fresh chives

1 teaspoon

minced grapefruit peel
For dipping:
gluten free bread cut or torn into 1-inch pieces

apple and pear slices

cooked shrimp (you don't need fondue skewers if you used the tail-on variety)
Directions
Remove rind from cheese. (I admit my family and I like to eat the rind pieces. So why throw it away?)
Tear cheese into pieces and place in a large bowl. Add gluten free flour and toss to coat.
Melt buttery spread in a heavy medium saucepan over medium heat.
Add minced shallots and sauté until golden brown, about 4 minutes.
Add 1 1/2 cups grapefruit juice. Simmer until liquid is reduced to 1 cup, about 15 minutes. Reduce heat to medium-low.
Add 1 handful of brie to the saucepan and stir constantly until the cheese melts, about 5 minutes.
Repeat with remaining cheese, 1 handful at a time.
Season to taste with white pepper. You can make this one day ahead, which is perfect if you're making this for a party. Just cover and refrigerate. Reheat over low heat, stirring frequently. Thin with more juice if necessary.
Stir in chives and grapefruit peel.
Pour cheese mixture into a fondue pot and set over candle or canned heat. Serve with the dippers of your choice.
Total Time:
1 Hour 10 Minutes
Servings
:
Makes about 4 cups. Serves 4 to 6 for a hearty meal.
Serving size:

3/4 to 1 cup per person