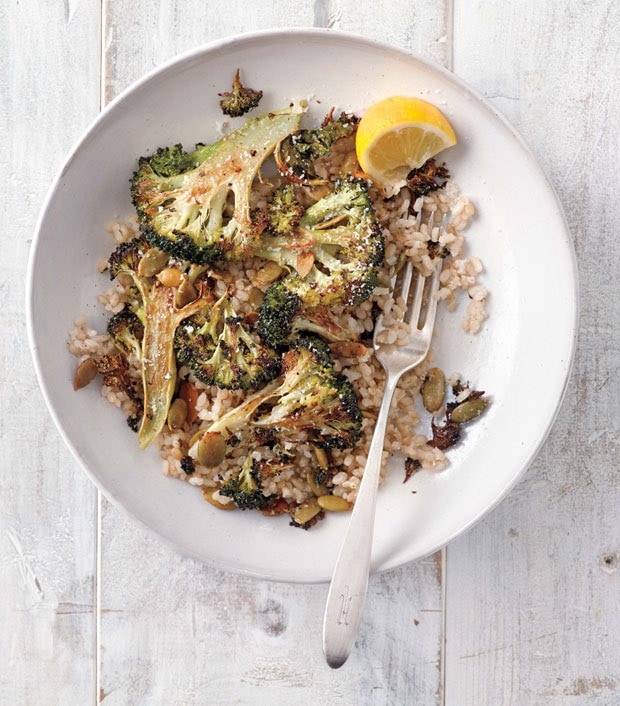 I've been frustrated with my attempts to try to get my daughter to eat vegetables. During a recent shopping trip to Krogers (where we bumped into Top Chef judge, Hugh Acheson, who lives nearby) I asked her, "Lucie, what vegetables would you eat if I bought them?" She told me she likes broccoli and cauliflower. To which I replied, "What, with chocolate sauce?" She replied, "No mommy, steamed with a little butter and salt."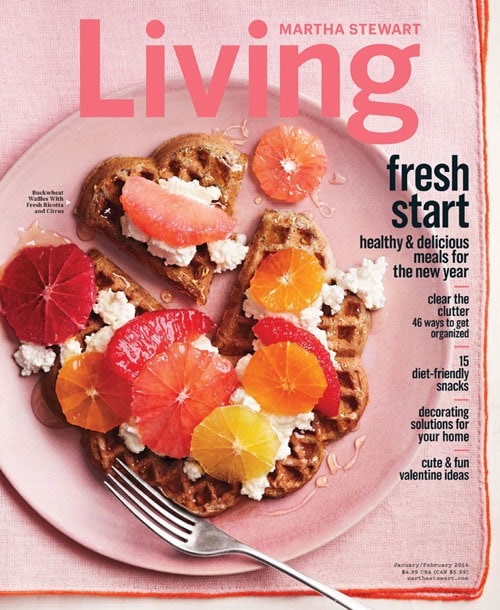 So maybe the recipe below for Roasted Broccoli with Pumpkin Seeds and Grated Pecorino is a little too fancy for her. But I'd make this for me and my husband and have her try it. It's just one of several healthy recipes featured in the January/February 2014 issue of Martha Stewart Living that's available on newsstands now.
You can serve this as a main course – perfect for Meatless Monday – or as a side dish by halving the portion size. I bet this would be delicious served cold the next day as a veggie salad with a lemony vinaigrette, too!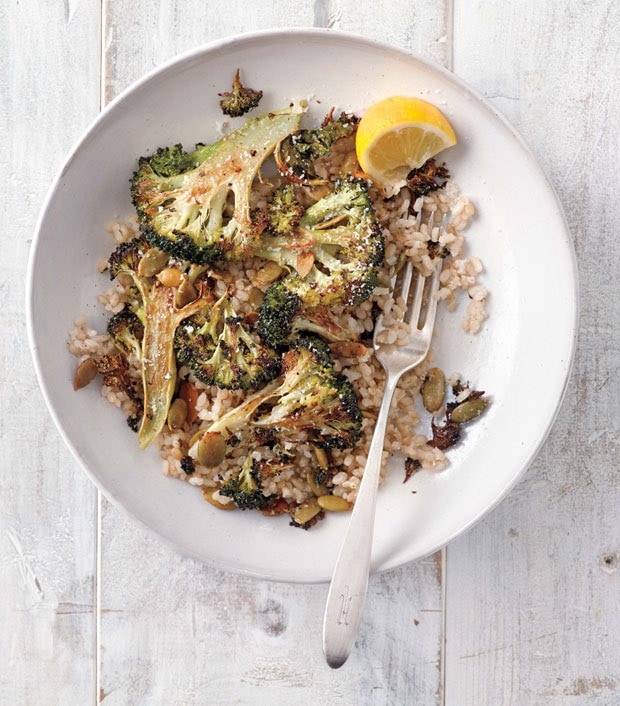 Roasted Broccoli with Pumpkin Seeds and Grated Pecorino
Ingredients
2 pounds

broccoli, stems peeled and sliced, florets cut into 1/2-inch-thick slices

1/3 cup

raw hulled pumpkin seeds

3 tablespoons

extra-virgin olive oil

Coarse salt and freshly ground pepper

2 tablespoons

finely grated Pecorino Romano cheese

2 cups

cooked short-grain brown rice

Lemon wedges, for serving
Directions
Preheat oven to 425 degrees. Arrange broccoli and pumpkin seeds in single layers on 2 rimmed baking sheets. Drizzle with olive oil and season with salt and pepper. Toss to coat.
Roast, rotating pans once, until golden in spots and just tender, about 20 minutes. Let cool slightly on baking sheets, then sprinkle with cheese.
Divide rice among serving dishes, top with broccoli mixture, and finish with lemon wedges before serving.
Serving size:

1/4 of recipe
Photo by Romulo Yanes. Courtesy of Martha Stewart Living. Copyright © 2014. Photo and recipe used with permission.