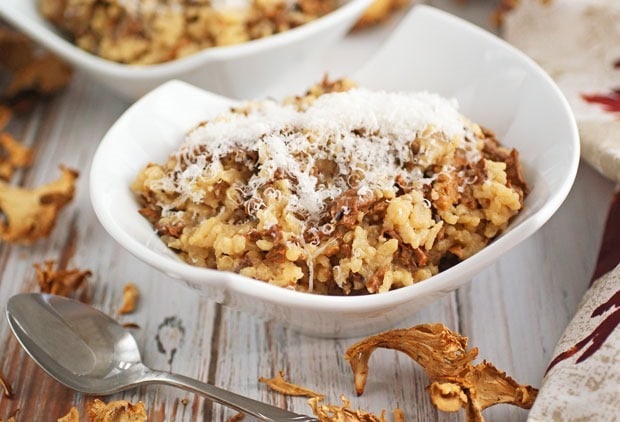 I don't know about you, but on Valentine's Day, I'd rather spend it at home with my husband in front of the fireplace (and the kids packed off to friend's house) instead of spending a fortune on an overpriced meal, unable to enjoy more than a glass of wine because I'm worried about driving home.
So, if you're looking for a delicious and elegant recipe to share with your sweetie that's easy to cook up – and as good as anything you'd get in a restaurant – this gluten free dish from Massel, made with their 7's Bouillon Cubes, fits the bill.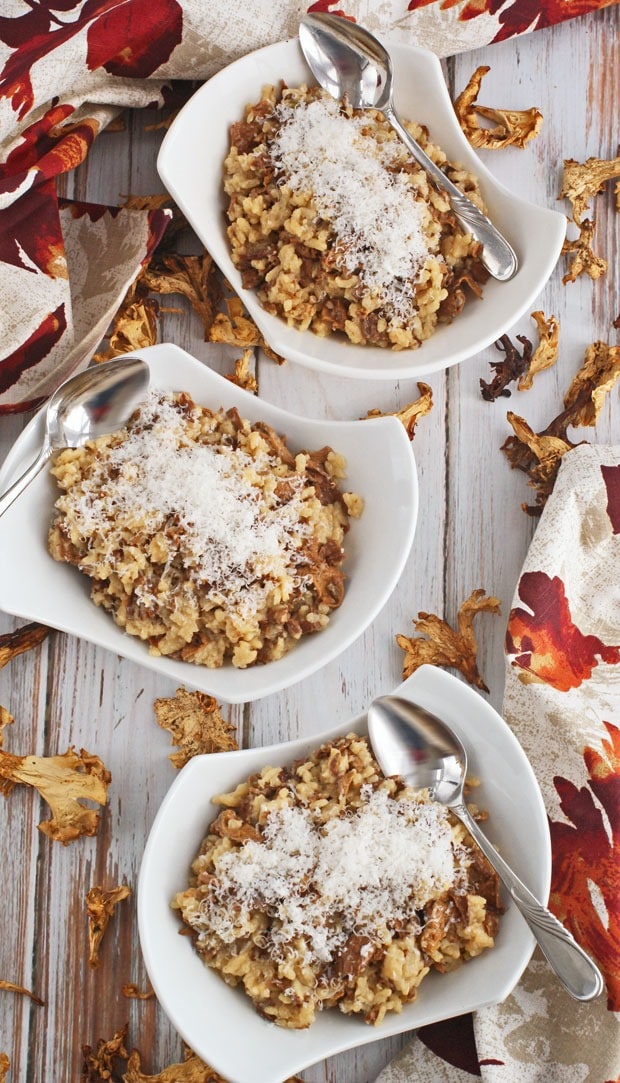 Dried vs. fresh mushrooms
This recipe from Massel is probably the easiest risotto dish I've ever made. Usually I hate making risotto because you have to stand there and stir. And stir. And stir. Instead, this dish only has to be stirred occasionally and can be made in about 30 minutes.
The secret to the dish – besides Massel's 7's Bouillon Cubes – is the mushrooms you choose. I used some of the dried chanterelles we harvested last year in our woods and from our neighbors' backyards. Believe it or not, we harvested over 20 pounds!
Since I used dried mushrooms, I had to reconstitute them. I measured out about 1 1/2 cups dried mushrooms for every 1 cup of fresh mushrooms the recipe called, or 6 cups total. I put the dried mushrooms in a bowl and covered them with boiling water. I let the mushrooms soak for 20 minutes until they were soft. I then drained the mushrooms and saved the water to use in the recipe. I used 3 1/2 cups of the "mushroom water" and 3 1/2 cups water. If you are using dried mushrooms and have less "mushroom water," just make sure your final water amount equals 7 cups.
Feel free to use a variety of fresh or dried mushrooms depending on your budget, what's available at your store or farmer's market, or your personal tastes.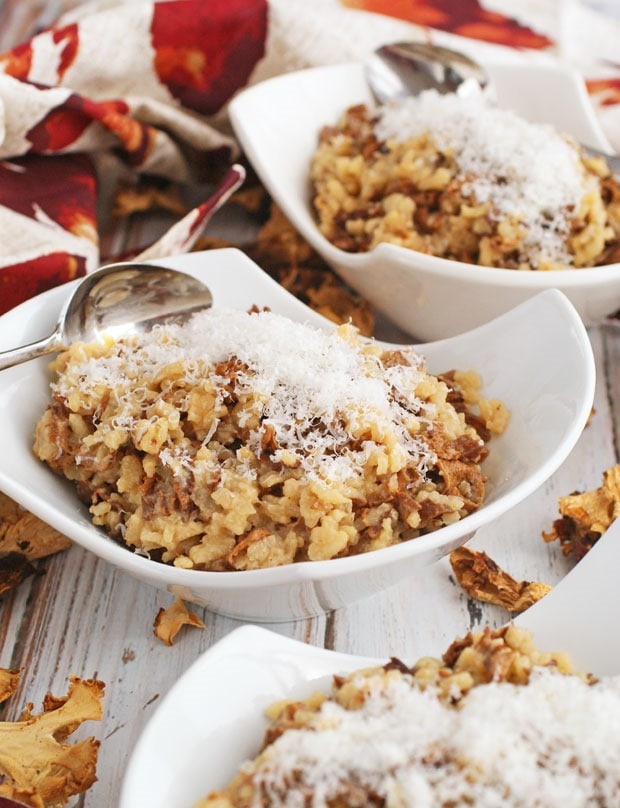 Other recipe notes
I doubled the original recipe so you can have leftovers to take to work the next day to show off to your coworkers. Or share it the kids if they like mushrooms! If they don't, try making the risotto with butternut squash or sweet potato and onions instead. The squash or sweet potato will melt into the arborio rice and will be slightly sweet, too. You can also change up the recipe a bit by using infused olive oil, changing up the herbs, and trying different types of Parmesan cheese, too.
Finally, risotto goes really well with a dry white wine, but you can get away with a hearty red if that's what you prefer.
To find out more about Massel, connect with them on Facebook, Twitter, and Pinterest. You can find out where Massel products are sold by using their store locator. Or you can order Masel products on Amazon.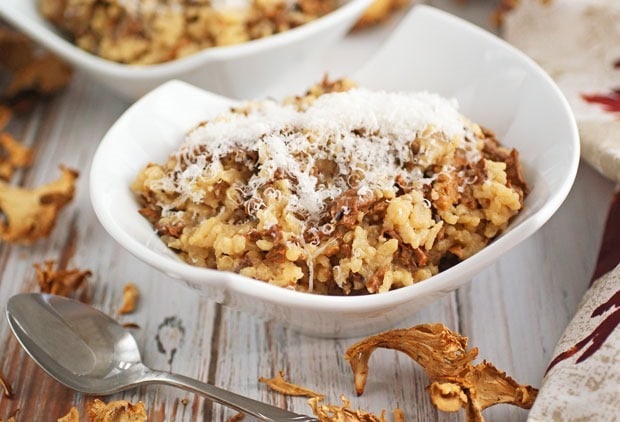 Ingredients
2 tablespoons

extra virgin olive oil

4 cups

mushrooms, cleaned and sliced

2

garlic cloves, minced

2 cups

arborio rice

7 cups

water

8

Massel 7's Bouillon Cubes (Vegetable Style)

4 tablespoons

Parmesan Reggiano cheese, grated plus additional grated cheese for serving

2 teaspoons

buttery spread or butter

2 tablespoons

fresh parsley, chopped or 2 teaspoons dried parsley flakes
Directions
Heat oil in a large pot on medium high heat.
Add the sliced mushrooms and garlic to pot. Sauté until mushrooms are tender and juices have evaporated.
Add the rice, water and Massel 7's Bouillon Cubes, mixing well. Bring to a simmer.
Reduce heat. Stir occasionally for 20 minutes or until rice has absorbed most of the water, is cooked through and creamy.
Remove pot from heat. Add Parmesan Reggiano cheese, buttery spread, and chopped parsley, mixing well.
Let stand for 5 minutes before serving.
Serve with grated cheese on the side so everyone can garnish their own bowls.
Serving size:

1/4 to 1/6 of recipe