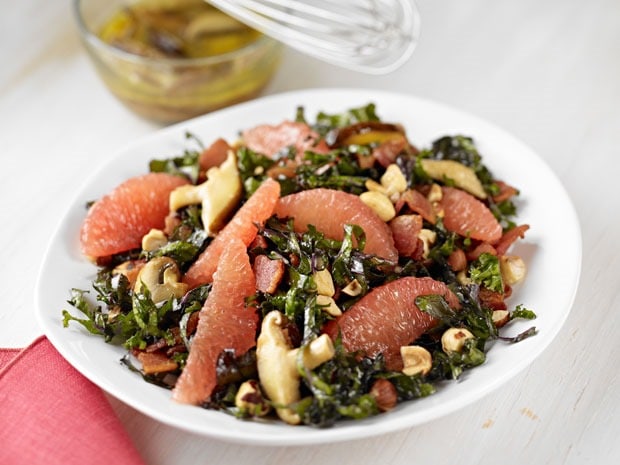 I love having grapefruit for breakfast. But I'm not fond of cutting open grapefruit every morning and dividing up the sections, even though I have a marvelous grapefruit knife. That's why I buy those jars of already prepared grapefruit or those little snack cups, with the grapefruit sweetened with fruit juices and perfectly proportioned, for a breakfast sized snack.
Don't be fooled, grapefruit is not just for breakfast anymore as shown in this terrific salad recipe from celebrity chef and winner of Food Network Star Season Six, Aarti Sequeira. In a recent survey, Florida Grapefruit discovered that nearly 70 percent of Americans ages 45 to 64 think it's important to taste or try new ethnic foods, recipes or dishes. Chef Aarti's recipe, Kale & Grapefruit Salad with Warm Bacon-Wild Mushroom Dressing, fulfills Americans' wish to spice up their everyday dinners and entrees by using of-the-moment ingredients.
She's revealing a new recipe every two weeks through March 18 on the Florida Grapefruit Facebook page, so stop by and check them out! I'll be sharing another of her grapefruit recipes here at This Mama Cooks! On a Diet next week, too.
Tips:
If you're allergic to nuts, use pine nuts or pumpkin seeds instead.
To make this salad vegetarian or vegan, substitute a soy bacon for the pork bacon.
To save time, use jarred or freshly peeled and segmented grapefruit in the produce department at your grocery store.
Make sure to use 100% grapefruit juice and not grapefruit "cocktail," which may have added sugar, corn syrup, or high fructose corn syrup added to it.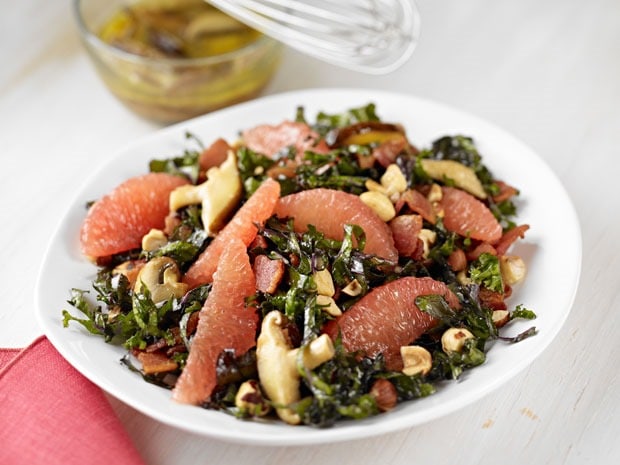 Kale & Grapefruit Salad with Warm Bacon-Wild Mushroom Dressing
Ingredients
1 to 2 bunches (about 1 pound)

black kale, washed, stalks removed, sliced into 1/4-inch ribbons

1/4 cup

extra virgin olive oil, divided, plus more for massaging

3 slices

thick-sliced bacon, roughly chopped

8 ounces

wild mushrooms, thinly sliced (recommended: crimini and chanterelle)

1

medium shallot, minced (about 1/4 cup)

1/4 cup

champagne vinegar

1/4 cup

100% Florida grapefruit juice

1 tablespoon

honey

1/3 cup

toasted hazelnuts, roughly chopped

1

large ruby red grapefruit, cut into segments

Kosher salt and freshly ground black pepper
Directions
Place kale in a very large bowl. Sprinkle with a couple of pinches of kosher salt and a very light drizzle of extra virgin olive oil. Now, begin "massaging" the kale; squeeze fistfuls of the leaves and rub between your fingers. The kale will begin to wilt within minutes! Once uniformly wilted, set aside on the counter and prepare the dressing.
Grab a medium sauté pan or skillet and place it over medium-low heat. Add bacon pieces and cook, stirring every now and then, until most of the fat has rendered off and bacon bits are brown and just crispy. Using a slotted spoon, remove bacon to paper-towel lined plate. Pour off bacon fat into a measuring cup. If necessary, add enough extra virgin olive oil to make 1/4 cup. Pour back into sauté pan.
Add the mushrooms, stir to coat in the fat, then spread out into an even layer. Don't touch them for 3 to 5 minutes! They will start to soften and sizzle. Now stir and cook, stirring often until they are golden brown around the edges. Stir in the shallots and cook until the whole mixture is browned and aromatic.
Add champagne vinegar, scraping up any brown bits on the bottom of the pan with your spoon. Turn the heat off. Add 2 tablespoons extra virgin olive oil, the grapefruit juice and 1 tablespoon honey. Stir together, taste for seasoning and adjust according to your palate.
Sprinkle kale with hazelnuts, bacon bits and grapefruit segments. Pour warm dressing over the top and serve immediately.
Serving size:

1/4 of recipe
Recipe and photo used with permission.