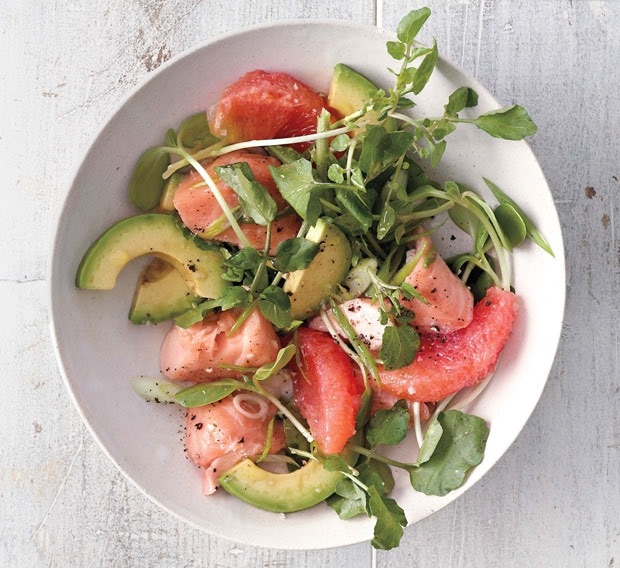 How are your New Year's resolutions to eat healthier going? Well, I hope I can inspire you with a recipe from the January/February 2014 issue of Martha Stewart Living that is on newsstands now. I love salmon, avocados and grapefruit, so when I saw a salad that combined these foods, I knew it had to be a winner. This is also a great salad to make if you have some leftover grilled salmon from dinner the night before.
And don't throw out that grapefruit peel! Instead, use it to make candied grapefruit peel for baking, or to use in hot tea or cocktails. Leave the pith (the white flesh) on the peel and cook it up using the method I used in my Homemade Candied Ginger recipe. If you use a no calorie sugar substitute like Swerve Sweetener [affiliate code], the candied grapefruit peel will be practically calorie free!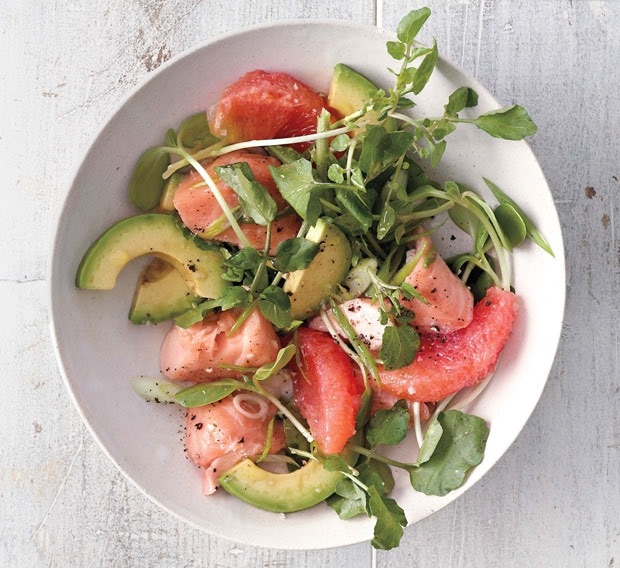 Ingredients
2

skinless wild-salmon fillets (each about 8 ounces, 1 inch thick)

Coarse salt and freshly ground black pepper

3 tablespoons

extra-virgin olive oil

2

scallions, trimmed and thinly sliced

1

Ruby Red grapefruit, peel and pith removed, segmented

1

ripe avocado, pitted, peeled, and sliced

2 cups

sunflower shoots, watercress leaves, or a combination of both

1 tablespoon

fresh lime juice
Directions
Preheat oven to 375 degrees. Season salmon with salt and pepper. Place in a 9-inch baking dish. Drizzle with 1 tablespoon oil and sprinkle with half of scallions. Bake until salmon is partially opaque in center, 10 to 12 minutes. Transfer to a dish and let cool.
Break salmon into large pieces and divide among serving dishes. Top each with grapefruit, avocado, greens, and remaining scallions. Season with salt and pepper. Whisk remaining 2 tablespoons oil with lime juice and season with salt. Drizzle dressing over each salad.
Serving size:

1/4 of recipe
Photo by Romulo Yanes. Courtesy of Martha Stewart Living. Copyright © 2014. Used with permission.